May is Mental Health Month and we find that books can often help us talk about difficult topics – so here are 10 books to help you start a conversation.
Hannah Baker's story is a powerful reminder of the consequences of bullying and the ripple effect that our actions have on the people around us.
16-year-old Solomon hasn't left his house in three years: He's agoraphobic. When Lisa and Clark enter his life, Solomon's journey into love, tragedy, and the need for connection reveals the different ways in which we hide ourselves from the world.
John Green's 2006 Printz award winner follows Miles Halter's relationship with Alaska Young and brings to light that we can never completely understand what someone with a mental illness feels inside.
Mim Malone is on a 1,000 mile bus ride to find out what happened to her mother, and along the way she'll confront questions about her mental health.
After her best friend Meg takes her own life, Cody struggles to understand why – but through her journey to find out, she'll discover that you can't always know what's inside the people closest to you.
Emily Wing Smith's memoir chronicles the mental and physical disabilities she struggled with during her childhood, and how a devastating accident may have saved her life.
When Caitlin decides to go through the journal of her best friend Ingrid, who recently committed suicide, she'll find out that you can't always see what the people closest to you are feeling.
Schizo by Nic Sheff
After a schizophrenic breakdown, Miles thinks he's getting better, when in reality he's getting worse. Told in vivid detail, his story is fascinating and heartbreaking but ultimately hopeful.
Wintergirls by Laurie Halse Anderson
Lia is a high school senior who has struggled with an eating disorder for years, and her painful path to recovery hinges on her desperate attempt to hold on to the most important thing of all: hope.
17-year-old Bo suffers from delusions and is convinced that he can travel back in time to save his girlfriend after she disappears. His story is a heartrending, beautifully complex meditation on mental illness, loss, and life.
Plus…look out for Things I'm Seeing Without You by Peter Bognanni, coming October 3, 2017!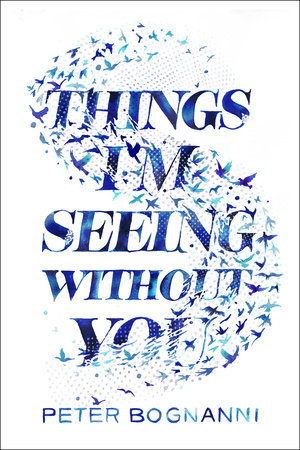 Seventeen-year-old Tess Fowler has dropped out of high school after finding out her long distance boyfriend Jonah had committed suicide. Now living with her father (who's in the pet funeral business) Tess is left mostly to herself to unpack what it means to truly be alive, and what happens after death. She begins to write emails to help process her grief, but what happens when someone writes back? Moving, heartfelt, and surprisingly funny, this is a perfect book to help you begin to heal after a sudden loss.