Looking for someone to relate to when you're geeking out to musical theater? Some of the books below were inspired by broadway plays, some star musical geniuses of their own, and some were written by the stars themselves. Does it get any better?
One word: Hamilton. Need we say more? Ok, ok. Alex and Eliza is the young love story of Alexander Hamilton and Elizabeth Schuyler reimagined by the brilliant Melissa de la Cruz, and we can guarantee it's just what your Hamilton-obsessed heart needs.
This beautiful novel is told by five friends chasing their dreams at a performing arts school. Each of the characters, Joy, Diego, Ethan, Liv, and Dave, will change you in their owns ways as they look back at an unexpected event that upended everything.
Jack and Louisa by Andrew Keenan-Bolger and Kate Wetherhead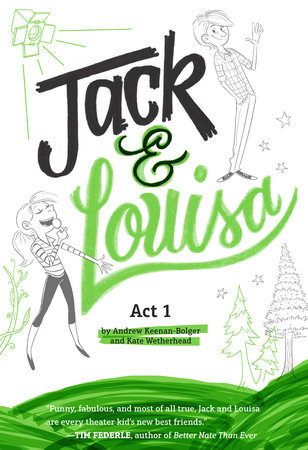 From his fabulous birth and childhood to his quest for true love and infamous parade of ex-boyfriends, this musical is the story of Tiny Cooper's life – and it's the perfect melody of honesty, humor, and heart.
HOLD ME CLOSER originated in the story of Tiny Cooper's best friend Will Grayson's transformative year culminating in the epic production of history's most fabulous high school musical.
Everything Margo took for granted––graduating from high school, going to college, her part in Sweeney Todd this year, is called into question when she finds out that she's a genie.
Theater is everything to Alejandra, who embarks on a journey of friendship, love, and baseball with her new friends T.C. and Augie freshman year of high school.
From mortifying pictures in the school newspaper to an unconventional lead role in the high school musical, Kelsey has her work cut out for her if she's going to survive this year.
"Totally Sweet Ninja Death Squad" is the name of the musical Julia was working on with her drama friends before she died in a car accident, and bringing it to life will be one of the most difficult, eye-opening, and occasionally hilarious experiences of her best friend Cass's life.