What's Happening
6 Books for Your Election TBR Pile
Maybe you're a political junkie and you just can't get enough of all that #ClintonvTrump drama. Or, maybe, you're frankly a little sick of it all and need an escape from reality. Either way, we've got you—and your bookshelves—covered.
If you're dying to be a fly on the wall in the Spin Room, you should read . . .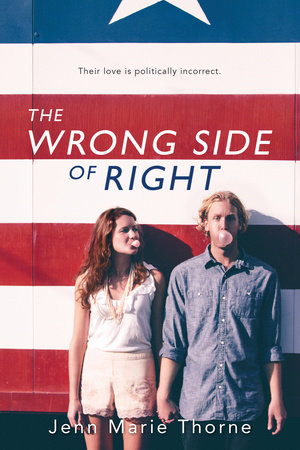 Jenn Marie Thorne's debut novel takes readers behind the scenes of a presidential campaign. When Kate, a liberal-leaning, recently orphaned teen finds out that her long-lost dad is actually the Republican nominee for President, she does her best to put politics aside and get to know her newfound family—even if that means joining dear old Dad on the campaign trail. But things get sticky when the campaign's talking points threaten to put her at odds with her best friend . . . and when she starts falling for the opposing candidate's bad boy son.
If you're really excited to get that "I voted" sticker on November 8th, be sure to check out . . .
Lynda Blackmon Lowery started fighting for the right to vote long before her 18th birthday. A child marcher during the Civil Rights movement of the 1960's, she was jailed nine times before her 15th birthday for her participation in voting rights marches. She was the youngest person to march with Dr. Martin Luther King, Jr., in the famous Voting Rights March of 1965. TURNING 15 ON THE ROAD TO FREEDOM recounts Lynda's experiences from that time in her own words — and shows how even one person can make a difference. Make no mistake: your vote counts.
If you fancy yourself a political genius and plan on winning the write-in vote, you might get a few tips from . . .
Josh Lieb will have you in stitches with this story of one young evil genius's quest for world domination . . . and the class presidency at his Omaha middle-school. Oliver Watson has fooled everyone–including his dad–into thinking he's not the brightest crayon in the box, allowing him to maintain his secret identity as a political mastermind and successful entrepreneur. But when his father makes a crack about the class election, Oliver takes it as a personal challenge, and is determined to win. But despite his brilliance, and status as the third-richest person in the world, winning turns out to be a bit of challenge. Apparently, getting people to like you is, well, hard. Huh. Who'd a thunk it?
If your favorite episode of Gilmore Girls is the one in which Taylor and Jackson vie for Town Selectman, you'll love . . .
A heartwarming read, Joan Bauer's classic Newbery Honor book will have you hankering to make a difference in your community. When Hope and her aunt move to a tiny town in Wisconsin to run a local diner, they find themselves drawn into the town's mayoral election. The diner's owner, G.T., decides to run against a corrupt candidate–and his vision for the future is infectious. Pretty soon the whole town is split–its blue ribbons v. pink all over again.
If you're pumped that there's a female candidate for President, get your #feminism on with . . .
Sharon Biggs Waller takes readers back to the suffragette movement of the early 1900s in this historical fiction novel. A decade before women in the United States were given the right to vote, suffragettes in England were fighting for the same thing. In the book, Victoria Darling is lucky enough to be born into the upper echelons of society—but it's a privilege that comes at a cost. Vicky dreams of being an artist, and after posing nude for an illicit art class, she's expelled from her French finishing school. Her family, scandalized, wants to marry her off quickly, but Vicky's having none of it. Soon, between her dress fittings and debutante balls, she's joining protests for women's suffrage, applying for art school, and falling in love with a working class boy—all under her parents' noses.
If this election has you in need of some serious laughs, have one on us, with . . .
We the people… have the right to be super-silly! Mad Libs for President features 21 presidential and election-themed stories that will have you ROFL harder than Twitter on #DebateNight.