Breaking News
Cover Reveal: DIAMOND PARK
Cover reveal time! Diamond Park by Phillippe Diederich is a fast-paced YA novel about four Mexican-American teenagers from Houston, a '59 Chevy Impala, and a murder that changes their lives forever.
Flaco isn't the kind of kid who gets in trouble. He doesn't want to give his mom or his aunt Ana Flor any grief—they've had enough since his cousin Carlos died serving in Iraq. But he finds a whole lot more trouble than he bargained for when he and his friends Tiny, Magaña, and Susi ride the bus from their Houston neighborhood to Diamond Park to buy a used car. And not just any car—a 1959 Impala convertible, a dream car. The transaction gets complicated fast, and Susi ends up with a knife in her hands, covered in blood. When Tiny has to disappear to avoid ICE, Flaco and Magaña head south in the Impala to set things right. In a wildly impetuous move, the two boys cross into Mexico hunting for a trafficker named Anaconda, the man they believe is the real killer, to clear Susi's name. In a breathtaking, seat-of-your-pants adventure they manage to kidnap him but in the process they discover how little they ever actually understood about what really happened in Diamond Park.
Scroll down to see the cover and read a sneak preview!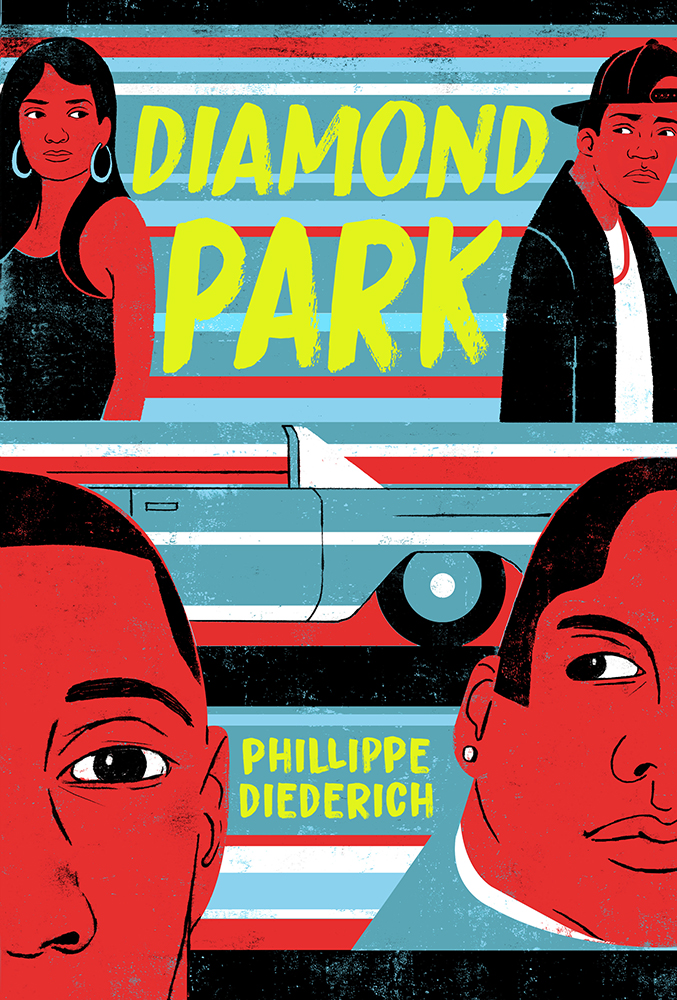 Design by Theresa Evangelista. Art by Edel Rodriguez (@edelrodriguez)
Chapter 1
The plan is to meet Magaña and Tiny at the bus stop in half an hour. Gotta hurry, take all the money I can find in my room—twenty- three bucks and change. I stuff my backpack under my bed so Ana Flor won't see it later and get suspicious. All the while I keep thinking about the car, dreamed about it all night— '59 Impala. I don't know if I'm happy or jealous or suspicious or what. Magaña can be full of shit sometimes.
"Road trip," he said yesterday. Just walked up, dropped it like a dare. "You two up for it, o qué?"
I was sitting with Tiny at the far end of the school cafeteria, staring down at the fake taco meal the Houston Independent School District serves. Tiny was complaining like he always does, flicking the cheese off his tacos. "In Mexico they'd shoot you dead if you served this chingadera."
Tiny's Mexican. Like for real Mexican from Mexico. Mojado. He crossed over with his family six years ago and has been here ever since. No papers or nothing. So he's always going on about how things here are not like in Mexico— never stops with that.
I'm Mexican but I've never even been.
"I don't get it," he said. "What's so hard about making a real taco?" That's when Magaña parked his ass on our table. He turned his head to the side real casual, stole a glance at Susi Taylor and the girls a couple tables away, and said, "You two cabrones up for a road trip?"
I glanced at Tiny because he knows how it is with Magaña. Fucker hovered over our trays like a vulture, picked a French fry from Tiny's and tossed it in his mouth. "Entonces, we go, no?"
"Where to," Tiny joked, "Acapulco?"
"Shut the hell up," Magaña barked. "I'm serious." Then he looked at me and spelled it out. "I found a car. No, no— I found the car. 1959 Chevy Impala. Con- ver- ti- ble."
Right away I figured it was bullshit. A 1959 Impala is as badass as it gets, a one- off model. The most unique Chevy ever built. Car looks like a spaceship. It was the only year it came with the teardrop lights under the folded tail fins— and convertible?
"My old man said my godfather's got one in a barn in Diamond Park."
"He's probably pulling your chain," I said.
Magaña fell quiet for a moment, just stared at us like he was waiting for something to happen. Then he leaned forward real slow and gave us that devil's grin of his. "He said he'd take a grand for it."
"A thousand bucks?" Tiny laughed. "Does it even run?"
"Just needs a little TLC."
I'm not sure what I was thinking. I didn't really believe there was a car—certainly not a '59 Impala. But a road trip to the valley sounded cool. "So when do we go?"
"Mañana."
"'Tas loco," Tiny said. "That's, like, five hours."
"Two and a half, give or take," he said and picked at Tiny's food, probably just to mess with him. "It's just south of Corpus."
"Ya!" Tiny slapped his hand. "Stop eating my fries, cabrón."
"So we good?"
"Count me out. I got a geometry test and—"
"No mames, Tiny. You have to come."
"Why does it have to be tomorrow?"
"'Cause if you snooze, you lose," he said and slid off the table. "And bring tools."
"What? No way," Tiny said. "My jefe'll kill me."
"All we need's like a few wrenches and screwdrivers and shit," Magaña said, as if he knew something about fixing cars. "We'll meet at the bus stop in the morning and take the 56 down to the Medical Center and catch the Expreso to Diamond Park. My padrino'll pick us up there. We'll drive the car back in the afternoon, be home by dinnertime. Piece of cake."
"Right," I said. "Tres leches."
Tiny laughed, his chubby cheeks jiggling like flan. "Tres. Pinches. Leches."