Breaking News
COVER REVEAL: House of Hollow
One of our most HOTLY anticipated reads of 2021 has a cover and your eyes aren't ready. House of Hollow by Krystal M. Sutherland is a dark, twisty modern fairytale where three sisters discover they are not exactly all that they seem and evil things really do go bump in the night, coming April 6, 2021!
Iris Hollow and her two older sisters are unquestionably strange. Ever since they disappeared on a suburban street in Scotland as children only to return a month a later with no memory of what happened to them, odd, eerie occurrences seem to follow in their wake. And they're changing. First, their dark hair turned white. Then, their blue eyes slowly turned black. They have insatiable appetites yet never gain weight. People find them disturbingly intoxicating, unbearably beautiful, and inexplicably dangerous.
But now, ten years later, seventeen-year-old Iris Hollow is doing all she can to fit in and graduate high school on time–something her two famously glamourous globe-trotting older sisters, Grey and Vivi, never managed to do. But when Grey goes missing without a trace, leaving behind bizarre clues as to what might have happened, Iris and Vivi are left to trace her last few days. They aren't the only ones looking for her though. As they brush against the supernatural they realize that the story they've been told about their past is unraveling and the world that returned them seemingly unharmed ten years ago, might just be calling them home.
Scroll down to see the cover and read an excerpt! OH, and did we mention we have an author Q&A?!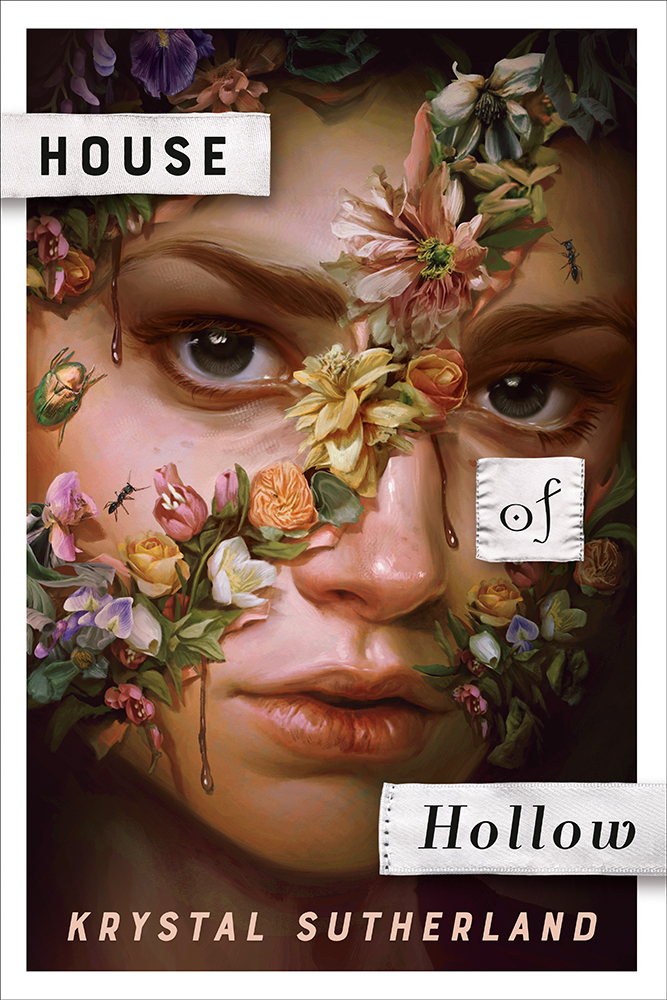 Read a Q&A with author Krystal Sutherland below!
Q: This cover gives us CHILLS. What was your reaction to it?
A: Utter delight! The artist, Aykut Aydoğdu, does some of the most beautiful, most unsettling, most haunting art around, and that is exactly the vibe the Hollow sisters give off: beautiful, unsettling, haunting. I can't believe how perfect it is for the story.
Q: If you had to describe each of the sisters readers will meet in House of Hollow with one word each, which words would you choose?
A: Iris = determined
Vivi = punk
Grey = enigmatic
Q: What was your favorite part about writing House of Hollow? Any hints on what readers should expect?
A: Our main character, Iris, is the youngest sister of Grey Hollow, a fabulously wealthy and famous supermodel who goes missing under strange circumstances. Writing about the mystery surrounding Grey was a definite highlight! It was a chance to explore sumptuous fabrics and clandestine celebrity parties and haute couture fashion shows and secret bolthole apartments bedecked in brass and wood and wax.
Expect a contemporary thriller about three entrancing sisters – with a very sinister folklore twist.
Q: House of Hollow is obviously VERY different from Our Chemical Hearts. What was the most challenging part of shifting genres in your writing?
A: I think House of Hollow is a natural progression from A Semi-Definitive List of Worst Nightmares, which skirted the fantastical but never really dove into it head-on. Well, now I'm doing a full-on faceplant into the weird. I grew up reading fantasy and my favorite stories were always those that took place in our own world but that incorporated elements of horror or magic or folklore. That's what I tried to capture with House of Hollow, the sense that something strange exists just beyond our perception. Ultimately, it didn't feel like a challenge; it felt like coming home.
Q: We are counting down the days until Amazon releases the adaptation of Chemical Hearts! Any special info or details you can share about the upcoming movie?!
A: Only that I have seen the movie and it is going to crush your tiny hearts. I cried when I watched it. I kept thinking, It's so sad! What a horrible situation! I just want them to be happy! Then I realized my pain was my own fault because I wrote the story?! What a monster. It was the weirdest sensation. Anyway, Lili and Austin absolutely kill it as Grace and Henry and have wild onscreen chemistry. If you haven't watched the first look clip released by Amazon last week, do yourself a favor and check it out, because CHILLS.
Did you hear? We just revealed 6 other 2021 covers! See them here!