Sneak Peeks
Excerpt Alert: GIRLS SAVE THE WORLD IN THIS ONE
You know what you need right now? BFFs slaying zombies.
Luckily, we're sharing an excerpt. Get ready for Girls Save the World in This One by Ash Parsons!
Shaun of the Dead meets Clueless in this hilarious YA horror comedy set at a local zombie convention–featuring a teenage girl gang that has to save the world from a horde of actual zombies. Perfect for fans of Geekerella, Undead Girl Gang, and Anna and the Apocalypse.
Scroll down to start reading!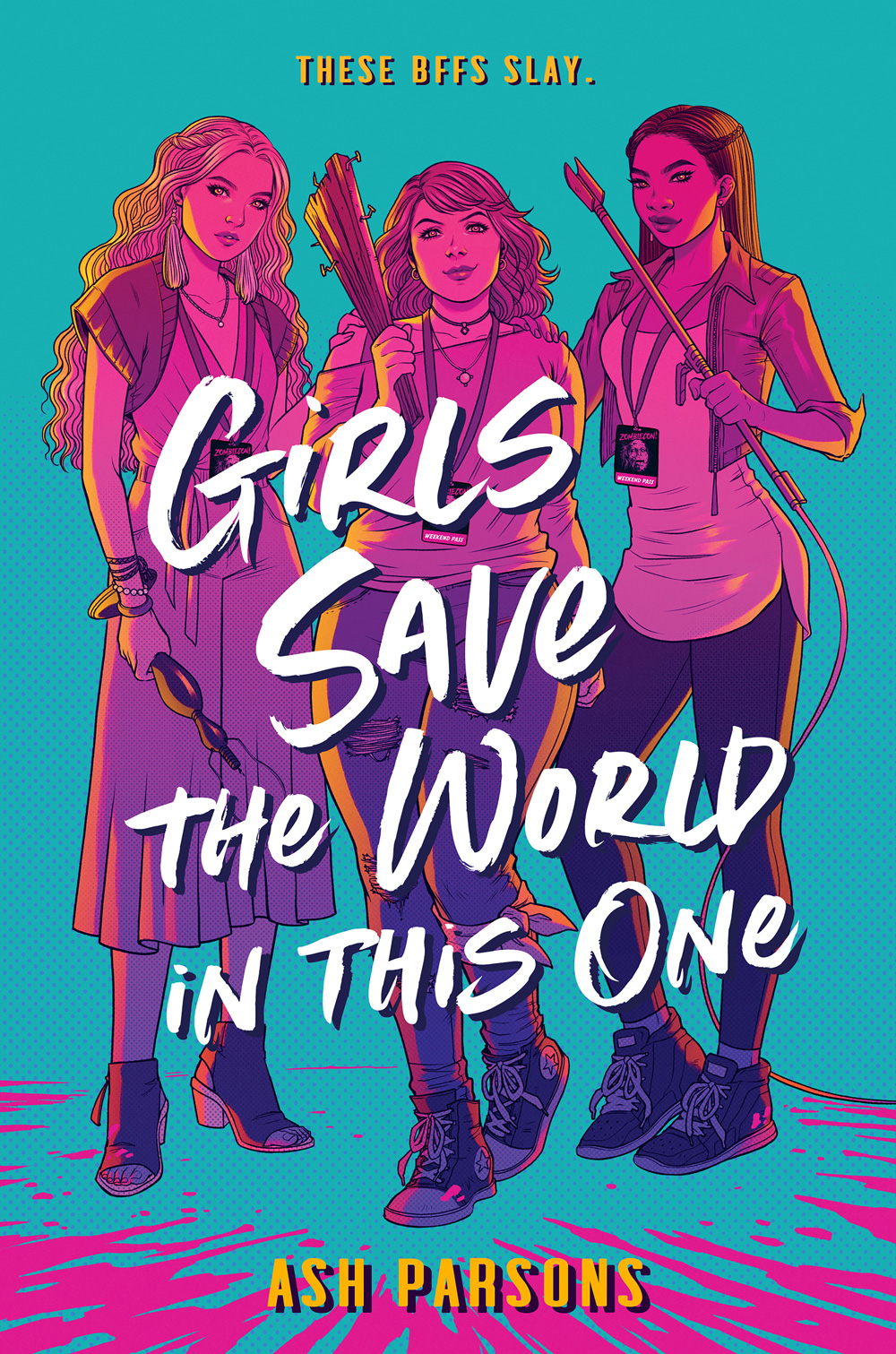 1
We're never going to make it. This is it. My life is over.
In the days and months that follow this tragedy, when they speak my name, they'll say in hushed tones, "She died as she lived: full of complaint and bile, mere inches from her goal."
Mom twists to smile at me in the back seat.
"See, June? The doors aren't even open yet!" she says.
My best friend, Imani Choi, is riding shotgun, and it's good because this way my mom can't get the full force of my eye roll.
"I know they're not open yet, Mom. That's not the point."
Outside the convention center, there's already a snaking line along the sidewalk up the street and around the corner. A milling press of hundreds of early birds waiting to get in.
ZombieCon! is the biggest thing this town has ever seen. For the first time, it feels like the new convention center might reach its capacity, at least in the exhibit hall and ballroom. They're saying up to ten or even fifteen thousand people are projected to attend the con!
"Look at that line," I moan.
"I'm sure we'll be fine," Imani says.
I take a deep breath.
It's not Imani's fault we're not already in line for Zombie-Con! Even though we'd arranged to spend the night together, and said we'd get here before sunrise, and even though I'd texted Siggy last night, to remind her again of the importance of getting here early. And even after I had set two alarms, and set my mom's alarm as well.
We're still running late.
It's Mom's fault. She laughed this aren't-you-cute indulgent laugh when I told her to get moving this morning, that the early bird catches the worm, the world isn't going to wait for you, rise and shine, all those nagging things she says to me every morning to go to obnoxious school. But now the one thing that I really want, the one thing I'd worked for, well, the one fun thing, and Mom had the nerve to say, "Hold your horses, I need coffee."
Then she moaned and complained, leaning against cabinets and counters, imitating me on school mornings. Paying me back for how hard I am to get going most mornings, and laughing like it was so original.
And as if that wasn't annoying enough, after coffee, and after Imani finished putting on her makeup (which she doesn't even need because her brown skin is flawless), on top of all that, I had to listen to Mom ask Imani about the colleges she would apply for if the early decision one didn't work out. Which, I know, is the single issue that stresses Imani out so much, even if she's used to parents asking about it because they all ask.
Then Mom continued asking about other scholarships Imani might apply for (she's already got one sponsored by a local law office) and Mom kept going, Do you know if Siggy is planning to take the SAT again? June is, you know that already, next Saturday, and maybe if there's time while you're standing in line, you could help quiz June on the test-prep app . . . on and on and on.
I just kept quiet in the back seat. We were almost there; I'd worked for this day all summer, saving all my summer jobs money that didn't go toward gas. Between summer school and my jobs, my white skin barely even tanned, because I barely went outside during daylight, it felt like.
So I'm determined. Nothing but nothing is going to ruin today, not even the Math Booster app.
And not the fact that I'm retaking the SAT for the third time next weekend.
And not the fact that I'm not sure any college is going to admit me if I fail math again.
Someone has to let me in, right?
Right?
And not the fact that it doesn't really matter if I do take the SAT again. My score isn't going to improve. We all know I have a learning disability. In math and math-y things. So why do I have to keep banging my head against this wall?
And not even the fact that there's a massive zit in the crease of my right nostril—and it looks horrible and hurts, too—on this day, this one day, when I'm going to take a million pictures and when I even have a coveted photo op with one of the stars of Human Wasteland.
The photo is the pièce de résistance of this, my first con experience.
The car line for the drop-off circle creeps forward, and Mom finally changes the subject from college and the SAT.
"Has your mom had a longer commute with all the protesters?" she asks Imani.
Imani's mom, Naomi, is a civilian contractor on the nearby army arsenal test range. There's been talk recently that USAMRIID (the US Army Medical Research Institute of Infectious Diseases) has established a field office at our arsenal, which would make sense if it's true, because Senoybia is also within an easy commute of the Centers for Disease Control in Atlanta.
But a lot of people don't like the idea of the army medical research field office on a test range, and so there's been an influx of protestors outside the arsenal gates.
"No, Mom says the drive time is about the same," Imani answers. "But last week she dropped off two boxes of donuts on her way in: one for the protestors, and one for the military police at the gate."
"I just love that," Mom says. "So diplomatic and thoughtful."
Imani quirks a smile at Mom.
"Well, everyone also waves and gets out of the way for her now," Imani says.
Mom laughs and turns onto the road that runs along the front of the convention center drop-off circle. She whistles low. "Wow. That's a lot of people."
"I told you it was a big deal," I say, the words snapping between my teeth sharper than I mean, but would you look at that line?
"I know," Mom says. "I mean, I knew. But still. Wow."
Outside the car window, the rising sun tinges the silhouette of the convention center a pinkish gray, like a Hollywood backdrop only not in LA but here, in basic, boring, nice-place-to-raise-kids Senoybia, Georgia.
I'm not joking, they actually put that in the tourism brochures and on, like, the town website and stuff. Not that it's dull, just that it's a great "family town!" And stuff like "Slow down! Give Senoybia a try!"
It's a nice place, sure. But I can't blame anyone, Imani especially, for looking forward to graduation and college. Our high school is like only 10 percent students of color. It's embarrassing how white it is.
So, I am excited for Imani next year, no matter where she goes, or how far away, because I know she's really looking forward to a larger city, and being around more people like her, black or Asian or biracial, and being in a town that isn't quite so Mayberry.
I mean, I'm looking forward to that, too! For my own self. It's just . . . I'm not entirely sure I'm graduating. Or getting into a college.
Anyway, it's a miracle that ZombieCon! is even here. I'm serious, it's like a gift from the fandom gods just to me. ZombieCon! travels around the country, but it usually only hits the really big cities. Your Los Angeleses, your Houstons, your Chicagos, your New Yorks. Not my Senoybia. But there had been a contest, with the tagline: "Is your city A WASTELAND?" that encouraged fans to petition the fanfest, and tell them why ZombieCon! should come to their town. I boosted the posts nominating Senoybia, and so did Imani, and Siggy. Blair did, too, back before I learned about what she did. When I still thought she was my friend.
Even thinking of her name summons a particular pain. Still new. Betrayal. This is what it feels like: shame, anger, and hurt, like sandpaper made of shattered glass, rubbing under your skin.
I shake my head to stop thinking about her.
Anyway, Senoybia won the contest, and our convention center was approved as the location. It's big enough, and new enough, and there's even a luxury hotel attached to the convention center by a skyway. I mean, they want you to call it a skyway, but really, it's a bridge-tube like the kind hamsters use. Ridiculous to even have it, of course, because on most days the traffic in downtown Senoybia is downright sleepy, sluggish, and otherwise nonexistent. A child could literally play on the street and be fine, most days.
Mom turns into the convention center drop-off circle and puts the van in park.
I have my safety belt off and the door open before Imani can finish saying, "Thanks for the ride and the spend-the-night, Mrs. Blue."
Imani and I get out onto the sidewalk. I adjust the neckline of my favorite olive green shirt. It's just the right amount of slouchy-and-stylish, with a wide scoop neckline that falls off one shoulder, so I always wear a wide-strapped black tank top underneath. Plus the olive color looks nice against my brownish-reddish hair. So that's a plus.
"You're welcome, sweet girl!" Mom puts the passenger window down and leans over to call to us. "Have fun! Stick together! See you at midnight!"
Imani gives a big nod and a little salute.
It's not Mom's fault she's hopelessly uncool. Or that she likes my friends and spends entirely too much time talking to them. I mean, I like talking to them, too, they're my friends.
Okay, but it was nice of her to offer to drop us off so we wouldn't have to spend an extra ten bucks on parking.
"Thanks, Mom!" I yell, and wave.
She blows me a kiss and eases back onto the street.
Imani smooths her crisp white tunic. She's so cool. She looks like a fashion blogger or something, her legs long and slender in black leggings, with sparkly black sneakers and a coral cropped jacket that matches her nails.
I look cute, too, and actually feel it. I'm short compared to Imani, and I'm not model-slender like her. I'm average, I think. Normal. Rounded. Some days I don't feel so good about my shape, but today I feel lush and curvy, wearing my favorite shirt, ripped skinny jeans, and red high-top Converse.
Imani gives me a smile, and I can tell she's thinking the same thing.
We look good.
Now it's really starting. I have a whole day to spend with my friends, with my fellow fans, with zombie and apocalyptic horror lovers from all over.
ZombieCon! The Ultimate in Undead Entertainment starts now!
2
ZombieCon! The Ultimate in Undead Entertainment will start once we get inside. Now we're walking along the massive line of people already waiting for the doors to open.
"Sorry about all the college questions," I say.
"It's okay."
But when I glance at her face, a frown has stitched in between her eyebrows.
"You're totally getting in. You know that, right?" I say.
"Harvard has a five percent acceptance rate, June." Her voice is gentle, but resigned. "Less, actually."
"Well, if they don't take you, they don't deserve you!"
Imani smiles a little.
"Seriously, Imani!" I loop my arm through hers. "You're so badass. You're going to get in somewhere amazing, and they're going to pay you for the honor of having you as a student."
Imani lets out a tight breath, almost like she's been holding part of it, holding a slight catch of breath deep inside her lungs, holding it inside forever, waiting, waiting, just waiting and hoping.
She gets straight A's. She kicked the SAT's butt so hard it couldn't sit right for a week.
And school can still sometimes make her so anxious she calls me in tears or on the verge of them. When that happens we end up watching Bob Ross paint some happy trees together while we talk about life after college. What different places we might live. What kind of pets we might have. What we might name our pets or our kids, if we have them. Places we might travel. People we might know. People we might become.
The whole wide world outside of school.
The weird thing is, Imani actually loves school, loves learning, loves working on projects and papers. It's just grades and class rankings that make her miserable.
"Listen, let's take the day off from it," I suggest.
Imani's eyebrows lift, but she's got an amused look in her eyes.
Since we almost always know what the other is thinking, I can see she's already there with me.
"The day off from college applications and acceptance stress. Imagine." Her eyebrow quirks up like a punctuation.
We smile at each other, these huge Cheshire grins.
"Deal."
We shake hands to seal it.
"There's the end of the line, I think," Imani says, pointing with a coral-colored nail.
Did I mention she's gorgeous? While our relationship is purely platonic, it doesn't keep me from admiring how beautiful she is. Beauty is just beauty.
And Imani is every bit as beautiful on the inside.
By which I mean she's a really sweet, wonderful person.
Not that her insides themselves are beautiful. Which sounds weird and serial-killer-y when you think about it.
Imani hooks her arm with mine again. "This is going to be so much fun, June."
I smile back, even though we're still walking to the end of the line.
"Everyone coming to Senoybia for the con, it'll be like our town has imported a town!" Imani says.
"A town full of zombie fans!" I chirp back. I can't help it, I give a little jump of joy.
"And just look at this line!" Imani murmurs, squeezing my arm.
"It's long," I groan.
"No, I mean, it's diverse!"
She's right, and I can't believe I didn't notice before. The line is full of all different kinds of people: all different skin tones, all different body types.
I smile at Imani and her happiness just beams into me. I feel like I could levitate from it.
There's a whole wide world, waiting out there, and for today it's almost like there's a whole wide world here, too.
We've passed a million or so people, it feels like, and at least half of them are cosplaying. Some of them are dressed like characters from Human Wasteland, but there are plenty of other horror movie characters, and zombies galore; I've counted at least three zombie Spider-Men.
It's going to be the perfect day. First and foremost: I have always loved zombies. If there's a zombie movie, I've probably seen it, and if they make a new one, I'm going to see it.
It all started with the first zombie movie I ever saw. It was on TV late at night on Halloween, and my mom definitely didn't know I was watching it. Mom hates scary things. I think it's kind of linked to how she's a kindergarten teacher, like everything is optimism and respect and fairness and love with her, which is nice, but you know. There's more out there, right? Good and bad. We can't stay in kindergarten forever. Generally speaking. I guess my mom found a way.
But it's so stinking cute when her students see her, like if we're in a restaurant or a store, their eyes go wide like they've seen a celebrity, and they'll run up calling "Mrs. Blue! Mrs. Blue!" with these high little voices, and she'll lean down to hug them, and I don't know why but sometimes it makes me want to cry.
My dad likes scary movies okay, he likes mystery more than horror, but they overlap a bunch so we can sit and watch those together. Dad is the director of our public library, so he's definitely more cool and up on trends and stuff than my mom. Last week he even brought home an old library DVD of the first zombie movie I ever saw, the one I watched on TV all those years ago.
Fight the Dead. Changed. My. Life. It's about a zombie outbreak happening and a group of people holing up in a gas station trying to survive the night. Even though it was in black-and-white, it was terrifying! And thrilling! And I felt like it was telling me something deep and true when I saw it, even though zombies aren't real, because of how that group of people acted once they were in the gas station.
My favorite was the scared girl, who everyone kept discounting and who just kept surviving, impossibly, until the very end.
Weirdly, I really like the idea of them: zombies—these horrible, terrifying, inexorable things, animated corpses that want to devour you. Seriously scary, primal stuff.
But more than that, I like that zombies are clean. Not physically, because ew. But, like . . . emotionally.
They only want to eat you. They don't want to hurt you, or torture you. Pain is just a by-product of how they want your meat. They're not sadistic. They're just hungry.
Zombies are basically human sharks.
If the sharks were also dead. And if a shark bit you and you then were destined to become a shark.
Okay, so not really like sharks.
"Have you heard from Siggy?" I ask as we get in line.
"She's still got plenty of time." Imani glances at her phone again.
I love her, but our other beffie, Signe Larsen, has absolutely no sense of time. She doesn't get how long it takes to get somewhere, how long she needs to get ready, how long she needs to do anything, hell, how long she needs to watch a minute go by.
But the thing is, when Siggy finally arrives anywhere, she's so cute and funny and so apologetic it's hard to stay mad at her.
Hard, but not impossible.
Imani slides her phone back into her tunic pocket. "Siggy's going to be late but not late-late. She loves the show as much as we do."
We're all mega fans of Human Wasteland. It's the best show on television, and I am completely obsessed with it. It's why ZombieCon! even exists.
Me and my three, well, two, best friends have watched literally every episode of it together, live when they air. It's our thing. We write and read fanfic, we tweet at the show writers and actors and costume designers and just about everyone involved with the show. And of course the other fans, which is so much fun because you get this feeling in your heart, as you watch with countless other fans, this expanding, growing, glowy feeling. This feeling that there's so much more out there, there's a whole world of people, and they're so into the same thing you are, and that makes you feel . . . loved, somehow. Like you belong. A really buzzy, shared, beautiful feeling.
Have you ever discovered something that made you feel . . . understood? Somehow called to something in you, and made you long to be a part of it, even if that was absurd and impossible, but even so it just . . . resonated with you, somehow?
That's how Human Wasteland made me feel the first time I watched it, and every time after.
Part of why I love it so much is because it doesn't try to pretend that bad things don't happen. And yet it also highlights hope, love, and a community of chosen kinship as ideals. This big found-family of survivors who have their differences and yet in the end have to get along. The show asks big questions about what kind of world we want, and what kind of people the survivors have to be, how they've had to change over the course of the zombie apocalypse.
Like my favorite character, Clay Clarke, the army ranger's surrogate son. Clay is played by Hunter Sterling, an actor only a year older than me.
Which I know, because I looked it up. Like I said, I'm a mega-fan.
I have a full-size poster of Hunter as Clay hanging on the back of my bedroom door. Which is how I know exactly what pose I'll strike when we have our group photo op with him at the end of the day. I took a bunch of selfies with the poster, trying different poses, expressions, and outfits. By the end of it, I was just being funny, because I was holding different props, and cracking myself up.
Which, let's face it, was infinitely more fun than studying for the SAT. Which is what I was supposed to be doing at the time.
My favorite selfie, which is now my lock screen, was the one where I put on my dress from the junior prom (what a disaster that was—do not ask). I held on to a bunch of silk flowers I swiped from the dining room table, holding up my other hand like a beauty queen waving, with her dirty and intense date glowering behind her.
I amuse myself. But if you can't laugh at yourself, who can you laugh at?
We're still not moving, but it's only going to be a few more minutes before the convention center doors open officially.
I text Siggy again, then crane my neck around, looking for her white-blonde head.
"She should have spent the night with us." Imani says what I'm thinking.
"I tried, but she was with Mark."
"I know. I should have insisted, I'm sorry." Imani is the benevolent ruler of our trio. If Imani wants something, she usually gets it. All she has to do is turn the full power of her smile on you, and yeah. Goner.
"I mean, that would have worked," I say. "Swear to God, Imani, I don't know why you don't use your powers of persuasion more."
I place a hand over my heart in a solemn vow. "If I had your skills, I would talk Mrs. Casey into passing me."
"That's wrong, June!" Imani is laughing, but this is it: the taproot of who she is. Imani is Principled. She believes in making a better world, in making fairer rules, and she believes in the supreme power of hard work above everything.
Me? I believe in the supreme power of accepting your limitations, and adjusting your target accordingly.
Imani's an older sister, too, so that's in there. She's always been the responsible one, especially compared to her kid sister, Tishala, who is in the eighth grade. Tishala is impulsive, hilarious, and a total pest.
Obviously, Imani loves her lots. Even when Tishala breaks into Imani's makeup. Right now, Tishala is completely into doing these epic fantasy and sci-fi photo shoots, most often with herself as the model, although she's used Imani and even me sometimes. And she's into special effects makeup (as long as it's beautiful. She's not into zombies or gore, which is why she didn't pester us to come to the con, thank goodness).
My older sister, Summer, went to college last year, and my parents' single-minded focus on me ever since has been . . . well, it's been a lot.
Tishala's gonna have a big adjustment next year when Imani goes to college, let me tell you. I don't know if she realizes how much Imani does for her.
"You can't just talk someone into passing you," Imani says as we take a step forward.
"It would be for the greater good!" I argue. "Trust me, Mrs. Casey is as sick of explaining quadratic equations as I am of never understanding them."
This is my second time in Mrs. Casey's class. It's exhausting having a learning disability and trying to make everyone see that I'm never going to "get it" no matter how "close" it looks like I am.
Or that it doesn't matter how many times I take the SAT. I'm just going to psych myself out; clench up; get that old familiar feeling; hello, anxiety, my old friend; and just . . .
Whiff. Spectacularly. And extra time to take the test won't fix that. No accomodations can.
I glance at my phone again. The doors will open in just a few minutes.
Imani notices my glance at the time.
"Siggy'll be here," she says. "Any minute now. Mark will probably drop her off at the circle, right when we get there."
Annoying Mark. Annoying Mark Carson. Annoying Mark Annoying Carson.
He's okay, if you have to deal with boyfriends, I guess.
"If I'm being honest, I wanted to have you to myself," Imani says, with that sly side-smile that makes it feel like the sun is rising in my heart.
"I liked that, too," I say, and there it is, my doofiest smile, the one where I tip my chin unconsciously, giving myself jowls and creepy eyes. This is not a smile I ever intend to unleash, which is why I generally only know I've done it when I see the picture afterward.
Also this smile is another reason why I practiced for the photo op with Hunter's cutout.
Imani says I look great in every picture, that I always look "cute" or "so adorable," and I'm like, sure, Imani, sure, because best friends are supposed to say those things.
But Imani hates lies, too, so maybe she means it? Still, I don't want to make that face in my picture with Hunter.
"Let me try calling her," Imani says. She holds her phone to her ear.
We start moving forward. Either the doors are open or the people in line in front of us can see activity behind the glass doors and we're all pressing forward like Black Friday shoppers.
"She's not answering," Imani says, lowering her phone.
"Aaaaaaaarrrrghhh, Imani!" I groan, grabbing at my chest. "The doors are getting ready to open, the time is now, the moment's arrived or it's about to arrive, the train's leaving the station, the boarding gate is closing, Elvis is at the fire doors . . ."
"Deep breaths, June," Imani says, and she quirks that smile at me again. "It's a good thing Siggy hasn't answered. It means she's almost here."
"What?"
"You know, she feels bad so she doesn't want to pick up the phone. I bet she's almost here."
The doors are definitely open now. We take six steps forward.
"This is supposed to be our big day." I can't stop the worrying once it starts. It just keeps getting bigger. "It's already been screwed up 'cause we were late, and we'll be even later to the opening session—"
Imani gives me the look, but I don't stop.
"How are we supposed to make Special Memories without Siggy?"
Special Memories is what we call any big shared event, a joke from the yearbook pages that read Special Memories and are always a collage of pictures: friends sitting together at lunch, a teacher pretending to strangle a student, groups clustering together for a friendshot, the band in formation on the football field, various team members flexing or high-fiving or holding up number-one fingers.
I'd sold this whole day to the group on that big bonding premise: Let's Make Special Memories. That this is our senior year, and we've been friends since elementary school, and now we're just supposed to leave each other after graduation? How do you just do that?
I remember meeting Imani and Blair in kindergarten. Imani is still my best friend, even if Blair isn't.
But I remember meeting Imani over those little multicolor plastic bears. Green and yellow and red and blue, you were supposed to use them for counting, but I gave them all names and arranged them in groups and Imani loved that.
I remember she looked at me, eyes wide, and she said, "You're making them families?" like it was the best idea and no one had ever had it before.
She can still make me feel that rush of embarrassed pride, because I'm not that clever, but she likes the way I think sometimes, I guess.
How are you supposed to let go of Imani?
And how are you supposed to let go of Siggy, who we met in third grade when she moved to our school, who makes us laugh so hard, who is such an outrageous flirt, or was before she met Annoying Mark.
It makes my shoulders tight to think about graduation. To think about next fall when we're all separated, to think about moving on, moving out, what if I can't hack it? What if no one else likes me? Just these girls I met in elementary school, and the rest of the world doesn't care. Or worse.
What if I'm fundamentally unlikeable, and I drive everyone away with questions like this?
How do you stop asking questions?
Okay, so even if I do let go, or if they go anyway, which they will, no matter if I'm ready or not, how am I supposed to start over without them?
It doesn't matter if Siggy makes me so annoyed sometimes with her boyfriend and her occasional insensitivity. It doesn't matter if Imani can be frustrating with her grown-up seriousness, and it doesn't even matter that Blair—
A knife twists in my heart at the name.
Okay, so it still does matter about Blair, duh, don't be foolish, June.
I'm not going to let her ruin this for me. For us.
"June, I feel like you're getting caught in it," Imani says gently, and her hand touches my arm.
Sometimes I get too worked up. My mom calls it anxiety, Imani calls it "getting caught," and I call it being a normal, rational person who can see all the ways everything can go wrong.
"She's on the way," Imani says. "Deep breaths."
I gulp down air, take deep breaths, and nod at Imani.
"It's not just Siggy. What is it?" Imani asks.
She's got Spidey-level insight with me. And I do with her, too. We can always see when something is bothering the other, or when the other is upset about the thing underneath the thing.
I wave my hand at the world.
"It's everything," I say. "Blair and Scott. And graduation and stuff."
Imani nods and pulls me into a hug, giving me a big squeeze.
It calms me down, and I squeeze her back to say thanks.
And I really do feel better. Just like that.
The line moves forward, and we step around the edge of the building. I can see the doors and the large ZombieCon! banner designed like a biohazard warning. Above it is a massive promotional sign for Human Wasteland, as big as a billboard, unrolled from the top of the three-story convention center. The main cast stares out at us from the sign, worry lines furrowing their brows, sweat staining their very close-fitting and/or strategically ripped clothes, their eyes intense with everything they've seen.
Oh my God, I love this show!
A separate banner hangs below it, the tagline for this season, written in letters three feet tall: will you survive . . .
It can be a question, but they write it like an unfinished sentence because it has more impact that way, sounds like an imperative statement, use your will, choose to fight, because one of the themes of the show is what will it take to survive?
Will you survive . . .
A jolt of happy adrenaline dumps into my veins, and I turn and grab Imani's arms. And something I love about her (and Siggy, too, if she was here, dammit, I'm going to throttle her) is we know each other's thoughts almost instantly, and even though I was just worrying, Imani is with me immediately right now, a jolt of pure excitement, as we scream at each other.
"ZOMBIECON!"
We're here, it's our senior year, graduation is seven months away, and we will be friends forever, no matter what. This day is going to be one of those Special Memories we always think about, think back to, and we'll have the photo op with Hunter Sterling at the end of the day to prove it was the best day ever. Nothing's going to stop us. It'll be the perfect day, maybe the best day of our entire senior year.
Forget prom.
Forget graduation.
We're at ZombieCon!
3
After taking and posting multiple selfies with the banners behind us, Imani and I start rehashing our plans for the day: listing who we're going to pay for their autograph, who we might pay for a selfie at their tables, what we might buy for souvenirs. We strike up a conversation with the people in front of us, two girls and a guy, sharing the latest fandom gossip about the current showrunner, who is doing a great job with the show but seems to be a bit of a jerk at cons, and talking about the newest characters on the show.
"Man, it's too bad our friend Siggy isn't here, Linus and Annie are her absolute favorites," Imani tells them.
As we get closer to the doors, the energy of the crowd picks up; you can feel it building like a wave. It's good-natured, excitement and eagerness, but nobody's pushing or shoving. It's that elevated, amped-up feeling from our community of fans. Everyone here loves the same thing.
Pop music blares from the radio station van parked on the side of the convention center. The local reporter stands interviewing people in the line. She pulls over a rowdy group who roar just like football fans in a stadium when the camera sweeps over them.
Now I can see the doors and more importantly the security checkpoint in front of them that's slowing everyone down. A bag check area, a metal detector, and a pat-down station. Beyond them is the main entrance to the convention center: a three-story, semicircular glass wall arcing out toward the street, with five sets of double doors set at regular intervals along its round edge.
"We could just go in and meet up with Siggy inside," Imani says, twisting her ZombieCon! badge on the shoestring-style lanyard around her neck.
I glance at my phone. Still no texts.
"No, we need to wait," I say.
"We have phones, June," Imani says. "We could just meet up inside."
I can feel it, too. The open doors, so close now, are pulling at me like they have hands, gently tugging. I can smell the slightly chemical newness of the inside—the walls, the carpet, the air conditioner, urging so many wonders within.
"Imani, we have to wait. Yes, she screwed up, and yes, we're going to kill her, a little, when she gets here, but we can't just go in without her. No friend left behind! Fight together or end alone! We have to decide right now who we are. Do we leave people behind? I say nay! We wait! All together or none at all!"
"Sweet lord," Imani groans, laughing. "Juuuuuuuuuuune. We have phoooooones."
But no, I will not be swayed. This is how a day gets ruined. These little compromises and I'll-meet-you-laters that turn into meeting-you-not-at-alls. The next thing you know you spent the whole day apart, planning to meet up "sometime."
Besides I can feel the oratory loading up in my brain, almost like there's a swell of inspirational music underneath
it. So, I lean into it, tenting a hand on my collar bones in affront.
"Do we leave her behind? Our time-challenged friend? Who, need I remind you, we have known since Mrs. Raspberry's class? Do we abandon her to the chaos of this line alone?"
We edge forward. Now only two groups of people stand between us and the security point.
My hand lifts into a rallying fist.
"Or do we wait? Yes, wait! For waiting for a friend is the most noble thing one can do! Do we wait, though we will be pissed off at the waiting, or do we abandon our posts?! Nay, we do not!"
"Go inside!" some rando in the line behind us yells, and people laugh.
"You, sir, will be the first to go when the zombie apocalypse comes," I yell back.
"Nah, I'm a survivor!" the guy yells. His skin is dark brown and his eyes are warm with a we're all here to have fun light. He's wearing a T-shirt with a zombie chasing people that reads zombies hate fast food.
"Okay, see you at the end, then!" I yell back, because if he's a survivor then I'm a survivor, too.
Everyone chuckles along, and we all turn back to the front of the building as the line moves up again. We're next.
"Seriously," Imani says, still chuckling. "What are we gonna do? Siggy has her badge, she can meet us inside."
I turn to the bored-looking guard standing to the side of the checkpoint.
"Excuse me, we're waiting for our friend. Is it okay if we just wait here? Then when she gets here we can go in?"
"Knock yourself out," he says.
Imani and I shuffle off to the side a little, and I wave a hand in front of us. It takes only a few repetitions of "Go ahead" and "We're waiting for a friend" before the crowd gets it and we can just stand there grimly, smiling these pained smiles, and nodding as people give us generally sympathetic looks, as if we're orphans asking for more gruel.
"Oh, no. Okay, June, don't look." Imani's voice is first hushed and tight, then hushed and soothing, and that's how I know what it is.
Or rather who.
"Just look at me. She hasn't seen us, and we don't have to see her either. Not if you don't want to."
I knew she was coming. Her and Scott both. I knew that. I know that.
"Scott's not with her," Imani murmurs, reading my mind like always.
That pain that wears Blair's name lances through my heart again. Betrayal sharp as a sword. What it feels like to lose a close friend. After years. Because they were never your friend at all, it seems.
Shame and heat burn through my veins and I have to pretend now, that I don't feel this either, this particular self-hatred of being so, so, so stupid.
And not about math, which, I already knew.
But a new kind of stupid. A stupid about people, when I thought I was good at them.
I know I'm not supposed to say that word. To use it. I know my mom would hate it if she knew I thought of myself that way. I know it's a bad word, and inaccurate, and wrong.
But nothing else captures the way I feel. The worthlessness and shame of being . . . that.
"It's okay," I lie. "I'm fine."
And so, I look around, even though Imani has twisted in front of me slightly to shield us.
Blair Whitley walks alongside the slowly snaking line. She's taking long strides, like no one is going to stop her, not ever, why would they?
Her smile is tight on her face, like all her smiles are. Tense, forced, tightening her eyes and showing sharp teeth.
She's pretty in the whetted way of a knife. Her honey-brown hair is wavy, like she might have used hot rollers this morning. Her eyebrows are perfect arcs accenting her freckled white skin.
Before I can wonder where she's going in such a rush, when the line is so slow and we're all just standing here like cattle, I see it. Around her neck.
A VIP badge on a deluxe, collectible, blood-spatter-design ribbon lanyard.
Air whuffs out of my chest with a sickening thump.
I mean.
Of course.
"Is that a VIP pass?" Imani murmurs. "Good lord. They cost what, a grand?"
I nod, and make myself look away from Blair.
"Or more. Depending on which level you buy."
We were all supposed to go to ZombieCon! together.
"She must have upgraded," Imani says. "I guess her parents coughed up the cash, as always."
I feel an old surge of protectiveness, the light-tracings history of our entire, complicated friendship.
"Can you blame her?" I ask. "Especially since she knew she wouldn't be coming with us."
"Don't you start punishing yourself." Imani's voice is a gentle reprimand.
I just shake my head.
I can't help it. I met Blair in kindergarten, too. She used to play with me and Imani; they'd fight over me. Hard to believe, right? But I think it was because I used to be happy to play any game they wanted, not because I was so great or anything.
On the playground Blair would pull on one arm and Imani would pull on the other and they'd both be laughing and pulling at me, saying, "She's my friend! She's my friend!" and I would be laughing, too. I'm not going to lie, it felt pretty good to have them fight over me. But I'd say, "We can all play together!" and "I'm both your friends!" Which didn't quite make sense grammatically, but I knew what I meant.
And eventually I was both their friends. We were like the Three Musketeers, one for all, and all for one! And when Siggy came to our school in third grade, she became our fourth musketeer. We would hang out together in our group of four, or we'd break off into pairs, or trios, but usually we were all together as much as possible, sitting together at lunch every day, meeting up in the courtyard at break, and we might make friends outside of our musketeering but we always knew that we four were the closest of friends and the "core" group.
I'm close friends with a few juniors and sophomores because of how I had to repeat first geometry and then algebra 2. Imani has two other tight friend groups, one with the student council kids and the other through the Multicultural Club (I'm in it, too, but I don't go as much as Imani because I have tutoring after school. Right now the club is putting together an anime film festival). Siggy is hella into Botany Club and is of course close with Mark's friends. Blair is big in the AV Club and the newspaper, and has other friends in those groups.
But for all of these other friendship circles, we all always knew that Imani, Siggy, Blair, and me were the innermost circle. The base. The core.
And for me it was like each of them saw something different in me, and more than that called something else to the front.
With Blair it was intensity. She made me feel so immediate, a little unsafe, a little thrilled, being around her like being on a roller coaster that hasn't been tested.
I don't know what she liked about me. Whatever it was, I guess she didn't like it all that much, in the end.
We were all still friends until a little over one week ago, which is when I found out that Blair had gone behind my back to go out with the guy I was dating. And when I say "dating" let me unpack how pathetic this all is, because Scott's the one guy I've ever actually gone on a real date with, okay? And he's only the second guy I've ever French kissed, and the second French kiss total. (When we kissed the first time at least. We kissed a lot after that.)
I mean, it's not pathetic to not date. Plenty of people don't date, and they don't want to. And that's great!
It's just that I really want to. Despite all my complaining about Siggy and Mark. And my teasing Imani when she was with her ex, Ryan, who graduated last year.
Despite all of that, I just really, really wish I had a boyfriend, too.
High school for me has been one long, unending series of secret crushes from afar or boys who "think of you like a sister," and I'm not good at flirting or any of it.
But then there was Scott! And we were flirting, effortlessly, and he was so fun and funny and when he looked at me, I felt like he saw me and saw someone awesome at the same time. He doesn't go to our school; he actually lives in Peachtree City, which is thirty minutes away, and so it sort of gave me hope, too. That maybe boys just don't like me here, but when I get somewhere else . . .
Anyway, we met at a comic shop event in Peachtree City. One of the artists for the comics adaptation of Human Wasteland was there signing. Scott started talking to me, about the show, about zombies, and the podcast he wanted to start, and we just clicked.
Scott was the first guy I really liked who liked me back. And okay, so he wasn't my official, exclusive boyfriend. Not in that "going together" or "it's serious" way, but I thought we had that potential. And it sucked that I got him so wrong, and that he was a two-timing jerk, but it hurt so much more because Blair was my friend.
Or so I thought.
Needles sting the corners of my eyes.
Blair has reached the separate VIP security station. She's opening her purse for the guard, smiling and talking to him.
Okay, I better look away, because I don't want to cry, and I definitely don't want her to see us here in the damn plebe line, and I don't want to miss her at all, which I do. Even though I hate her with the fire of a thousand suns that are also on fire and in a volcano. In space. A space-volcano.
I don't want to think about how she really, really, really. Really, really, really. Really. Didn't care about me or my feelings.
And that she didn't hesitate to hurt me.
Because she didn't think about me at all.
When I called Imani, crying about Scott and Blair, Imani picked up Siggy and came to get me immediately. We all went to Imani's house, and I sobbed my heart out.
"That's horrible," Siggy had said, her voice absolutely aghast, and I knew she was thinking about how it would feel to stumble upon Mark in one of their favorite places with another girl.
Or worse, how it would feel if that girl was Blair.
"I can't believe Blair!" Siggy added, her eyes blazing.
"Maybe it's some sort of misunderstanding," Imani offered.
"Sure," Siggy scoffed. "They went on a picnic in the park and were making out by accident."
Imani had turned to look at me, her eyes glistening, reflecting my hurt. "I'm so sorry, June."
I hiccupped, and blew my nose. "I can't believe I didn't even suspect it!"
Imani had leaned forward then, and given me the biggest, tightest bear hug. Like she wanted to save me from something that had already happened, like she wanted to fix a bird's broken wing, or tape a butterfly back together.
Siggy leaned in to hug me, too, and when she leaned back, fury sparked in her eyes.
"It's not right," she'd said. "How would either of us feel, Imani, if Blair had done this to us?"
"Horrible," Imani breathed. "The worst."
"We should teach her a lesson," Siggy said. "Give her the cold shoulder. Just for a little while."
"I don't know . . ." Imani's voice was sad and raw, but she didn't let go of my hand.
So we talked about it. We sounded like parents, talking about putting a toddler on the naughty step.
But I was angry, and I was hurt, and Siggy was angry and hurt for me, and Imani just wanted me to feel better. So we agreed. Two weeks of no contact.
The four musketeers, now suddenly only three.
We've been giving Blair the cold shoulder for about a week. Less. None of us talking to her, moving away from her at lunch, not taking her calls, blocking her texts.
It feels harsh. It also feels pretty good in a twisting, dark way.
When it feels more twisting than good, I tell myself it's not forever.
I duck, giving my head a little shake so some hair falls in front of my eyes. I'll pretend I can't see her.
Imani's whispering soothing things, and we're just curled in the general direction of away from Blair, trying to make ourselves small, and that's when I hear Siggy's voice, shrill as a band saw.
"Haaaaaaaay, sexaaaaaaaay ladaaaaaaays!" she calls.
"Kill me now," I whisper to Imani, but we turn, and I can feel, without looking, not only everyone in line watching our friend finally arrive, but the call reaching out and catching Blair's ear. I can feel Blair's head swiveling like a tank gun. Her eyes sweep over us.
I have two choices: I can turn and look at Blair, let her know I see her and that I know she sees us, or I can keep pretending that I don't feel her watching. That I can't see out of the corner of my eye, how she's stopped and is watching us.
Siggy dance-walks up to us, with her hands out, palms up, and her head pigeon thrusting on her long neck. The move of one of the guys in that viral dance clip "when you run into your friends."
It's hilarious, and it makes me laugh even though she knows we've been waiting for her. One thing I will say about silly, skinny Siggy, she knows how to apologize, how to make an entrance, and how to make you laugh all at the same time.
"Forgive me, babies?" she says when she reaches us. "I'm sorry. I'm hopeless."
"Should have been your middle name," Imani says, but she's smiling, too.
Siggy's dressed in her usual boho-chic style. She's wearing a halter-top capri-length jumpsuit, gentle blue like her eyes. Her white-blonde hair falls in a sheet over her tan bolero jacket. Chunky ankle boots with peekaboo toes and a long bag-of-cloth purse finish out her look.
"You look so great," I tell her.
Siggy smiles and does a little dip, like a curtsy. Her dangly earrings glitter and bob hypnotically.
I can feel the weight of Blair's eyes on me, like a finger flicking my ear. Hot and stinging, and definitely something you ignore.
"Can you believe it? ZombieCon! Finally!" Siggy looks at the banners above our heads.
Honest excitement burbles up in my chest again, along with something darker, an I'll show her that seeps out toward Blair. I grab Imani's hand and Siggy's hand.
Imani immediately grabs Siggy's other hand, and our hands are twined in the middle of us, and I scream, as loud as I can, because we're here, and I'm not going to let Blair ruin my day, or Scott, or the SAT, or my zits, or any of it.
And Blair should see that we don't miss her, even if we do.
"ZombieCon! " I shriek, and Imani and Siggy scream and we jump up and down, laughing and screaming "Ahhhh!" and bouncing like a bunch of excited circus poodles, and there Blair is by herself, because she showed her stripes, didn't she? And Imani and Siggy are on my side.
Karma.
Eat your heart out, Blair, I think, even though it feels dark and I feel a bit queasy with it. Gross and kind of like I can feel my heart shrinking and it's not a good feeling. I still think it, anyway.
You shouldn't have hurt me.
Who am I kidding? She doesn't even care about me. I'm just trying to make myself feel better.
It works.
Because we're still here, the three of us, and it's finally ZombieCon! day, and it's going to be amazing.
It's going to be the best day of our lives, no matter what.