Author Spotlight
Penguin Teen Authors Share Their Scariest Real-Life Stories: Part 2!
Welcome back to Real-Life Scary Stories with Penguin Teen Authors! We asked our authors to share their creepiest experiences and urban legends, so scroll down for the perfect Halloween reads!
First up, Kelly deVos, author of Eat Your Heart Out, and the story of the mysterious bellhop at the Hotel Monte Vista!
My name is Kelly deVos. I am the author of Eat Your Heart Out.
And the Hotel Monte Vista is haunted.
We arrived on an October evening determined to see if the stories were true.
In its heyday, the imposing red brick building in the heart of downtown Flagstaff, Arizona was the haunt of celebrities like Bob Hope and Bing Crosby. Today, the paint peels off the walls in vacant rooms named for dearly departed, famous guests. Crews work long hours to restore the hotel to its former splendor.
The Monte Vista was said to be home to a number of permanent guests. A woman died in room 305 and now a chair near the window rocks on its own. A lady of the night was tossed from the balcony of room 306 and her spirit remained in the room. The Meat Man was in 220. He hung steaks from the chandelier the night before workers found his dead body. His ghost turned off lights and locked doors.
At check in, we were assigned a room on the fourth floor. We dragged our luggage from the front desk but a small sign that read TEMPORARILY OUT OF ORDER hung on the door of the once-luxurious Otis Elevator.
Confession: I am a terrible over packer. So, my daughter and I stood by the staircase with a stack of bags, contemplating several trips up to the top floor. Just then, a bellhop entered the lobby. He had a shock of wiry brown hair and wore a red wool jacket with shiny brass buttons.
His outfit seemed awfully old-timey.
But it was an old hotel.
He stared at the OUT OF ORDER sign for a beat. "No need to blow your wig, ma'am. I can run these bags right up."
"It's four stories!" my daughter protested.
"You should grab a bite," he suggested. "Your bags will be in your room by the time you return."
At dinner, I realized that I hadn't tipped him.
We ate in the Lotus Lounge and by the time we finished, it was dark outside. With money in hand, we searched everywhere in the lobby for the bellhop. But there was no sign of him. I approached the front desk and I placed the money on the counter.
"I'm looking for the bellhop," I said.
The woman behind the desk stared blankly at me for a minute.
"He has brown hair," I went on. "I forgot to tip him earlier."
"We…don't have…a bellhop," she said, slowly.
But a look of comprehension appeared on her face. She pulled out a brochure from behind the counter, placed on the counter in front of me and tapped a photo of John Wayne underneath a headline that read, GHOSTS OF MONTE VISTA.
It was iconic cowboy who first reported the Phantom Bellhop.
We left the desk and made our way through the lobby. The elevator in working order.
In our room, our luggage was stacked neatly a few feet from the door.
Next, the real-life haunted house belonging to author of The Girls Are Never Gone Sarah Glenn Marsh's family!
My name is Sarah Glenn Marsh, and I'm the author of The Girls Are Never Gone. My scariest real-life story takes place where a great many ghost stories do: in a beautiful Victorian house-turned-museum dating back to the 1880s. This haunting is more personal than most, though, as I actually know the spirits roaming these halls—they're family.
The Glenn House was built for my great-great grandparents, and was their home for many years, the place where they raised several children (including my namesake, their youngest daughter) until tragedy after tragedy—from major theft to a fire at my great-great grandfather's store—forced them out. In life, at least, they never went back to the place where they had been happiest, the only place where they had all been together as a family. But in death…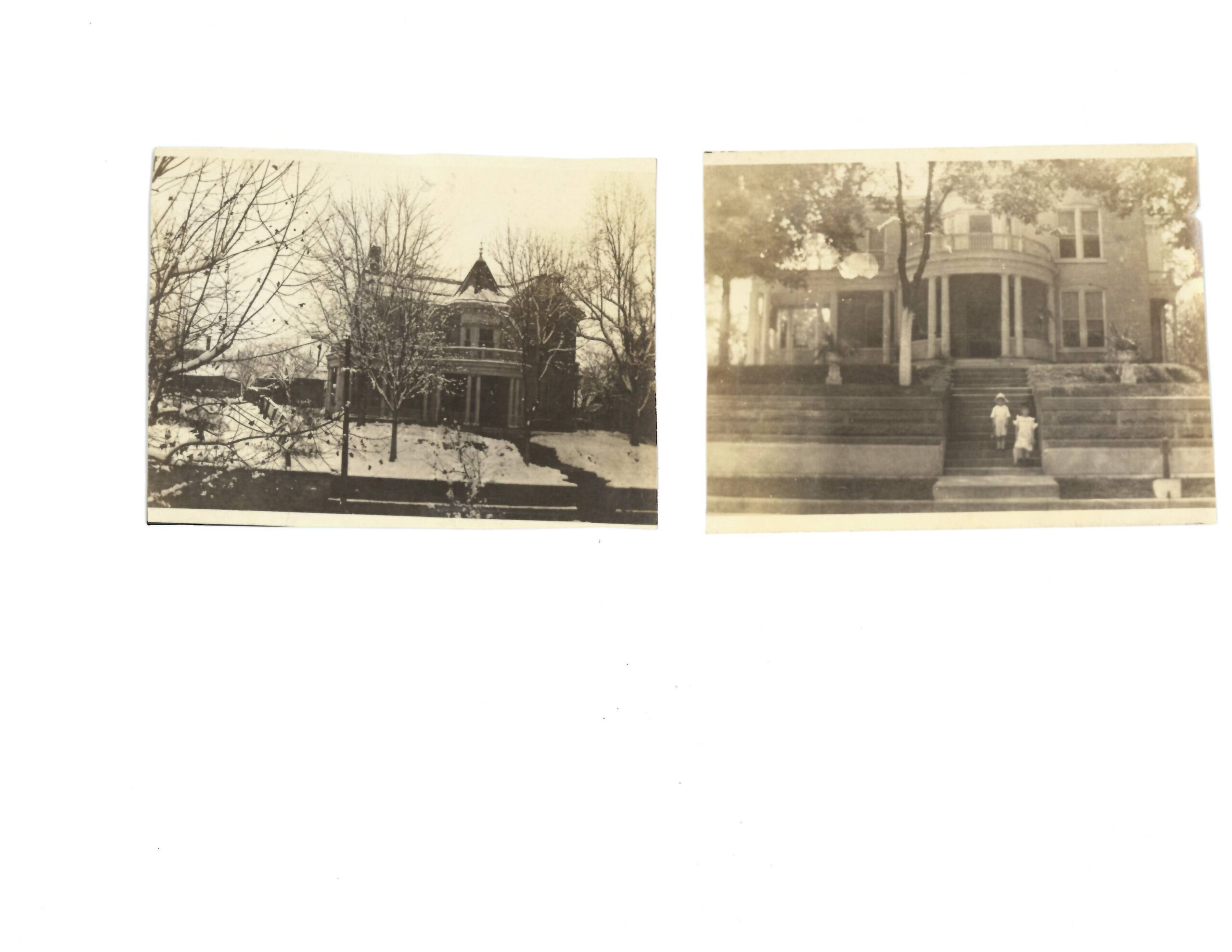 Pictured: The Glenn House
Not all the museum's volunteers are willing to go into the house alone. When they decorate for Christmas, packages unwrap themselves. The security alarm goes off in the middle of the night for no discernible reason. The servant calling system, its wires long disconnected, ring in the carriage house to summon a driver who hasn't lived there in decades; once, when a young man was interning for the museum and sleeping in the carriage house, the severed chimes called him toward the main house to find a well-dressed man standing in the kitchen who promptly vanished, leaving the intern stunned and trying to explain how someone had gotten inside when all the doors had still been locked.
Antique pennies, which are not a feature of the museum, sometimes appear on the floor—or even drop on a volunteer's head! —their dates reaching back to the late 1800s when my family still occupied the home.
In the nursery upstairs, where three children lived and three were lost in infancy, an oppressive feeling often lingers, even making some visitors so sick they have to leave the room. And sometimes, when the house is feeling a little too full, doors open by themselves—doors to the outside, as if someone is trying to politely show guests the way out.
Pictured: Sarah Emmeline Glenn
If you're wondering how many of these events I've experienced firsthand, the answer is simple: exactly none of them. Even when the team from the show Ghost Hunters investigated the house and invited me along, I came away with no story to share for the time I spent sitting in the dark old house, talking out loud to family members I had never met. Nothing, not even a shiver, despite one investigator getting scratched the night before I joined them (and I saw the mark it left!), among many other experiences they shared. It wasn't until I left the house late that night that the activity started back up—a pattern, it seemed to me and the volunteers, that had emerged over my many visits.
Pictured: Sarah Glenn Marsh at the Glenn gravesite
Maybe the spirits there realize, being related to me and all, what an embarrassing mess I'd be if I actually had a paranormal experience. But my theory? They're just happy to have family at home for a little while.
Next up, author of Our Last Echoes, Kate Alice Marshall's very eerie close call
When I was in middle school, I lived in Virginia. The thing I remember most vividly about my time spent there was the feeling of the air—the scent and the humidity of the summer and fall, and the smell of the damp concrete as I walked to school and back each day. We don't get humidity like that in Seattle, and we don't get the same kind of thunderstorms, either.
That afternoon I was walking home in nothing but a t-shirt and jeans, when the storm rolled in overhead. First came the rain, instantly drenching me completely through and spattering my glasses until I could barely see. I held my backpack over my head and started running.
Then came the lightning. Then the thunder, so close and loud it seemed to drown out my heartbeat. The next strike was so close it seemed like it must have hit right next to me. Panic spiked through me. Ahead of me, one boy yelled to his friend, "Drop the scooter and run, man!"
We bolted. I hurtled toward home, but the lightning and thunder was still fast and furious around me, and with my glasses coated in rain I could barely see anything. I was terrified, and I did the only thing I could think of: head toward a house to ask for help. I sprinted toward the nearest house.
Then, suddenly, I was filled with a sense of dread and wrongness. I had no idea why—the house seemed totally normal. But at the last second I veered away and kept running. I didn't get too far before I saw a house that felt "right". I sprinted up to the porch and knock frantically on the door.
The woman who opened the door was very startled and very kind as I asked to use her phone. It turned out that I'd seen her around. I even knew her dog, Popcorn. Her daughter was about to marry my English teacher's son. She let me use her phone, but it turned out that my brother was the only one at home. I offered to wait on the porch for the rain to stop, but she offered me a towel and a ride home instead. All was well.
I didn't really think about it again until a few months later, when I had to take a different route home from school because there were police cars all over the street I normally went down. The details were sparse: drugs and illegal weapons found, a brief stand-off, an arrest.
It wasn't until I was walking home the next day and saw the crime scene tape fluttering from the porch that I realized that I'd almost run straight up to that house to ask for help.
Next up, author of The Companion Katie Alender and the story of the literal ghost writer!
My name is Katie Alender, and I am the author of The Companion. My scariest real life story happened one night when I was in my office, writing. Our house was built into a hill, so the main floor was upstairs, and my office was on the downstairs level. My husband stayed late at his office, so I stayed at my desk to get some extra writing done that night. As I was coming to the end of a scene, I heard my husband come home. His footsteps walked around upstairs, and the TV came on. I was on a roll and I knew I could finish in a few minutes, so I stayed at my desk.
A short while later, when I was done, I headed upstairs. I could see the sofa and TV through the stair railing as I ascended, but to my surprise, my husband wasn't there. The lights were dim and the TV was off. I looked around for him, and it occurred to me that he must have gone to get ready for bed… but the bedroom door was open and from the stairs, I could see that the room was dark. He wouldn't have gone to sleep with the door open – we never did that. But I checked anyway.
He wasn't home at all. He arrived a few minutes later and found me in a state of disbelief. As I told him I would have bet ten thousand dollars that he was upstairs watching TV. But I had been alone the whole time.
Aside from accepting that my mind was playing tricks on me, the explanation I've settled on is this: a few weeks earlier, we had gone to the estate sale of a recently-deceased writer who had lived in a house across the street from ours, and we'd bought a pair of arm chairs, which were in our living room. Intrigued by the writerly energy coming from our house and feeling welcome by the presence of his own chairs, the writer's ghost had wandered over and taken a little look around as I worked. When I stopped for the night, he wandered back home.
We still have those chairs! And now we live in a house owned many years ago by another writer. Thankfully, that one is still alive and I don't expect any visits!
Next, author of Edie In Between Laura Sibson and this plot twist of a ghost!
When I was in second grade, we lived with my grandmother on the second floor of a 1900's Baltimore house that had been turned into apartments. My uncle lived in the third-floor apartment and fixed whatever went wrong in the old place. I was his self-appointed helper. One day he said we needed to check out the fuse box.
I crept behind Uncle John down the creaky wooden steps into the basement, which was even darker and danker than I'd imagined. Uncle John tugged on a string and one lone lightbulb made a feeble attempt at illuminating the space. Cobwebs draped the corners. An old player piano hunched against one wall.
"Here. You know what to do." Uncle John placed a heavy-duty flashlight in my hands. Dutifully, I shone the light exactly where he needed as he worked. After a while, I got bored. I flashed the beam in circles, giggling at the patterns that danced across the wall and into the shadowed ceiling. Maybe basements weren't so scary after all.
"Laura," Uncle John said, "Can't see what I'm doing without the light."
But my light had caught on something pale perched on the stone foundation wall where it didn't quite reach the ceiling joists. I trained the light at the spot, and I choked on my laughter.
"Uncle John?" I said, my voice wavering as much as the flashlight in my hand.
"What's wrong?"
When I didn't respond, he rose and peered toward the area that I was frozen on. The unmistakably curved shape of a human skull emerged from the top of the stone foundation wall. Its hollow eyes and its awful grin stared out at us.
"Your mother didn't tell you about him?" Uncle John asked, looking down at me.
I shook my head, mute.
He leaned down and said in a low voice, "A man was buried in the wall when this house was built. In fact, sometimes you can still hear him haunting the back steps." He looked back at the skull. "I'm surprised your mother didn't tell you."
Had the man been buried alive? What had he done? Or maybe the owner had murdered him. What was he doing on the back steps?
I cleared my throat. "I think Nanny needs me." I handed the flashlight to my uncle and skittered up the steps as fast as my legs could carry me until I stepped over the threshold into my grandmother's apartment, shutting the door hard.
"What's this slamming about?" Nanny asked, looking up from her crossword puzzle.
My heart thudded in my chest.
"Uncle John told me about the ghost," I whispered.
"What ghost?" Nanny demanded, slapping her crossword puzzle down on her lap.
"The one of the man buried in our basement." My voice quavered. "I saw his skull." Even saying the word sent shivers up and down my spine.
"Lordy, what nonsense has my son been feeding you?" Nanny said, patting the seat beside her.
I tucked in next to my grandmother, comforted by her soft warmth.
"No one was buried in our basement," Nanny said, pulling me close. "That skull isn't even attached to a body."
"What do you mean?" I asked
"Your uncle and his cousins snatched that skull years ago from their school's science lab one night on a dare. Your uncle is teasing you."
I rested my head against my grandmother's shoulder. Relief coursed through me. Then my grandmother went on.
"There is a ghost, but she lives in the attic. Not the basement," she said. Then she moved to get up from the chair. "Come on, let's get you some lunch."
Miss part 1 of Real-Life Scary Stories with Penguin Teen Authors? Click here to read!