What's Happening
Vacation Destinations for People Who Make Life Decisions Based on Books
So, we can't put Juniors down for two reasons. 1: it's a beautiful story of friendship, identity, and transformation that tingles our hearts. 2: it's making us wish SO hard that we could curl up and read it in Hawaii. Which got us thinking…what OTHER book-inspired vacations should we be planning for this year? Read on for our favorites!
Hawaii
Picture this: you're nestled up in the sand, listening to the crashing of waves, and a gentle breeze turns the page of your book for you.
If you heart just LITERALLY skipped a beat, start looking for flights and pack Juniors in your bag.
Rome
Though An Ember in the Ashes is a fantasy, it has many influences – one of them being ancient Rome, which inspired the Martial Empire. We'd love to visit the ancient ruins and imagine Laia and Elias meeting under the cover of night…
Switzerland
We'd forget the skiing and instead cozy up with some hot chocolate in the lodge while devouring the son of Frankenstein's monster's heartwarming, hilarious venture to Switzerland in This Broken Wondrous World.
Toronto
We can't go to ancient Mytica like Becca from A Book of Spirits and Thieves, but we can vacation in her exciting, artsy hometown Toronto!
Huashan Teahouse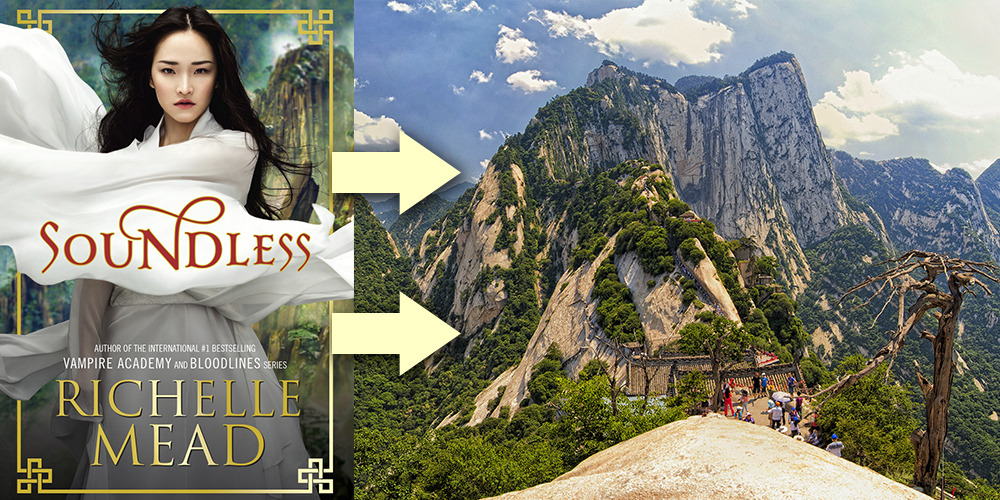 Thrill-seekers, a hike up dangerous, holy Mount Hua to China's famous Huashan Teahouse is the closest you will ever come to recreating Fei's journey to save her village in Soundless. 
Good luck…we'll be reading at the bottom.
Paris
It's hard to choose between settings in Paris, New York City, and Barcelona, but if you're looking for romance like Isla from Isla and the Happily Ever After,you have to go to the City of Love.
Orlando
Even though Floridian Quentin's trip to find Margo in Paper Towns was to upstate New York, we think adventuring to the roller coasters of sunny Orlando would be pretty great.
Los Angeles
Bad things happen everywhere…even in the land of sun and roses. But your trip to L.A. will be awesome as you soak up the rays and stroll the streets where Jude solves the mystery of what happened to her best friend in Pasadena (out 9/13).
Charleston, South Carolina
We're inclined to stay away from cruise ships after what happened to Frances, but you can strut around the charming historic city of Charleston to see where she got her revenge in Daughter of Deep Silence.