Reading Recs
YA books that embrace self-love and body positivity
From TJ Powar taking a stand by ditching her razors and waxing appointments, to Greer rediscovering her sense of self in the year after her body decided to change all the rules, to Jo rejecting her label and deciding for herself who she is to the world, here are 6 YA books that embrace self-love and body positivity!
When TJ Powar—a pretty, popular debater—and her cousin Simran become the subject of a meme: with TJ being the "expectation" of dating an Indian girl and her Sikh cousin who does not remove her body hair being the "reality"—TJ decides to take a stand.
She ditches her razors, cancels her waxing appointments, and sets a debate resolution for herself: "This House Believes That TJ Powar can be her hairy self, and still be beautiful." Only, as she sets about proving her point, she starts to seriously doubt anyone could care about her just the way she is—even when the infuriating boy from a rival debate team seems determined to prove otherwise.
As her carefully crafted sense of self begins to crumble, TJ realizes that winning this debate may cost her far more than the space between her eyebrows. And that the hardest judge to convince of her arguments might just be herself.
If Greer Walsh could only live inside her head, life would be easier. She'd be able to focus on excelling at math or negotiating peace talks between her best friend and . . . everyone else. She wouldn't spend any time worrying about being the only Kennedy High student whose breasts are bigger than her head.
But you can't play volleyball inside your head. Or go to the pool. Or have confusingly date-like encounters with the charming new boy. You need an actual body for all of those things. And Greer is entirely uncomfortable in hers.
Hilarious and heartbreakingly honest, My Eyes Are Up Here is a story of awkwardness and ferocity, of imaginary butterflies and rock-solid friends. It's the story of a girl finding her way out of her oversized sweatshirt and back into the real world.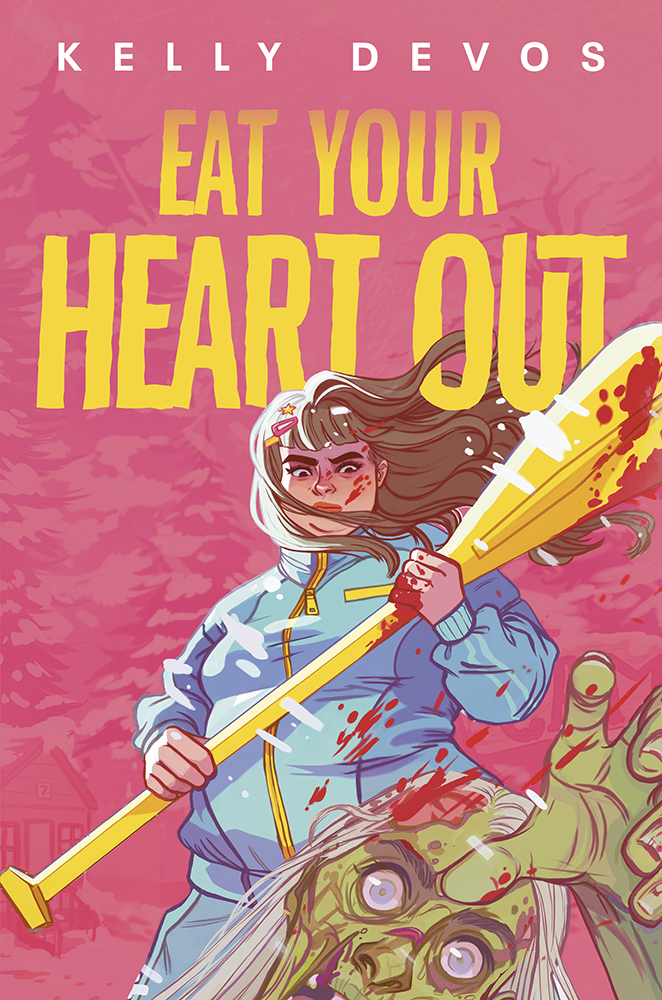 Shaun of the Dead meets Dumplin' in this bitingly funny YA thriller about a kickass group of teens battling a ravenous group of zombies.
In the next few hours, one of three things will happen.
1–We'll be rescued (unlikely)
2–We'll freeze to death (maybe)
3–We'll be eaten by thin and athletic zombies (odds: excellent)
Vivian Ellenshaw is fat, but she knows she doesn't need to lose weight, so she's none too happy to find herself forced into a weight-loss camp's van with her ex-best friend, Allie, a meathead jock who can barely drive, and the camp owner's snobby son. And when they arrive at Camp Featherlite at the start of the worst blizzard in the history of Flagstaff, Arizona, it's clear that something isn't right.
Vee barely has a chance to meet the other members of her pod, all who seem as unhappy to be at Featherlite as she does, when a camper goes missing down by the lake. Then she spots something horrifying outside in the snow. Something…that isn't human. Plus, the camp's supposed "miracle cure" for obesity just seems fishy, and Vee and her fellow campers know they don't need to be cured. Of anything.
Even worse, it's not long before Camp Featherlite's luxurious bungalows are totally overrun with zombies. What starts out as a mission to unravel the camp's secrets turns into a desperate fight for survival–and not all of the Featherlite campers will make it out alive.
A satirical blend of horror, body positivity, and humor, Kelly deVos's witty, biting novel proves that everyone deserves to feel validated, and taking down the evil enterprise determined to dehumanize you is a good place to start.
Fourteen-year-old Iranian-American Parvin Mohammadi sets out to win the ultimate date to homecoming in this heartfelt and outright hilarious debut.
Parvin Mohammadi has just been dumped–only days after receiving official girlfriend status. Not only is she heartbroken, she's humiliated. Enter high school heartthrob Matty Fumero, who just might be the smoking-hot cure to all her boy problems. If Parvin can get Matty to ask her to Homecoming, she's positive it will prove to herself and her ex that she's girlfriend material after all. There's just one problem: Matty is definitely too cool for bassoon-playing, frizzy-haired, Cheeto-eating Parvin. Since being herself hasn't worked for her in the past (see aforementioned dumping), she decides to start acting like the women in her favorite rom-coms. Those women aren't loud, they certainly don't cackle when they laugh, and they smile much more than they talk.
But Parvin discovers that being a rom-com dream girl is much harder than it looks. Also hard? The parent-mandated Farsi lessons. A confusing friendship with a boy who's definitely not supposed to like her. And hardest of all, the ramifications of the Muslim ban on her family in Iran. Suddenly, being herself has never been more important.
Olivia Abtahi's debut is as hilarious as it is heartfelt–a delightful tale where, amid the turmoil of high school friendships and crushes, being yourself is always the perfect way to be.
When Ada leaves home for her freshman year at a Historically Black College, it's the first time she's ever been so far from her family—and the first time that she's been able to make her own choices and to seek her place in this new world. As she stumbles deeper into the world of dance and explores her sexuality, she also begins to wrestle with her past—her mother's struggle with addiction, her Nigerian father's attempts to make a home for her. Ultimately, Ada discovers she needs to brush off the destiny others have chosen for her and claim full ownership of her body and her future.
An emotional and empowering novel about reputation and double standards, perfect for fans of Katie Cotugno and Sarah Dessen.
Jo Beckett is looking for love. She's fallen for a few boys, but for some reason, they've never fallen for her. One night, at a party she didn't even want to go to, she finds out the truth. Those boys, who are on the wrestling team she manages, consider her just a "practice girl"—the popular term for girl who's good enough to hook up with but not to date.
With this crushing revelation, Jo feels so many things–heartsick, ashamed, betrayed, and angry. But she refuses to let that label define her. In piecing her life back together, Jo is forced to unpack more uncomfortable truths about all her relationships–from her best friend to the boy she likes–that help her understand her real worth.
From the author of the acclaimed This Raging Light, Practice Girl is a heart-wrenching, relatable, and ultimately triumphant story about a girl who rejects her label and decides for herself who she is to the world.