Reading Recs
A book lover's holiday gift guide!
Presenting: the holiday gift guide you should give to the friends & family of all book lovers.
If your reader loves

FANTASY

…
Four Dead Queens by Astrid Scholte

Seventeen-year-old Keralie Corrington may seem harmless, but she's, in fact, one of Quadara's most skilled thieves and a liar. Varin, on the other hand, is an honest, upstanding citizen of Quadara's most enlightened region, Eonia. He runs afoul of Keralie when she steals a package from him, putting his life in danger. When Varin attempts to retrieve the package, he and Keralie both find themselves entangled in a conspiracy that leaves all four of Quadara's queens dead.
With no other choices and on the run from Keralie's former employer, the two decide to join forces, endeavoring to discover who has killed the queens and save their own lives in the process. When their reluctant partnership blooms into a tenuous romance, they must overcome their own dark secrets in hopes of a future together that seemed impossible just days before. But first they have to stay alive and untangle the secrets behind the nation's four dead queens.
Fireborne by Rosaria Munda
Annie and Lee were just children when a brutal revolution changed their world, giving everyone–even the lowborn–a chance to test into the governing class of dragonriders.
Now they are both rising stars in the new regime, despite backgrounds that couldn't be more different. Annie's lowborn family was executed by dragonfire, while Lee's aristocratic family was murdered by revolutionaries. Growing up in the same orphanage forged their friendship, and seven years of training have made them rivals for the top position in the dragonriding fleet.
But everything changes when survivors from the old regime surface, bent on reclaiming the city.
With war on the horizon and his relationship with Annie changing fast, Lee must choose to kill the only family he has left or to betray everything he's come to believe in. And Annie must decide whether to protect the boy she loves . . . or step up to be the champion her city needs.
These Witches Don't Burn by Isabel Sterling

Hannah's a witch, but not the kind you're thinking of. She's the real deal, an Elemental with the power to control fire, earth, water, and air. But even though she lives in Salem, Massachusetts, her magic is a secret she has to keep to herself. If she's ever caught using it in front of a Reg (read: non-witch), she could lose it. For good. So, Hannah spends most of her time avoiding her ex-girlfriend (and fellow Elemental Witch) Veronica, hanging out with her best friend, and working at the Fly by Night Cauldron selling candles and crystals to tourists, goths, and local Wiccans.
But dealing with her ex is the least of Hannah's concerns when a terrifying blood ritual interrupts the end-of-school-year bonfire. Evidence of dark magic begins to appear all over Salem, and Hannah's sure it's the work of a deadly Blood Witch. The issue is, her coven is less than convinced, forcing Hannah to team up with the last person she wants to see: Veronica.
While the pair attempt to smoke out the Blood Witch at a house party, Hannah meets Morgan, a cute new ballerina in town. But trying to date amid a supernatural crisis is easier said than done, and Hannah will have to test the limits of her power if she's going to save her coven and get the girl, especially when the attacks on Salem's witches become deadlier by the day.
The Last Voyage of Poe Blythe by Ally Condie

Who do you become when you have nothing left to lose?

There is something Poe Blythe, the seventeen-year-old captain of the Outpost's last mining ship, wants far more than the gold they tear from the Serpentine River.

Revenge.

Poe has vowed to annihilate the river raiders who robbed her of everything two years ago. But as she navigates the treacherous waters of the Serpentine and realizes there might be a traitor among her crew, she must also reckon with who she has become, who she wants to be, and the ways love can change and shape you. Even—and especially—when you think all is lost.
Tarot by Marissa Kennerson

Wicked Fox by Kat Cho

Seafire by Natalie C. Parker

After her family is killed by corrupt warlord Aric Athair and his bloodthirsty army of Bullets, Caledonia Styx is left to chart her own course on the dangerous and deadly seas. She captains her ship, the Mors Navis, with a crew of girls and women just like her, who have lost their families and homes because of Aric and his men. The crew has one mission: stay alive, and take down Aric's armed and armored fleet.
But when Caledonia's best friend and second-in-command barely survives an attack thanks to help from a Bullet looking to defect, Caledonia finds herself questioning whether to let him join their crew. Is this boy the key to taking down Aric Athair once and for all…or will he threaten everything the women of the Mors Navis have worked for?
A River of Royal Blood by Amanda Joy

An enthralling debut perfect for fans of Children of Blood and Bone set in a North African-inspired fantasy world where two sisters must fight to the death to win the crown.
Sixteen-year-old Eva is a princess, born with the magick of blood and marrow–a dark and terrible magick that hasn't been seen for generations in the vibrant but fractured country of Myre. Its last known practitioner was Queen Raina, who toppled the native khimaer royalty and massacred thousands, including her own sister, eight generations ago, thus beginning the Rival Heir tradition. Living in Raina's long and dark shadow, Eva must now face her older sister, Isa, in a battle to the death if she hopes to ascend to the Ivory Throne–because in the Queendom of Myre only the strongest, most ruthless rulers survive.
When Eva is attacked by an assassin just weeks before the battle with her sister, she discovers there is more to the attempt on her life than meets the eye–and it isn't just her sister who wants to see her dead. As tensions escalate, Eva is forced to turn to a fey instructor of mythic proportions and a mysterious and handsome khimaer prince for help in growing her magick into something to fear. Because despite the love she still has for her sister, Eva will have to choose: Isa's death or her own.
Give the Dark My Love by Beth Revis

Song of the Crimson Flower by Julie C. Dao

From the acclaimed author of Forest of a Thousand Lanterns comes a fantastical new tale of darkness and love, in which magical bonds are stronger than blood.
Will love break the spell? After cruelly rejecting Bao, the poor physician's apprentice who loves her, Lan, a wealthy nobleman's daughter, regrets her actions. So when she finds Bao's prized flute floating in his boat near her house, she takes it into her care, not knowing that his soul has been trapped inside it by an evil witch, who cursed Bao, telling him that only love will set him free. Though Bao now despises her, Lan vows to make amends and help break the spell.
Together, the two travel across the continent, finding themselves in the presence of greatness in the forms of the Great Forest's Empress Jade and Commander Wei. They journey with Wei, getting tangled in the webs of war, blood magic, and romance along the way. Will Lan and Bao begin to break the spell that's been placed upon them? Or will they be doomed to live out their lives with black magic running through their veins?
If your reader loves

SCI-FI
WAR GIRLS by Tochi Onyebuchi

Two sisters are torn apart by war and must fight their way back to each other in a futuristic, Black Panther-inspired Nigeria.
The year is 2172. Climate change and nuclear disasters have rendered much of earth unlivable. Only the lucky ones have escaped to space colonies in the sky.
In a war-torn Nigeria, battles are fought using flying, deadly mechs and soldiers are outfitted with bionic limbs and artificial organs meant to protect them from the harsh, radiation-heavy climate. Across the nation, as the years-long civil war wages on, survival becomes the only way of life.
Two sisters, Onyii and Ify, dream of more. Their lives have been marked by violence and political unrest. Still, they dream of peace, of hope, of a future together.
And they're willing to fight an entire war to get there.
The Warcross Boxset by Marie Lu

Discover the exhilarating world of Warcross in this stunning hardcover boxed set featuring both books in the dynamite duet from #1 New York Timesbestselling author Marie Lu!
When the Sky Fell on Splendor by Emily Henry

Project Nemesis by Brendan Reichs

The Waning Age by S.E. Grove

From the New York Times bestselling author of The Glass Sentence, a lightly speculative, relevant puzzle box with undertones of Never Let Me Go.
The time is now. The place is San Francisco. The world is filled with adults devoid of emotion and children on the cusp of losing their feelings–of "waning"–when they reach their teens.
Natalia Peña has already waned. So why does she love her little brother with such ferocity that, when he's kidnapped by a Big Brother-esque corporation, she'll do anything to get him back?
If your reader loves

HISTORICAL FICTION
The Fountains of Silence by Ruta Sepetys

Madrid, 1957. Under the fascist dictatorship of General Francisco Franco, Spain is hiding a dark secret. Meanwhile, tourists and foreign businessmen flood into Spain under the welcoming promise of sunshine and wine. Among them is eighteen-year-old Daniel Matheson, the son of an oil tycoon, who arrives in Madrid with his parents hoping to connect with the country of his mother's birth through the lens of his camera. Photography–and fate–introduce him to Ana, whose family's interweaving obstacles reveal the lingering grasp of the Spanish Civil War–as well as chilling definitions of fortune and fear. Daniel's photographs leave him with uncomfortable questions amidst shadows of danger. He is backed into a corner of difficult decisions to protect those he loves. Lives and hearts collide, revealing an incredibly dark side to the sunny Spanish city.
Master storyteller Ruta Sepetys once again shines light into one of history's darkest corners in this epic, heart-wrenching novel about identity, unforgettable love, repercussions of war, and the hidden violence of silence–inspired by the true postwar struggles of Spain.
Lovely War by Juliealexande Berry
They are Hazel, James, Aubrey, and Colette. A classical pianist from London, a British would-be architect turned soldier, a Harlem-born ragtime genius in the U.S. Army, and a Belgian orphan with a gorgeous voice and a devastating past. Their story, as told by the goddess Aphrodite, who must spin the tale or face judgment on Mount Olympus, is filled with hope and heartbreak, prejudice and passion, and reveals that, though War is a formidable force, it's no match for the transcendent power of Love.
Click here for more info!
The Alex & Eliza series by Melissa de la Cryz

From the #1 New York Times bestselling author of The Witches of East End and the Descendants series comes the love story of young Alexander Hamilton and Elizabeth Schuyler.
Someday We Will Fly by Rachel DeWoskin
We Walked the Sky by Lisa Fiedler

If your reader loves POETRY
Can't go wrong with the winner of Goodreads Choice Awards – Poetry Category…
SHOUT by Laurie Halse Anderson

if your reader loves

MYSTERY
The Beautiful by Renée Ahdieh

In 1872, New Orleans is a city ruled by the dead. But to seventeen-year-old Celine Rousseau, New Orleans is a safe haven after she's forced to flee her life as a dressmaker in Paris. Taken in by the sisters of the Ursuline convent in the middle of the carnival season, Celine is quickly enraptured by the vibrant city, from its music to its fancy soirées and even its danger. She becomes embroiled in the city's glitzy underworld, known as La Cour des Lions, after catching the eye of the group's enigmatic leader, Sébastien Saint Germain.
When the body of one of the girls from the convent is found in Sébastien's own lair–the second dead girl to turn up in recent weeks–Celine battles her attraction to Sébastien and suspicions about his guilt along with the shame of her own horrible secret.
After a third murder, New Orleans becomes gripped by the terror of a serial killer on the loose–one who has now set Celine in his sights. As the murderer stalks her, Celine finally takes matters into her own hands, only to find herself caught in the midst of an age-old feud between the darkest creatures of the night, where the price of forbidden love is her life.
I Know You Remember by Jennifer Donaldson

Zahra Gaines is missing.
After three long years away, Ruthie Hayden arrives in her hometown of Anchorage, Alaska to this devastating news. Zahra was Ruthie's best friend–the only person who ever really understood her–and she vows to do whatever it takes to find her.
Zahra vanished from a party just days before Ruthie's return, but the more people she talks to, the more she realizes that the Zahra she knew disappeared long before that fateful night. Gone is the whimsical, artistic girl who loved books and knew Ruthie's every secret. In her place is an athlete, a partier, a girl with secrets of her own. Darker still are the rumors that something happened to Zahra while Ruthie was gone, something that changed her forever…
As Ruthie desperately tries to piece together the truth, she falls deeper and deeper into her friend's new world, circling closer to a dangerous revelation about what happened to Zahra in the days before her disappearance–one that might be better off buried.
Girl Gone Viral by Arvin Ahmadi

For seventeen-year-old Opal Hopper, code is magic. She builds entire worlds from scratch: Mars craters, shimmering lakes, any virtual experience her heart desires.
But she can't code her dad back into her life. When he disappeared after her tenth birthday, leaving only a cryptic note, Opal tried desperately to find him. And when he never turned up, she enrolled at a boarding school for technical prodigies and tried to forget.
Until now. Because WAVE, the world's biggest virtual reality platform, has announced a contest where the winner gets to meet its billionaire founder. The same billionaire who worked closely with Opal's dad. The one she always believed might know where he went. The one who maybe even murdered him.
The Virtue of Sin by Shannon Schuren

Miriam lives in New Jerusalem, a haven in the desert far away from the sins and depravity of the outside world. Within the gates of New Jerusalem, and under the eye of its founder and leader, Daniel, Miriam knows she is safe. Cared for. Even if she's forced, as a girl, to quiet her tongue when she has thoughts she wants to share, Miriam knows that New Jerusalem is a far better life than any alternative. So when God calls for a Matrimony, she's thrilled; she knows that Caleb, the boy she loves, will choose her to be his wife and they can finally start their life together.
But when the ceremony goes wrong and Miriam winds up with someone else, she can no longer keep quiet. For the first time, Miriam begins to question not only the rules that Daniel has set in place, but also what it is she believes in, and where she truly belongs…and she realizes Daniel may be harboring more secrets than she ever imagined.
All the Bad Apples by Möira Fowley-Doyle

If your reader likes

HORROR
Rules for Vanishing by Kate Alice Marshall
The Haunted by Danielle Vega

If your reader loves

CONTEMPORARY
Frankly in Love by David Yoon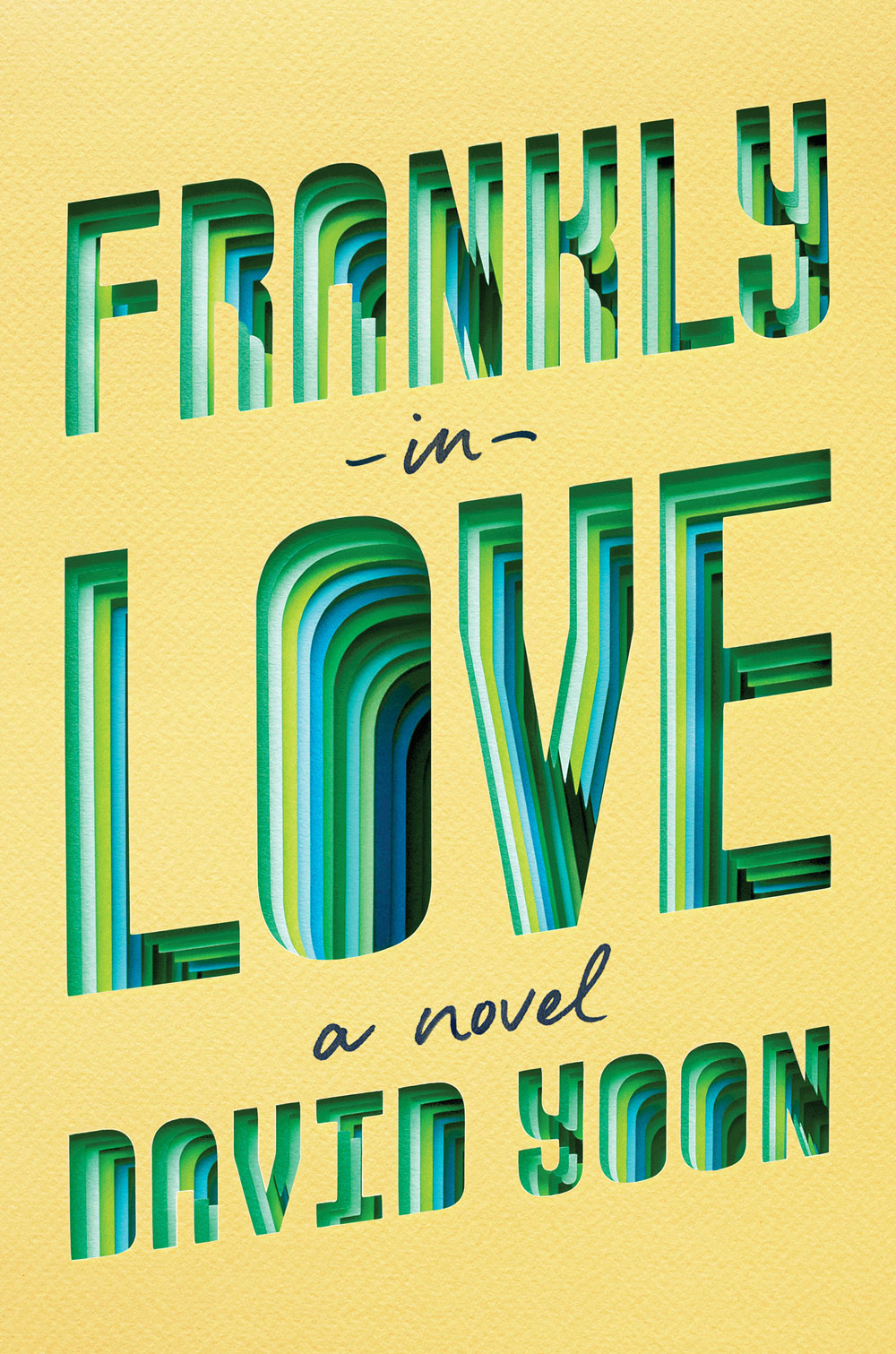 Two friends. One fake dating scheme. What could possibly go wrong?
Frank Li has two names. There's Frank Li, his American name. Then there's Sung-Min Li, his Korean name. No one uses his Korean name, not even his parents. Frank barely speaks any Korean. He was born and raised in Southern California.
Even so, his parents still expect him to end up with a nice Korean girl–which is a problem, since Frank is finally dating the girl of his dreams: Brit Means. Brit, who is funny and nerdy just like him. Brit, who makes him laugh like no one else. Brit . . . who is white.
As Frank falls in love for the very first time, he's forced to confront the fact that while his parents sacrificed everything to raise him in the land of opportunity, their traditional expectations don't leave a lot of room for him to be a regular American teen. Desperate to be with Brit without his parents finding out, Frank turns to family friend Joy Song, who is in a similar bind. Together, they come up with a plan to help each other and keep their parents off their backs. Frank thinks he's found the solution to all his problems, but when life throws him a curveball, he's left wondering whether he ever really knew anything about love—or himself—at all.
Her Royal Highness by Rachel Hawkins

Millie Quint is devastated when she discovers that her sort-of-best friend/sort-of-girlfriend has been kissing someone else. Heartbroken and ready for a change of pace, Millie decides to apply for scholarships to boarding schools . . . the farther from Houston the better.
Soon, Millie is accepted into one of the world's most exclusive schools, located in the rolling highlands of Scotland. Here, the country is dreamy and green; the school is covered in ivy, and the students think her American-ness is adorable.
The only problem: Mille's roommate Flora is a total princess.
She's also an actual princess. Of Scotland.
At first, the girls can't stand each other, but before Millie knows it, she has another sort-of-best-friend/sort-of-girlfriend. Princess Flora could be a new chapter in her love life, but Millie knows the chances of happily-ever-afters are slim . . . after all, real life isn't a fairy tale . . . or is it?
Juliet Takes a Breath by Gabby Rivera

How It Feels to Float by Helena Fox

Biz knows how to float. She has her people, her posse, her mom and the twins. She has Grace. And she has her dad, who tells her about the little kid she was, and who shouldn't be here but is. So Biz doesn't tell anyone anything. Not about her dark, runaway thoughts, not about kissing Grace or noticing Jasper, the new boy. And she doesn't tell anyone about her dad. Because her dad died when she was seven. And Biz knows how to float, right there on the surface–normal okay regular fine.
But after what happens on the beach–first in the ocean, and then in the sand–the tethers that hold Biz steady come undone. Dad disappears and, with him, all comfort. It might be easier, better, sweeter to float all the way away? Or maybe stay a little longer, find her father, bring him back to her. Or maybe–maybe maybe maybe–there's a third way Biz just can't see yet.
If I'm Being Honest by Austin Siegemund-Broka & Emily Wibberley

Hot Dog Girl by Jennifer Dugan

Elouise (Lou) Parker is determined to have the absolute best, most impossibly epic summer of her life. There are just a few things standing in her way:
• She's landed a job at Magic Castle Playland . . . as a giant dancing hot dog.
• Her crush, the dreamy diving pirate Nick, already has a girlfriend, who is literally the princess of the park. But Lou's never liked anyone, guy or otherwise, this much before, and now she wants a chance at her own happily ever after.
• Her best friend, Seeley, the carousel operator, has always been up for anything, but she's decidedly not on board when it comes to Lou's quest to set her up with the perfect girl or Lou's scheme to get close to Nick.
• And it turns out that this will be their last summer at Magic Castle Playland–ever–unless she can find a way to stop it from closing.
Jennifer Dugan's sparkling debut coming-of-age queer romance stars a princess, a pirate, a hot dog, and a carousel operator who find love–and themselves–in unexpected people and unforgettable places.
Patron Saints of Nothing by Randy Ribay

A powerful coming-of-age story about grief, guilt, and the risks a Filipino-American teenager takes to uncover the truth about his cousin's murder.
Jay Reguero plans to spend the last semester of his senior year playing video games before heading to the University of Michigan in the fall. But when he discovers that his Filipino cousin Jun was murdered as part of President Duterte's war on drugs, and no one in the family wants to talk about what happened, Jay travels to the Philippines to find out the real story.
Hoping to uncover more about Jun and the events that led to his death, Jay is forced to reckon with the many sides of his cousin before he can face the whole horrible truth — and the part he played in it.
Night Music by Jenn Marie Thorne

Ruby has always been Ruby Chertok: future classical pianist and daughter of renowned composer Martin Chertok. But after her horrendous audition for the prestigious music school where her father is on faculty, it's clear that music has publicly dumped her. Now Ruby is suddenly just . . . Ruby. And who is that again? All she knows is that she wants away from the world of classical music for good.
Oscar is a wunderkind, a musical genius. Just ask any of the 1.8 million people who've watched him conduct on YouTube–or hey, just ask Oscar. But while he might be the type who'd name himself when asked about his favorite composer and somehow make you love him more for it, Oscar is not the type to jeopardize his chance to study under the great Martin Chertok–not for a crush. He's all too aware of how the ultra-privileged world of classical music might interpret a black guy like him falling for his benefactor's white daughter.
But as the New York City summer heats up, so does the spark between Ruby and Oscar. Soon their connection crackles with the same alive, uncontainable energy as the city itself. Can two people still figuring themselves out figure out how to be together? Or will the world make the choice for them?
This Book Is Not Yet Rated by Peter Bognanni

Movies have always helped Ethan Ashby make sense of the world. So when developers swoop in and say the classic Green Street Cinema is going to be destroyed to make room for luxury condos, Ethan is ready for battle. And so a motley crew of cinema employees comes together to save the place they love:
There's Sweet Lou, the elderly organist with a penchant for not-so-sweet language; Anjo, the too-cool projectionist; Griffin and Lucas who work concessions, if they work at all; and Ethan, their manager (who can barely manage his own life). Still, it's going to take a movie miracle for the Green Street to have a happy ending. And when Raina Allen, Ethan's oldest friend (and possible soul mate?), comes back to town after working in Hollywood–cue lights and music–it seems that miracle may have been delivered. But life and love aren't always like in the movies.
This Book is Not Yet Rated is about growing up, letting go, and realizing love hides in plain view–in the places that shape us, the people who raise us, the first loves who leave us, and the lives that fade in and fade out all around us.
The Art of Breaking Things by Laura Sibson

Screen Queens by Lori Goldstein

The Bold Type meets The Social Network when three girls participate in a startup incubator competition and uncover the truth about what it means to succeed in the male-dominated world of tech.
This summer Silicon Valley is a girls' club.
Three thousand applicants. An acceptance rate of two percent. A dream internship for the winning team. ValleyStart is the most prestigious high school tech incubator competition in the country. Lucy Katz, Maddie Li, and Delia Meyer have secured their spots. And they've come to win.
Meet the Screen Queens.
We Speak in Storms by Natalie Lund

A powerful and haunting debut novel about friendship, acceptance, and learning to let go as the balance between the living and the dead is upended, perfect for fans of We Were Liars.
It's been more than 50 years since a tornado tore through a drive-in movie theater in tiny Mercer, Illinois, leaving dozens of teens — a whole generation of Mercerites — dead in its wake. So when another tornado touches down in the exact same spot on the anniversary of this small-town tragedy, the town is shaken. For Brenna Ortiz, Joshua Calloway, and Callie Keller, the apprehension is more than just a feeling. Though they seem to share nothing more than a struggle to belong, the teens' paths continue to intersect, bringing them together when they least expect it, and perhaps, when they need it most. Both the living and the dead have secrets and unresolved problems, but they may be able to find peace and move forward–if only they work together.
A beautifully told, haunting yet hopeful novel about pushing past the pain, facing the world, and finding yourself.
As Many Nows as I Can Get by Shana Youngdahl

A timely, searing, and unconventional romance from an urgent new voice in young adult fiction
In one impulsive moment the summer before they leave for college, overachievers Scarlett and David plunge into an irresistible swirl of romance, particle physics, and questionable decisions. Told in non-linear, vivid first-person chapters, As Many Nows As I Can Get is the story of a grounded girl who's pulled into a lightning-strike romance with an electric-charged boy, and the enormity of the aftermath. Cerebral, accessible, bold, and unconventionally romantic, this is a powerful debut about grief, guilt, and reconciling who you think you need to be with the person you've been all along.
The Grief Keeper by Alexandra Villasante

This stunning YA debut is a timely and heartfelt speculative narrative about healing, faith, and freedom.
Seventeen-year-old Marisol has always dreamed of being American, learning what Americans and the US are like from television and Mrs. Rosen, an elderly expat who had employed Marisol's mother as a maid. When she pictured an American life for herself, she dreamed of a life like Aimee and Amber's, the title characters of her favorite American TV show. She never pictured fleeing her home in El Salvador under threat of death and stealing across the US border as "an illegal", but after her brother is murdered and her younger sister, Gabi's, life is also placed in equal jeopardy, she has no choice, especially because she knows everything is her fault. If she had never fallen for the charms of a beautiful girl named Liliana, Pablo might still be alive, her mother wouldn't be in hiding and she and Gabi wouldn't have been caught crossing the border.
But they have been caught and their asylum request will most certainly be denied. With truly no options remaining, Marisol jumps at an unusual opportunity to stay in the United States. She's asked to become a grief keeper, taking the grief of another into her own body to save a life. It's a risky, experimental study, but if it means Marisol can keep her sister safe, she will risk anything. She just never imagined one of the risks would be falling in love, a love that may even be powerful enough to finally help her face her own crushing grief.
Turtles All the Way Down by John Green
Let It Snow by John Green, Lauren Myracle, and Maureen Johnson
An ill-timed storm on Christmas Eve buries the residents of Gracetown under multiple feet of snow and causes quite a bit of chaos. One brave soul ventures out into the storm from her stranded train, setting off a chain of events that will change quite a few lives. Over the next three days one girl takes a risky shortcut with an adorable stranger, three friends set out to win a race to the Waffle House (and the hash brown spoils), and the fate of a teacup pig falls into the hands of a lovesick barista.
A trio of today's bestselling authors—John Green, Maureen Johnson, and Lauren Myracle—brings all the magic of the holidays to life in three hilarious and charming interconnected tales of love, romance, and kisses that will steal your breath away.
I Am Still Alive by Kate Alice Marshall
Darius the Great Is Not Okay by Adib Khorram
Darius Kellner speaks better Klingon than Farsi, and he knows more about Hobbit social cues than Persian ones. He's a Fractional Persian—half, his mom's side—and his first-ever trip to Iran is about to change his life.
Darius has never really fit in at home, and he's sure things are going to be the same in Iran. His clinical depression doesn't exactly help matters, and trying to explain his medication to his grandparents only makes things harder. Then Darius meets Sohrab, the boy next door, and everything changes. Soon, they're spending their days together, playing soccer, eating faludeh, and talking for hours on a secret rooftop overlooking the city's skyline. Sohrab calls him Darioush—the original Persian version of his name—and Darius has never felt more like himself than he does now that he's Darioush to Sohrab.