Reading Recs
8 Winter reads (and where to read them)
Winter is the best time to be a reader–it's the perfect excuse to stay in, get cozy, and read! Here are some of our favorite wintery picks for your TBR this season (AND the perfect places to read them in!)
About the book:
You go through life thinking there's so much you need. . . . Until you leave with only your phone, your wallet, and a picture of your mother. Marin hasn't spoken to anyone from her old life since the day she left everything behind. No one knows the truth about those final weeks. Not even her best friend Mabel. But even thousands of miles away from the California coast, at college in New York, Marin still feels the pull of the life and tragedy she's tried to outrun. Now, months later, alone in an emptied dorm for winter break, Marin waits. Mabel is coming to visit and Marin will be forced to face everything that's been left unsaid and finally confront the loneliness that has made a home in her heart.
About the book:
Set in a rich, high-fantasy world inspired by ancient Rome, Sabaa Tahir's AN EMBER IN THE ASHES told the story of Laia, a slave fighting for her family, and Elias, a young soldier fighting for his freedom.

Now, in A TORCH AGAINST THE NIGHT, Elias and Laia are running for their lives.
After the events of the Fourth Trial, Martial soldiers hunt the two fugitives as they flee the city of Serra and undertake a perilous journey through the heart of the Empire.
Laia is determined to break into Kauf—the Empire's most secure and dangerous prison—to save her brother, who is the key to the Scholars' survival. And Elias is determined to help Laia succeed, even if it means giving up his last chance at freedom.
But dark forces, human and otherworldly, work against Laia and Elias. The pair must fight every step of the way to outsmart their enemies: the bloodthirsty Emperor Marcus, the merciless Commandant, the sadistic Warden of Kauf, and, most heartbreaking of all, Helene—Elias's former friend and the Empire's newest Blood Shrike.
Bound to Marcus's will, Helene faces a torturous mission of her own—one that might destroy her: find the traitor Elias Veturius and the Scholar slave who helped him escape…and kill them both.
About the book:
The Hazel Wood meets The Astonishing Color of After in this dreamy, atmospheric novel that follows sixteen-year-old Eli as she tries to remember what truly happened the night her mother disappeared off a frozen fjord in Norway under the Northern Lights.
Never whistle at the Northern Lights, the legend goes, or they'll sweep down from the sky and carry you away.
Sixteen-year-old Eline Davis knows it's true. She was there ten years ago, on a frozen fjord in Svalbard, Norway, the night her mother whistled at the lights and then vanished.
Now, Eli lives an ordinary life with her dad on Cape Cod. But when the Northern Lights are visible over the Cape for just one night, she can't resist the possibility of seeing her mother again. So she whistles–and it works. Her mother appears, with snowy hair, frosty fingertips and a hazy story of where she's been all these years. And she doesn't return alone.
Along with Eli's mother's reappearance come strange, impossible things. Narwhals swimming in Cape Cod Bay, meteorites landing in Eli's yard, and three shadowy princesses with ominous messages. It's all too much, too fast, and Eli pushes her mother away. She disappears again–but this time, she leaves behind a note that will send Eli on a journey across continents, to the northern tip of the world:

Find me where I left you.
About the book:
From #1 New York Times bestselling author Marie Lu comes a historical YA fantasy about a musical prodigy and the dangerous lengths she'll go to make history remember her. Now in paperback.
Two siblings. Two brilliant talents. But only one Mozart.
Born with a gift for music, Nannerl Mozart has just one wish–to be remembered forever. But even as she delights audiences with her masterful playing, she has little hope she'll ever become the acclaimed composer she longs to be. She is a young woman in 18th century Europe, and that means composing is forbidden to her. She will perform only until she reaches a marriageable age–her tyrannical father has made that much clear.
And as Nannerl's hope grows dimmer with each passing year, the talents of her beloved younger brother, Wolfgang, only seem to shine brighter. His brilliance begins to eclipse her own, until one day a mysterious stranger from a magical land appears with an irresistible offer. He has the power to make her wish come true–but his help may cost her everything.
In her first work of historical fiction, #1 New York Times bestselling author Marie Lu spins a lush, lyrically-told story of music, magic, and the unbreakable bond between a brother and sister.
About the book:
Get Out meets Holly Jackson in this YA social thriller where survival is not a guarantee.
Sixteen-year-old Jake Livingston sees dead people everywhere. But he can't decide what's worse: being a medium forced to watch the dead play out their last moments on a loop or being at the mercy of racist teachers as one of the few Black students at St. Clair Prep. Both are a living nightmare he wishes he could wake up from. But things at St. Clair start looking up with the arrival of another Black student—the handsome Allister—and for the first time, romance is on the horizon for Jake.
Unfortunately, life as a medium is getting worse. Though most ghosts are harmless and Jake is always happy to help them move on to the next place, Sawyer Doon wants much more from Jake. In life, Sawyer was a troubled teen who shot and killed six kids at a local high school before taking his own life. Now he's a powerful, vengeful ghost and he has plans for Jake. Suddenly, everything Jake knows about dead world goes out the window as Sawyer begins to haunt him. High school soon becomes a different kind of survival game—one Jake is not sure he can win.
About the book:
The highly anticipated next book in the New York Times bestselling, award-winning Graceling Realm series, which has sold 1.7 million copies.
For the past five years, Bitterblue has reigned as Queen of Monsea, heroically rebuilding her nation after her father's horrific rule. After learning about the land of Torla in the east, she sends envoys to the closest nation there: Winterkeep—a place where telepathic foxes bond with humans, and people fly across the sky in wondrous airships. But when the envoys never return, having drowned under suspicious circumstances, Bitterblue sets off for Winterkeep herself, along with her spy Hava and her trusted colleague Giddon. On the way, tragedy strikes again—a tragedy with devastating political and personal ramifications.
Meanwhile, in Winterkeep, Lovisa Cavenda waits and watches, a fire inside her that is always hungry. The teenage daughter of two powerful politicians, she is the key to unlocking everything—but only if she's willing to transcend the person she's been all her life.
The Graceling Realm books are a companion series, not direct sequels, so they can be enjoyed in any order.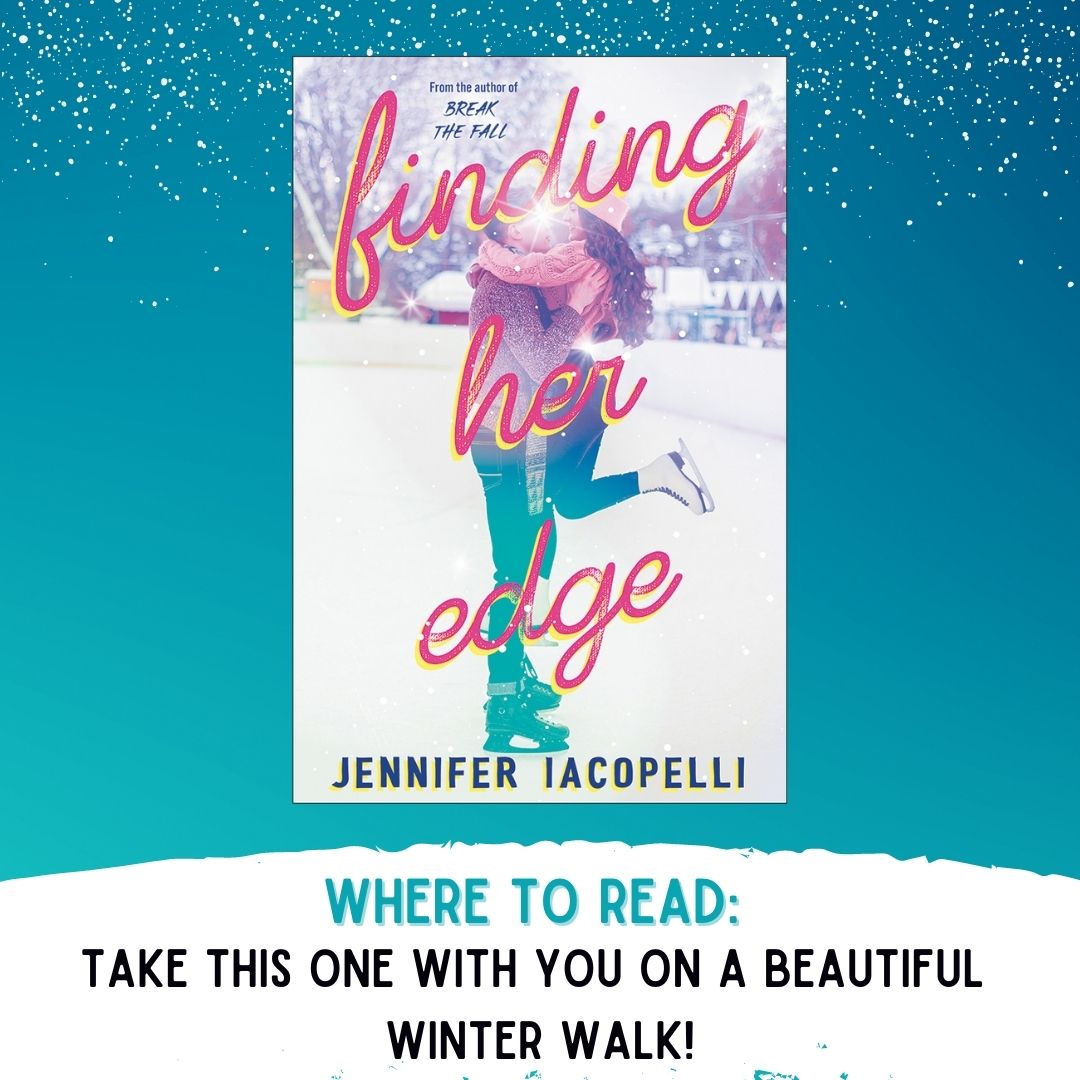 About the book:
For fans of Emma Lord and Abbi Glines, Jennifer Iacopelli's swoony, romantic new novel follows elite ice dancer Adriana Russo as she finds herself drawn to both her old dance partner and her new one. Coming February 8, 2022!
Adriana Russo is figure skating royalty.
With gold-medalist parents, and her older sister headed to the Olympics, all she wants is to live up to the family name and stand atop the ice dance podium at the Junior World Championships. But fame doesn't always mean fortune, and their legendary skating rink is struggling under the weight of her dad's lavish lifestyle. The only thing keeping it afloat is a deal to host the rest of the Junior Worlds team before they leave for France.
That means training on the same ice as her first crush, Freddie, the partner she left when her growth spurt outpaced his. For the past two years, he's barely acknowledged her existence, and she can't even blame him for it.
When the family's finances take another unexpected hit, losing the rink seems inevitable until her partner, Brayden, suggests they let the world believe what many have suspected: that their intense chemistry isn't contained to the ice. Fans and sponsors alike take the bait, but keeping up the charade is harder than she ever imagined. And training alongside Freddie makes it worse, especially when pretending with Brayden starts to feel very real.
As the biggest competition of her life draws closer and her family's legacy hangs in the balance, Adriana is caught between her past and present, between the golden future she's worked so hard for, and the one she gave up long ago.
About the book:
Sixteen tales by bestselling and award-winning authors that explore the Black experience through fantasy, science fiction, and magic. With stories by: Elizabeth Acevedo, Amerie, Patrice Caldwell, Dhonielle Clayton, J. Marcelle Corrie, Somaiya Daud, Charlotte Nicole Davis, Justina Ireland, Alaya Dawn Johnson, Danny Lore, L. L. McKinney, Danielle Paige, Rebecca Roanhorse, Karen Strong, Ashley Woodfolk, and Ibi Zoboi.
Evoking Beyoncé's Lemonade for a teen audience, these authors who are truly Octavia Butler's heirs, have woven worlds to create a stunning narrative that centers Black women and gender nonconforming individuals. A Phoenix First Must Burn will take you on a journey from folktales retold to futuristic societies and everything in between. Filled with stories of love and betrayal, strength and resistance, this collection contains an array of complex and true-to-life characters in which you cannot help but see yourself reflected. Witches and scientists, sisters and lovers, priestesses and rebels: the heroines of A Phoenix First Must Burn shine brightly. You will never forget them.