Movies and TV
2020 Penguin Teen YA Preview!
It may be a while off, but 2020 for YA books is shaping up to be AMAZING.
Obviously it would unfair to not tell you all ahead of time so you can start marking your TBRs, so we've created this preview of our breaking news 2020 titles to keep you in the loop of all the best new fantasy, romance, action, thrillers and series ending dramas hitting shelves.
After that A Map of Days ending we are DYING for January to get here sooner and GIVE. US. THIS BOOK. The fifth book in the Miss Peregrine series is already shaping up to be AMAZING.
About the book: "Do you trust me?"
An instant bestseller, A Map of Days launched readers into the previously unexplored world of American peculiars, one bursting with new questions, new allies, and new adversaries.
Now, with enemies behind him and the unknown ahead, Jacob Portman's story continues as he takes a brave leap forward into The Conference of the Birds, the next installment of the beloved, bestselling Miss Peregrine's Peculiar Children series.
Devil Darling Spy by Matt Killeen – January 21, 2020
If you adored Orphan Monster Spy then PREPARE yourself. Devil Darling Spy is coming and it looks EPIC.
About the book: In this utterly gripping thriller, Sarah, the fearless heroine of Orphan Monster Spy, hunts a rogue German doctor in West Africa who might be a serial murderer.
Still hiding in plain sight as "Ursula Haller," the Shirley Temple of Nazi high society, Sarah Goldstein gathers information for Captain Floyd at parties, and when he learns of a German doctor who went rogue in West Africa, she wants to help him hunt the doctor down. Rumors say the doctor has discovered a tool of germ warfare known as "the Bleeding" that could wipe out whole nations. The journey begins as a thrilling adventure for Sarah but as they get closer to the doctor, and see more effects of "the Bleeding" in the communities they pass through, their trip turns from caper to nightmare. A biracial German/Senegalese girl who travels with them, a black French priest with a foul mouth, and the doctor's glamorous daughter round out the cast of this unbearably high-stakes thriller that pushes Sarah to face the worst humanity is capable of–and challenges her to find reasons to keep fighting.
Layoverland by Gabby Noone – January 21, 2020

Purgatory. But it's an airport and romantic and hilarious.
About the book: Beatrice Fox deserves to go straight to hell. At least, that's what she thinks. On her last day on Earth, she ruined the life of the person she loves most–her little sister, Emmy. So when Bea awakens from a fatal car accident to find herself on an airplane headed for a mysterious destination, she's confused, to say the least. Once on the ground, Bea receives some truly harrowing news: not only is she in purgatory, but she has been chosen to join the Memory Experience team. If she wants another shot at heaven, she'll have to use her master manipulation skills to help 5,000 souls suss out what's keeping them from moving on.
There's just one slight problem. Bea's first assigned soul is Caleb, the boy who caused her accident, and the last person Bea would ever want to send to the pearly gates. But as much as Bea would love to see Caleb suffer for dooming her to a seemingly endless future of listening to other people's problems, she can't help but notice that he's kind of cute, and sort of sweet, and that maybe, despite her best efforts, she's totally falling for him. And to make matters worse, he's definitely falling for her. Now, determined to make the most of her time in purgatory, Bea must decide what is truly worth dying for–romance or revenge.
The Queen's Assassin by Melissa de la Cruz – February 4, 2020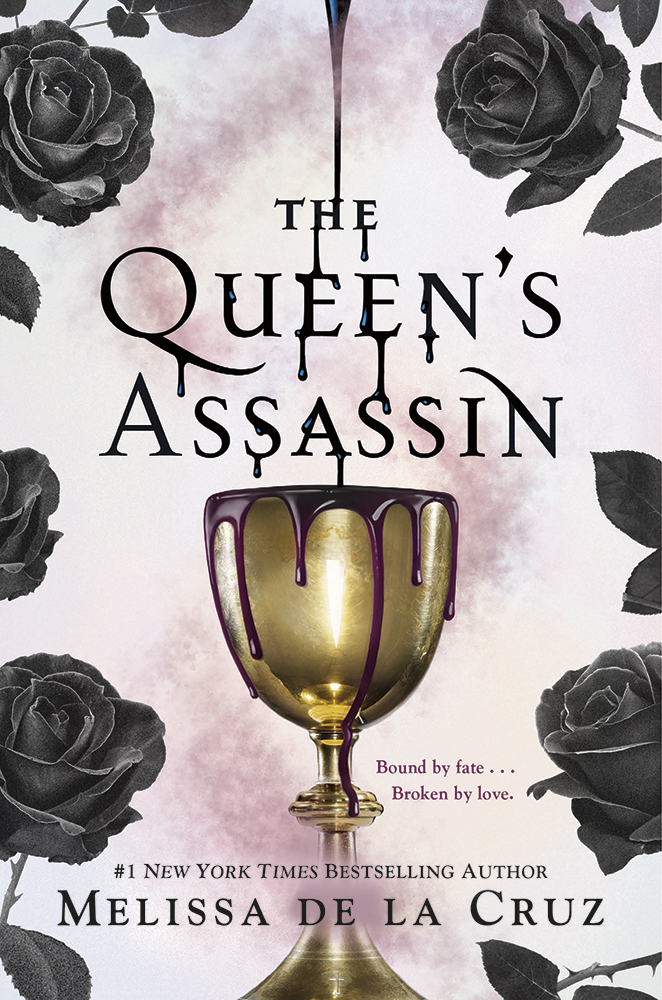 This. COVER. We are SO excited for this book, the first novel in a sweeping YA fantasy-romance duet about a deadly assassin, his mysterious apprentice, and the country they are sworn to protect.
About the book: Caledon Holt is the Kingdom of Renovia's deadliest weapon. No one alive can best him in brawn or brains, which is why he's the Guild's most dangerous member and the Queen's one and only assassin. He's also bound to the Queen by an impossible vow–to find the missing Deian Scrolls, the fount of all magical history and knowledge, stolen years ago by a nefarious sect called the Aphrasians.
Shadow has been training all her life to follow in the footsteps of her mother and aunts–to become skilled enough to join the ranks of the Guild. Though magic has been forbidden since the Aphrasian uprising, Shadow has been learning to control her powers in secret, hoping that one day she'll become an assassin as feared and revered as Caledon Holt.
When a surprise attack brings Shadow and Cal together, they're forced to team up as assassin and apprentice to hunt down a new sinister threat to Renovia. But as Cal and Shadow grow closer, they'll uncover a shocking web of lies and secrets that may destroy everything they hold dear. With war on the horizon and true love at risk, they'll stop at nothing to protect each other and their kingdom in this stunning first novel in the Queen's Secret series.
Break the Fall by Jennifer Iacapelli – February 18, 2020

CALLING ALL FANS OF THE OLYMPICS!
About the book: Audrey Lee is going to the Olympics.
A year ago, she could barely do a push up as she recovered from a spine surgery, one that could have paralyzed her. And now? She's made the United States' gymnastics team with her best friend, Emma, just like they both dreamed about since they were kids. She's on top of the world.
The pressure for perfection is higher than ever when horrifying news rips the team apart. Audrey is desperate to advocate for her teammate who has been hurt by the one person they trusted most–but not all the gymnasts are as supportive.
With the team on the verge of collapse, the one bright spot in training is Leo, her new coach's ridiculously cute son. And while Audrey probably (okay, definitely) shouldn't date him until after the games, would it really be the end of the world?
Balancing the tenuous relationship between her teammates with unparalleled expectations, Audrey doesn't need any more distractions. No matter what it takes, she's not going to let anyone bring them down. But with painful revelations, incredible odds, and the very real possibility of falling at every turn, will Audrey's determination be enough?

From the award-winning author of Flygirl comes this powerful WWII romance between two Japanese teens caught in the cogs of an unwinnable war, perfect for fans of Salt to the Sea, Lovely War, and Code Name Verity.
About the book: Japan 1945. Taro is a talented violinist and a kamikaze pilot in the days before his first and only mission. He believes he is ready to die for his country . . . until he meets Hana. Hana hasn't been the same since the day she was buried alive in a collapsed trench during a bomb raid. She wonders if it would have been better to have died that day . . . until she meets Taro.
A song will bring them together. The war will tear them apart. Is it possible to live an entire lifetime in eight short days?
Sherri L. Smith has been called "an author with astonishing range" and "a stellar storyteller" by E. Lockhart, the New York Times-bestselling author of We Were Liars, and "a truly talented writer" by Jacqueline Woodson, the National Book Award-winning author of Brown Girl Dreaming. Here, with achingly beautiful prose, Smith weaves a tale of love in the face of death, of hope in the face of tragedy, set against a backdrop of the waning days of the Pacific War.
Rebelwing by Andrea Tang – February 25, 2020 

Two words: Robot. DRAGONS.
About the book: Things just got weird for Prudence Wu.

This book is PERFECT if you can't get enough of To All the Boys I've Loved Before. Romantic, adorable, and absolutely HILARIOUS, The Best Laid Plans is one to make sure is HIGH on that 2020 TBR!
About the book: It seemed like a good plan at first.
When the only other virgin in her group of friends loses it at Keely's own eighteenth birthday party, she knows it's time for drastic measures. If she's going to avoid heading to college without any experience of her own, she needs to find the guy, and fast.
Problem is, she's known all the boys in her small high school forever, and it's kinda hard to be into a guy when you watched him eat crayons in kindergarten. So she can't believe her luck when she meets a ridiculously hot new guy named Dean. Not only does he look like he's fallen out of a classic movie poster, but he drives a motorcycle, flirts with ease, and might actually be into her.
But Dean's already in college, and Keely is convinced he'll drop her if he finds out how inexperienced she is. That's when she talks herself into a new plan: her lifelong best friend, Andrew, would never hurt or betray her, and he's clearly been with enough girls that he can show her the ropes before she goes all the way with Dean.
Of course, the plan only works if Andrew and Keely stay friends–just friends–so things are about to get complicated.

Part poignant cancer memoir and part humorous reflection on a motherless life, this debut graphic novel is extraordinarily comforting and engaging.
About the book: From before her mother's first oncology appointment through the stages of her cancer to the funeral, sitting shiva, and afterward, when she must try to make sense of her life as a motherless daughter, Tyler Feder tells her story in this graphic novel that is full of piercing–but also often funny–details. She shares the important post-death firsts, such as celebrating holidays without her mom, the utter despair of cleaning out her mom's closet, ending old traditions and starting new ones, and the sting of having the "I've got to tell Mom about this" instinct and not being able to act on it. This memoir, bracingly candid and sweetly humorous, is for anyone struggling with loss who just wants someone to get it.