Breaking News
Did you see these 7 recent YA cover reveals?
Time for a cover reveal bonanza! Here are 7 YA reads to add to your 2022 reading list.
Finding her voice takes on a whole new meaning when fourteen-year-old Azar Rossi sets out to win her local Battle of the Bands contest in this heartfelt and hilarious contemporary YA.
Fourteen-year-old Azar Rossi's first year of high school has mostly been silent, and intentionally so. After a bad case of colic as a baby, Azar's vocal folds are shredded—full of nodules that give her a rasp the envy of a chain-smoking bullfrog. Her classmates might just think she's quiet, but Azar is saving her voice for when it really counts and talking to her classmates is not medically advisable or even high on her list.
When she hears about a local Battle of the Bands contest, it's something she can't resist. Azar loves music, loves songwriting, but with her vocal folds the way they are, there's no way she can sing her songs on stage.
Then she hears lacrosse hottie, Ebenezer Lloyd Hollins the Fifth, aka Eben, singing from the locker room. She's transfixed. He's just the person she needs. His voice + her lyrics = Battle of the Bands magic. But getting a band together means Azar has a lot of talking to do and new friends to make. For the chance to stand on stage with Eben it might all just be worth it.
Neverland has become a war zone and it's up to a new group of lost teens to set things right in this gritty young adult graphic novel series from #1 New York Times bestselling author Tom Taylor (Nightwing, Superman: Son of Kal-El, DCeased, Injustice) and powerhouse illustrator Jon Sommariva (Harley Quinn)!
Bee and her fellow runaways are their own found family. So when a stranger named Paco saves her life, Bee invites him to join their crew, thinking he's another lost teen. Someone else the world has overlooked. The truth is Paco's not just a lost teen, he's a Lost Boy from Neverland. And he needs Bee and the others to come back with him.
When the group is then spirited away by a foul-mouthed Tinker Bell, they discover that Neverland is not some fun-filled hideaway. It's a war zone under siege by a horde of pirates with a merciless new leader who will stop at nothing to steal the land's magic. Tink leads a fairy army that barely holds them at bay. Peter Pan is gone. And rest of the Lost Boys have been killed. Paco is all that remains . . . but he hopes that this group of teens will become the new Lost Ones. These young runaways may be Neverland's only hope—but they're about to learn that it'll take a lot more than happy thoughts to win a war.
Award-winning and worldwide bestselling author Tom Taylor (Marvel's Dark Ages, Friendly Neighborhood Spider-Man, Dark Knights of Steel) and artist Jon Sommariva (Marvel Action: Avengers, Batman/Teenage Mutant Ninja Turtles) take readers back to the world of Peter Pan, but this explosive reimagining is not your parents' Neverland.
From the bestselling author of Dark and Shallow Lies comes a darkly atmospheric paranormal thriller about a seventeen-year-old girl returning to an exclusive theater camp to uncover the truth of what really happened there twelve years ago, the night her mother drowned.
Twelve years ago, Avril's mother drowned at Whisper Cove theater, just off the rocky Connecticut coastline. It was ruled an accident, but Avril's never been totally convinced. Local legend claims that the women in the waves—ghosts from old whaling stories—called her mother into the ocean with their whispering. Because, as they say at Whisper Cove, what the sea wants, the sea will have.
While Avril doesn't believe in ghosts, she knows there are lots of different ways for places, and people, to be haunted. She's spent the past twelve years trying to make sense of the strange bits and pieces she does remember from the night she lost her mother. Stars falling into the sea. A blinding light. A tight grip on her wrist. The odd sensation of flying. Now, at seventeen, she's returning to Whisper Cove for the first time, and she might finally unravel the mystery of what really happened.
As Avril becomes more involved with camp director Willa and her mysterious son Cole, Whisper Cove reveals itself to her. Distances seem to shift in the strange fog. Echos of long-past moments bounce off the marsh. And Avril keeps meeting herself—and her dead mother—late at night, at the edge of the ocean.
The truth Avril seeks is ready to be discovered. But it will come at a terrible cost.
A fresh, compelling, and eerie exploration of small-town living, stolen children, and wolves that watch in the woods.
The night little Madison disappears from her crib, Luce sees a pair of eyes–two points of gold deep in the forest behind her house–and feels certain they belong to a wolf. Her town, Picnic, Illinois, is the kind of place where everyone knows one another and no one locks their doors. It's not the kind of place where a toddler goes missing without a trace, where wolves lurk in the shadows.
In town, people are quick to blame Madison's mom. But when Luce's English teacher shares an original script about the disappearance of another little girl in Picnic back in 1870, Luce begins to notice similarities that she can't ignore. Certain that something deeper is going on, Luce tracks the wolf she saw into the woods and uncovers the truth about her town: magical animal-women, who have remained hidden in shadows for centuries, have taken her cousin for their own purposes–and they have no intention of bringing her back.
A chilling mystery that weaves elements of magical realism, drama, and folklore into a story of one teen's bravery as she confronts her town's past and tries to save the future.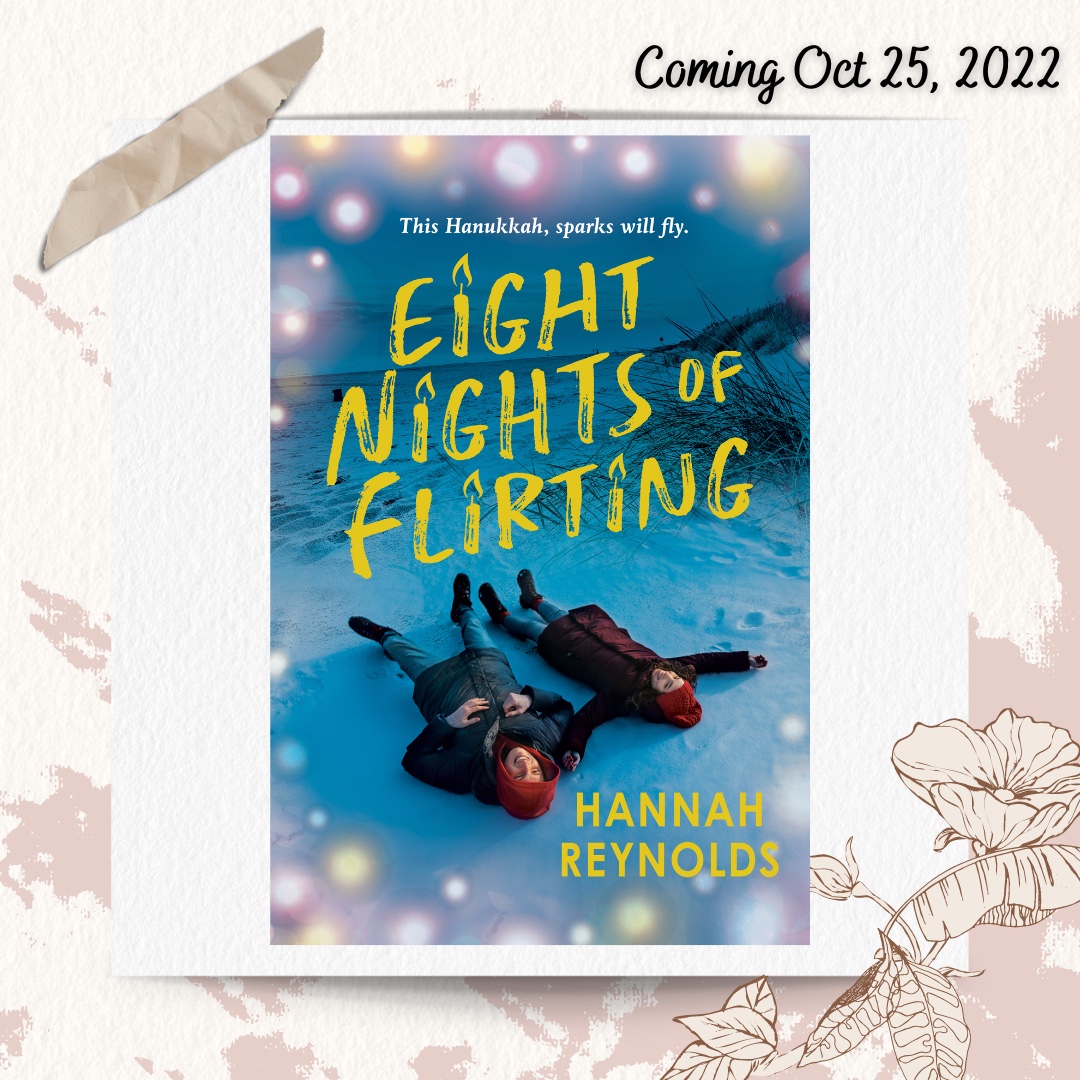 A sixteen-year-old girl is on a mission to find the perfect boyfriend this Hanukkah, but love might not go according to plan, in this charming winter romcom from the author of The Summer of Lost Letters.
Shira Barbanel has a plan: this Hanukkah, she's going to get a boyfriend. And she has the perfect candidate in mind—her great-uncle's assistant, Isaac. He's reliable, brilliant, and of course, super hot. The only problem? Shira's an absolute disaster when it comes to flirting.
Enter Tyler Nelson, Shira's nemesis-slash-former-crush. As much as she hates to admit it, Tyler is the most charming and popular guy she knows. Which means he's the perfect person to teach her how to win Isaac over.
When Shira and Tyler get snowed in together at Golden Doors, they strike a deal—flirting lessons for Shira in exchange for career connections for Tyler. But as Shira starts to see the sweet, funny boy beneath Tyler's playboy exterior, she realizes she actually likes hanging out with him. And that wasn't part of the plan.
Amidst a whirl of snowy adventures, hot chocolate, and candlelight, Shira must learn to trust her heart to discover if the romance she planned is really the one that will make her happiest.
The fifth novel in the bestselling and award winning Graceling Realm series focuses on Hava, Queen Bitterblue's spy, and her harrowing journey back to Monsea after the events of 2021's Winterkeep.
In the immediate aftermath of the events of Winterkeep, Bitterblue and her entourage begin the journey back to Monsea with the only copies of the formulas for the zilphium weapon. Bitterblue must decide what she will do with her world-shaping power. But before they've even made it halfway home, storms drive their ship off course and then wrecking them in the ice far north of the Royal Continent. The survivors must make a harrowing trek across the ice in order to make it back to Monsea.
Seasparrow is told entirely from the point of view of Hava, Bitterblue's personal spy and secret half-sister. And while Bitterblue grapples with how to carry the responsibility of a weapon of mass destruction, Hava must decide what she will do with herself in the new world Bitterblue will make.
Veronica Mars meets Moxie in the hilarious and thought-provoking sequel to Margot Mertz Takes it Down.
Margot faces senior year working on a campaign for local election while helping a fellow student run for class president—but when a mysterious blackmail plot emerges, and a loathesome opponent rises in the class race, Margot might have to return to the cleanup job she thought she'd left behind.
It's senior year. And Margot's on a mission to be a better Margot. Which means saying goodbye to her old cleanup ways— and their inherent moral ambiguities— and saying hello to… more yoga maybe? (Probably not, Margot hates exercise.)
To fill her time and round out her college application, Margot volunteers for Shep Green's state senate campaign and in a twist, finds she actually enjoys being part of a team. She loves her new boss/mentor Priya. And of course it doesn't hurt that the candidate is Avery Green's dad. Yes, Avery and Margot are just friends, but it's still nice to see his too perfect face from time to time.
Meanwhile at Roosevelt High, Margot finds herself roped into a second election, this one for school president. Melanie Jenkins is running against one of the monsters who created the revenge porn site Margot took down last year. Needless to say, Margot is #teamMelanie.
With Margot rocking both campaigns and maybe even making friends, it seems like she's well on her way to being a better person. But when Priya asks her to look into an anonymous email threatening Shep Green, one that could potentially torpedo his entire election, Margot finds herself slipping back into her old habits.
She's tried to keep her hands clean. But politics is a dirty job.