Sneak Peeks
Luck of the Titanic by Stacey Lee Sneak Peek
If you loved recently anointed New York Times bestseller The Downstairs Girl by Stacey Lee, as much as we did, then you NEED to be ready for her upcoming Luck of the Titanic. And don't just believe us about how amazing it is, believe Marie Lu who said "It's a story lush with heart, heartache, and hope." or Stephanie Garber who said "This book will make you fall in love and then fall to pieces."
Read more about the historical fiction sure to be classic and then scroll down for an excerpt!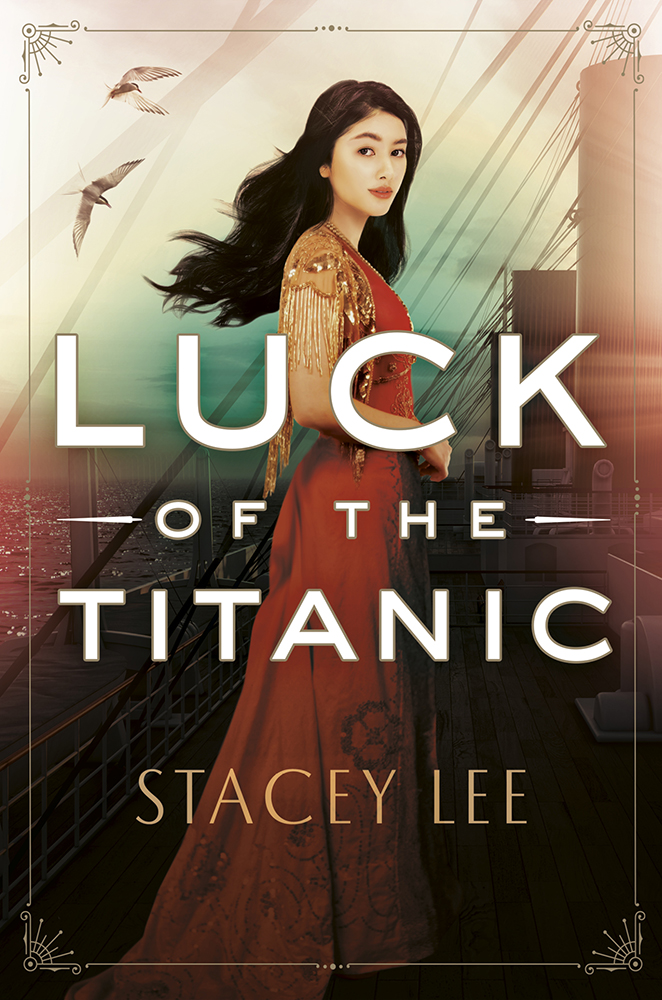 Valora Luck has two things: a ticket for the biggest and most luxurious ocean liner in the world, and a dream of leaving England behind and making a life for herself as a circus performer in New York. Much to her surprise though, she's turned away at the gangway; apparently, Chinese aren't allowed into America.
But Val has to get on that ship. Her twin brother Jamie, who has spent two long years at sea, is there, as is an influential circus owner, whom Val hopes to audition for. Thankfully, there's not much a trained acrobat like Val can't overcome when she puts her mind to it.
As a stowaway, Val should keep her head down and stay out of sight. But the clock is ticking and she has just seven days as the ship makes its way across the Atlantic to find Jamie, perform for the circus owner, and convince him to help get them both into America.
Then one night the unthinkable happens, and suddenly Val's dreams of a new life are crushed under the weight of the only thing that matters: survival.
April 10, 1912
When my twin Jamie left, he vowed it wouldn't be forever. Only a week before Halley's comet brushed the London skies, he'd kissed my cheek and set off. One comet in, one comet out. But two years away is more than enough time to clear his head, even in the coal-thickened air at the bottom of a steamship. Since he hasn't come home, it is time to chase down the comet's tail.
I try not to fidget whilst I wait my turn on the first-class gangway of White Star Line's newest ocean liner. A roofed corridor—to spare the nobs the inconvenience of sunshine—leads directly from the 'boat train' depot to this highest crossing. At least we are far from the rats on Southampton dock below, which is crawling with them.
Of course, some up here might consider me a rat.
The couple ahead of me eyes me warily, even though I am dressed in one of Mrs. Sloane's smartest traveling suits—shark grey to match her usual temper, with a swath of black bee-swarm lace pinned from shoulder to shoulder. A lifetime of those dodgy looks teaches you to ignore them. Haven't I already survived the journey from London? A half a day's travel, packed into a smoky railcar, next to a man that stunk of sardines. And here I am, so close to the finish line, I can nearly smell Jamie—like trampled ryegrass and the milk biscuits he is so fond of eating.
An ocean breeze cools my cheeks. Several stories below in either direction, onlookers crowd the dock, staring up at the ship rising six stories before them. Its hull gleams, a wall of liquid black with a quartet of smokestacks so wide you could drive a train through them. Stately letters march across the hull: TITANIC. On the third-class gangway a hundred feet to my left, passengers sport a variety of costume: headscarves, patterned kaftans, fringed shawls of botany wool, tasseled caps, and plain dungarees and straw hats. I don't see a single Chinese face among them. Has Jamie boarded already? With this crowd, I may have missed him.
Then again, he isn't traveling alone, but with seven other Chinese men from his company. All are being transported to Cuba for a new route after coal-strikes here berthed their steamship.
Something cold unspools in my belly. I received his last letter a month ago. Time enough for things to change. What if Jamie's company decided to send them somewhere other than Cuba, maybe a new route in Asia or Africa?
The line shifts. Only a few more passengers ahead of me.
Jamie! I call in my mind, a game I often played growing up. He doesn't always hear, but I like to think he does when it matters.
In China, a dragon-phoenix pair of boy and girl twins is considered auspicious, and so Ba bought two suckling pigs to celebrate our birth, roasted side by side to show their common lot. Some may think that macabre, but to the Chinese death is just a continuation of life on a higher plane with our ancestors.
Jamie, your sister is here. Look for me.