Movies and TV
Top 10 Reactions to the Vampire Academy Trailer
It's HERE!!! Well….almost. The Vampire Academy Peacock series actually releases on September 15. But the trailer dropped today and HOLY WOW! From Rose kicking ass, to Dimitri taking names, to Lissa and Christian's smolder and so much more, let's breakdown the Top 10 Moments from the trailer!
Rose Hathaway is here!
Sisi Stringer has already confirmed she was a MASSIVE book fan before the landing the coveted role, so we know she understands the complex, tough-on-the-exterior, but world-on-her-shoulder, but also passionate Rose Hathaway. And from the scenes in the trailer – she DELIVERS.
Rose and Lissa's friendship
Besties before boys! An integral part of the series, this friendship with all its complications is on full display in the trailer. Rose and Lissa are best friends, but the question of Rose's role to Lissa is about to change dramatically, and we see the questions start to arise while also seeing how much they love each other. We love it.
Fashion!
Lissa is serving looks! From her vintage umbrella, to her stunning ballgown, to her school wear that is simply EVERYTHING, the Dragomir Princess is definitely giving royalty on the runway.
Light 'Em Up
Christian Ozera is LIT! Okay, yes that's a terrible pun and outdated. But our moody broody outsider is here and being the fire user that he is, we see his power on full display – first in the library with a more fun flicker and then what looks to be a more intense, potentially defensive use.
MAAASSON
Julie Plec and Marguerite McIntyre already have said that after meeting Drew Liner, the actor playing Mason, plans to Frostbite him immediately, were changed. And we love the idea of Mason being a real and valid option for Rose's heart, considering their solid friendship foundation. Now if we can just delay the inevitable a little while longer…
Molnija MARKS!
Okay it's a small shoutout but book fans know exactly what these tattoos are and mean! And seeing them make an appearance during what looks like an epic battle?! YES!
Dimitri Belikov – that's it, that's the tweet
Okay, okay, yes – we did notice the incredibly ripped Kieron Moore as Dimitri Belikov! Full points for his rooftop workout sequence because fitness is important.
Rose and Dimitri
Let's GOOOOO! As esteemed philosopher Dido once sang, "I will go down with ship." Also, the leather duster: an iconic Belikov look if there ever was one.
Rose and Dimitri Pt 2
WE ARE DEAD! This single image is burned into our brain. Is this a version of the intoxicating charm spell, or Dimitri soothing Rose after getting a molnija mark? WHO CARES. Just LOOK at the body language in this scene.
Rose and Dimitri Pt 3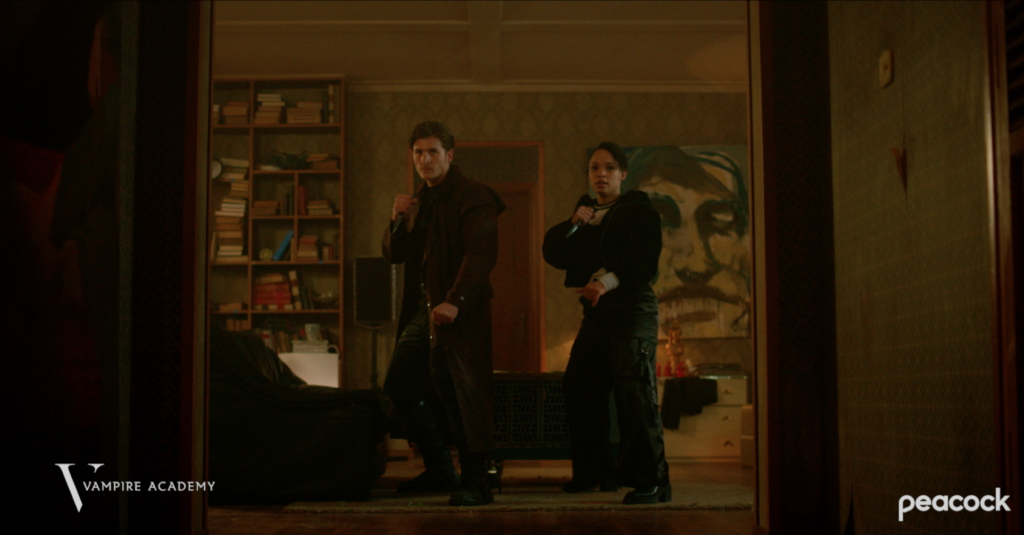 The trailer ends on a truly instantly iconic power stance of Rose and Dimitri preparing to face down Strigoi entering the room. And yes, their romance is top tier but these two as a fighting unit, being the best at their jobs and facing off the unimaginable, we need it NOW!