Author Spotlight
10 Authors Share What Inspired Them To Write Their Books
Do you ever wonder where the idea for your favorite book came from? Was it a personal experience? Or a dream? Or even another book? We were so curious that we rounded up ten of our authors who have shared the true life inspiration for their book. Read on to find out where their stories came from!
"Before I wrote the book, I read Cheryl Strayed's Rumpus column – The Ghost Ship That Didn't Carry Us – and it inspired me to write MITS. It's about choosing a particular path and simultaneously wondering about the one we didn't choose. Since I was in my own period of questioning, having just finished a manuscript that was rejected by a number of agents, writing about another world inhabited by alternate versions of all of us felt like an idea that I was personally aching to explore. I was in a period of waiting – for my life to take on a particular shape, to find out if I was capable of fulfilling my own most cherished dreams. Writing MITS allowed me to explore these themes fully." Read more!
And check out her new book, The Library of Fates, coming 7/18!
"I was inspired by two things. The first is that I grew up in this really isolated town in the Mojave Desert where I felt like I really didn't fit in. I felt really voiceless as a kid and I felt really isolated. Eventually as I grew older, I ended finding my power and voice through writing. Then, in 2007, I decided I was going to write a book. And I didn't know what it was going to be about; all I knew is that it was going to be about people who felt like me as a kid, people who felt that sort of powerless, but unlike me, I wanted them to fight against it.
At the time, I was working at the Washington Post as a copy editor on their international desk, and I was reading about some totally voiceless and powerless people. All of those things combined to plant the seed for Ember. So it was very much a combination of my childhood and real-world events that I was reading about at work." Read more!
"I wanted to write about how, not just unique and strange it is to have something like anxiety or agoraphobia, but also how individualized it is. A person doesn't have to fit all the criteria of whatever a medical journal or a psychological profile says they do. They can just have these problems and be someone like Solomon, who very much chooses his own way of dealing with it." Read more!
"I started writing after having my baby. I've since read other debut authors' biographies and I've noticed how very many of us say the same thing: I was puttering along until BAM the birth of my kid destroyed the old normal.
I was halfway done with my PhD dissertation on Virginia Woolf when I had my son. After he came, I realized it was going to be impossible for me to disappear into a library for hours to do my research. I was sleeping in ninety minute intervals, I barely tasted my food and thought of eating solely as 'powering up', and I didn't leave the apartment for forty-something days (except to see the doctor). In this fugue state, I started writing about Zoe and Digby. I escaped into their lives in ten-minute spurts of writing. I created a different world to stay sane." Read more!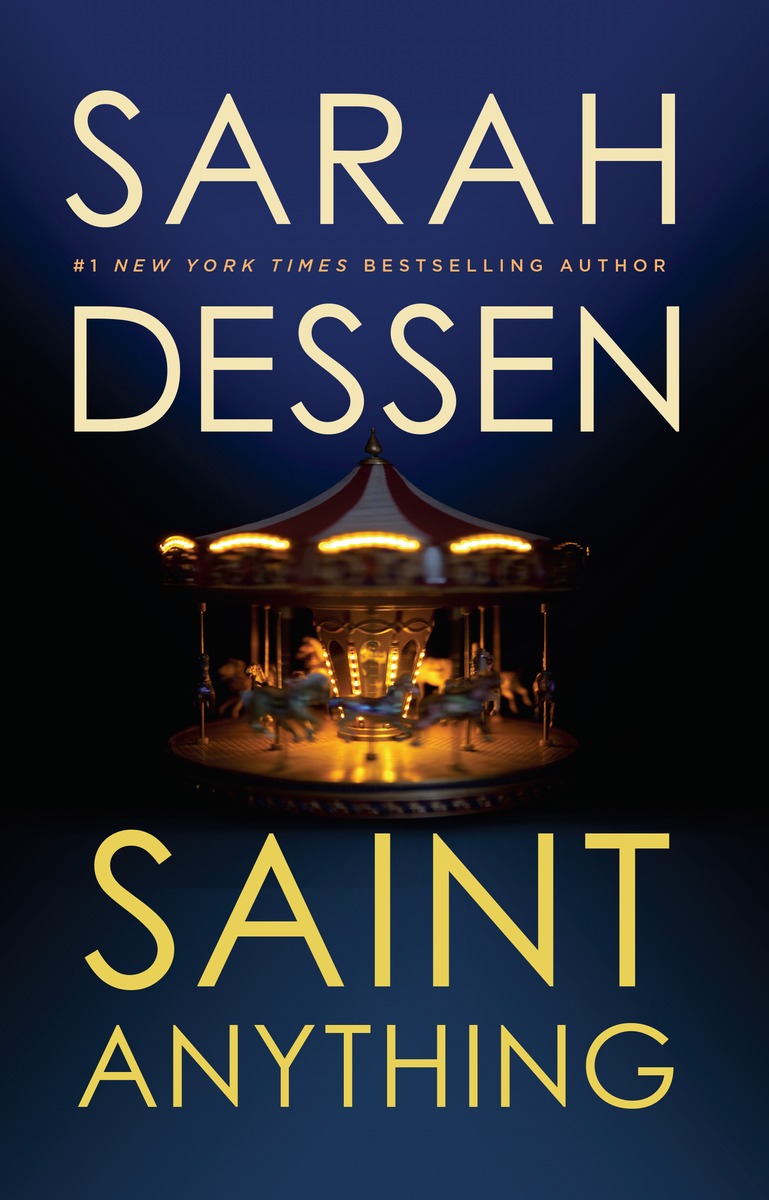 "In the initial years following, I never really talked about [dating an older guy] with anyone other than my high school girlfriends and various therapists. As I got older, however, the more I realized that my experience was not an uncommon one. It seemed just about every woman I knew had a similar story, a time when wanting attention meant getting the wrong kind entirely. As a teen wishing to be an adult, it is easy to get in over your head. Especially for girls, who are often taught that being polite and sweet should override all other instincts. It was with this in mind that I began my narrator Sydney's story in Saint Anything." Read more! 
"Outrun the Moon was inspired by my mom, a native San Franciscan whose father was born in 1906, the year of the San Francisco earthquake. As a fourth generation Californian, earthquakes are in the blood." Read more!

"I write stories about space or magic! I blow things up and throw in some kissing and then kill off more characters!
A World Without You started that way. There's a school for kids who have superpowers. There's time travel and telekinesis. There's even death and fire.
But as I was writing the story, things got…twisted. Even though Bo, my main character, can control time, I realized that his idea of "control" was all wrong. And his idea of what was real was wrong, too.
I realized that I didn't want to write a book about kids with superpowers. I wanted to write a book about kids who didn't really have any power at all, and what it means to realize that. About what it means to accept that…or to not." Read more!
"I have always – for as long as I could speak words, pretty much – been a big proponent of hypothetical questions. All who come into my path: Beware! I'm endlessly fascinated by what if and would you rather sorts of bizarre quandaries and predicaments, and few escape my brutal inquiries. It's these sorts of questions and issues that drive my writing interests as well – walking characters through the moments where they're faced with these sorts of crazy, monumental dilemmas. Take Immaculate, for example. The very first seed for this story was planted in my subconscious sometime during my teenage years, when during a long car ride with my mom, and a long string of what ifs, I asked: "Would you believe me if I said I was a pregnant virgin?" My mom looked at me, cocked her head, and smiled. And then she said yes." Read more!
"While Written in the Stars is a work of fiction, the inspiration stemmed from the experiences of some people I knew growing up as a child who went through the unfortunate reality of being pressured into marriages they didn't want. Those stories have stayed with me throughout my life, and knowing how important this topic was because of my personal connection with it inspired me to keep on writing even when it was emotionally difficult." Read more!
"It wasn't a story I really felt equipped to write until the middle of 2014 when I had my heart broken for the first time…The book isn't really based upon my personal experience, but definitely a lot of the emotions involved inform a lot of the characters choices." Watch more!