Breaking News
14 people who weren't prepared for the Frankly in Love trailer
ICYMI the Frankly in Love trailer just dropped and it is AMAZING.
Rotating sets? Check. All the love story gone wrong feels? Check. Dreamy Frank? CHECK.
Watch the trailer below if you missed it!
But in other news, the internet most certainly did not miss it.
The internet is most certainly crazy over it.
From Twitter,
omfg this is incredible https://t.co/TTZSXDMyy2

— Kirsty (@smearedeyes) July 24, 2019
IM CRYING OVER THR MASTERPIECE THAT IS THIS TITLE AND THIS TRAILER OMG IT LOOKS SO SO GOOD. DEFINITELY GOING TO PREORDER https://t.co/eYFW1raRuV

— Nat Reads (@natreads1) July 25, 2019
…has any book trailer ever been this good https://t.co/ZUBIknC8py

— Stuti Telidevara (@StutiTelidevara) July 25, 2019
This trailer is AMAZING wow you really made me want to read this book asap https://t.co/yWFNlZdQVQ

— (@thebookvoyagers) July 24, 2019
Hands down best book trailer of all time IM SO HYPED. https://t.co/GX0ZqiZgH1

— aentee no peak clan + poppy army (@readatmidnight) July 24, 2019
this is the cutest thing ive ever seen & i need it https://t.co/2JEfSRxrdc

— Jada Renee F (should be writing right now) (@girlof1Khaiku) July 24, 2019
uh oh frank

seems like u got a problem

I'M SO READY THO I DIDN'T REALIZE THIS WAS GONNA BE SO FEELSY AND CUTE I ALREADY HAVE TINGLES https://t.co/JwVNashpiG

— Vicky Who Is Back, I Guess (@VickyCBooks) July 24, 2019
Eeeeeeeek! I am S C R E A M I N G.

— Nicole is on a blogging hiatus. (@wemapthestars) July 24, 2019
Fake dating is my favorite trope, you guys. pic.twitter.com/6Ry0pdbiU4

— *pterodactyl noises* (@ksophialydia) July 24, 2019
to Instagram,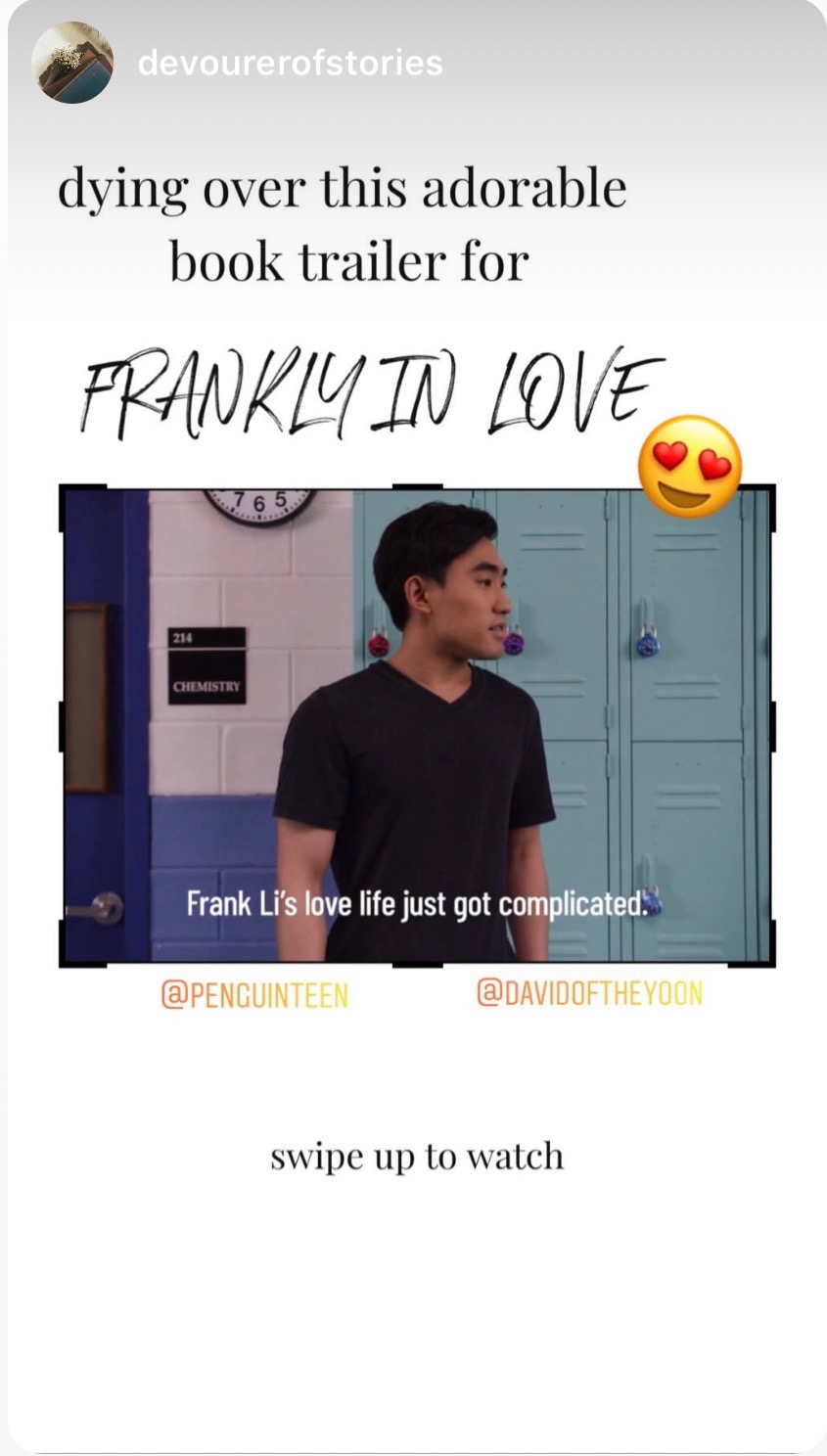 to Youtube!
We are all SO. EXCITED. for the groundbreaking novel that is Frankly in Love.
Basically, it's time to hop on the hype train, because the hype is real, and WORTH IT. Make sure to add it to your Goodreads Shelf and enter our Goodreads giveaway to win an arc!
Have you pre-ordered yet? Click here!