Breaking News
Artemisia Gentileschi and 8 Other Real Women to Inspire You on International Women's Day
Today, we celebrate all of the women out there making an impact on lives, past and present. We try to always celebrate women, but today especially, the power of a woman is undeniable. That's why we're telling you about 9 real women–some you may know, some you may not–that have been seriously inspirational to us. From seventeenth century Rome to today, these 9 books prove that being a strong woman never goes out of style.
Artemisia Gentileschi, protagonist of Blood Water Paint by Joy McCullough
After her mother died when she was twelve, Artemisia Gentileschi had a stark choice: a life as a nun in a convent or a life grinding pigment for her father's paint. She chose paint. By the time she was seventeen, Artemisia did more than grind pigment. She was one of Rome's most talented painters, even if no one knew her name. But Rome in 1610 was a city where men took what they wanted from women, and in the aftermath of rape Artemisia faced another terrible choice: a life of silence or a life of truth, no matter the cost. Joy McCullough's bold novel in verse is a portrait of an artist as a young woman, filled with the soaring highs of creative inspiration and the devastating setbacks of a system built to break her.
Laurie Halse Anderson, author of SHOUT
Laurie Halse Anderson is a New York Times bestselling author whose writing spans young readers, teens, and new adults. She's been nominated three times for the Astrid Lindgren Memorial Award among other incredible achievements and was selected by the American Library Association for the 2009 Margaret A. Edwards Award and has been honored for her battles for intellectual freedom by the National Coalition Against Censorship and the National Council of Teachers of English. Laurie is well-known for using her talents to speak out about the need for diversity in publishing, combatting censorship, and her refusal to be silenced by the world on anything (in case you couldn't tell by the title SHOUT!)
Rowan Blanchard, author of Still Here
Rowan Blanchard is so much more than the star of Girl Meets World–she is an avid activist and humanitarian, using her enormous platform to raise awareness about issues of racism, sexism, and LGBT issues. In 2016, the New York Times published a piece on her that brought to light all that she does and how she takes advantage of her social media following to keep her followers–mainly teen girls–aware of what's going on in the world. Rowan's debut, Still Here, is a collection of art and writing from her favorite photographers, poets, and friends alongside her own journal entries and snapshots.
You may know Jacqueline Woodson from her award-winning Brown Girl Dreaming, or from the beloved If You Come Softly, which celebrates its twentieth anniversary this year (and is getting a fantastic new cover, shown above!). If You Come Softly is a story of a two teens from different worlds who collide at a Manhattan prep school, and it's still just as relevant today as it was when it was released. Jackie Woodson is known for more than just her iconic novels–she was recently named National Ambassador for Young People's Literature by the Library of Congress! She has dedicated her life to writing, teaching, and leading, and basically, she's one seriously amazing lady.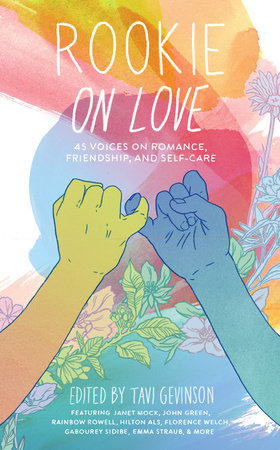 Tavi Gevinson is best known for being the creator of Rookie–an online magazine aimed at teenaged girls that she founded when she was just fifteen herself. It began as Style Rookie, but in just a few years she broadened the topics from just fashion to pop culture, feminism, and literature. Imagine starting your own company as young as fifteen?! Rookie is still going strong, and Tavi has published four Rookie Yearbooks, collections of content from the site. Her most recent venture is Rookie on Love, a collection of never-before-seen essays, poems, interviews, and more from collaborators ranging from John Green to Laia Garcia to Gabourey Sidibe.
If you've seen Hamilton, or listened to the soundtrack, or better yet, read Alex & Eliza: A Love Story by Melissa de la Cruz, you know that Elizabeth Schuyler is a prominent figure in American history, that perhaps until Lin-Manuel Miranda was often overlooked. After her husband, Alexander Hamilton, passed away (spoiler alert?), she co-founded and became deputy director of the first private orphanage in America. She engaged in charity work well into here nineties, and is known now as more than just as the wife of a founding father.
Nikki Grimes is the New York Times bestselling author of Between the Lies and the award-winning Bronx Masquerade, the story of a high school English class that gets hooked on poetry after one courageous student bares his soul in front of the class. Nikki has received multiple prominent awards for her contribution to young people's literature, and has over 40 published works in print!
Atia Abawi was born to Afghan parents in West Germany and was raised in the United States. She currently lives in Jerusalem where she works as a foreign news correspondent. She has worked for CNN, NBC News, and has spoken publicly about the difficulty female journalists face when covering war zones. Her first book, The Secret Sky: A Novel of Forbidden Love in Afghanistan was published by Penguin (adult). Her YA debut, A Land of Permanent Goodbyes is the timely story of refugees escaping from war-torn Syria, written from Atia's firsthand experience in the region.
Elizabeth Partridge has written more than a dozen books for children and young adults, her most popular being Marching for Freedom. The award-winning Marching for Freedom leads you straight into the chaotic, passionate, and deadly three months of protests that culminated in the landmark march from Selma to Montgomery in 1965. Throughout her career she has worked to educate young people and encourage social activism through her published works. Her new book, Boots on the Ground, which is about America's war in Vietnam, contains over a hundred photographs tothe intensity, frustration, and lasting impacts of one of the time.