Breaking News
Top Trending 2021: Contemporary Books!
2021 has been filled with amazing reads of all categories, and we want to make sure you haven't missed out on any! Scroll down to see our recap of some of 2021's top trending contemporary books!

Aaron Stein used to think books were miracles. But not anymore. Even though he spends his days working in his family's secondhand bookstore, the only book Aaron can bear to read is one about the demise of the dinosaurs. It's a predicament he understands all too well, now that his brother and mom are gone and his friends have deserted him, leaving Aaron and his shambolic father alone in a moldering bookstore in a crusty mountain town where no one seems to read anymore.
So when Aaron sees the opportunity to sell the store, he jumps at it, thinking this is the only way out. But he doesn't account for Chad, a "best life" bro with a wheelchair and way too much optimism, or the town's out-of-work lumberjacks taking on the failing shop as their pet project. And he certainly doesn't anticipate meeting Hannah, a beautiful, brave musician who might possibly be the kind of inevitable he's been waiting for.
All of them will help Aaron to come to terms with what he's lost, what he's found, who he is, and who he wants to be, and show him that destruction doesn't inevitably lead to extinction; sometimes it leads to the creation of something entirely new.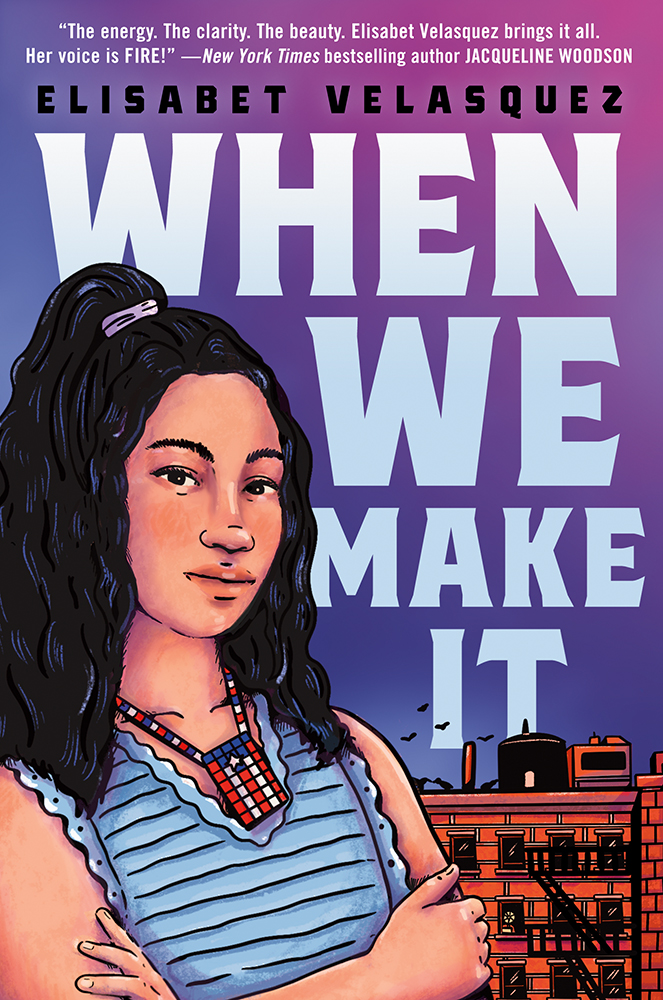 An unforgettable young adult debut novel-in-verse that redefines what it means to "make it," touching on themes of mental illness, sexual assault, food insecurity and gentrification, in the Nuyorican literary tradition of Nicholasa Mohr and the work of contemporary writer Elizabeth Acevedo.
Sarai is a first-generation Puerto Rican eighth grader who can see with clarity the truth, pain, and beauty of the world both inside and outside her Bushwick apartment. Together with her older sister Estrella, she navigates the strain of family traumas and the systemic pressures of toxic masculinity and housing insecurity in a rapidly gentrifying Brooklyn. Sarai questions the society around her, her Boricua identity, and the life she lives with determination and an open heart, learning to celebrate herself in a way that she has been denied.
When We Make It is a love letter to girls who were taught to believe they would not make it at all. The verse is evocative and insightful, and readers are sure to be swept into Sarai's world and rooting for her long after they close the book.
From the creator of Yes, I'm Hot In This, this cheeky, hilarious, and honest graphic novel asks the question everyone has to figure out for themselves: Who are you?
Huda and her family just moved to Dearborn, Michigan, a small town with a big Muslim population. In her old town, Huda knew exactly who she was: She was the hijabi girl. But in Dearborn, everyone is the hijabi girl.
Huda is lost in a sea of hijabis, and she can't rely on her hijab to define her anymore. She has to define herself. So she tries on a bunch of cliques, but she isn't a hijabi fashionista or a hijabi athlete or a hijabi gamer. She's not the one who knows everything about her religion or the one all the guys like. She's miscellaneous, which makes her feel like no one at all. Until she realizes that it'll take finding out who she isn't to figure out who she is.


We Were Liars meets Speak in this haunting, mesmerizing psychological thriller–a gender-flipped YA Great Gatsby–that will linger long after the final line
On wealthy Commodore Island, Fern is watching and waiting–for summer, for college, for her childhood best friend to decide he loves her. Then Ivy Avila lands on the island like a falling star. When Ivy shines on her, Fern feels seen. When they're together, Fern has purpose. She glimpses the secrets Ivy hides behind her fame, her fortune, the lavish parties she throws at her great glass house, and understands that Ivy hurts in ways Fern can't fathom. And soon, it's clear Ivy wants someone Fern can help her get. But as the two pull closer, Fern's cozy life on Commodore unravels: drought descends, fires burn, and a reckless night spins out of control. Everything Fern thought she understood–about her home, herself, the boy she loved, about Ivy Avila–twists and bends into something new. And Fern won't emerge the same person she was.
From Los Angeles Times Book Prize Award winner and Edgar Award nominee Malla Nunn comes a stunning portrait of a family divided and a powerful story of how friendship saves and heals. When Amandla wakes up on her fifteenth birthday, she knows it's going to be one of her mother's difficult days. Her mother has had another vision. This one involves Amandla wearing a bedsheet loosely stitched as a dress. An outfit, her mother says, is certain to bring Amandla's father back home, as if he were the prince and this was the fairytale ending their family was destined for. But in truth, Amandla's father has long been gone–since before Amandla was born–and even her mother's memory of him is hazy. In fact, many of her mother's memories from before Amandla was born are hazy. It's just one of the many reasons people in Sugar Town give them strange looks–that and the fact her mother is white and Amandla is Black. When Amandla finds a mysterious address in the bottom of her mother's handbag along with a large amount of cash, she decides it's finally time to get answers about her mother's life. What she discovers will change the shape and size of her family forever. But with her best friends at her side, Amandla is ready to take on family secrets and the devil himself. These Sugar Town queens are ready to take over the world to expose the hard truths of their lives.
Twenty stand-alone short stories, essays, poems, and more from celebrated and award-winning authors make up this YA anthology that explores the Mexican American experience. With works by Francisco X. Stork, Guadalupe Garcia McCall, David Bowles, Rubén Degollado, e.E. Charlton-Trujillo, Diana López, Xavier Garza, Trinidad Gonzales, Alex Temblador, Aida Salazar, Guadalupe Ruiz-Flores, Sylvia Sánchez Garza, Dominic Carrillo, Angela Cervantes, Carolyn Dee Flores, René Saldaña Jr., Justine Narro, Daniel García Ordáz, and Anna Meriano.
In this mixed-media collection of short stories, personal essays, poetry, and comics, this celebrated group of authors share the borders they have crossed, the struggles they have pushed through, and the two cultures they continue to navigate as Mexican Americans. Living Beyond Borders is at once an eye-opening, heart-wrenching, and hopeful love letter from the Mexican American community to today's young readers.
A powerful exploration of what it means to be Mexican American.
 
A witty and warm-hearted novel about a trans teen finding his place in the world perfect for fans of  Red, White and Royal Blue
There's only one thing standing between Finch Kelly and a full-blown case of high school senioritis: the National Speech & Debate Tournament. Taking home the gold would not only be the pinnacle of Finch's debating career, but the perfect way to launch himself into his next chapter: college in Washington, DC, and a history-making career as the first trans congressman. What could possibly go wrong?
Well, for starters, Finch could develop a teeny tiny crush on his very attractive, very taken, and very gay debate partner, Jonah. Never mind that Finch has never considered whether he's interested in more than just girls.
And that dream of college in DC? Finch hasn't exactly been accepted anywhere yet, let alone received the full-ride scholarship he'll need to make this dream a reality.
Worst of all, though, is this year's topic for Nationals: transgender rights. If he wants to cinch the gold, and get into college, Finch might have to argue against his own humanity.
People say there are two sides to every argument. But, as Finch is about to discover, some things—like who you are and who you love—are not up for debate.