Reading Recs
YA Retellings we are OBSESSED with
Do you love classic lit, fairytales, and legends? We think you'd adore these modern retellings!
Love Camelot? Try…

Channeling the modern humor of The Gentleman's Guide to Vice and Virtue, bestselling author Robyn Schneider creates a Camelot that becomes the ultimate teen rom-com hotspot in this ultra-fresh take on the Arthurian legend.
Welcome to the great kingdom of Camelot! Prince Arthur's a depressed botanist who would rather marry a library than a princess, Lancelot's been demoted to castle guard after a terrible lie, and Emry Merlin has arrived at the castle disguised as her twin brother since girls can't practice magic.
Life at court is full of scandals, lies, and backstabbing courtiers, so what's a casually bisexual teen wizard masquerading as a boy to do? Other than fall for the handsome prince, stir up trouble with the foppish Lord Gawain, and offend the prissy Princess Guinevere.
When the truth comes out with disastrous consequences, Emry has to decide whether she'll risk everything for the boy she loves, or give up her potential to become the greatest wizard Camelot has ever known.
Love The Great Gatsby? Try…
We Were Liars meets Speak in this haunting, mesmerizing psychological thriller—a gender-flipped YA Great Gatsby—that will linger long after the final line
On wealthy Commodore Island, Fern is watching and waiting—for summer, for college, for her childhood best friend to decide he loves her. Then Ivy Avila lands on the island like a falling star. When Ivy shines on her, Fern feels seen. When they're together, Fern has purpose. She glimpses the secrets Ivy hides behind her fame, her fortune, the lavish parties she throws at her great glass house, and understands that Ivy hurts in ways Fern can't fathom. And soon, it's clear Ivy wants someone Fern can help her get. But as the two pull closer, Fern's cozy life on Commodore unravels: drought descends, fires burn, and a reckless night spins out of control. Everything Fern thought she understood—about her home, herself, the boy she loved, about Ivy Avila—twists and bends into something new. And Fern won't emerge the same person she was.
An enthralling, mind-altering psychological thriller, Tell Me My Name is about the cost of being a girl in a world that takes so much, and the enormity of what is regained when we take it back.
Love Cinderella? Try…
A loose retelling of Cinderella, about a high-school graduate who–after getting grounded for the whole summer–joins a local Quidditch league and finds her footing, perfect for fans of Dumplin', Fangirl, and everyone who's read and adored Harry Potter.
17-year-old vegan feminist Ellen Lopez-Rourke has one muggy Houston summer left before college. She plans to spend every last moment with her two best friends before they go off to the opposite ends of Texas for school. But when Ellen is grounded for the entire summer by her (sometimes) evil stepmother, all her plans are thrown out the window.
Determined to do something with her time, Ellen (with the help of BFF Melissa) convinces her parents to let her join the local muggle Quidditch team. An all-gender, full-contact game, Quidditch isn't quite what Ellen expects. There's no flying, no magic, just a bunch of scrappy players holding PVC pipe between their legs and throwing dodgeballs. Suddenly Ellen is thrown into the very different world of sports: her life is all practices, training, and running with a group of Harry Potter fans.
Even as Melissa pulls away to pursue new relationships and their other BFF Xiumiao seems more interested in moving on from high school (and from Ellen), Ellen is steadily finding a place among her teammates. Maybe Quidditch is where she belongs.
But with her home life and friend troubles quickly spinning out of control–Ellen must fight for the future that she wants, now she's playing for keeps.
Love Little Women? Try…
Jo & Laurie by Margaret Stohl and Melissa de la Cruz
Love Pride and Prejudice? Try…
Love Romeo and Juliet? Try…
From the author of Hot Dog Girl comes a fresh and funny queer YA contemporary novel about two teens who fall in love in an indie comic book shop. Now available in paperback!
Jubilee has it all together. She's an elite cellist, and when she's not working in her stepmom's indie comic shop, she's prepping for the biggest audition of her life.
Ridley is barely holding it together. His parents own the biggest comic-store chain in the country, and Ridley can't stop disappointing them–that is, when they're even paying attention.
They meet one fateful night at a comic convention prom, and the two can't help falling for each other. Too bad their parents are at each other's throats every chance they get, making a relationship between them nearly impossible . . . unless they manage to keep it a secret.
Then again, the feud between their families may be the least of their problems. As Ridley's anxiety spirals, Jubilee tries to help but finds her focus torn between her fast-approaching audition and their intensifying relationship. What if love can't conquer all? What if each of them needs more than the other can give?
Love A Thousand and One Nights? Try…
Love Alice in Wonderland? Try…
A young girl takes refuge in a London Tube station during WWII and confronts grief, loss, and first love with the help of her favorite book, Alice in Wonderland, in the debut novel from Tony Award-winning playwright Steven Sater.
London, 1940. Amidst the rubble of the Blitz of World War II, fifteen-year-old Alice Spencer and her best friend, Alfred, are forced to take shelter in an underground tube station. Sick with tuberculosis, Alfred is quarantined, with doctors saying he won't make it through the night. In her desperation to keep him holding on, Alice turns to their favorite pastime: recalling the book that bonded them, and telling the story that she knows by heart–the story of Alice in Wonderland.
What follows is a stunning, fantastical journey that blends Alice's two worlds: her war-ravaged homeland being held together by nurses and soldiers and Winston Churchill, and her beloved Wonderland, a welcome distraction from the bombs and the death, but a place where one rule always applies: the pages must keep turning. But then the lines between these two worlds begin to blur. Is that a militant Red Cross Nurse demanding that Alice get BACK. TO. HER. BED!, or is it the infamous Queen of Hearts saying…something about her head? Soon, Alice must decide whether to stay in Wonderland forever, or embrace the pain of reality if that's what it means to grow up.
Love Snow White? Try…
The Wrath and the Dawn meets Snow White and the Huntsman in this dark and mystical East Asian fantasy reimagining of The Evil Queen legend about one peasant girl's quest to become Empress.
Eighteen-year-old Xifeng is beautiful. The stars say she is destined for greatness, that she is meant to be Empress of Feng Lu. But only if she embraces the darkness within her.
Growing up as a peasant in a forgotten village on the edge of the map, Xifeng longs to fulfill the destiny promised to her by her cruel aunt, the witch Guma, who has read the cards and seen glimmers of Xifeng's majestic future. But is the price of the throne too high? Because in order to achieve greatness, she must spurn the young man who loves her and  exploit the callous magic that runs through her veins–sorcery fueled by eating the hearts of the recently killed. For the god who has sent her on this journey will not be satisfied until his power is absolute.
Set in an East Asian-inspired fantasy world filled with both breathtaking pain and beauty, Forest of a Thousand Lanterns possesses all the hallmarks of masterful fantasy: dazzling magic, heartbreaking romance, and a world that hangs in the balance. Fans of Heartless, Stealing Snow, and Red Queen will devour this stunning debut.
Love Sherlock Holmes? Try…
Sherlock meets Veronica Mars meets Riverdale in this romance where the leading man is decidedly unromantic, and crime novel where catching the crook isn't the only hook.
Of course Zoe Webster didn't like Philip Digby when she first met him. No one does! He's rude and he treats her like a book he's already read and knows the ending to. But Zoe is new in town and her options for friends are . . . limited. And before she knows it, Digby–annoying, brilliant, and somehow attractive?–has dragged her into a series of hilarious and dangerous situations all related to the investigation of a missing local teen girl. When it comes to Digby, Zoe just can't say no. But is Digby's manic quest really worth all the trouble he's getting Zoe into?
Love the legend of the gumiho? Try…
Love Beauty and the Beast? You should try…
Curses by Lish McBride
Love Phantom of the Opera? You should try…
Coming soon…
Love Sleeping Beauty? You should try…
The Bone Spindle by Leslie Vedder – Coming January 11, 2022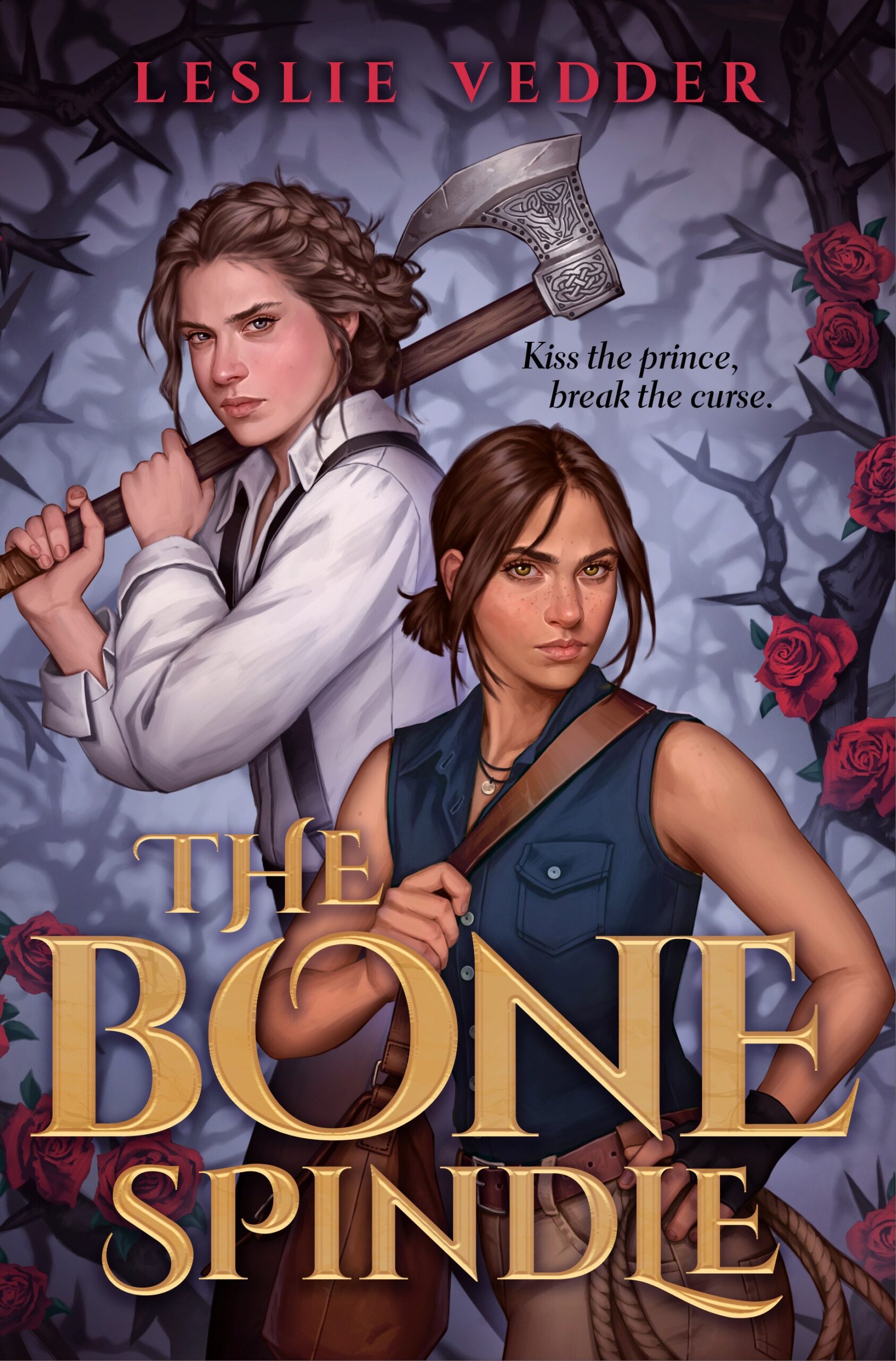 Sleeping Beauty meets Indiana Jones in this thrilling fairytale retelling for fans of Sorcery of Thorns and The Cruel Prince.
Fi is a bookish treasure hunter with a knack for ruins and riddles, who definitely doesn't believe in true love.
Shane is a tough-as-dirt girl warrior from the north who likes cracking skulls, pretty girls, and doing things her own way.
Briar Rose is a prince under a sleeping curse, who's been waiting a hundred years for the kiss that will wake him.
Cursed princes are nothing but ancient history to Fi—until she pricks her finger on a bone spindle while exploring a long-lost ruin. Now she's stuck with the spirit of Briar Rose until she and Shane can break the century-old curse on his kingdom.
Dark magic, Witch Hunters, and bad exes all stand in her way—not to mention a mysterious witch who might wind up stealing Shane's heart, along with whatever else she's after. But nothing scares Fi more than the possibility of falling in love with Briar Rose.
Set in a lush world inspired by beloved fairytales, The Bone Spindle is a fast-paced young adult fantasy full of adventure, romance, found family, and snark.
A Cinderella retelling to look forward to…
Cinder & Glass by Melissa de la Cruz – Coming March 8, 2022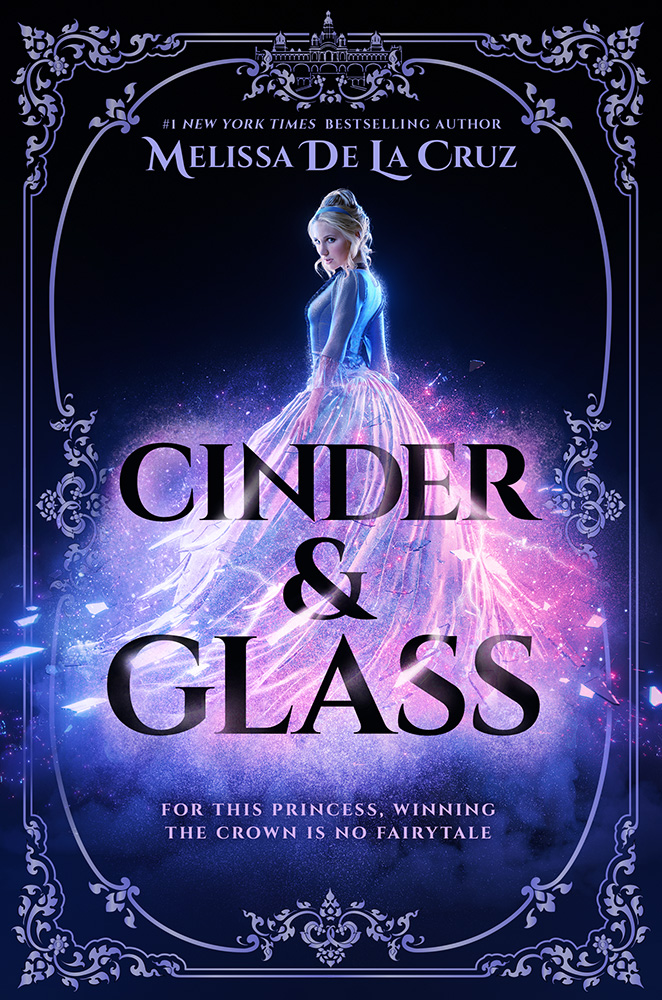 For this princess, winning the crown is no fairytale.
1682. The king sends out an invitation to all the maidens in France: their presence is requested at a number of balls and events that will be held in honor of the dashing Prince Louis, who must choose a bride.
– – –
Cendrillon de Louvois has more grace, beauty, and charm than anyone else in France. While she was once the darling child of the king's favorite adviser, her father's death has turned her into the servant of her stepmother and cruel stepsisters–and at her own chateau, too!
Cendrillon–now called Cinder–manages to evade her stepmother and attend the ball, where she catches the eye of the handsome Prince Louis and his younger brother Auguste.
Even though Cendrillon has an immediate aversion to Louis, and a connection with Auguste, the only way to escape her stepmother is to compete with the other women at court for the Prince's hand.
Soon, as Cendrillon glows closer to Auguste and dislikes the prince more and more, she will have to decide if she can bear losing the boy she loves in order to leave a life she hates.
Melissa de la Cruz takes a lush, romantic hand to this retold fairy tale classic.
Did you hear? The Vanishing Deep has a gorgeous new cover! Check it out here!