Reading Recs
YA trilogies that you're going to be 100% obsessed with
Love getting lost in a YA trilogy? Here are 9 that will absolutely sweep you away!
Games of Thrones meets Shadow and Bone in this action-packed fantasy from the internationally bestselling author of the Nightshade series.
Ara has always known the legend of the Loresmith: the blacksmith who served alongside the kings and queens of Saetlund, forging legendary weapons to arm warriors and protect the kingdom. She's been told it's her fate to inherit the title and become the next Loresmith. But since the monarchy's downfall in a vicious conquest years before, Ara has never truly believed she would be able to take up her duty.
But when the lost Princess Nimhea and Prince Eamon steal Ara from her quiet life with a mission to retake the throne and return Ara to her place as the Loresmith–Ara's whole world turns upside down.
Suddenly, Ara must leave her small mountain village and embark on a dangerous adventure where she will uncover new truths about her family's legacy, and even face the gods themselves. With a mysterious thief as an unexpected companion, and dark forces following their every move, Ara must use all her skills to forge the right path forward–for herself, her kingdom, and her heart.
From internationally bestselling author Andrea Roberston comes a gorgeously written new fantasy series perfect for readers of Leigh Bardugo's Shadow and Bone or Sabaa Tahir's An Ember in the Ashes series.
And make sure to pick up book 2, Cast in Secrets and Shadow!

What was once the western United States is now home to the Republic, a nation perpetually at war with its neighbors. Born into an elite family in one of the Republic's wealthiest districts, fifteen-year-old June is a prodigy being groomed for success in the Republic's highest military circles. Born into the slums, fifteen-year-old Day is the country's most wanted criminal. But his motives may not be as malicious as they seem.
From very different worlds, June and Day have no reason to cross paths – until the day June's brother, Metias, is murdered and Day becomes the prime suspect. Caught in the ultimate game of cat and mouse, Day is in a race for his family's survival, while June seeks to avenge Metias's death. But in a shocking turn of events, the two uncover the truth of what has really brought them together, and the sinister lengths their country will go to keep its secrets.
Full of nonstop action, suspense, and romance, this novel is sure to move readers as much as it thrills.
Matched by Ally Condie

In the Society, Officials decide. Who you love. Where you work. When you die.

Cassia has always trusted the Society's choices. And when her best friend appears on the Matching screen, she is certain he's the one—until she sees another face flash for an instant before the screen fades to black. Now she is faced with impossible choices: between Xander and Ky, between the only life she's ever known and a path no has dared to follow . . . between perfection and the truth.

Game of Thrones meets Red Rising in a debut young adult fantasy that's full of rivalry, romance . . . and dragons.
Annie and Lee were just children when a brutal revolution changed their world, giving everyone–even the lowborn–a chance to test into the governing class of dragonriders.
Now they are both rising stars in the new regime, despite backgrounds that couldn't be more different. Annie's lowborn family was executed by dragonfire, while Lee's aristocratic family was murdered by revolutionaries. Growing up in the same orphanage forged their friendship, and seven years of training have made them rivals for the top position in the dragonriding fleet.
But everything changes when survivors from the old regime surface, bent on reclaiming the city.
With war on the horizon and his relationship with Annie changing fast, Lee must choose to kill the only family he has left or to betray everything he's come to believe in. And Annie must decide whether to protect the boy she loves . . . or step up to be the champion her city needs.
From debut author Rosaria Munda comes a gripping adventure that calls into question which matters most: the family you were born into, or the one you've chosen.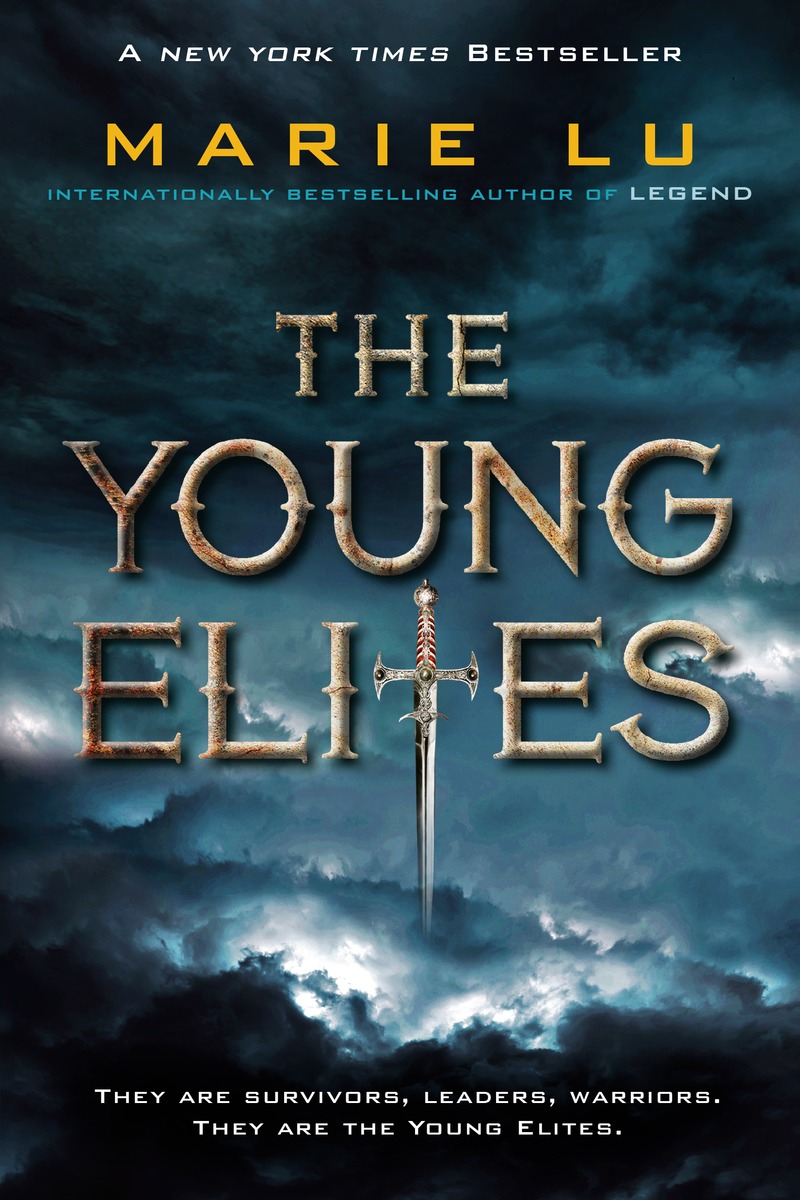 Adelina Amouteru is a survivor of the blood fever. A decade ago, the deadly illness swept through her nation. Most of the infected perished, while many of the children who survived were left with strange markings. Adelina's black hair turned silver, her lashes went pale, and now she has only a jagged scar where her left eye once was. Her cruel father believes she is a malfetto, an abomination, ruining their family's good name and standing in the way of their fortune. But some of the fever's survivors are rumored to possess more than just scars—they are believed to have mysterious and powerful gifts, and though their identities remain secret, they have come to be called the Young Elites.
Teren Santoro works for the king. As Leader of the Inquisition Axis, it is his job to seek out the Young Elites, to destroy them before they destroy the nation. He believes the Young Elites to be dangerous and vengeful, but it's Teren who may possess the darkest secret of all.
Enzo Valenciano is a member of the Dagger Society. This secret sect of Young Elites seeks out others like them before the Inquisition Axis can. But when the Daggers find Adelina, they discover someone with powers like they've never seen.
Adelina wants to believe Enzo is on her side, and that Teren is the true enemy. But the lives of these three will collide in unexpected ways, as each fights a very different and personal battle. But of one thing they are all certain: Adelina has abilities that shouldn't belong in this world. A vengeful blackness in her heart. And a desire to destroy all who dare to cross her.
Seafire by Natalie C. Parker

After her family is killed by corrupt warlord Aric Athair and his bloodthirsty army of Bullets, Caledonia Styx is left to chart her own course on the dangerous and deadly seas. She captains her ship, the Mors Navis, with a crew of girls and women just like her, who have lost their families and homes because of Aric and his men. The crew has one mission: stay alive, and take down Aric's armed and armored fleet.
But when Caledonia's best friend and second-in-command barely survives an attack thanks to help from a Bullet looking to defect, Caledonia finds herself questioning whether to let him join their crew. Is this boy the key to taking down Aric Athair once and for all…or will he threaten everything the women of the Mors Navis have worked for?
The first in a heart-stopping trilogy that recalls the undeniable feminine power of Wonder Woman and the powder-keg action of Mad Max: Fury Road, Seafire reminds us of the importance of sisterhood and unity in the face of oppression and tyranny.
From the #1 New York Times bestselling author of The Witches of East End and the Descendants series comes the love story of young Alexander Hamilton and Elizabeth Schuyler.

1777. Albany, New York.
As battle cries of the American Revolution echo in the distance, servants flutter about preparing for one of New York society's biggest events: the Schuylers' grand ball. Descended from two of the oldest and most distinguished bloodlines in New York, the Schuylers are proud to be one of their fledgling country's founding families, and even prouder still of their three daughters—Angelica, with her razor-sharp wit; Peggy, with her dazzling looks; and Eliza, whose beauty and charm rival those of both her sisters, though she'd rather be aiding the colonists' cause than dressing up for some silly ball.
Still, Eliza can barely contain her excitement when she hears of the arrival of one Alexander Hamilton, a mysterious, rakish young colonel and General George Washington's right-hand man. Though Alex has arrived as the bearer of bad news for the Schuylers, he can't believe his luck—as an orphan, and a bastard one at that—to be in such esteemed company. And when Alex and Eliza meet that fateful night, so begins an epic love story that would forever change the course of American history.
In the pages of Alex and Eliza, #1 New York Times bestselling author Melissa de la Cruz brings to life the romance of young Alexander Hamilton and Elizabeth Schuyler.

An instant New York Times Bestseller, this is a stunning debut set in a world where reading is unheard-of. Perfect for fans of Inkheart and Shadow and Bone
Sefia knows what it means to survive. After her father is brutally murdered, she flees into the wilderness with her aunt Nin, who teaches her to hunt, track, and steal. But when Nin is kidnapped, leaving Sefia completely alone, none of her survival skills can help her discover where Nin's been taken, or if she's even alive. The only clue to both her aunt's disappearance and her father's murder is the odd rectangular object her father left behind, an object she comes to realize is a book—a marvelous item unheard of in her otherwise illiterate society. With the help of this book, and the aid of a mysterious stranger with dark secrets of his own, Sefia sets out to rescue her aunt and find out what really happened the day her father was killed—and punish the people responsible.
Coming soon…

In this much-anticipated series opener, fate binds two Black teenagers together as they strike a dangerous alliance to hunt down the creature menacing their home—and uncover ancient deadly secrets.
There's no such thing as magic in the broken city of Lkossa, especially for sixteen-year-old Koffi, who holds a power within her that could only be described as magic—a power that if discovered could cost her life. Indentured to the notorious Night Zoo, Koffi knows the fearsome creatures in her care and paying off her family's debts to secure their eventual freedom can be her only focus. But the night those she loves are gravely threatened by the Zoo's cruel master, Koffi finally unleashes the power she doesn't fully understand, upending her life completely.
As the second son of a decorated hero, Ekon is all but destined to become a Son of the Six—an elite warrior—and uphold a family legacy. But on the night of his final rite of passage, Ekon encounters not only the Shetani—a vicious monster that has plagued the city for nearly a century and stalks his nightmares, but Koffi who seems to have the power to ward off the beast. Koffi's power ultimately saves Ekon's life, but his choice to let her flee dooms his hopes of becoming a warrior.
Desperate to redeem himself, Ekon vows to hunt the Shetani and end its reign of terror, but he can't do it alone. Meanwhile, Koffi believes finding the Shetani could also be the key to solving her own problems. Koffi and Ekon form a tentative alliance and together enter the Greater Jungle, a world steeped in wild, frightening magic and untold dangers. The hunt begins. But it quickly becomes unclear whether they are the hunters or the hunted.