Sneak Peeks
12 Totally Relevant Life Lessons For Any Age We Learned From PAPER TOWNS
Even if you haven't hijacked your graduation plans to go on a 19-hour road trip, the events and relationships in Paper Towns are some of the most relatable we've come across. Read on for our favorite life lessons for any age we learned from Paper Towns! 
Don't sweat the small stuff and your friends will get you through.
"Such was life that morning: nothing really mattered that much, not the good things and not the bad ones. We were in the business of mutual amusement, and we were reasonably prosperous."
Looks aren't everything.
"That's always seemed so ridiculous to me, that people would want to be around someone because they're pretty. It's like picking your breakfast cereals based on color instead of taste."
Super skinny should not be the ideal.
"You're––' and I stopped myself from saying not skinny, but that's the whole point of you; the point of you is that you don't look like a boy.' You should not lose any weight."
Throw caution to the wind.
"Here's a tip: you're cute when you're confident. And less when you're not."
"Ninjas don't worry about poison ivy."
Only some things are worth getting off the couch to shave your legs for.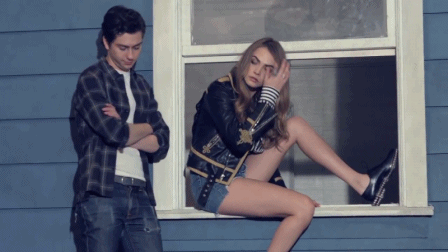 "I shaved this morning for precisely that reason. I was like, 'Well, you never know when someone is going to clamp down on your calf and try to suck out the snake poison."
Manage expectations.
"Doing stuff never feels as good as you hope it will feel."
"Peeing is like a good book in that it is very, very hard to stop once you start."
Don't expect people to be more than they are.
"I know it's impossible for you to see peers this way, but when you're older you start to see them – the bad kids and the good kids and all kids – as people. They're just people, who deserve to be cared for. Varying degrees of sick, varying degrees of neurotic, varying degrees of self-actualized."
It's hard for us to express ourselves.
"'The longer I do my job,' he said, the more I realize that humans lack good mirrors. It's so hard for anyone to show us how we look, and so hard for us to show anyone how we feel."
There are a lot of people out there.
"It is easy to forget how full the world is of people, full to bursting, and each of them imaginable and consistently misimagined."
Everyone has a bit of hero in them.
"I'm not saying that everything is survivable. Just that everything except the last thing is."