Sneak Peeks
Romantic Reads Still to Come in 2022!
If you're a hopeless romantic looking to keep your shelves stacked with love stories all year long, here's your guide to 2022's most-anticipated romantic reads!
All My Rage by Sabaa Tahir – March 1
From #1 New York Times bestselling author Sabaa Tahir comes a brilliant, unforgettable, and heart-wrenching contemporary YA novel about family and forgiveness, love and loss, in a sweeping story that crosses generations and continents.
Lahore, Pakistan. Then.
Misbah is a dreamer and storyteller, newly married to Toufiq in an arranged match. After their young life is shaken by tragedy, they come to the United States and open the Cloud's Rest Inn Motel, hoping for a new start.
Juniper, California. Now.
Salahudin and Noor are more than best friends; they are family. Growing up as outcasts in the small desert town of Juniper, California, they understand each other the way no one else does. Until The Fight, which destroys their bond with the swift fury of a star exploding.
Now, Sal scrambles to run the family motel as his mother Misbah's health fails and his grieving father loses himself to alcoholism. Noor, meanwhile, walks a harrowing tightrope: working at her wrathful uncle's liquor store while hiding the fact that she's applying to college so she can escape him—and Juniper—forever.
When Sal's attempts to save the motel spiral out of control, he and Noor must ask themselves what friendship is worth—and what it takes to defeat the monsters in their pasts and the ones in their midst.
From one of today's most cherished and bestselling young adult authors comes a breathtaking novel of young love, old regrets, and forgiveness—one that's both tragic and poignant in its tender ferocity.
Cinder & Glass by Melissa de la Cruz – March 8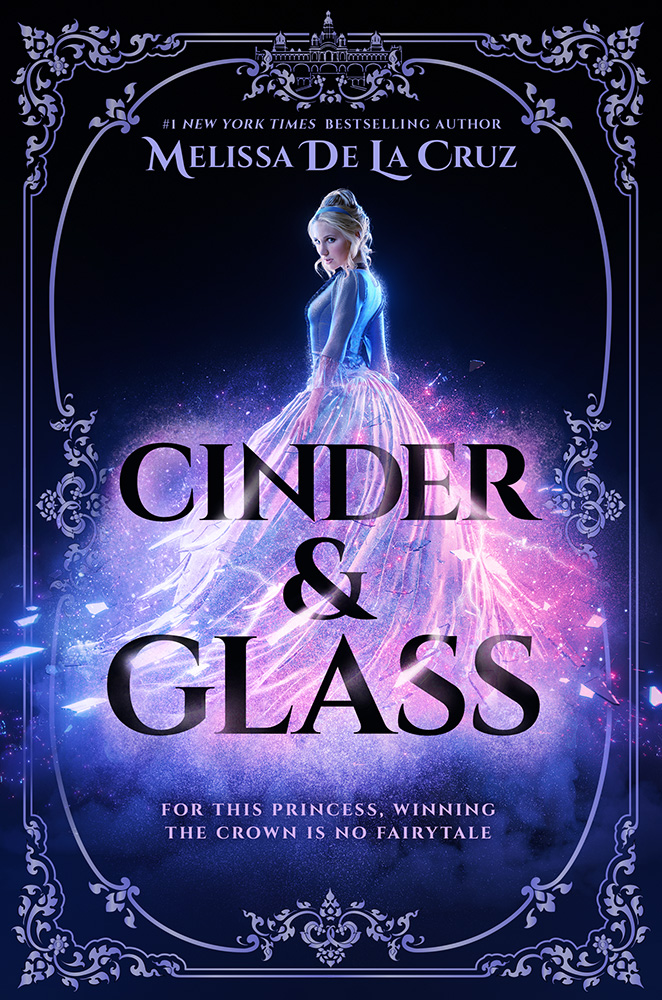 For this princess, winning the crown is no fairytale.
1682. The king sends out an invitation to all the maidens in France: their presence is requested at a number of balls and events that will be held in honor of the dashing Prince Louis, who must choose a bride.
– – –
Cendrillon de Louvois has more grace, beauty, and charm than anyone else in France. While she was once the darling child of the king's favorite adviser, her father's death has turned her into the servant of her stepmother and cruel stepsisters–and at her own chateau, too!
Cendrillon–now called Cinder–manages to evade her stepmother and attend the ball, where she catches the eye of the handsome Prince Louis and his younger brother Auguste.
Even though Cendrillon has an immediate aversion to Louis, and a connection with Auguste, the only way to escape her stepmother is to compete with the other women at court for the Prince's hand.
Soon, as Cendrillon glows closer to Auguste and dislikes the prince more and more, she will have to decide if she can bear losing the boy she loves in order to leave a life she hates.
Melissa de la Cruz takes a lush, romantic hand to this retold fairy tale classic.

For fans of Jenny Han and Jane Austen, a rom-com that's equal parts hilarious and heartfelt about the unexpected consequences of one teen's quest to help her friends find love, from the author of A Taste for Love.
High school junior Gigi Wong strives to be the best. After all, that's what everyone expects of her—her parents, friends, and even potential colleges. Thankfully, her best friend, Kyle, is always there to listen with a smile and a delicious bowl of ramen. Still, with her future—and her dreams—on the line, how is she to stand out when her classmates seem so perfect too?
Her answer comes in the form of an app writing contest. If Gigi can secure the nomination to represent her school, she has a chance at a prestigious tech internship. That's sure to get her applications noticed . . . All she needs is a winning entry.
When transfer student and new friend Etta confides that she's struggling to fit in, it gives Gigi an idea. What if she takes what she's learned from shadowing her aunt Rose, a professional matchmaker, to create a fun friend-making app? Perfect!
In fact, Gigi's app soon goes viral at school. Suddenly, she's the center of attention—and a major scandal. She never meant to hurt anyone, let alone Etta and Kyle. Can she save all she worked so hard for and the relationships that mean so much to her?
Kacen Callender meets Becky Albertalli in a deliciously geeky best friends-to lovers romance from award-winning author Julian Winters!
School's out, senior year is over, and Isaac Martin is ready to kick off summer. His last before heading off to college in the fall where he won't have his best friend, Diego. Where—despite his social anxiety—he'll be left to make friends on his own. Knowing his time with Diego is limited, Isaac enacts a foolproof plan: snatch up a pair of badges for the epic comic convention, Legends Con, and attend his first ever Teen Pride. Just him and Diego. The way it should be. But when an unexpected run-in with Davi—Isaac's old crush—distracts him the day tickets go on sale, suddenly he's two badges short of a perfect summer. Even worse, now he's left making it up to Diego by hanging with him and his gamer buddies. Decidedly NOT part of the original plan. It's not all bad, though. Some of Diego's friends turn out to be pretty cool, and when things with Davi start heating up, Isaac is almost able to forget about his Legends Con blunder. Almost. Because then Diego finds out what really happened that day with Davi, and their friendship lands on thin ice. Isaac assumes he's upset about missing the convention, but could Diego have other reasons for avoiding Isaac?
Kiss & Tell by Adib Khorram – March 22
A smart, sexy YA novel about a boy band star, his first breakup, his first rebound, and what it means to be queer in the public eye, from award-winning author Adib Khorram
Hunter never expected to be a boy band star, but, well, here he is. He and his band Kiss & Tell are on their first major tour of North America, playing arenas all over the United States and Canada (and getting covered by the gossipy press all over North America as well). Hunter is the only gay member of the band, and he just had a very painful breakup with his first boyfriend–leaked sexts, public heartbreak, and all–and now everyone expects him to play the perfect queer role model for teens.
But Hunter isn't really sure what being the perfect queer kid even means. Does it mean dressing up in whatever The Label tells him to wear for photo shoots and pretending never to have sex? (Unfortunately, yes.) Does it mean finding community among the queer kids at the meet-and-greets after K&T's shows? (Fortunately, yes.) Does it include a new relationship with Kaivan, the star of the band opening for K&T on tour? (He hopes so.) But when The Label finds out about Hunter and Kaivan, it spells trouble—for their relationship, for the perfect gay boy Hunter plays for the cameras, and, most importantly, for Hunter himself.
Lucy Miller's family has the unique ability to remove people's painful memories—but Lucy isn't prepared for truths she will uncover in this speculative YA debut thriller, perfect for fans of Eternal Sunshine of the Spotless Mind.
People come from everywhere to forget. At the Memory House, in Tumble Tree, Texas, Lucy's father can literally erase folks' heartache and tragic memories. Lucy can't wait to learn the family trade and help alleviate others' pain, and now, at sixteen, she finally can. But everything is not as it seems.
When Lucy practices memory-taking on her dad, his memory won't come loose, and in the bit that Lucy sees, there's a flash of Mama on the day she died, tinged red with guilt. Then Lucy wakes up the next morning with a bruised knee, a pocketful of desert sand, and no memory of what happened. She has no choice but to listen to Marco Warman—a local boy she's always wondered about, who seems to know more than he should.
As Lucy and Marco realize there are gaps in their own memories, they team up to fill in the missing pieces—to figure out what's really going on in their town, and to uncover their own stolen history along the way. But as the mysteries pile up one thing becomes certain: There are some secrets people will do anything to keep.
For fans of Caraval and The Night Circus, this decadent and darkly enchanting YA fantasy, set against the backdrop of a Belle Époque-inspired hotel, follows seventeen-year-old Jani as she uncovers the deeply disturbing secrets of the legendary Hotel Magnifique.
All her life, Jani has dreamed of Elsewhere. Just barely scraping by with her job at a tannery, she's resigned to a dreary life in the port town of Durc, caring for her younger sister Zosa. That is, until the Hotel Magnifique comes to town.
The hotel is legendary not only for its whimsical enchantments, but also for its ability to travel—appearing in a different destination every morning. While Jani and Zosa can't afford the exorbitant costs of a guest's stay, they can interview to join the staff, and are soon whisked away on the greatest adventure of their lives. But once inside, Jani quickly discovers their contracts are unbreakable and that beneath the marvelous glamour, the hotel is hiding dangerous secrets.
With the vexingly handsome doorman Bel as her only ally, Jani embarks on a mission to unravel the mystery of the magic at the heart of the hotel and free Zosa—and the other staff—from the cruelty of the ruthless maître d'hôtel. To succeed, she'll have to risk everything she loves, but failure would mean a fate far worse than never returning home.
Jane the Virgin meets The Sisterhood of the Traveling Pants in New York Times bestselling author J. C. Cervantes's charming, romantic YA debut.
Ava Granados will never forgive herself for being late to her beloved Nana's deathbed. For generations, blessings have been passed to the women in her family upon death, but due to a freaky flash flood that left Ava in a fender bender with a mysterious boy, she arrived seconds too late to for Nana's blessing—instead, all she gets is the wash of regret on her sisters' faces.
Until Nana pops up with a challenge from beyond the grave. As it turns out, Nana did give Ava a blessing, but it missed, landing with the boy from the night of the storm. If Ava can't straighten out the mistake, Nana will linger as a ghost forever, which she's not exactly excited about. To help her on her quest, Ava will have her two older sisters and Nana's rather bumbling spiritual guide, Medardus, who is, of all things, the patron saint of teeth.
For solitary Ava, being asked to befriend some random boy is the last thing she wants to do. She's gotten along just fine being wary and protecting her heart; keeping people at a distance is a great way to ensure no one ever hurts you. But as Ava and the gang embark on their mission to retrieve Nana's blessing, she starts to wonder if what she might gain by getting close to thunderstorm boy is worth the risk.
Letting go is a beach.
Jazz Jacobson has spent fourteen of her sixteen summers on Fire Island. It's just an hour from Manhattan but feels like a world away, where Jazz thrives in the absence of the social hierarchies and pressures of high school. Most of all, it's the place where she's reunited with her best friend, Macy Whelan.
This summer starts out strong when the cute new boy on the island seems to like Jazz (hello, first boyfriend?). But it's hard to focus on her own crush when Macy's still obsessing over her hookup from last summer, Max Cooper.
Jazz can't believe how cold and mean Max is to Macy. But when Macy starts to seriously act out, Jazz begins to see that she knows only one side of the story . . . and that she has to help her friend before something terrible happens.
Boundaries are crossed and the edge of sanity is tested in Marcelle Karp's debut novel, which celebrates the complicated dynamics of female friendship and the heartbreaking ache of first love.
With and Without You by Emily Wibberley and Austin Siegemund-Broka – April 19
#Wibbroka is back with another swoony YA–this time tackling long-distance relationships, in a novel based on their own romantic history.
If high school seniors Siena and Patrick were a superlative, they'd be Couple Most Likely to Marry. Three solid years of dating, and everyone agrees they're perfect for each other. But with college on the horizon, Siena begins to wonder whether staying together is the best idea. Does she really want to be tied down during the most transformative years of her life? So she makes a decision to break up with Patrick, convincing herself it's for the best. Though, before she can get the words out, he beats her to the punch: his family is moving. He'll be spending senior year in Austin. A thousand miles away. Caught off guard by the news, Siena agrees to stay with Patrick, believing their relationship will naturally fizzle out with time and distance. But over a series of visits throughout the school year, Siena begins to see a different side of Patrick–one that has her falling in love with him all over again.
From Beyond the Break author Heather Buchta comes a funny, romantic novel about a girl trying to make amends with a former best friend. The thing is: healing someone else's broken heart has its complications, especially when he's now an A-list movie star.
High school senior Alexa Brooks had it all figured out. Study hard, nail the extracurriculars, stay focused, and life would follow the carefully crafted plan. The problem is this plan was designed for one thing: making her forget all about her once-best-friend, former-potential-boyfriend, Carson Knight. Four years ago, he was the boy who always made her laugh, the boy she loved, and the boy she mistakenly and very publicly betrayed. Oh, and he was also the boy who grew up to become a heartthrob A-list actor, named Cayden McKnight.
An innocent-enough school assignment suddenly brings Cayden to the forefront of Alexa's mind, and her celebrity-crazed best friend Lindsey discovers the old connection. Convinced that his Hollywood bad boy image is the direct result of Alexa and Carson's fallout, Lindsey convinces Alexa to find Carson and reconcile, but reaching an A-list movie star is not as easy as it used to be when he was the kid Alexa called every night before bed. Unable to apologize in person but determined to somehow right her wrongs, Alexa goes on a quest to remake Cayden's image, doing good deeds in his name. But nothing is as it seems in Hollywood, and even when she's able to finally face Cayden McKnight in person, Alexa can't break through to the Carson she once knew. Is it really too late to make amends?
A sparkling K-drama inspired debut teen novel by Grace Shim, THE NOH FAMILY introduces irrepressibly charming teen Chloe Kang, who is reunited with her deceased father's estranged family via a DNA test, and is soon whisked off to Seoul to join them…
When her friends gift her a 23-and-Me test as a gag, high school senior Chloe Kang doesn't think much of trying it out. She doesn't believe anything will come of it—she's an only child, her mother is an orphan, and her father died in Seoul before she was even born, and before her mother moved to Oklahoma. It's been just Chloe and her mom her whole life. But the DNA test reveals something Chloe never expected—she's got a whole extended family from her father's side half a world away in Korea. Her father's family are owners of a famous high-end department store, and are among the richest families in Seoul. When they learn she exists, they are excited to meet her. Her mother has huge reservations, she hasn't had a great relationship with her husband's family, which is why she's kept them secret, but she can't stop Chloe from travelling to Seoul to spend two weeks getting to know the Noh family.
Chloe is whisked into the lap of luxury, but something feels wrong. Chloe wants to shake it off—she's busy enjoying the delights of Seoul with new friend Miso Dan, the daughter of one of her mother's grade school friends. And as an aspiring fashion designer, she's loving the couture clothes her department store owning family gives her access to. But soon Chloe will discover the reason why her mother never told her about her dad's family, and why the Nohs wanted her in Seoul in the first place. Could joining the Noh family be worse than having no family at all?

Heated competition leads to even hotter romance in this YA summer rom-com for fans of Sandhya Menon, Emma Lord, and Wibbroka.
Seventeen-year-old, high-achieving Kavya Joshi has always been told she's a little too ambitious, a little too mouthy, and overall just a little too much. In one word: besharam.
So, when her nemesis, Ian Jun, witnesses Kavya's very public breakup with her loser boyfriend on the last day of junior year, she decides to lay low and spend the summer doing what she loves best–working part time playing princess roles for childrens' birthday parties. But her plan is shot when she's cast as Ariel instead of her beloved Belle, and learns that Ian will be her Prince Eric for the summer. [Cue the combative banter.]
Exhausted by Kavya and Ian's years-long feud, their friends hatch a plan to end their rivalry by convincing them to participate in a series of challenges throughout the summer. Kavya is only too eager to finally be declared the winner. But as the competition heats up, so too does the romantic tension, until it escalates from a simmer to a full-on burn.
Melt with You by Jennifer Dugan – May 17

From the author of Hot Dog Girl comes a sweet and salty queer YA rom-com about two girls on a summer road trip in an ice cream truck.
Fallon and Chloe used to be best friends. But last summer, the girls hooked up right before Chloe left for college, and after a series of misunderstandings, they aren't even speaking to one another. Now, a year later, Chloe's back home from school, and Fallon is doing everything in her power to avoid her. Which is especially difficult because their moms own a business together—a gourmet ice cream truck where both girls work.
But when their moms have the opportunity to make a presentation to some venture capitalists in Texas—something that could seriously expand their business and solve all their money problems to boot—it's up to Fallon to work a series of food truck festivals across the country. But she can't do it alone, and Chloe is the only one available to help. As tensions heat up again between the two girls, will Fallon be able to keep her cool?
I Guess I Live Here Now by Claire Ahn – May 24

For fans of Never Have I Ever and Crazy Rich Asians, this effervescent debut takes readers on a journey to the place where trends are born—Seoul, Korea—where Melody Lee unwillingly moves with her family and must start a new life, a new school…and maybe a new romance.
Melody always wanted to get to know the Korean side of her Korean American heritage better, but not quite like this. Thanks to a tiny transgression after school one day, she's shocked to discover that her parents have decided to move her and her mom out of New York City to join her father in Seoul—immediately! Barely having the chance to say goodbye to her best friend before she's on a plane, Melody is resentful, angry, and homesick.
But she soon finds herself settling into their super luxe home, meeting cool friends at school, and discovering the alluring aspects of living in Korea–trendsetting fashion, delectable food, her dad's black card, and a cute boy to hang out with. Life in Seoul is amazing…until cracks begin to form on its shiny surface. Troubling family secrets, broken friendships, and a lost passion are the prices Melody has to pay for her new life, but is it worth it?
Claire Ahn's charming debut lets you taste every bite of kalbi, bathe in the glow of Seoul's neon lights, and feel every high and low of Melody's journey across the world and within her heart.
A charming rom-com about high school debater TJ Powar who—after becoming the subject of an ugly meme—makes a resolution to stop shaving, plucking, and waxing, and prove that she can be her hairy self and still be beautiful…but soon finds this may be her most difficult debate yet. Perfect for fans of Netflix's Never Have I Ever.
When TJ Powar—a pretty, popular debater—and her cousin Simran become the subject of a meme: with TJ being the "expectation" of dating an Indian girl and her Sikh cousin who does not remove her body hair being the "reality"—TJ decides to take a stand.
She ditches her razors, cancels her waxing appointments, and sets a debate resolution for herself: "This House Believes That TJ Powar can be her hairy self, and still be beautiful." Only, as she sets about proving her point, she starts to seriously doubt anyone could care about her just the way she is—even when the infuriating boy from a rival debate team seems determined to prove otherwise.
As her carefully crafted sense of self begins to crumble, TJ realizes that winning this debate may cost her far more than the space between her eyebrows. And that the hardest judge to convince of her arguments might just be herself.
Zyla & Kai by Kristina Forest – June 7

A fresh new YA romance novel by Kristina Forest, Zyla & Kai is an epic star-crossed love story about first love and not just the will they, won't they— but why can't they?

While on a school trip to the Poconos Mountains (in the middle of a storm) high school seniors, Zyla Matthews and Kai Johnson, run away together leaving their friends and family confused. As far as everyone knows, Zyla and Kai have been broken up for months. And honestly? Their break up hadn't surprised anyone. Zyla and Kai met while working together at an amusement park the previous summer, and they couldn't have been more different.
Zyla was a cynic about love. She'd witnessed the dissolution of her parents' marriage early in life, and it left an indelible impression. Her only aim was graduating and going to fashion school abroad. Until she met Kai.
Kai was a serial monogamist and a hopeless romantic. He'd put a temporary pause on his dating life before senior year to focus on school and getting into his dream HBCU. Until he met Zyla.
Alternating between the past and present, we see the love story unfold from Zyla and Kai's perspectives: how they first became the unlikeliest of friends over the summer, how they fell in love during the school year, and why they ultimately broke up… Or did they?
Romantic, heart-stirring and a little mysterious, Zyla & Kai will keep readers guessing until the last chapter.
A Secret Princess by Margaret Stohl and Melissa de la Cruz – June 28

A surprising and romantic YA retelling-mashup of A Little Princess and The Secret Garden by bestselling authors Margaret Stohl and Melissa de la Cruz.
Best friends Mary Lennox, Sara Crewe, and Cedric Erroll have each other, and they are the only reason boarding school isn't completely insufferable.
Tragically, Mary's father passes away after he's stripped of his fortune, leaving her orphaned and with just one possession: a ticket to a ship that will bring her to the home of her last living relative, in America. But Cedric can't bear to say goodbye, and reveals that he's the son of an earl with endless riches . . . and a huge estate that the three of them can run away to, leaving the boarding school–and thoughts of America–behind.
That's when Sara and Cedric discover that there's more to them than friendship, and Mary begins spending time with a handsome local boy–a relationship that quickly blossoms into romance.
It turns out that Maythem Estate is more than just a getaway–it's a secret garden of budding romance.
Filled with charm, romance, and swoon, and inspired by some of classic literature's most beloved characters, The Secret Princess is the perfect blend of A Little Princess and The Secret Garden— and the perfect companion to Jo & Laurie.

Instant Karma meets I Wish You All the Best in a funny and heartfelt debut about a boy's delirious summertime quest with his ex-girlfriend.
The summer after senior year should have been a time for Cam to party and hang out with his friends. It should also have been a time for him to win back the love of his life, Allison Tandy, who'd dumped him so brutally the year before.
But it quickly becomes clear that this summer is going to be worse than a failure for Cam. It's going to be a tragedy.
Ally is left comatose after a terrible car crash, then Cam tears his ACL in a basketball accident. The operation leaves him in agony, confined to his couch and ruminating over the fact that his ex may not survive.
But when (after taking his medication) Cam starts seeing Ally, he starts to think: 1. He may be headed for a complete mental breakdown and 2. This summer might just be interesting afterall.
Brimming with honesty and humor, A Heavy Dose of Allison Tandy interrogates how much control we really have over matters of love—and life.
Youngblood by Sasha Laurens – July 19

For fans of Vampire Diaries and dark academia, two queer teen bloodsuckers at an elite vampire-only boarding school must go up against all of Vampirdom when they uncover a frightening conspiracy on campus.
Kat Finn and her mother can barely make ends meet living among humans. Like all vampires, they must drink Hema, an expensive synthetic blood substitute, to survive, as nearly all of humanity has been infected by a virus that's fatal to vampires. Kat isn't looking forward to an immortal life of barely scraping by, but when she learns she's been accepted to the Harcote School, a prestigious prep school that's secretly vampires-only, she knows her fortune is about to change.
Taylor Sanger has grown up in the wealthy vampire world, but she's tired of its backward, conservative values—especially when it comes to sexuality, since she's an out-and-proud lesbian. She only has to suffer through a two more years of Harcote before she's free. But when she discovers her new roommate is Kat Finn, she's horrified. Because she and Kat used to be best friends, a long time ago, and it didn't end well.
When Taylor stumbles upon the dead body of a vampire, and Kat makes a shocking discovery in the school's archives, the two realize that there are deep secrets at Harcote—secrets that link them to the most powerful figures in Vampirdom and to the synthetic blood they all rely on.
Beasts of Ruin by Ayana Gray – July 26

In this much anticipated follow up to New York Times bestselling Beasts of Prey, Koffi's powers grow stronger and Ekon's secrets turn darker as they face the god of death.
Koffi has saved her city and the boy she loves, but at a terrible price. Now a servant to the cunning god of death, she must use her newfound power to further his continental conquest, or risk the safety of her home and loved ones. As she reluctantly learns to survive amidst unexpected friends and foes, she will also have to choose between the life—and love—she once had, or the one she could have, if she truly embraces her dangerous gifts.
Cast out from the only home he's ever known, Ekon is forced to strike new and unconventional alliances to find and rescue Koffi before it's too late. But as he gets closer to the realm of death each day, so too does he draw nearer to a terrible truth—one that could cost everything.
Koffi and Ekon—separated by land, sea, and gods—will have to risk everything to reunite again. But the longer they're kept apart, the more each of their loyalties are tested. Soon, both may have to reckon with changing hearts—and maybe, changing destinies.
The Chosen meets Darius the Great in this irreverent and timely story of worlds colliding in friendship, betrayal, and hatred.
Hoodie Rosen's life isn't that bad. Sure, his entire Orthodox Jewish community has just picked up and moved to the quiet, mostly non-Jewish town of Tregaron, but Hoodie's world hasn't changed that much. He's got basketball to play, studies to avoid, and a supermarket full of delicious kosher snacks to eat. The people of Tregaron aren't happy that so many Orthodox Jews are moving in at once, but that's not Hoodie's problem.
That is, until he meets and falls for Anna-Marie Diaz-O'Leary—who happens to be the daughter of the obstinate mayor trying to keep Hoodie's community out of the town. And things only get more complicated when Tregaron is struck by a series of antisemitic crimes that quickly escalate to deadly violence.
As his community turns on him for siding with the enemy, Hoodie finds himself caught between his first love and the only world he's ever known.
Isaac Blum delivers a wry, witty debut novel about a deeply important and timely subject, in a story of hatred and betrayal—and the friendships we find in the most unexpected places.

A charming YA rom-com perfect for fans of Red, White, and Royal Blue and What If It's Us.
Micah Summers runs a popular Instagram full of drawings of his numerous imaginary boyfriends (ninety-nine so far)—though he's never had a real boyfriend before. But when a meet-cute with Boy 100 goes wrong, Micah embarks on a Prince Charming-like quest throughout Chicago to find true love—for real this time.
Will Boy 100 be the One?
Micah is rich, dreamy, and charming. As the "Prince of Chicago,"—the son of local celebrity sports radio host known as the King of Chicago—he has everything going for him. Unfortunately, he's also the prince of imaginary meet-cutes, since he's too nervous to actually ask boys out.
Instead, Micah draws each crush to share on Instagram with a post about their imaginary dates. Ninety-nine "boyfriends" later, his account is hugely popular, and everyone is eagerly awaiting Boy 100. So is Micah. He's determined that Boy 100 will be different. This time, Micah will sweep the boy off his feet, for real!
So when Micah flirts with a hot boy on the L who's wearing a vegan leather jacket and lugging a ton of library books, he is sure this is Boy 100. But right before he can make his move and ask for the boy's number, the guy rushes off the train, leaving behind his pumpkin-embroidered jacket. The jacket holds clues to the boy's identity, so Micah and his friends set off on a quest to return it. Along the way, Micah will discover that the best relationships aren't fairy tales. In fact, the perfect fit—and true love—might be closer than he thinks.