Sneak Peeks
Excerpt Alert: WHEN WE MAKE IT by Elisabet Velasquez
When We Make It by Elisabet Velasquez is an unforgettable, torrential, and hopeful debut young adult novel-in-verse that redefines what it means to "make it," for readers of Nicholasa Mohr and Elizabeth Acevedo.
Scroll down to read an excerpt!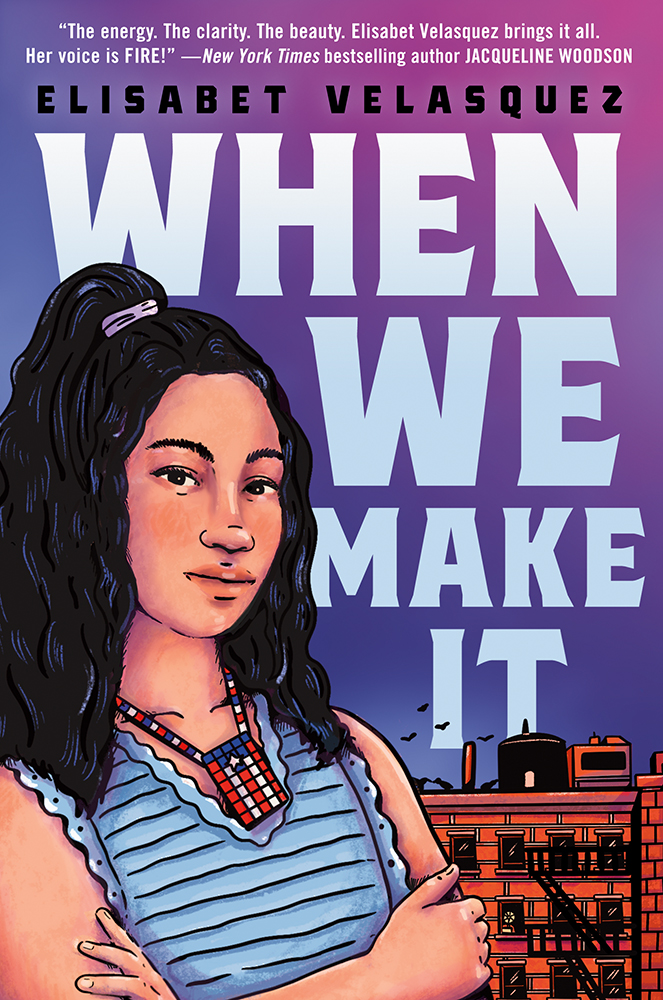 How I Got My Name Sarai
Let's start the story where abandon meets faith. Aight, so, boom. Check it.
I'm named after homegirl
in the Bible who couldn't have kids.
Her man Abram was all like:
Yo, Sarai, God promised me I would be the Father of Nations.
Sarai was all like:
Nah B, you must be buggin', you know I can't have no babies.
Our pastor says faith is believing in something you can't really see. According to Mami, we should never put our faith in men.
Mami was pregnant with me when Papi bounced
for some new chick & told Mami to have an abortion.
Abram got himself a new chick, too. Got her pregnant and all that.
I guess Mami identified with Sarai's fear and doubt —
& so I was born out of Mami's faith & hope.
Mami
Mami is a round woman.
A square by any other definition.
No-nonsense, Pentecostal
with no patience for her own children most days.
There are three of us in total.
Danny, Estrella & Me. I am the youngest.
My sister Estrella said Mami's depressed. File this under "shit we don't talk about".
Pentecostals, we're just supposed to pray the sadness away.
¡Fuera! The pastor demands on prayer night.
¡Fuera! I imagine sadness is a bad singer
being kicked off the show
by el Chacal on Sábado Gigante.
Apparently, Jesus & Don Francisco can save anything.
Once during church testimonio, Mami gave Jesus mad credit
for saving her from Papi's fists. ¡Amén! ¡Aleluya! Now, Papi lives in the Bronx with his new wife.
Estrella uses the payphone to collect call him all the time. She says Papi is also Christian now & that God forgave him
for beating on Mami & so we should too.
But Mami's eyes never close right during prayer service
& I wonder what kind of God you have to be
to receive praise from the hands responsible for that.
How We Got Our Names Estrella
Estrella was named after another woman Papi was cheating on Mami with.
Nobody says that out loud though. But I can tell
by the way my sister's name jumps off of Mami's tongue like one of those side chicks on The Ricki Lake Show.
On my father's tongue, Estrella matters. Her name is a sloooow dance in Brooklyn.
Her name is a bullet that didn't kill nobody.
Her name is the beeper alert that gets a call back.
Estrella is three years older than me. She is sixteen but her body is not.
She got that it's not my fault, I thought you were older kind of body.
She is the kind of beautiful that dique puts men in danger
or that makes men want to be dangerous.
The kind of beautiful Mami always wanted to be.
When we walk down Knickerbocker Ave.,
the men hiss like they are deflating at the sight of us.
They call Mami suegra. Mami can't stand it. Qué ridículo, she says. She ain't old enough to be nobody's mother-in-law.
She shifts her body in front of Estrella's, to protect her
or maybe so she can be seen first.
Papi
Estrella races to the window
and pulls back the curtain, which is really just a fuzzy blanket
with a lion print that Mami ordered from Fingerhut,
a magazine that lets Mami own nice things and pay for them slowly.
Papi parks outside and makes his station wagon cry until it guilts Mami into letting us go downstairs.
I examine my father until he is human again. When he hugs me, I want no parts of his hands.
I become Mami the last time he hit her.
Leave me alone. Don't touch me.
Estrella laughs at my fear & tells Papi Mami is brainwashing me into hating him.
Papi says he hopes I'm not becoming an angry bitch like Mami.
Men don't like angry bitches. Men leave angry bitches.
All Mami was ever good for was kicking him out.
He can't remember the last time her mouth made a home for him.
That's why he left and didn't come around for a few years.
Now Papi comes by every weekend & gives us five dollars to split.
Estrella & me argue over how to spend it. Five dollars
can buy us mad chips, quarter juices, now and laters, devil dogs.
Or we can use it to share one ham & cheese hero and a two-liter.
When I look up at the window you can't see Mami peeking but
the lion's mouth is open
and roaring for me to come upstairs.