Reading Recs
LGBTQIA+ YA reads from this year that are instant new favorites for your shelf!
From sweet contemporaries to stunning fantasies to make-you-sob page-turners, here are some of our favorite LGBTQIA+ YA reads from this year for your shelf!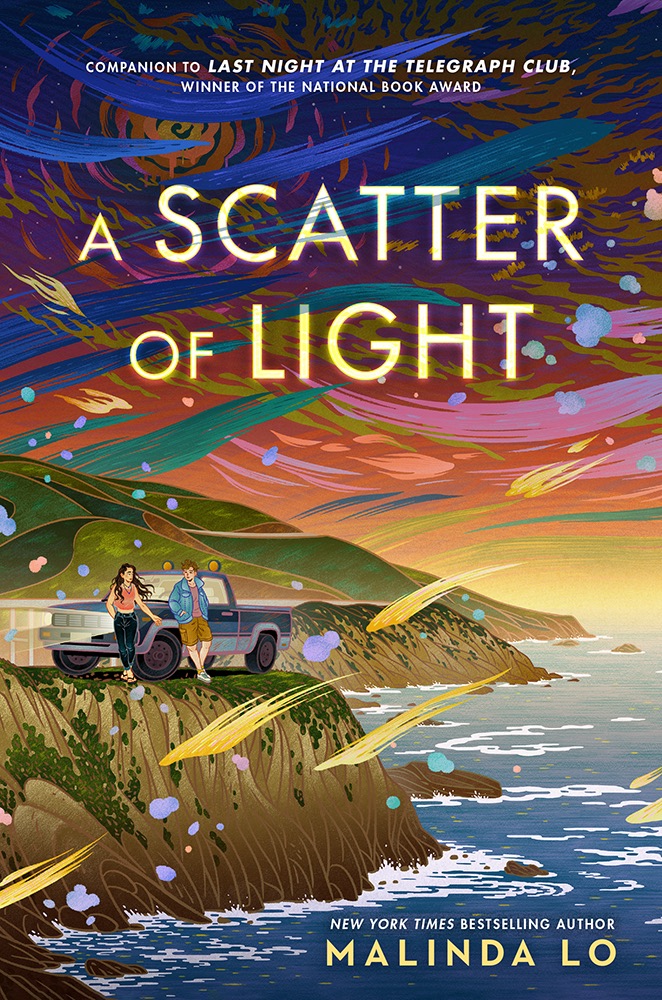 A Scatter of Light by Malinda Lo
Prepare.your.emotions.
Last Night at the Telegraph Club author Malinda Lo returns to the Bay Area with another masterful queer coming-of-age story, this time set against the backdrop of the first major Supreme Court decisions legalizing gay marriage.
Last Night at the Telegraph Club by Malinda Lo
We're breaking our own rule just a tiny bit by adding A Scatter of Light's companion guide since it hit shelves in 2021–but this list would be incomplete without it! This modern queer classic follows Lily Hu and Kathleen Miller as they fall in love under the flashing neon sign of a lesbian bar called the Telegraph Club.
Kings of B'more by R. Eric Thomas
We'll be honest: this one is going to make you smile like an idiot. And laugh. And just feel good. Because who doesn't love a story about two besties on an adventure? In Kings of B'more, two Black queer best friends face their last day together with an epic journey through Baltimore in this magnetic YA debut by bestselling author of Here for It, R. Eric Thomas!
The Edge of Being by James Brandon
This is one of those books that sticks with you. If you love deep, beautifully profound stories, James Brandon's newest novel is for you. The Edge of Being is a tender and heartfelt queer YA novel about the multiplicities of grief, deeply held family secrets, and finding new love.
The Bone Spindle by Leslie Vedder
Ready to escape reality? Step into this irresistible Sleeping Beauty retelling! Set in a lush world inspired by beloved fairytales, The Bone Spindle is a fast-paced young adult fantasy full of adventure, romance, found family, and snark.
Right Where I Left You by Julian Winters
Spoilers: you are going to love these characters so much. Kacen Callender meets Becky Albertalli in a deliciously geeky best friends-to lovers romance from award-winning author Julian Winters!
Aetherbound by E.K. Johnston
This sci-fi adventure is now in paperback! Set on a family-run interstellar freighter called the Harland and a mysterious remote space station, E. K. Johnston's latest is story of survival and self-determination.
Kiss & Tell by Adib Khorram
Are you ready to go on the Come Say Hello tour? This smart, sexy YA novel follows a boy band star, his first breakup, his first rebound, and what it means to be queer in the public eye, from award-winning author Adib Khorram!
Melt With You by Jennifer Dugan
We honestly cannot resist the stuck-with-you trope. From the author of Some Girls Do and Hot Dog Girl comes a sweet and salty queer YA rom-com about two girls on a summer road trip in an ice cream truck!
Coven by Jennifer Dugan and Kit Seaton
Queer witches? A murder mystery? AND a graphic novel? Sign us up.
In this queer, paranormal YA graphic novel debut from the author of Some Girls Do and the illustrator of Wonder Woman: Warbringer, a young witch races to solve the grisly supernatural murders of her coven members before the killer strikes again.
The 99 Boyfriends of Micah Summers by Adam Sass
This book is just so.dang.cute.
Micah Summers runs a popular Instagram full of drawings of his numerous imaginary boyfriends (ninety-nine so far)—though he's never had a real boyfriend before. But when a meet-cute with Boy 100 goes wrong, Micah embarks on a Prince Charming-like quest throughout Chicago to find true love—for real this time.
How to Succeed in Witchcraft by Aislinn Brophy
Get ready for the perfect witchy boarding school read! A talented witch competes for a prestigious scholarship at her cutthroat high school in this contemporary fantasy for fans of Never Have I Ever and Sabrina the Teen Witch.
It Sounds Like This by Anna Meriano
This one is for you, band kids!! This sweet and nerdy contemporary YA novel set in the world of marching band perfect for fans of Late to the Party, Fat Chance, Charlie Vega and Kate in Waiting.
Watch Over Me by Nina LaCour
The only thing that makes this haunting ghost story even better is Nina LaCour's STUNNING writing.
Newly graduated from high school, Mila has aged out of the foster care system. So when she's offered a teaching job and a place to live on an isolated part of the Northern California coast, she immediately accepts. Maybe she will finally find a new home—a real home. The farm is a refuge, but it's also haunted by the past. And Mila's own memories are starting to rise to the surface.
Man o' War by Cory McCarthy
"Eye-opening, heartfelt, and real—with a massive payoff of true love." —A.S. King, author of Dig, winner of the Michael L. Printz Award
Man o' War is an achingly honest and frequently hilarious coming-of-age novel about an Arab American trans swimmer fighting to keep their head above water in a landlocked Midwestern town.