Reading Recs
10 of the most iconic YA friendships!
What do we love about YA books?
EPIC PLOTS?
Well, yes.
SWOONY LOVE INTERESTS?
Also yes, but that's not what we're talking about right now…
We love a complex, unforgettable friendship (and friend group!) So we're listing 10 of the most iconic friendships in YA books!
Lux, Micah, Noelle, and Tobyn maybe equal one of our all time favorite squads in YA–and don't be surprised if you start to feel like they're your friends too as you dive into the series. Get ready to follow the Flyy Girls all over NYC!
(Psst, the fourth installment, Tobyn: The It Girl, JUST hit shelves!!)
Darius's friendship with Sohrab is one of the purest bonds in all of YA. They meet when Darius visits his grandfather in Iran for the first time, and they find an immediate connection over everything from their shared love of playing soccer to their openness with talking about their feelings—in a way that teenage boys aren't always encouraged to do. Honestly, at the risk of sounding too sappy, the world would be so much better if all of us had a friendship in our lives like that of Darius and Sohrab.
(Spoilers for Warcross!)
The Phoenix Riders may be one of the most beloved YA gangs ever. And, let's face it, teaming up to stop one of the most powerful people in the world/Emika's boyfriend isn't exactly easy. But whether they're kicking butt in the Warcross championships or treading through sketchy parts of the Dark Web, Emika knows her friends always have her back, and we <3 that.
Steel Tide by Natalie C. Parker
We saw the fierceness of friendship and sisterhood in Seafire. But it isn't until Caledonia has to take off and survive on her own that we realize just how much we miss Pisces and the rest of her unbreakable crew aboard the Mors Navis. This crew has each other's backs to the very end (and, as we saw in Seafire…sometimes that's the case.) This fierce sisterhood for sure deserves a special shoutout!
If you've been along for the ride since Miss Peregrine's Home for Peculiar Children, you know that Jacob's peculiar friends and the situations they are constantly stumbling into are both legendary and unforgettable. #StayPeculiar
Best friends Neena and Josie spent high school as outsiders, but at least they had each other. Now, with college and a two-thousand-mile separation looming on the horizon, they have one last chance to be together—a three-day hike deep into the woods of the Pisgah National Forest.
Simmering tensions lead to a detour off the trail and straight into a waking nightmare … and then into something far worse. Something that will test them in horrifying ways. This book is, to say the least, INTENSE. And if Josie and Neena want to survive the woods, they'll need to rely on each other.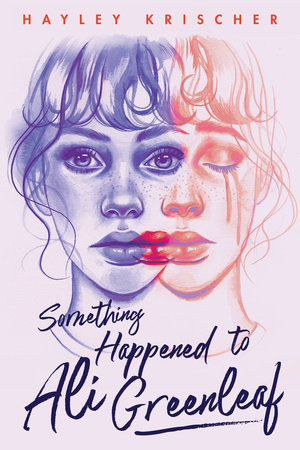 In her searing, empowering debut novel, Hayley Krischer tells the story of what happened that night, and how it shaped Ali and Blythe forever. Both girls are survivors in their own ways, and while their friendship might not be built to last, it's one that empowers each of them to find justice on their own terms.
From Los Angeles Times Book Prize Award winner and Edgar Award nominee Malla Nunn comes a stunning portrait of a family divided and a powerful story of how friendship saves and heals. These Sugar Town queens are ready to take over the world to expose the hard truths of their lives.
Coming soon…

Between the Summer Children and the twin flame relationship between Grey and Elora, this book is going to have you flipping pages so fast to unravel what exactly is going on in La Cachette. Coming September 7!
La Cachette, Louisiana, is the worst place to be if you have something to hide.
This tiny town, where seventeen-year-old Grey spends her summers, is the self-proclaimed Psychic Capital of the World—and the place where Elora Pellerin, Grey's best friend, disappeared six months earlier.
Grey can't believe that Elora vanished into thin air any more than she can believe that nobody in a town full of psychics knows what happened. But as she digs into the night that Elora went missing, she begins to realize that everybody in town is hiding something—her grandmother Honey; her childhood crush Hart; and even her late mother, whose secrets continue to call to Grey from beyond the grave.
When a mysterious stranger emerges from the bayou—a stormy-eyed boy with links to Elora and the town's bloody history—Grey realizes that La Cachette's past is far more present and dangerous than she'd ever understood. Suddenly, she doesn't know who she can trust. In a town where secrets lurk just below the surface, and where a murderer is on the loose, nobody can be presumed innocent—and La Cachette's dark and shallow lies may just rip the town apart.

If you love reading about complex friendships in YA, mark your TBR for The Falling Girls, coming October 5!
Shade and Jadis are everything to each other. They share clothes, toothbrushes, and even matching stick-and-poke tattoos. So when Shade unexpectedly joins the cheerleading team, Jadis can hardly recognize who her best friend is becoming.
Shade loves the idea of falling into a group of girls; she loves the discipline it takes to push her body to the limits alongside these athletes . Most of all, Shade finds herself drawn to The Three Chloes—the insufferable trio that rules the squad—including the enigmatic cheer captain whose dark side is as compelling as it is alarming.
Jadis won't give Shade up so easily, though, and the pull between her old best friend and her new teammates takes a toll on Shade as she tries to forge her own path. So when one of the cheerleaders dies under mysterious circumstances, Shade is determined to get to the bottom of her death. Because she knows Jadis—and if her friend is responsible, doesn't that mean she is, too?
In this compelling, nuanced exploration of the layered, intoxicating relationships between teen girls, and all the darkness and light that exists between them, novelist Hayley Krischer weaves a story of loss and betrayal, and the deep reverberations felt at a friendship's breaking point.