Reading Recs
Royal Fantasy MUST Reads!
Is it really surprising that we all continue to be obsessed with kings, queens, kingdoms, and magical ongoings of all sorts? We grow up playing in imaginary castles and then BOOM, we're just expected to give that up to be adults, make doctors appointments, buy groceries, and do laundry?
Welcome to our top royal fantasy MUST reads that will keep your heart young and your mind safe from the toils of adulthood!

Put the broom down, okay? Because this book is going to absolutely sweep you away from your to do list.
About the book: The highly anticipated next book in the New York Times bestselling, award-winning Graceling Realm series, which has sold 1.7 million copies.
For the past five years, Bitterblue has reigned as Queen of Monsea, heroically rebuilding her nation after her father's horrific rule. After learning about the land of Torla in the east, she sends envoys to the closest nation there: Winterkeep—a place where telepathic foxes bond with humans, and people fly across the sky in wondrous airships. But when the envoys never return, having drowned under suspicious circumstances, Bitterblue sets off for Winterkeep herself, along with her spy Hava and her trusted colleague Giddon. On the way, tragedy strikes again—a tragedy with devastating political and personal ramifications.
Meanwhile, in Winterkeep, Lovisa Cavenda waits and watches, a fire inside her that is always hungry. The teenage daughter of two powerful politicians, she is the key to unlocking everything—but only if she's willing to transcend the person she's been all her life.
The Graceling Realm books are a companion series, not direct sequels, so they can be enjoyed in any order.

Revisit your childhood with this gorgeous Cinderella retelling!
About the book: New York Times bestselling author Melissa de la Cruz pens a lush, swoon-worthy retelling of "Cinderella" set in lavish Versailles. Perfect for fans of Bridgerton and The Selection!
Cendrillon de Louvois was poised to be the most eligible maiden in all of France. But the death of her father, the king's favorite advisor, has left Cendrillon at the will of her cruel stepmother and stepsisters.
Dubbed Lady Cinder by the court, Cendrillon is forced to become a servant to her new family. But when she attends the royal ball, she catches the eye of the handsome Prince Louis and his younger brother, Auguste.
Even though Cendrillon has an immediate aversion to Louis and a connection with Auguste, the only way to escape her stepmother is to compete with the other girls at court for the Prince's hand.
As her stepmother's cruelty grows, Cendrillon captures the prince's heart . . . though her own heart belongs to Auguste. Cendrillon's fate rests on one question: Can she bear losing the boy she loves in order to leave a life she hates?

This Sleeping Beauty retelling is worth staying up way too late for, we promise.
About the book: Sleeping Beauty meets Indiana Jones in this thrilling fairytale retelling for fans of Sorcery of Thorns and The Cruel Prince.
Fi is a bookish treasure hunter with a knack for ruins and riddles, who definitely doesn't believe in true love.
Shane is a tough-as-dirt girl warrior from the north who likes cracking skulls, pretty girls, and doing things her own way.
Briar Rose is a prince under a sleeping curse, who's been waiting a hundred years for the kiss that will wake him.
Cursed princes are nothing but ancient history to Fi—until she pricks her finger on a bone spindle while exploring a long-lost ruin. Now she's stuck with the spirit of Briar Rose until she and Shane can break the century-old curse on his kingdom.
Dark magic, Witch Hunters, and bad exes all stand in her way—not to mention a mysterious witch who might wind up stealing Shane's heart, along with whatever else she's after. But nothing scares Fi more than the possibility of falling in love with Briar Rose.
Set in a lush world inspired by beloved fairytales, The Bone Spindle is a fast-paced young adult fantasy full of adventure, romance, found family, and snark.
This book will keep you thoroughly distracted from the drama happening on the group chat.
About the book: From the New York Times bestselling author of the Falling Kingdoms series comes the first book in a brand-new duology about forbidden magic and dangerous secrets, for readers of Victoria Aveyard and Margaret Rogerson.
Josslyn Drake knows only three things about magic: it's rare, illegal, and always deadly.
So when she's caught up in a robbery gone wrong at the Queen's Gala and infected by a dangerous piece of magic—one that allows her to step into the memories of an infamously evil warlock—she finds herself living her worst nightmare. Joss needs the magic removed before it corrupts her soul and kills her. But in Ironport, the cost of doing magic is death, and seeking help might mean scheduling her own execution. There's nobody she can trust.
Nobody, that is, except wanted criminal Jericho Nox, who offers her a deal: his help extracting the magic in exchange for the magic itself. And though she's not thrilled to be working with a thief, especially one as infuriating (and infuriatingly handsome) as Jericho, Joss is desperate enough to accept.
But Jericho is nothing like Joss expects. The closer she grows to Jericho and the more she sees of the world outside her pampered life in the city, the more Joss begins to question the beliefs she's always taken for granted—beliefs about right and wrong, about power and magic, and even about herself.
In an empire built on lies, the truth may be her greatest weapon.
This one will remind you that being royalty is actually pretty tough. It's much easier to read about it while safely sipping away at a cup of tea on the couch tbh.
About the book: In the three kingdoms of Mytica, magic has long been forgotten. And while hard-won peace has reigned for centuries, a deadly unrest now simmers below the surface.
As the rulers of each kingdom grapple for power, the lives of their subjects are brutally transformed… and four key players, royals and rebels alike, find their fates forever intertwined. Cleo, Jonas, Lucia, and Magnus are caught in a dizzying world of treacherous betrayals, shocking murders, secret alliances, and even unforeseen love.
The only outcome that's certain is that kingdoms will fall. Who will emerge triumphant when all they know has collapsed?
It's the eve of war…. Choose your side.
This one has enough conspiracy and mystery to make you forget all about The Case of the Missing TV Remote.
About the book: Seventeen-year-old Keralie Corrington may seem harmless, but she's, in fact, one of Quadara's most skilled thieves and a liar. Varin, on the other hand, is an honest, upstanding citizen of Quadara's most enlightened region, Eonia. He runs afoul of Keralie when she steals a package from him, putting his life in danger. When Varin attempts to retrieve the package, he and Keralie both find themselves entangled in a conspiracy that leaves all four of Quadara's queens dead.
Forget about all the stress of classes and work! At least you aren't in Zahru's situation.
About the book: Perfect for fans of Victoria Aveyard and Holly Black, The Kinder Poison is an enthralling fantasy adventure that follows a teenage girl chosen to be the human sacrifice in a deadly game between three heirs who will do anything for the crown.
Zahru has long dreamed of leaving the kingdom of Orkena and having the kinds of adventures she's only ever heard about in stories. But as a lowly Whisperer, her power to commune with animals means that her place is serving in the royal stables until the day her magic runs dry.
All that changes when the ailing ruler invokes the Crossing. A death-defying race across the desert, in which the first of his heirs to finish—and take the life of a human sacrifice at the journey's end—will ascend to the throne. With all of the kingdom abuzz, Zahru leaps at the chance to change her fate if just for a night by sneaking into the palace for a taste of the revelry. But the minor indiscretion turns into a deadly mistake when she gets caught up in a feud between the heirs and is forced to become the Crossing's human sacrifice.
Now Zahru's only hope for survival hinges on the impossible: somehow figuring out how to overcome the most dangerous people in the world.

This one will make you grateful you're old enough to not believe in monsters hiding under your bed anymore. Because the villains in this book will give you a whole new list of things to be worried about!
About the book: Games of Thrones meets Shadow and Bone in this action-packed fantasy from the internationally bestselling author of the Nightshade series.
Ara has always known the legend of the Loresmith: the blacksmith who served alongside the kings and queens of Saetlund, forging legendary weapons to arm warriors and protect the kingdom. She's been told it's her fate to inherit the title and become the next Loresmith. But since the monarchy's downfall in a vicious conquest years before, Ara has never truly believed she would be able to take up her duty.
But when the lost Princess Nimhea and Prince Eamon steal Ara from her quiet life with a mission to retake the throne and return Ara to her place as the Loresmith–Ara's whole world turns upside down.
Suddenly, Ara must leave her small mountain village and embark on a dangerous adventure where she will uncover new truths about her family's legacy, and even face the gods themselves. With a mysterious thief as an unexpected companion, and dark forces following their every move, Ara must use all her skills to forge the right path forward–for herself, her kingdom, and her heart.
From internationally bestselling author Andrea Roberston comes a gorgeously written new fantasy series perfect for readers of Leigh Bardugo's Shadow and Bone or Sabaa Tahir's An Ember in the Ashes series.
Because every now and then you just have to escape into a fairytale, ya know?
About the book: This fairy tale retelling lives in a mystical world inspired by the Far East, where the Dragon Lord and the Serpent God battle for control of the earthly realm; it is here that the flawed heroine of Forest of a Thousand Lanterns finally meets her match. An epic fantasy finale to the Rise of the Empress novels.
Princess Jade has grown up in exile, hidden away in a monastery while her stepmother, the ruthless Xifeng, rules as empress of Feng Lu. But the empire is in distress and its people are sinking into poverty and despair. Even though Jade doesn't want the crown, she knows she is the only one who can dethrone the empress and set the world right. Ready to reclaim her place as rightful heir, Jade embarks on a quest to raise the Dragon Lords and defeat Xifeng and the Serpent God once and for all. But will the same darkness that took Xifeng take Jade, too? Or will she find the strength within to save herself, her friends, and her empire?
Curses by Lish McBride
Speaking of fairytales, who doesn't love a good Beauty and the Beast retelling?
About the book: Merit Cravan refused to fulfill her obligation to marry a prince, leading to a fairy godling's curse. She will be forced to live as a beast forever, unless she agrees to marry a man of her mother's choosing before her eighteenth birthday.
Tevin Dumont has always been a pawn in his family's cons. The prettiest boy in a big family, his job is to tempt naïve rich girls to abandon their engagements, unless their parents agree to pay him off. But after his mother runs afoul of the beast, she decides to trade Tevin for her own freedom.
Now, Tevin and Merit have agreed that he can pay off his mother's debt by using his con-artist skills to help Merit find the best match . . . but what if the best match is Tevin himself?
Sometimes being involved with the royal family is a whole lot worse than being IN the royal family. Maybe just be grateful you have nothing to do with royalty? (Actually, idk, maybe you do. We don't know your life.)
About the book: In the walled city of Kos, corrupt mages can magically call forth sin from a sinner in the form of sin-beasts – lethal creatures spawned from feelings of guilt.
Taj is the most talented of the aki, young sin-eaters indentured by the mages to slay the sin-beasts. But Taj's livelihood comes at a terrible cost. When he kills a sin-beast, a tattoo of the beast appears on his skin while the guilt of committing the sin appears on his mind. Most aki are driven mad by the process, but 17-year-old Taj is cocky and desperate to provide for his family.
When Taj is called to eat a sin of a royal, he's suddenly thrust into the center of a dark conspiracy to destroy Kos. Now Taj must fight to save the princess that he loves – and his own life.
Oof. You know, not all princes sound all that great!
About the book: One Life to One Dawn.
In a land ruled by a murderous boy-king, each dawn brings heartache to a new family. Khalid, the eighteen-year-old Caliph of Khorasan, is a monster. Each night he takes a new bride only to have a silk cord wrapped around her throat come morning. When sixteen-year-old Shahrzad's dearest friend falls victim to Khalid, Shahrzad vows vengeance and volunteers to be his next bride. Shahrzad is determined not only to stay alive, but to end the caliph's reign of terror once and for all.
Night after night, Shahrzad beguiles Khalid, weaving stories that enchant, ensuring her survival, though she knows each dawn could be her last. But something she never expected begins to happen: Khalid is nothing like what she'd imagined him to be. This monster is a boy with a tormented heart. Incredibly, Shahrzad finds herself falling in love. How is this possible? It's an unforgivable betrayal. Still, Shahrzad has come to understand all is not as it seems in this palace of marble and stone. She resolves to uncover whatever secrets lurk and, despite her love, be ready to take Khalid's life as retribution for the many lives he's stolen. Can their love survive this world of stories and secrets?

This book has so much magic you'll totally forget you haven't technically mopped the floor in like two years.
About the book: Sixteen-year-old Eva is a princess, born with the magick of marrow and blood–a dark and terrible magick that hasn't been seen for generations in the vibrant but fractured country of Myre. Its last known practitioner was Queen Raina, who toppled the native khimaer royalty and massacred thousands, including her own sister, eight generations ago, thus beginning the Rival Heir tradition. Living in Raina's long and dark shadow, Eva must now face her older sister, Isa, in a battle to the death if she hopes to ascend to the Ivory Throne–because in the Queendom of Myre only the strongest, most ruthless rulers survive.
When Eva is attacked by an assassin just weeks before the battle with her sister, she discovers there is more to the attempt on her life than meets the eye–and it isn't just her sister who wants to see her dead. As tensions escalate, Eva is forced to turn to a fey instructor of mythic proportions and a mysterious and handsome khimaer prince for help in growing her magick into something to fear. Because despite the love she still has for her sister, Eva will have to choose: Isa's death or her own.
Fireborne will fill the dragon-shaped hole in your heart that Game of Thrones so violently left.
About the book: Annie and Lee were just children when a brutal revolution changed their world, giving everyone—even the lowborn—a chance to test into the governing class of dragonriders. Now they are both rising stars in the new regime, despite backgrounds that couldn't be more different. Annie's lowborn family was executed by dragonfire, while Lee's aristocratic family was murdered by revolutionaries. Growing up in the same orphanage forged their friendship, and seven years of training have made them rivals for the top position in the dragonriding fleet.
But everything changes when survivors from the old regime surface, bent on reclaiming the city. With war on the horizon and his relationship with Annie changing fast, Lee must choose to kill the only family he has left or to betray everything he's come to believe in. And Annie must decide whether to protect the boy she loves . . . or step up to be the champion her city needs.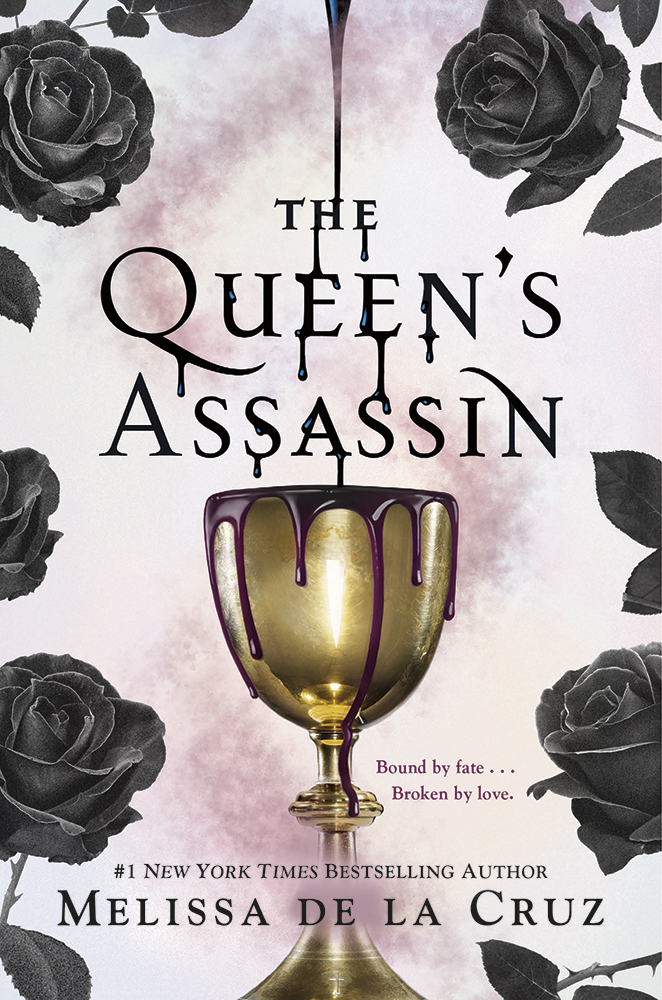 The action and adventure of Melissa de la Cruz's fantasy duology will have you gleefully turning off your phone to chill out and read.
About the book: Caledon Holt is the Kingdom of Renovia's deadliest weapon. No one alive can best him in brawn or brains, which is why he's the Guild's most dangerous member and the Queen's one and only assassin. He's also bound to the Queen by an impossible vow–to find the missing Deian Scrolls, the fount of all magical history and knowledge, stolen years ago by a nefarious sect called the Aphrasians.
Shadow has been training all her life to follow in the footsteps of her mother and aunts–to become skilled enough to join the ranks of the Guild. Though magic has been forbidden since the Aphrasian uprising, Shadow has been learning to control her powers in secret, hoping that one day she'll become an assassin as feared and revered as Caledon Holt.
When a surprise attack brings Shadow and Cal together, they're forced to team up as assassin and apprentice to hunt down a new sinister threat to Renovia. But as Cal and Shadow grow closer, they'll uncover a shocking web of lies and secrets that may destroy everything they hold dear. With war on the horizon and true love at risk, they'll stop at nothing to protect each other and their kingdom in this stunning first novel in the Queen's Secret series.

Not TECHNICALLY a royal fantasy, but this book is absolutely a fairytale, and deserves a place on this list.
About the book: Celebrated author Sarah Kuhn reinvents the modern fairy tale in this intensely personal yet hilarious novel of a girl whose search for a storybook ending takes her to unexpected places in both her beloved LA neighborhood and her own guarded heart.

If Rika's life seems like the beginning of a familiar fairy tale—being an orphan with two bossy cousins and working away in her aunts' business—she would be the first to reject that foolish notion. After all, she loves her family (even if her cousins were named after Disney characters), and with her biracial background, amazing judo skills and red-hot temper, she doesn't quite fit the princess mold.
All that changes the instant she locks eyes with Grace Kimura, America's reigning rom-com sweetheart, during the Nikkei Week Festival. From there, Rika embarks on a madcap adventure of hope and happiness—searching for clues that Grace is her long-lost mother, exploring Little Tokyo's hidden treasures with cute actor Hank Chen, and maybe . . . finally finding a sense of belonging.
But fairy tales are fiction and the real world isn't so kind. Rika knows she's setting herself up for disappointment, because happy endings don't happen to girls like her. Should she walk away before she gets in even deeper, or let herself be swept away?
Vengeance and romance and royalty OH MY.
About the book: Set in a world on the edge of an apocalyptic flood, this heart-stoppingly romantic fantasy debut is perfect for fans of Rachel Hartman and Rae Carson.
In a world bound for an epic flood, only a chosen few are guaranteed safe passage into the new world once the waters recede. The Kostrovian royal court will be saved, of course, along with their guards. But the fate of the court's Royal Flyers, a lauded fleet of aerial silk performers, is less certain. Hell-bent on survival, Principal Flyer, Natasha Koskinen, will do anything to save the flyers, who are the only family she's ever known. Even if "anything" means molding herself into the type of girl who could be courted by Prince Nikolai. But unbeknownst to Natasha, her newest recruit, Ella Neves, is driven less by her desire to survive the floods than her thirst for revenge. And Ella's mission could put everything Natasha has worked for in peril.
As the oceans rise, so too does an undeniable spark between the two flyers. With the end of the world looming, and dark secrets about the Kostrovian court coming to light, Ella and Natasha can either give in to despair . . . or find a new reason to live.

This is NOT the Camelot you know, and you're going to adore every page of it.
About the book: Channeling the modern humor of The Gentleman's Guide to Vice and Virtue, bestselling author Robyn Schneider creates a Camelot that becomes the ultimate teen rom-com hotspot in this ultra-fresh take on the Arthurian legend.
Welcome to the great kingdom of Camelot! Prince Arthur's a depressed botanist who would rather marry a library than a princess, Lancelot's been demoted to castle guard after a terrible lie, and Emry Merlin has arrived at the castle disguised as her twin brother since girls can't practice magic.
Life at court is full of scandals, lies, and backstabbing courtiers, so what's a casually bisexual teen wizard masquerading as a boy to do? Other than fall for the handsome prince, stir up trouble with the foppish Lord Gawain, and offend the prissy Princess Guinevere.
When the truth comes out with disastrous consequences, Emry has to decide whether she'll risk everything for the boy she loves, or give up her potential to become the greatest wizard Camelot has ever known.

This thrilling royal sci-fi adventure is PERFECT if you loved Renegades and Aurora Rising.
About the book: When Andra wakes up, she's drowning.
Not only that, but she's in a hot, dirty cave, it's the year 3102, and everyone keeps calling her Goddess. When Andra went into a cryonic sleep for a trip across the galaxy, she expected to wake up in a hundred years, not a thousand. Worst of all, the rest of the colonists–including her family and friends–are dead. They died centuries ago, and for some reason, their descendants think Andra's a deity. She knows she's nothing special, but she'll play along if it means she can figure out why she was left in stasis and how to get back to Earth.
Zhade, the exiled bastard prince of Eerensed, has other plans. Four years ago, the sleeping Goddess's glass coffin disappeared from the palace, and Zhade devoted himself to finding it. Now he's hoping the Goddess will be the key to taking his rightful place on the throne–if he can get her to play her part, that is. Because if his people realize she doesn't actually have the power to save their dying planet, they'll kill her.
With a vicious monarch on the throne and a city tearing apart at the seams, Zhade and Andra might never be able to unlock the mystery of her fate, let alone find a way to unseat the king, especially since Zhade hasn't exactly been forthcoming with Andra. And a thousand years from home, is there any way of knowing that Earth is better than the planet she's woken to?