Reading Recs
Top 10 Kisses in YA, RANKED!
Get ready to swoon. We're counting down YA's top 10 kisses! From aww to internal-screaming, here are just a few of YA's most memorable smooches.
*KIND OF SPOILER WARNING BUT NOT REALLY?* Like, we feel like pretty much everyone KNOWS about these at this point but…read at your own risk.
This may go down as one of the most beautiful moments in YA history too. Not a soul reading this book could contain themselves as Augustus and Hazel shared the SWEETEST moment in the Anne Frank House *immediately plans re-read*.
9. Lara Jean and Peter Kavinsky from To All the Boys I've Loved Before
Lara Jean and Peter's first kiss in the book (and movie) might have been a bit of a ploy, but it was also the spark that ignited their whirlwind not-a-romance-that-was-actually-a-romance and it remains a CLASSIC YA kiss.
Listen, Anna and St. Clair are the OG of YA kisses BUT, there isn't enough love for her other duos including Isla and Josh. These two come together pretty quickly and it's actually the challenges that eventually make them stronger. And that finale kiss, the Josh waiting in the snow for Isla to read his revised graphic novel..and then…SWOOOON!
Look, Megan is a headstrong, willful girl and her blindness to Owen's feelings has you turning the pages SO FAST to find out when she'll realize she's actually in love with him! But when it happens, their real kiss is instantly satisfying! And bonus: her surprise in discovering Owen Okita has a six pack is THE BEST!
6. Peeta and Katniss from The Hunger Games
To be fair, Peeta and Katniss haven't always had an easy relationship. That's hard to do when you're pretending to be in love for the sake of the public. BUT, their first real kiss in the midst of–ahem–chaos, murder, and a crazy government forcing them to fight everyone around them to the death, is a stunning spark of hope in The Hunger Games. 
5. Edward and Bella from Twilight
A. CLASSIC. You'd have to have been living under a rock to not remember when Twilight sank its fangs into our hearts. Bella and Edward's first kiss made history.
4. Rhysand and Feyre from A Court of Mist and Fury 
How can you leave out Feysand?! Not only that, but we had to wait until BOOK 2 for this kiss. Worth it.
3. Simon and Blue from Simon vs. the Homo Sapiens Agenda
If you haven't read this (or watched Love, Simon) yet, FIX THAT RIGHT NOW! Simon and Blue's first kiss is the culmination of a story about acceptance and love and courage, and the anticipation is SO. WORTH. IT.
This star-crossed pair meet under super unfortunate circumstances but Keenan instantly has Laia's back – KIIIIDDIINGGG! As if we'd do you a dirty like that Emberlings! Elias and Laia's kiss is heat and heartache, fire and forgiveness and a culmination of the rising tension that's being building between them from their very first meeting.
They tried, THEY REALLY TRIED to deny their feelings. But you can't really ignore a spelling compelling you to kiss your favorite Russian instructor…which, WOULD ONLY WORK IF THE FEELINGS REALLY EXISTED! Their "magical" first kiss is hot and heavy but it's just the start of their epic strong of kisses that still has VA fans shipping this super couple.
BONUS ROUND! Here are 5 recent YA romances we are IN LOVE WITH but they're new so SPOILERS!
If Darcy and Elizabeth's antagonistic banter is your jam, then seriously, Daisy and Miles are the modern equivalent and they GO AT each other. Still, it's actually their almost kiss, in a rain soaked Scottish Highlands hut while awaiting rescue that had our hearts beating and our voice hoarse from screaming "KISS HIM!"
Speaking of epic love stories by Rachel Hawkins, HER ROYAL HIGHNESS! We'll be nice and not spoil much but tbh the very kissy cover kind of gives it away and it's adorbs.
3. James and Hazel from Lovely War
There are so many adorable moments in this book, it's hard to pick just one to talk about, but it's not secret that James and Hazel's first (LONG-AWAITED) kiss that TOTALLY did not have any intervention by Aphrodite Goddess of Love herself was one for the ages.
2. Keralie and Varin from Four Dead Queens 
Keralie and Varin's first kiss is on in the midst of a heated murder investigation and conspiracy and basically it's EPIC.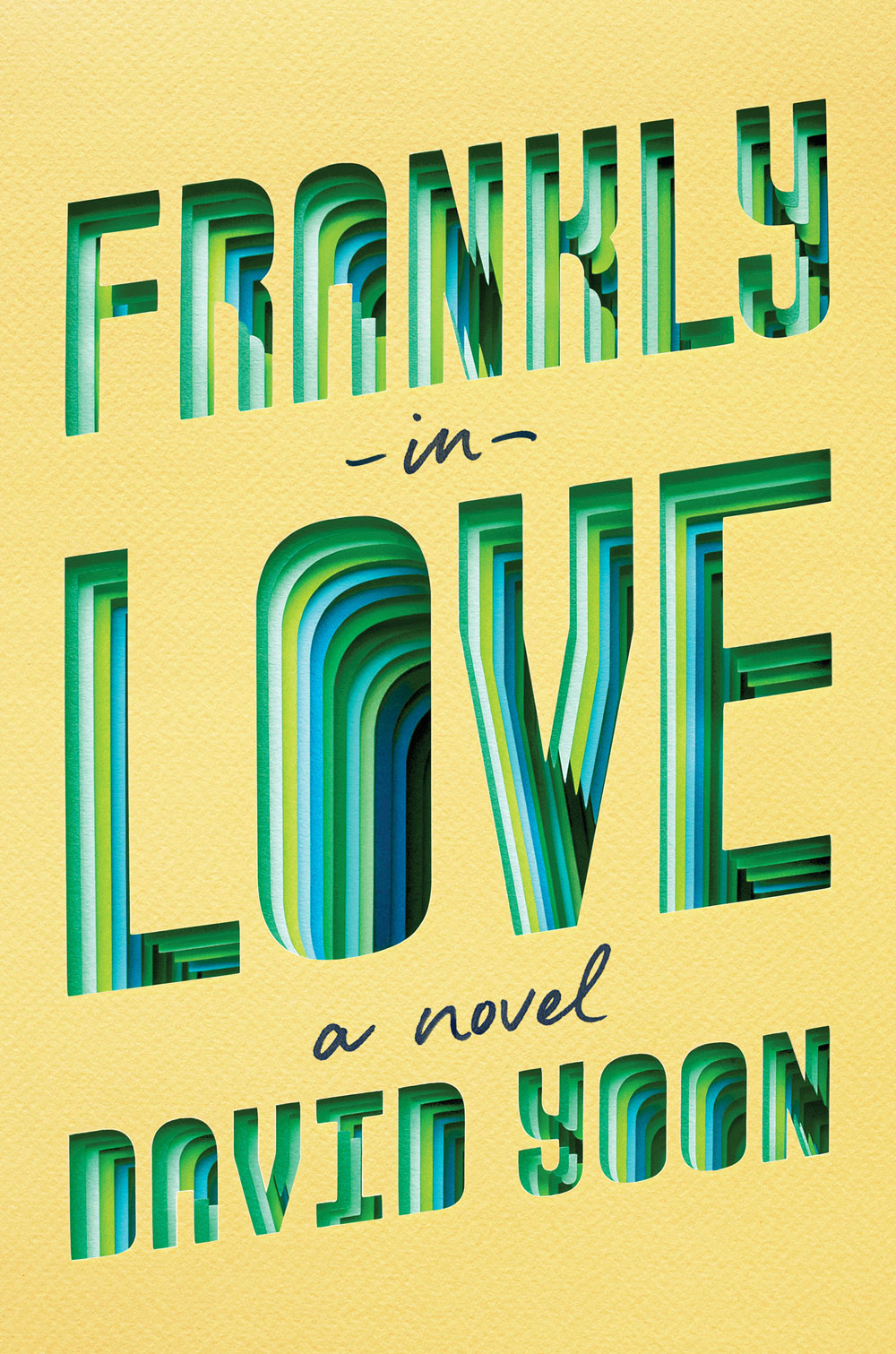 Frank Li is soon to be your new favorite YA protagonist, so we wanted to share an excerpt to give you a taste of his first kiss with his crush, Brit. If we're ranking all of these kisses on a scale of 1 to Outrageous based on their location, this definitely wins hands-down (read: breaking into cars):
The minivan is the same as Q's mom's, so I know it has sliding doors on both sides. I guide Brit to the minivan's shadow, quell her sputtering giggles by squashing her cheeks with both hands, and then try the handle with practiced familiarity.
Click, whoosh.
Inside the van are toddler seats and stuffed animals and spilled puffed crackers and so on. I guide her in and can feel every sinew of the small of her back with my open hand. And together, we slowly slide the door shut behind us. The silence is absolute and ringing. I can hear her every breath. I can hear the brush of her fingertips on my shorts.
"It smells kinda good in here," she says.
And it does, because here we are, crushing toasted Os beneath our knees. Releasing their stale aroma. The space we are in is small and new and secret, and no one else in the world knows about it because no one else in the world is here but us two.
Brit is waiting. Brit is nervous. As nervous as me.
I find our mutual nervousness strangely comforting. It makes something in my heart loosen its grip and let go.
I pull her in and our mouths fit perfectly.
This is really happening to me. I am kissing Brit Means. And, I realize, this is really happening to Brit Means, too. Has she been planning this? How long has she liked me? To think, we've been friends all through high school, and this—this kiss—has been waiting in plain sight the whole time.
"Hi," I say, breathing.
"Hi," she says.
Her gray eyes are dilated wide to see in the night. We kiss deeper this time, and I don't care that she can now taste the garlic pita in my mouth because I can now taste it in hers, too. The silence focuses in. Every shift in our bodies crushing another piece of toasted cereal. The fierce breathing through nostrils flared wide. It takes me forever to realize the dome light has come on.
The light is on inside the van.
Someone has clicked a key fob remote. Someone close by, getting closer by the second.
We spring apart and duck.
"Oh shit," says Brit. Her eyes have tightened.
I'm still gasping for air. "Okay. Uh. I think we should probably go."
In the far distance, voices.
"I think you're probably right," she says, and snorts.
Brit Means snorts!
I pull the door handle and slowly slide it open. We slink out into the street. As quietly as I can, I slide the door shut, but it needs one good shove to latch closed. Usually I can get Q's mom's van to shut with barely a sound. But I guess it must be my heart dropping beats or the fact that my arms feel like they're in zero-g, because the best I can manage is a crisp, clearly audible chunk.
"Ei," says a voice. "Inch dzhokhk yek anum?"
"Go go go," I hiss.
"Sorry, can't understand you," yells Brit.
We sprint into the darkness, leaving a trail of giggles behind us.
Just bad enough.
But so good.
Getting ready to mark your TBR for future adorable reads? We just revealed the cover for the very swoony Time of Our Lives! Read an excerpt here!