What's Happening
6 Books to Boost Your Happiness Index
In Juniper Lemon's Happiness Index, the titular character keeps track of the ups and downs of her days on a set of index cards, scoring each day on a 10 point scale. Plus one point for happiness, minus one point for unhappiness… or more for the really bad or really good stuff. After Juniper loses her sister Camilla in a car crash, her index becomes her lifeline, but when a card goes missing the index launches Juni into a mysterious scavenger hunt she never would have imagined. Here are few books she should check out (and you should too!) to help boost her daily happiness index.
Sam Raine's has had a love life dry-spell ever since breaking up with his ex-turned-best-friend Landon two years ago. But after casting a spell with his Wiccan friend Meg on a list of the attributes required for a "perfect ten" boyfriend, new boys are suddenly popping up all over Sam's life! This cute and quirky gay romance will certainly leave you smiling by the end.
This delightful road-trip adventure full of art is the light and breezy summer book to lift even the heaviest of spirits. Nora is ready to escape her mother and the states for a summer of art and romance traveling through Europe. But at the last second, Nora's mother Alice decides to tag-along, throwing all Nora's plans and expectations into total chaos. Funny and heartwarming, this mother-daughter story in the vein of Gilmore Girls is the perfect book to make you smile.
The iconic love story for the ages is immortalized once again in this perfect romance full of petticoats and courtship. A headstrong Eliza Schuyler meets the dashing and unconventional Alexander Hamilton at a party for her father, and instantly dislikes him. Two years later they meet again and Eliza finds she's much more amenable to his honor and charms, and the two begin a love affair that will shape the very nation they are fighting to build.
Get ready to laugh out loud as you solve the thrilling mystery in Trouble is a Friend of Mine, and just maybe fall for the dashing and sassy Digby along the way. Zoe Webster is new in town and is just trying to make a friend… but when a local teen goes missing she somehow finds herself dragged into the case that Sherlock-wanna-be Digby is determined to solve. Full of laughter and simmering romance, Trouble is the perfect mood boosting supplement.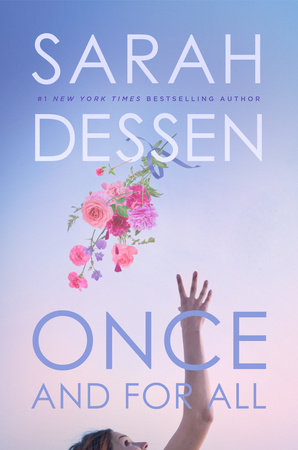 A Sarah Dessen is always a promise of happy endings and heartfelt romance, and Once and For All is no exception. Set during a summer full of wedding planning, hijinks, friends, and love, this the perfect contemporary to bring a smile to your face and a glow to your heart.
Hilarious and inspiring buzfeed writer Erin Chack's memoir is both touching and laugh-out-loud funny! She covers topics as diverse as dealing with and surviving a cancer scare at nineteen, spending over ten years dating her boyfriend, and what happens when her DivaCup won't come out. Good for a laugh (and maybe a cry) you can't walk away from this book in a bad mood.