Reading Recs
Not-to-be-missed YA reads this winter!
Keep warm this winter with these not-to-be-missed YA reads coming to shelves!
Akata Woman by Nnedi Okorafor – January 18
The electrifying third book in the series that started with Akata Witch, named one of Time magazine's "100 Best Fantasy Books of All Time" and "100 Best YA Books of All Time," from award-winning author Nnedi Okorafor.
From the moment Sunny Nwazue discovered she had mystical energy flowing in her blood, she sought to understand and control her powers. Throughout her adventures in Akata Witch and Akata Warrior, she had to navigate the balance between nearly everything in her life—America and Nigeria, the "normal" world and the one infused with juju, human and spirit, good daughter and powerful Leopard Person.
Now, those hard lessons and abilities are put to the test in a quest so dangerous and fantastical, it would be madness to go…but may destroy the world if she does not. With the help of her friends, Sunny embarks on a mission to find a precious object hidden deep in an otherworldly realm. Defeating the guardians of the prize will take more from Sunny than she has to give, and triumph will mean she will be forever changed.
And We Rise by Erica Martin – February 1
A powerful, impactful, eye-opening journey that explores through the Civil Rights Movement in 1950s-1960s America in spare and evocative verse, with historical photos interspersed throughout.
In stunning verse and vivid use of white space, Erica Martin's debut poetry collection walks readers through the Civil Rights Movement—from the well-documented events that shaped the nation's treatment of Black people, beginning with the "Separate but Equal" ruling—and introduces lesser-known figures and moments that were just as crucial to the Movement and our nation's centuries-long fight for justice and equality.
A poignant, powerful, all-too-timely collection that is both a vital history lesson and much-needed conversation starter in our modern world. Complete with historical photographs, author's note, chronology of events, research, and sources.
A gut-wrenching, startling historical thriller about communist Romania and the citizen spy network that devastated a nation, from the #1 New York Times bestselling, award-winning author of Salt to the Sea and Between Shades of Gray.
Romania, 1989. Communist regimes are crumbling across Europe. Seventeen-year-old Cristian Florescu dreams of becoming a writer, but Romanians aren't free to dream; they are bound by rules and force.
Amidst the tyrannical dictatorship of Nicolae Ceaușescu in a country governed by isolation and fear, Cristian is blackmailed by the secret police to become an informer. He's left with only two choices: betray everyone and everything he loves—or use his position to creatively undermine the most notoriously evil dictator in Eastern Europe.
Cristian risks everything to unmask the truth behind the regime, give voice to fellow Romanians, and expose to the world what is happening in his country. He eagerly joins the revolution to fight for change when the time arrives. But what is the cost of freedom?
Master storyteller Ruta Sepetys is back with a historical thriller that examines the little-known history of a nation defined by silence, pain, and the unwavering conviction of the human spirit.
An expansive, moving poetry anthology, representing 20 years of poetry from students and alumni of Chicago's Oak Park River Forest High School Spoken Word Club.
For Chicago's Oak Park and River Forest High School's Spoken Word Club, there is one phrase that reigns supreme: Respect the Mic. It's been the club's call to arms since its inception in 1999. As its founder Peter Kahn says, "It's a call of pride and history and tradition and hope."
This vivid new collection of poetry and prose — curated by award-winning and bestselling poets Hanif Abdurraqib, Franny Choi, Peter Kahn, and Dan "Sully" Sullivan — illuminates just that, uplifting the incredible legacy this community has cultivated. Among the dozens of current students and alumni, Respect the Mic features work by NBA champion Iman Shumpert, National Youth Poet Laureate Kara Jackson, National Youth Poet Laureate Kara Jackson, National Student Poet Natalie Richardson, comedian Langston Kerman, and more.
In its pages, you hear the sprawling echoes of students, siblings, lovers, new parents, athletes, entertainers, scientists, and more –all sharing a deep appreciation for the power of storytelling. A celebration of the past, a balm for the present, and a blueprint for the future, Respect the Mic offers a tender, intimate portrait of American life, and conveys how in a world increasingly defined by separation, poetry has the capacity to bind us together.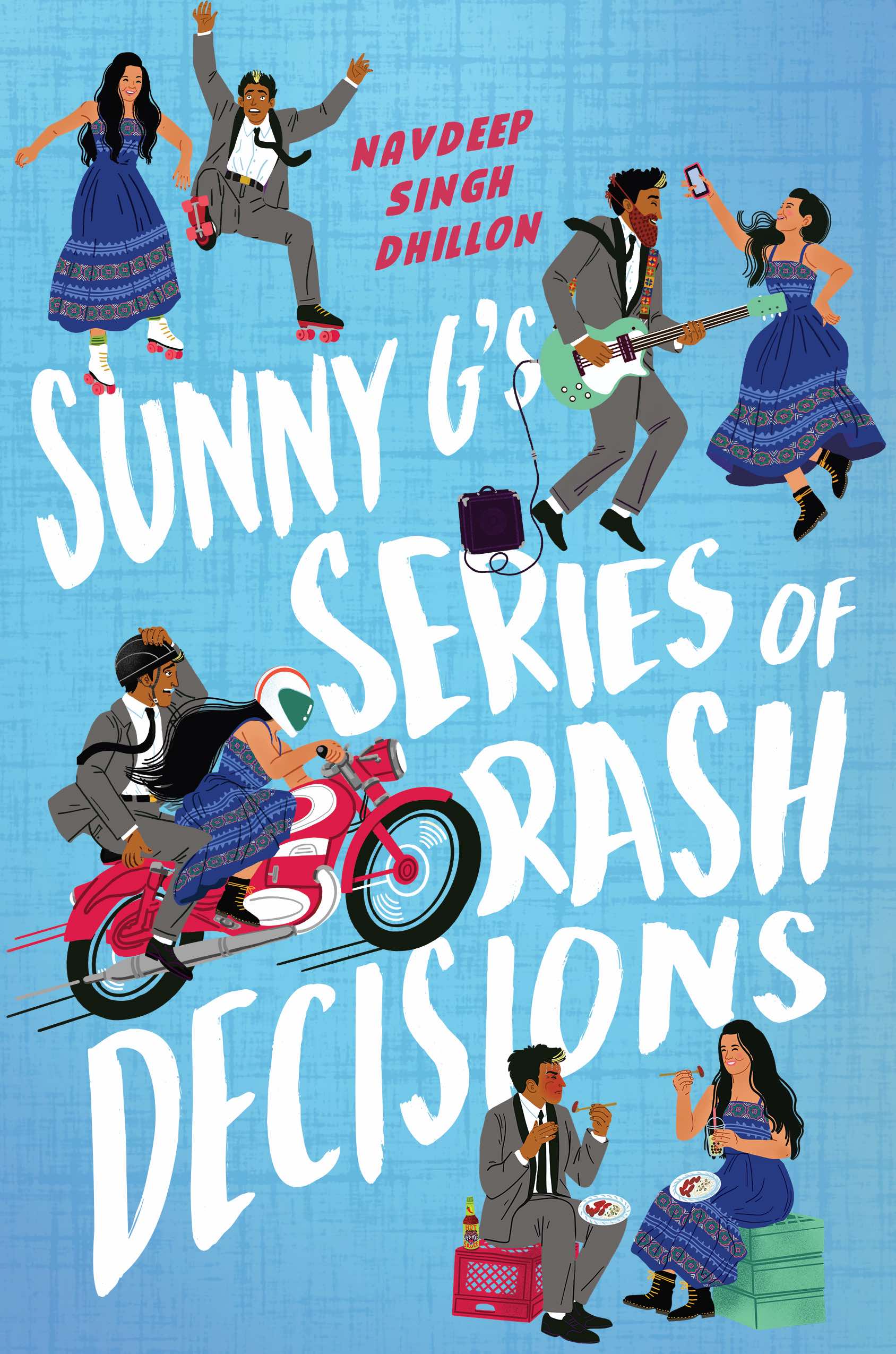 For fans of Sandhya Menon and Adam Silvera comes a prom-night romantic-comedy romp about a Sikh teen's search for love and identity.
Sunny G's brother left him one thing when he died: His notebook, which Sunny is determined to fill up with a series of rash decisions. Decision number one was a big one: He stopped wearing his turban, cut off his hair, and shaved his beard. He doesn't look like a Sikh anymore. He doesn't look like himself anymore. Even his cosplay doesn't look right without his beard.
Sunny debuts his new look at prom, which he's stuck going to alone. He's skipping the big fandom party—the one where he'd normally be in full cosplay, up on stage playing bass with his band and his best friend, Ngozi—in favor of the Very Important Prom Experience. An experience that's starting to look like a bust.
Enter Mindii Vang, a girl with a penchant for making rash decisions of her own, starting with stealing Sunny's notebook. When Sunny chases after her, prom turns into an all-night adventure—a night full of rash, wonderful, romantic, stupid, life-changing decisions.
Cramm This Book by Olivia Seltzer – February 15
From the founder of The Cramm, a news outlet by and for the incredible Gen Z activists who are already shaping our global future (really!), this book is a dive into the history that's made the world what it is today.
You can take a stand for justice. You can raise your voice to make a difference. You can find your way to make a mark and change the world. But first—you need to know what the actual F is going on in it.
Today's world can feel like a seriously confusing mess. Headlines and newscasters and posts are coming at us from all sides, each talking about the latest issues and injustices, and everyone with their own opinion on how to solve the problems of the day. It's enough to make anyone's mind melt. Right?
Enter: Cramm This Book, your one-stop-shop for the scoop behind the scoop of the day. This is the read you need to understand everything from how the conflicts in the Middle East got going to where Black Lives Matter and Me Too actually began to what the full deal is with all of the wildfires and hurricanes we see each year. Important topics to read more about? We think so too. Dip in for more on the wars, the movements, the disasters, and more—and get to know WTF is really going on.
Are you ready to take to the streets and take on the world? Then Cramm This Book and get going.
The future is ours. What are you waiting for?
League of Liars by Astrid Scholte – February 22
In this fantasy thriller, four teens charged with murder and caught up with the illegal use of magic band together to devise the ultimate jailbreak. Perfect for fans of Six of Crows and How to Get Away with Murder.
Ever since his mother was killed, seventeen-year-old Cayder Broduck has had one goal—to see illegal users of magic brought to justice. People who carelessly use extradimensional magic for their own self-interest, without a care to the damage it does to society or those around them, deserve to be punished as far as Cayder is concerned. Because magic always has a price. So when Cayder lands a once-in-a-lifetime opportunity to apprentice under a premier public defender, he takes it. If he can learn all the tricks of public defense, the better he'll be able to dismantle defense arguments when he's a prosecutor. Then he'll finally be able to make sure justice is served.
But when he meets the three criminals he's supposed to defend, it no longer seems so black and white. They're teenagers, like him, and their stories are . . . complicated, like his. Vardean, the prison where Cayder's new clients are incarcerated, also happens to be at the very heart of the horrible tear in the veil between their world and another dimension—where all magic comes from.
League of Liars is a dark and twisty mystery set in a richly-drawn world where nothing is as it seems, rife with magic, villains and danger.