What's Happening
12 Books to Read If You're Obsessed With Musical Theater
Do you sing Hamilton in the shower? Wicked in your car? Geeking out to Six the Musical on a regular basis? Here are the musical theater books for you.
Hey Hamilton lovers, this one is for you. The Alex and Eliza Trilogy is the love story of Alexander Hamilton and Elizabeth Schuyler reimagined by the brilliant Melissa de la Cruz, and we can guarantee it's just what your Hamilton-obsessed heart needs.
Dear Evan Hanson 

by

 Val Emmich, Steven Levenson, Benj Pasek, Justin Paul
If you can't stop singing Waving Through a Window and can't wait for the upcoming film adaptation, you'll probably find yourself humming through the soundtrack while flipping through these pages.

Based on the musical and written by the creator of Alice by Heart! A young girl takes refuge in a London Tube station during WWII and confronts grief, loss, and first love with the help of her favorite book, Alice in Wonderland.
This beautiful novel is told by five friends chasing their dreams at a performing arts school. Each of the characters, Joy, Diego, Ethan, Liv, and Dave, will change you in their owns ways as they look back at an unexpected event that upended everything.

Minor step away from musical theatre, but for a VERY good reason. The Kingdom of Back is the untold story of Nannerl Mozart, bringing pieces like Queen of the Night (yes, THAT queen of the night) to life in a whole new way. If you love music, make sure you don't sleep on this one.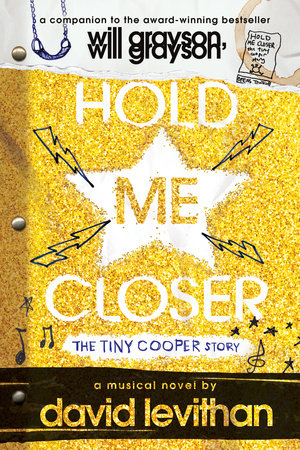 From his fabulous birth and childhood to his quest for true love and infamous parade of ex-boyfriends, this musical is the story of Tiny Cooper's life – and it's the perfect melody of honesty, humor, and heart.
The Prom by Saundra Mitchell

If you loved the uplifting hit musical The Prom, make sure you have this one on your TBR! When word gets out that Emma plans to bring a girl as her date, it stirs a community-wide uproar that spirals out of control. Now, the PTA, led by Alyssa's mother, is threatening to cancel the prom altogether when an unlikely group comes together and realize that love is always worth fighting for.
Fatal Throne: The Wives of Henry VIII Tell All 
Perfect for anyone playing the Six soundtrack on repeat who wants to discover more about the six wives of Henry VIII! This is an edge-of-your-seat reimagining of the romance and tragedy that defined them.

If you love Hadestown you will love the banter between the Greek Gods in this sweeping love story set in World War II.
Hold Me Closer originated in the story of Tiny Cooper's best friend Will Grayson's transformative year culminating in the epic production of history's most fabulous high school musical.
Everything Margo took for granted––graduating from high school, going to college, her part in Sweeney Todd this year, is called into question when she finds out that she's a genie. Can you imagine??
Always Never Yours by Emily Wibberley and Austin Siegemund-Broka
Okay, this one isn't exactly musical theatre, but who doesn't love Romeo and Juliet? After all her exes seem find their one true love right after dating her, Megan refuses to waste time feeling sorry for herself. Instead, she focuses on pursuing her next fling, directing theater, and fulfilling her dream school's acting requirement in the smallest role possible. But her plans quickly crumble when she's cast as none other than Juliet–yes, that Juliet–in her high school's production.
Curses by Lish McBride 
 
If you adore the Beauty and the Beast musical, you'll love this gender-flipped retelling!
A steamy YA romance inspired by Gaston Leroux's classic The Phantom of the Opera. Prepare your heart, Phantom Fandom!