What's Happening
2022 YA Preview: YA Books Hitting Shelves in the Second Half of 2022!
Prepare your-shelves! From fantasy sequels to debut contemporaries, we're about to stack that TBR with these YA books hitting shelves in the second half of 2022!
TJ Powar Has Something to Prove by Jesmeen Kaur Deo – June 7
When TJ Powar—a pretty, popular debater—and her cousin Simran become the subject of a meme: with TJ being the "expectation" of dating an Indian girl and her Sikh cousin who does not remove her body hair being the "reality"—TJ decides to take a stand.
She ditches her razors, cancels her waxing appointments, and sets a debate resolution for herself: "This House Believes That TJ Powar can be her hairy self, and still be beautiful." Only, as she sets about proving her point, she starts to seriously doubt anyone could care about her just the way she is—even when the infuriating boy from a rival debate team seems determined to prove otherwise.
As her carefully crafted sense of self begins to crumble, TJ realizes that winning this debate may cost her far more than the space between her eyebrows. And that the hardest judge to convince of her arguments might just be herself.
Zyla & Kai by Kristina Forest – June 7
A fresh love story about the will they, won't they–and why can't they–of first love.

While on a school trip to the Poconos Mountains (in the middle of a storm) high school seniors, Zyla Matthews and Kai Johnson, run away together leaving their friends and family confused. As far as everyone knows, Zyla and Kai have been broken up for months. And honestly? Their break up hadn't surprised anyone. Zyla and Kai met while working together at an amusement park the previous summer, and they couldn't have been more different.
Zyla was a cynic about love. She'd witnessed the dissolution of her parents' marriage early in life, and it left an indelible impression. Her only aim was graduating and going to fashion school abroad. Until she met Kai.
Kai was a serial dater and a hopeless romantic. He'd put a temporary pause on his dating life before senior year to focus on school and getting into his dream HBCU. Until he met Zyla.
Alternating between the past and present, we see the love story unfold from Zyla's and Kai's perspectives: how they first became the unlikeliest of friends over the summer, how they fell in love during the school year, and why they ultimately broke up… Or did they?
Romantic, heart-stirring, and a little mysterious, Zyla & Kai will keep readers guessing until the last chapter.
Go Hunt Me by Kelly deVos – June 7
For Dracula lovers and fans of Diana Urban's All Your Twisted Secrets,this spine-tingling thriller follows seven horror buffs as their dream trip to a remote Romanian castle turns into a nightmare when they begin to be killed one by one.
Alex Rush is ready for the trip of a lifetime.
She and her friends have made some creepily awesome films together throughout high school, so with only a few months left before they go their separate ways for college, they're determined to make the best one yet: an epic short film that reimagines the story of Dracula, filmed on location at a remote castle in Romania.
But when they get there, it's not quite the majestic setting they planned for. Menacing weapons line the walls, the twisted halls are easy to get lost in, and with no connection to the outside world, the group is unexpectedly off the grid. After just a few hours spent under its roof, Alex and her friends have no trouble imagining how this dark, terrifying castle inspired one of the most enduring horror novels of all time.
Only soon they no longer have to use their imaginations to understand the location's terrifying history—just as they get the film's first shot rolling, one of Alex's friends disappears, and she's nearly certain she saw a cloaked stranger lurking in the shadows. As more members of the group begin to meet an untimely demise, Alex is desperate to stop the bloodshed, even if it means facing a monster she never thought would be let loose.
The Sea Knows My Name by Laura Brooke Robson – June 14
In this seafaring fantasy, a soft-spoken and empathic teen must chart her own course to rescue the ruthless pirate who raised her
If there's one thing Thea Fowler has learned from her mother, it's that the only way for a woman to survive in a man's world is to make herself strong, invulnerable even. Strength, after all, is how Clementine Fowler survived after her world was washed away by ash and lava and became one of the most notorious pirates the world has ever known.
Unfortunately, Thea has inherited none of her mother's ruthlessness and grit.
After a lifetime of being told she is a disappointment, Thea longs to escape life under her mother's thumb. And when she falls for a handsome sailor named Bauer, she thinks she's found her chance at a new life. But it's not long before first love leads to first betrayal, and Thea learns that there's more than one way to be strong.
Jumper by Melanie Crowder – June 21
In a ripped-from-the-headlines story, nineteen-year-old Blair's passion for fighting fires lands her a spot with the Forest Service and sets her on a wilderness adventure that quickly turns catastrophic.
How far would you go to save yourself?
Blair Scott is in her second season as a wildland firefighter when the Forest Service puts out a call for an additional class of smokejumpers. She and her best friend Jason both apply, though neither expects to get in since they're only nineteen. But it's been a devastating fire season, and they are both accepted. But going to training camp is only the first step—everyone expects the teenage rookies will wash out in the first week. Blair has always been touchy about people telling her she isn't good enough, so she begins taking unnecessary risks to prove herself. It doesn't take long before everything spins out of control, leaving Blair struggling to cope.
A story of courage, self-knowledge, and ultimate triumph over the elements, Jumper is a dramatic wilderness adventure that explores what it takes to survive—in every sense of the word.
Who We Were in the Dark by Jessica Taylor – July 5
For fans of Suicide Notes from Beautiful Girls and Genuine Fraud, this coming-of-age story with a dash of mystery/thriller asks, How do you find someone you never really knew?
Donner Lake is famous for its dazzling waters, dramatic mountains, and the travelers trapped there long ago who did unspeakable things to survive. But for lonely Nora Sharpe, Donner was where a girl named Grace glided into her life one night and exploded her world.
After that, every summer, winter, and spring break, Nora, her brother, Wesley, the enigmatic Grace, and their friend Rand left behind their real lives and reunited at Donner Lake. There, they traded truth and lies. They fell in love. They pushed each other too far. They came to know one another better than anyone in some ways, and not at all in others.
But two years later, something has happened to destroy them. Grace is missing. And Nora must find her way through the unspoken hurts and betrayals of the last two years—and find her way back to Wesley and Rand—to figure out what exactly happened to Grace, the girl she thought she knew.
A Heavy Dose of Allison Tandy by Jeff Bishop – July 12
Instant Karma meets I Wish You All the Best in a funny and heartfelt debut about a boy's delirious summertime quest with his ex-girlfriend.
The summer after senior year should have been a time for Cam to party and hang out with his friends. It should also have been a time for him to win back the love of his life, Allison Tandy, who'd dumped him so brutally the year before.
But it quickly becomes clear that this summer is going to be worse than a failure for Cam. It's going to be a tragedy.
Ally is left comatose after a terrible car crash, then Cam tears his ACL in a basketball accident. The operation leaves him in agony, confined to his couch and ruminating over the fact that his ex may not survive.
But when (after taking his medication) Cam starts seeing Ally, he starts to think: 1. He may be headed for a complete mental breakdown and 2. This summer might just be interesting afterall.
Brimming with honesty and humor, A Heavy Dose of Allison Tandy interrogates how much control we really have over matters of love—and life.
Youngblood by Sasha Laurens – July 19
High school sucks. Especially for the undead.
For fans of Vampire Diaries and dark academia, two queer teen bloodsuckers at an elite vampire-only boarding school must go up against all of Vampirdom when they uncover a frightening conspiracy on campus.
Kat Finn and her mother can barely make ends meet living among humans. Like all vampires, they must drink Hema, an expensive synthetic blood substitute, to survive, as nearly all of humanity has been infected by a virus that's fatal to vampires. Kat isn't looking forward to an immortal life of barely scraping by, but when she learns she's been accepted to the Harcote School, a prestigious prep school that's secretly vampires-only, she knows her fortune is about to change.
Taylor Sanger has grown up in the wealthy vampire world, but she's tired of its backward, conservative values—especially when it comes to sexuality, since she's an out-and-proud lesbian. She only has to suffer through a two more years of Harcote before she's free. But when she discovers her new roommate is Kat Finn, she's horrified. Because she and Kat used to be best friends, a long time ago, and it didn't end well.
When Taylor stumbles upon the dead body of a vampire, and Kat makes a shocking discovery in the school's archives, the two realize that there are deep secrets at Harcote—secrets that link them to the most powerful figures in Vampirdom and to the synthetic blood they all rely on.
Beasts of Ruin by Ayana Gray – July 26
In this much anticipated follow up to New York Times bestselling Beasts of Prey, Koffi's powers grow stronger and Ekon's secrets turn darker as they face the god of death.
Koffi has saved her city and the boy she loves, but at a terrible price. Now a servant to the cunning god of death, she must use her newfound power to further his continental conquest, or risk the safety of her home and loved ones. As she reluctantly learns to survive amidst unexpected friends and foes, she will also have to choose between the life—and love—she once had, or the one she could have, if she truly embraces her dangerous gifts.
Cast out from the only home he's ever known, Ekon is forced to strike new and unconventional alliances to find and rescue Koffi before it's too late. But as he gets closer to the realm of death each day, so too does he draw nearer to a terrible truth—one that could cost everything.
Koffi and Ekon—separated by land, sea, and gods—will have to risk everything to reunite again. But the longer they're kept apart, the more each of their loyalties are tested. Soon, both may have to reckon with changing hearts—and maybe, changing destinies.
It Sounds Like This by Anna Meriano – August 2
A sweet and nerdy contemporary YA novel set in the world of marching band perfect for fans of Late to the Party, Fat Chance, Charlie Vega and Kate in Waiting.
Yasmín Treviño didn't have much of a freshman year thanks to Hurricane Humphrey, but she's ready to take sophomore year by storm. That means mastering the marching side of marching band—fast!—so she can outshine her BFF Sofia as top of the flute section, earn first chair, and impress both her future college admission boards and her comfortably unattainable drum major crush Gilberto Reyes.
But Yasmín steps off on the wrong foot when she reports an anonymous gossip Instagram account harassing new band members and accidentally gets the entire low brass section suspended from extracurriculars. With no low brass section, the band is doomed, so Yasmín decides to take things into her own hands, learn to play the tuba, and lead a gaggle of rowdy freshman boys who are just as green to marching and playing as she is. She'll happily wrestle an ancient school tuba if it means fixing the mess she might have caused.
But when the secret gossip Instagram escalates their campaign of harassment and Yasmín's friendship with Sofia deteriorates, things at school might be too hard to bear. Luckily, the support of Yasmín's new section—especially introverted section leader Bloom, a sweet ace and aro-spectrum boy—might just turn things around.
Furysong by Rosaria Munda – August 9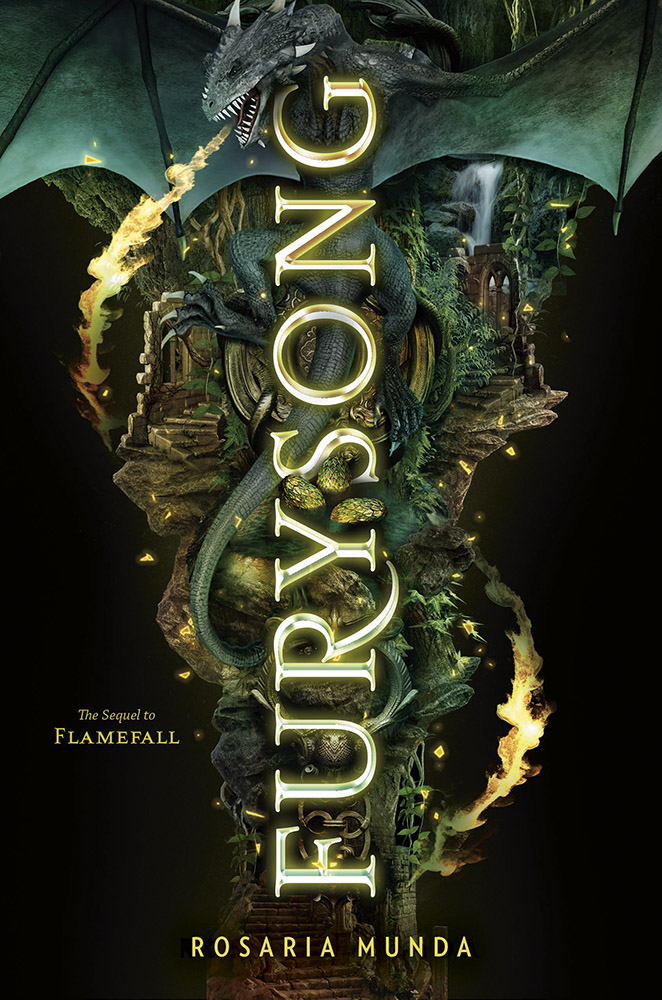 In this explosive conclusion to the epic trilogy that began with Fireborne, Annie and Lee are fighting for their lives—and for each other—as invading dragonfire threatens to burn their home to the ground.
A new revolution is underway, and nobody will emerge unscathed.
In New Pythos, Griff is facing an execution by the dragonborn, who are furious at his betrayal. He has allies on both sides seeking to defy his fate, but the price of his freedom might come at a dear cost. And Delo will have to make a choice: follow his family, or finally surrender to his conscience.
Meanwhile, Annie must race home to hatch a plan to save her Guardians and their dragons. With Callipolis on the brink of collapse and the triarchy set to be reinstated, she may be the one person who can save the city—if she can overcome her own doubts about her future.
Lee is a revolutionary at heart, but now he'll have to find a way to fight with diplomacy. Going up against the dragonborn court and a foreign princess, he faces a test of loyalty that sets his head against his heart.
As the fate of Callipolis darkens, Annie and Lee must determine what they are willing to sacrifice in order to save each other, defeat their enemies, and reclaim their home.
These Fleeting Shadows by Kate Alice Marshall – August 9
The Haunting of Hill House meets Knives Out in a bid for an inheritance that will leave Helen Vaughan either rich…or dead.
Helen Vaughan doesn't know why she and her mother left their ancestral home at Harrowstone Hall, called Harrow, or why they haven't spoken to their extended family since. So when her grandfather dies, she's shocked to learn that he has left everything—the house, the grounds, and the money—to her. The inheritance comes with one condition: she must stay on the grounds of Harrow for one full year, or she'll be left with nothing.
There is more at stake than money. For as long as she can remember, Harrow has haunted Helen's dreams—and now those dreams have become a waking nightmare. Helen knows that if she is going to survive the year, she needs to uncover the secrets of Harrow. Why is the house built like a labyrinth? What is digging the holes that appear in the woods each night?And why does the house itself seem to be making her sick?
With each twisted revelation, Helen questions what she knows about Harrow, her family, and even herself. She no longer wonders if she wants to leave…but if she can.
Azar on Fire by Olivia Abtahi – August 23
Finding her voice takes on a whole new meaning when fourteen-year-old Azar Rossi sets out to win her local Battle of the Bands contest in this heartfelt and hilarious contemporary YA.
Fourteen-year-old Azar Rossi's first year of high school has mostly been silent, and intentionally so. After a bad case of colic as a baby, Azar's vocal folds are shredded—full of nodules that give her a rasp the envy of a chain-smoking bullfrog. Her classmates might just think she's quiet, but Azar is saving her voice for when it really counts and talking to her classmates is not medically advisable or even high on her list.
When she hears about a local Battle of the Bands contest, it's something she can't resist. Azar loves music, loves songwriting, but with her vocal folds the way they are, there's no way she can sing her songs on stage.
Then she hears lacrosse hottie, Ebenezer Lloyd Hollins the Fifth, aka Eben, singing from the locker room. She's transfixed. He's just the person she needs. His voice + her lyrics = Battle of the Bands magic. But getting a band together means Azar has a lot of talking to do and new friends to make. For the chance to stand on stage with Eben it might all just be worth it.
How to Survive Your Murder by Danielle Valentine – August 30
Scream meets Happy Death Day in this terrifying stand-alone horror novel from YA scream queen Danielle Valentine.
Alice Lawrence is the sole witness in her sister's murder trial.
And in the year since Claire's death, Alice's life has completely fallen apart. Her parents have gotten divorced, she's moved into an apartment that smells like bologna, and she is being forced to face her sister's killer and a courtroom full of people who doubt what she saw in the corn maze a year prior.
Claire was an all-American girl, beautiful and bubbly, and a theater star. Alice was a nerd who dreamed of becoming a forensic pathologist and would rather stay at home to watch her favorite horror movies than party. Despite their differences, they were bonded by sisterhood and were each other's best friends.
Until Claire was taken away from her.
On the first day of the murder trial, as Alice prepares to give her testimony, she is knocked out by a Sidney Prescott look-alike in the courthouse bathroom. When she wakes up, it is Halloween night a year earlier, the same day Claire was murdered. Alice has until midnight to save her sister and find the real killer before he claims another victim.
Neverlanders by Tom Taylor and Jon Sommariva – August 30
Neverland has become a war zone and it's up to a new group of lost teens to set things right in this gritty young adult graphic novel series from #1 New York Times bestselling author Tom Taylor (Nightwing, Superman: Son of Kal-El, DCeased, Injustice) and powerhouse illustrator Jon Sommariva (Harley Quinn)!
Bee and her fellow runaways are their own found family. So when a stranger named Paco saves her life, Bee invites him to join their crew, thinking he's another lost teen. Someone else the world has overlooked. The truth is Paco's not just a lost teen, he's a Lost Boy from Neverland. And he needs Bee and the others to come back with him.
When the group is then spirited away by a foul-mouthed Tinker Bell, they discover that Neverland is not some fun-filled hideaway. It's a war zone under siege by a horde of pirates with a merciless new leader who will stop at nothing to steal the land's magic. Tink leads a fairy army that barely holds them at bay. Peter Pan is gone. And rest of the Lost Boys have been killed. Paco is all that remains . . . but he hopes that this group of teens will become the new Lost Ones. These young runaways may be Neverland's only hope—but they're about to learn that it'll take a lot more than happy thoughts to win a war.
Award-winning and worldwide bestselling author Tom Taylor (Marvel's Dark Ages, Friendly Neighborhood Spider-Man, Dark Knights of Steel) and artist Jon Sommariva (Marvel Action: Avengers, Batman/Teenage Mutant Ninja Turtles) take readers back to the world of Peter Pan, but this explosive reimagining is not your parents' Neverland.
Seton Girls by Charlene Thomas – August 30
A smart and twisty debut YA that starts off like Friday Night Lights and ends with the power and insight of Dear White People.
Seton Academic High is a prep school obsessed with its football team and their thirteen-year conference win streak, a record that players always say they'd never have without Seton's girls. What exactly Seton girls do to make them so valuable, though, no one ever really says. They're just "the best." But the team's quarterback, the younger brother of the Seton star who started the streak, wants more than regular season glory. He wants a state championship before his successor, Seton's first Black QB, has a chance to overshadow him. Bigger rewards require bigger risks, and soon the actual secrets to the team's enduring success leak to a small group of girls who suddenly have the power to change their world forever.
Coven by Jennifer Dugan and Kit Seaton – August 30
In this queer, paranormal YA graphic novel debut from the author of Some Girls Do and the illustrator of Wonder Woman: Warbringer, a young witch races to solve the grisly supernatural murders of her coven members before the killer strikes again.
Emsy has always lived in sunny California, and she'd much rather spend her days surfing with her friends or hanging out with her girlfriend than honing her powers as a fire elemental. But when members of her family's coven back east are murdered under mysterious circumstances that can only be the result of powerful witchcraft, her family must suddenly return to dreary upstate New York. There, Emsy will have to master her neglected craft in order to find the killer . . . before her family becomes their next target.
The Life and Crimes of Hoodie Rosen by Isaac Blum- September 13
The Chosen meets Darius the Great in this irreverent and timely story of worlds colliding in friendship, betrayal, and hatred.
Hoodie Rosen's life isn't that bad. Sure, his entire Orthodox Jewish community has just picked up and moved to the quiet, mostly non-Jewish town of Tregaron, but Hoodie's world hasn't changed that much. He's got basketball to play, studies to avoid, and a supermarket full of delicious kosher snacks to eat. The people of Tregaron aren't happy that so many Orthodox Jews are moving in at once, but that's not Hoodie's problem.
That is, until he meets and falls for Anna-Marie Diaz-O'Leary—who happens to be the daughter of the obstinate mayor trying to keep Hoodie's community out of the town. And things only get more complicated when Tregaron is struck by a series of antisemitic crimes that quickly escalate to deadly violence.
As his community turns on him for siding with the enemy, Hoodie finds himself caught between his first love and the only world he's ever known.
Isaac Blum delivers a wry, witty debut novel about a deeply important and timely subject, in a story of hatred and betrayal—and the friendships we find in the most unexpected places.
Inaugural Ballers by Andrew Maraniss – September 13
From the New York Times bestselling author of Strong Inside comes the inspirational true story of the birth of women's Olympic basketball at the 1976 Summer Games and the ragtag team that put US women's basketball on the map. Perfect for fans of Steve Sheinkin and Daniel James Brown.
A League of Their Own meets Miracle in the inspirational true story of the first US Women's Olympic Basketball team and their unlikely rise to the top.
Twenty years before women's soccer became an Olympic sport and two decades before the formation of the WNBA, the '76 US women's basketball team laid the foundation for the incredible rise of women's sports in America at the youth, collegiate, Olympic, and professional levels.
Though they were unknowns from small schools such as Delta State, the University of Tennessee at Martin and John F. Kennedy College of Wahoo, Nebraska, at the time of the '76 Olympics, the American team included a roster of players who would go on to become some of the most legendary figures in the history of basketball. From Pat Head, Nancy Lieberman, Ann Meyers, Lusia Harris, coach Billie Moore, and beyond—these women took on the world and proved everyone wrong.
Packed with black-and-white photos and thoroughly researched details about the beginnings of US women's basketball, Inaugural Ballers is the fascinating story of the women who paved the way for girls everywhere.
The Depths by Nicole Lesperance – September 13
A tropical island full of secrets. Two Victorian ghosts, trapped for eternity. And a seventeen-year-old girl determined not to be next.
Eulalie Island should be a paradise, but to Addie Spencer, it's more like a prison.
Forced to tag along to the remote island on her mother's honeymoon, Addie isn't thrilled about being trapped there for two weeks. The island is stunning, with its secluded beaches and forests full of white flowers. But there's something eerie and unsettling about the place.
After Addie meets an enigmatic boy on the beach, all the flowers start turning pink. The island loves you, he tells her. But she can't stop sleepwalking at night, the birds keep calling her name, and there's a strange little girl in the woods who wants to play hide-and-seek. When Addie learns about two sisters who died on the island centuries ago, she wonders if there's more to this place, things only she can see.
Beneath its gorgeous surface, Eulalie Island is hiding dark, tangled secrets. And if Addie doesn't unravel them soon, the island might never let her go.
Eternally Yours by Patrice Caldwell – September 20
Vampires and merpeople, angels and demons—the stories in this anthology imagine worlds where the only thing more powerful than the supernatural, is love.
Contributors include:
Kalynn Bayron, Kendare Blake, Kat Cho, Melissa de la Cruz, Hafsah Faizal, Sarah Gailey, Chloe Gong, Alexis Henderson, Adib Khorram, Anna-Marie McLemore, Casey McQuiston, Sandhya Menon, Akshaya Raman, Marie Rutkoski, and Julian Winters
The 99 Boyfriends of Micah Summers by Micah Sass – September 20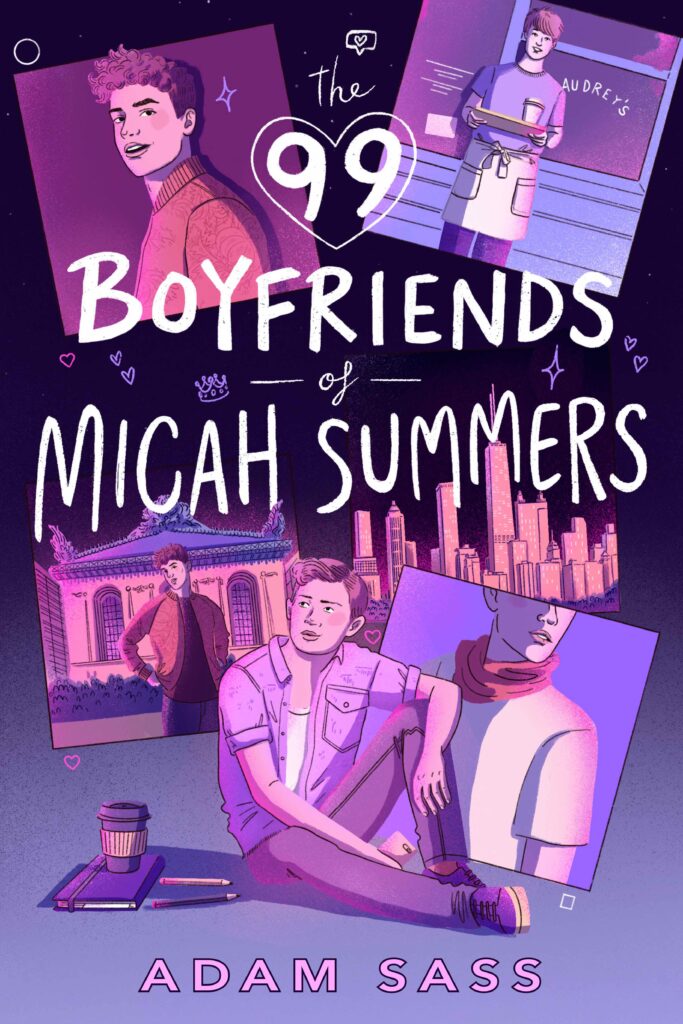 A charming YA rom-com perfect for fans of Red, White, and Royal Blue and What If It's Us.
Micah Summers runs a popular Instagram full of drawings of his numerous imaginary boyfriends (ninety-nine so far)—though he's never had a real boyfriend before. But when a meet-cute with Boy 100 goes wrong, Micah embarks on a Prince Charming-like quest throughout Chicago to find true love—for real this time.
Will Boy 100 be the One?
Micah is rich, dreamy, and charming. As the "Prince of Chicago,"—the son of local celebrity sports radio host known as the King of Chicago—he has everything going for him. Unfortunately, he's also the prince of imaginary meet-cutes, since he's too nervous to actually ask boys out.
Instead, Micah draws each crush to share on Instagram with a post about their imaginary dates. Ninety-nine "boyfriends" later, his account is hugely popular, and everyone is eagerly awaiting Boy 100. So is Micah. He's determined that Boy 100 will be different. This time, Micah will sweep the boy off his feet, for real!
So when Micah flirts with a hot boy on the L who's wearing a vegan leather jacket and lugging a ton of library books, he is sure this is Boy 100. But right before he can make his move and ask for the boy's number, the guy rushes off the train, leaving behind his pumpkin-embroidered jacket. The jacket holds clues to the boy's identity, so Micah and his friends set off on a quest to return it. Along the way, Micah will discover that the best relationships aren't fairy tales. In fact, the perfect fit—and true love—might be closer than he thinks.
Miss Peregrine's Museum of Wonders by Ransom Riggs – September 27
A deluxe companion guide to the #1 bestselling Miss Peregrine's Peculiar Children series. Everything you need to know about the peculiar world, written by Miss Peregrine herself.
Gloriously rich and utterly delightful, Miss Peregrine's Museum of Wonders is an indispensable guide to the peculiar world, perfect for longtime fans and new readers alike. Covering everything from how to blend in with suspicious normals to the most popular time loops to visit as a temporal tourist, this essential volume is ideal for anyone curious about the world of Miss Peregrine: its strange history, curious practices, fascinating places, most famous (and infamous) names, and much more.
Written in Miss Peregrine's inimitable style, it's also a dramatic expansion of the universe fans have already come to love, introducing countless new peculiars, enemies, time loops, stories, and secrets, in addition to hundreds of never-before-seen vintage found photographs and select illustrations.
Secrets So Deep by Ginny Myers Sain – September 27
From the bestselling author of Dark and Shallow Lies comes a moody and atmospheric paranormal thriller about a seventeen-year-old girl returning to an exclusive theater camp to uncover the truth of what really happened there twelve years ago, the night her mother drowned.
Twelve years ago, Avril's mother drowned at Whisper Cove theater, just off the rocky Connecticut coastline. It was ruled an accident, but Avril's never been totally convinced. Local legend claims that the women in the waves—ghosts from old whaling stories—called her mother into the ocean with their whispering. Because, as they say at Whisper Cove, what the sea wants, the sea will have.
While Avril doesn't believe in ghosts, she knows there are lots of different ways for places, and people, to be haunted. She's spent the past twelve years trying to make sense of the strange bits and pieces she does remember from the night she lost her mother. Stars falling into the sea. A blinding light. A tight grip on her wrist. The odd sensation of flying. Now, at seventeen, she's returning to Whisper Cove for the first time, and she might finally unravel the mystery of what really happened.
As Avril becomes more involved with camp director Willa and her mysterious son Cole, Whisper Cove reveals itself to her. Distances seem to shift in the strange fog. Echoes of long-past moments bounce off the marsh. And Avril keeps meeting herself—and her dead mother—late at night, at the edge of the ocean.
The truth Avril seeks is ready to be discovered. But it will come at a terrible cost.
How to Succeed in Witchcraft by Aislinn Brophy – September 27
An overachieving teen witch vies for a prestigious scholarship at her elite high school in this contemporary YA fantasy for fans of Never Have I Ever and Sabrina the Teen Witch.

Magically brilliant, academically perfect, chronically overcommitted—
Shay Johnson has all the makings of a successful witch. As a junior at T.K. Anderson Magical Magnet School, she's determined to win the Brockton Scholarship—her ticket into the university of her dreams. Her competition? Ana freaking Álvarez. The key to victory? Impressing Mr. B, drama teacher and head of the scholarship committee.
When Mr. B asks Shay to star in this year's aggressively inclusive musical, she warily agrees, even though she'll have to put up with Ana playing the other lead. But in rehearsals, Shay realizes Ana is . . . not the despicable witch she'd thought. Perhaps she could be a friend—or more. And Shay could use someone in her corner once she becomes the target of Mr. B's unwanted attention. When Shay learns she's not the first witch to experience his inappropriate behavior, she must decide if she'll come forward. But how can she speak out when her future's on the line?
A Scatter of Light by Malinda Lo – October 4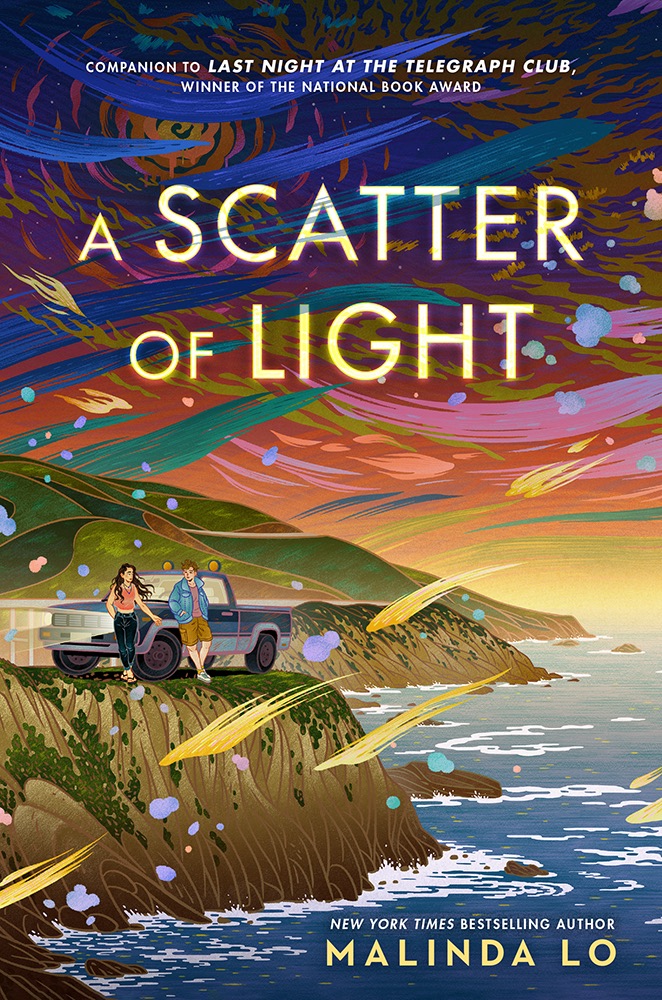 Award-winning author Malinda Lo returns to the Bay Area with another masterful coming-of-queer-age story, this time set against the backdrop of the first major Supreme Court decisions legalizing gay marriage. And almost sixty years after the end of Last Night at the Telegraph Club, Lo's new novel also offers a glimpse into Lily and Kath's lives since 1955.
Aria Tang West was looking forward to a summer on Martha's Vineyard with her best friends—one last round of sand and sun before college. But after a graduation party goes wrong, Aria's parents exile her to California to stay with her grandmother, artist Joan West. Aria expects boredom, but what she finds is Steph Nichols, her grandmother's gardener. Soon, Aria is second-guessing who she is and what she wants to be, and a summer that once seemed lost becomes unforgettable—for Aria, her family, and the working-class queer community Steph introduces her to. It's the kind of summer that changes a life forever.
The Wolves Are Watching by Natalie Lund – October 4
A fresh, compelling, and eerie exploration of small-town living, stolen children, and wolves that watch in the woods.
The night little Madison disappears from her crib, Luce sees a pair of eyes–two points of gold deep in the forest behind her house–and feels certain they belong to a wolf. Her town, Picnic, Illinois, is the kind of place where everyone knows one another and no one locks their doors. It's not the kind of place where a toddler goes missing without a trace, where wolves lurk in the shadows.
In town, people are quick to blame Madison's mom. But when Luce's English teacher shares an original script about the disappearance of another little girl in Picnic back in 1870, Luce begins to notice similarities that she can't ignore. Certain that something deeper is going on, Luce tracks the wolf she saw into the woods and uncovers the truth about her town: magical animal-women, who have remained hidden in shadows for centuries, have taken her cousin for their own purposes–and they have no intention of bringing her back.
A chilling mystery that weaves elements of magical realism, drama, and folklore into a story of one teen's bravery as she confronts her town's past and tries to save the future.
The Edge of Being by James Brandon – October 11
A tender and heartfelt queer YA novel about the multiplicities of grief, deeply held family secrets, and finding new love.
Isaac Griffin has always felt something was missing from his life. And for good reason: he's never met his dad. He'd started to believe he'd never belong in this world, that the scattered missing pieces of his life would never come together, when he discovers a box hidden deep in the attic with his father's name on it.
When the first clue points him to San Francisco, he sets off with his boyfriend to find the answers, and the person he's been waiting his whole life for. But when his vintage station wagon breaks down (and possibly his relationship too) they are forced to rely on an unusual girl who goes by Max—and has her own familial pain—to take them the rest of the way.
As his family history is revealed, Isaac finds himself drawing closer to Max. Using notes his dad had written decades ago, the two of them retrace his father's steps during the weeks leading up to the Compton's Cafeteria Riot in San Francisco, a precursor to the Stonewall Riots a few years later. Only to discover, as he learns about the past that perhaps the missing pieces of his life weren't ever missing at all.
The Heartbeat of Wounded Knee by David Treuer
The Heartbeat of Wounded Knee is a story of Native American resilience and reinvention, adapted for young adults from the adult nonfiction book of the same name.
Since the late 1800s, it has been believed that Native American civilization has been wiped from the United States. The Heartbeat of Wounded Knee argues that Native American culture is far from defeated—if anything, it is thriving as much today as it was one hundred years ago.

The Heartbeat of Wounded Knee looks at Native American culture as it exists today—and the fight to preserve language and traditions.

Adapted for young readers, this important young adult nonfiction book is perfect educational material for children and adults alike
Seasparrow by Kristina Cashore – November 1
The fifth novel in the bestselling Graceling Realm series is told from the point of view of Hava, Queen Bitterblue's sister and spy, and chronicles the harrowing journey back to Monsea.
Hava sails across the sea toward Monsea with her sister, the royal entourage, and the world's only copies of the formulas for the zilfium weapon she saved at the end of Winterkeep. During the crossing, Hava makes an unexpected discovery about one of the ship's crew, but before she can unravel the mystery, storms drive their ship off course, wrecking them in the ice far north of the Royal Continent. The survivors must endure a harrowing trek across the ice to make it back to Monsea. And while Queen Bitterblue grapples with how to carry the responsibility of a weapon that will change the world, Hava has a few more mysteries to solve —and a decision to make about who she wants to be in the new world Bitterblue will build.
Margot Mertz for the Win by Carrie McCrossen & Ian McWethy – November 15
Veronica Mars meets Moxie in the hilarious and thought-provoking sequel to Margot Mertz Takes it Down.
Margot faces senior year working on a campaign for local election while helping a fellow student run for class president—but when a mysterious blackmail plot emerges, and a loathesome opponent rises in the class race, Margot might have to return to the cleanup job she thought she'd left behind.
It's senior year. And Margot's on a mission to be a better Margot. Which means saying goodbye to her old cleanup ways—and their inherent moral ambiguities— and saying hello to… more yoga maybe? (Probably not, Margot hates exercise.)
To fill her time and round out her college application, Margot volunteers for Shep Green's state senate campaign and, in a twist, finds she actually enjoys being part of a team. She loves her new boss/mentor, Priya. And of course it doesn't hurt that the candidate is Avery Green's dad. Yes, Avery and Margot are just friends, but it's still nice to see his too perfect face from time to time.
Meanwhile at Roosevelt High, Margot finds herself roped into a second election, this one for school president. Melanie Davis is running against one of the monsters who created the revenge porn site Margot took down last year. Needless to say, Margot is #TeamMelanie.
With Margot rocking both campaigns and maybe even making friends, it seems like she's well on her way to being a better person. But when Priya asks her to look into an anonymous email threatening Shep Green, one that could potentially torpedo his entire election, Margot finds herself slipping back into her old habits.
She's tried to keep her hands clean. But politics is a dirty job.
So, This Is Love by Tracy Andreen – December 20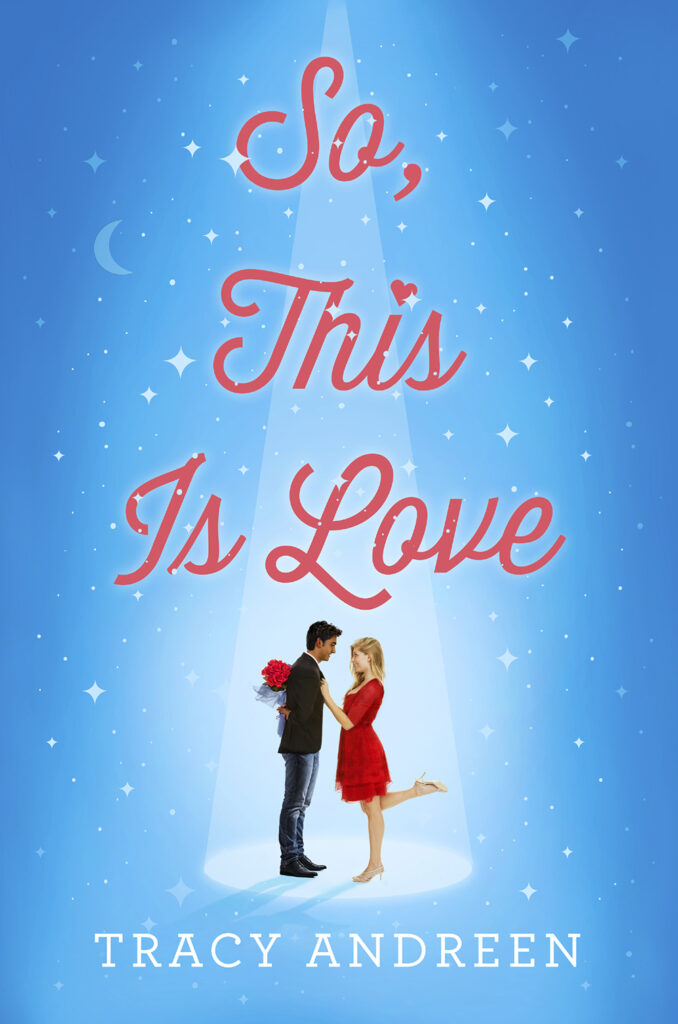 In the sequel to Tracy Andreen's debut romantic comedy So, This Is Christmas, we follow Finley and Arthur back to Barrington Academy for a swoony semester.
Finley and Arthur are back at boarding school and neither quite knows where the other stands—are they couple? Are they not a couple? What does one magical Christmas Eve kiss in Oklahoma mean for their relationship status? This confusion isn't helped by the re-entry of old enemies into their school lives, especially ones that may or may not be crushing on Arthur. Finley is at a loss when navigating the complexities of her new (maybe) relationship, which could very well turn into love. . . if she doesn't blow it.
So, This Is Love is a perfect read for the Valentine's Day season, or for anyone looking for a delightful romantic comedy that has just a dash of drama. Once again, Tracy Andreen has proven that no one writes a holiday rom-com like her.