What's Happening
15 Epic YA Books Like Game Of Thrones
We know how you feel: Game of Thrones just came back, and after each episode ends you get more and more afraid of our own winter coming: that dark time without Game of Thrones. But don't worry: like Jon Snow with Dragonglass in hand, we're prepared to fight off the winter. Except for us, it's with these 15 epic fantasies that will help us get through until next season!
Our Top 15 Books Like Game of Thrones:
Looking for some kick-ass ladies?
The Young Elites by Marie Lu: Adelina is a heroine descending on a path to villainy.
The Wrath and the Dawn by Renee Ahdieh: Shazi won't let the fact that Khalid's brides never make it until morning stop her from seeking revenge.
Rebel of the Sands by Alwyn Hamilton: Amani is the greatest myth of the desert – running from her future, gunning for her fate.
Maybe you like your kick-ass ladies to come with a great destiny?
The Glass Sentence by S.E. Grove: Sophia Tamms is on the hunt for her uncle in a world changed by the Great Disruption of 1799, when all the continents were flung into different time periods.
Soundless by Richelle Mead: The people in Fei's village can't hear – but everything about her world unravels when she hears a noise for the first time.
Zodiac by Romina Russell: It's up to Rho to save her people when an exiled Guardian of Zodiac legend comes back seeking revenge.
What about fierce battles and daring deeds?
An Ember in the Ashes by Sabaa Tahir: Laia and Elias are fighting for what they want most in the cruel Martial Empire.
Falling Kingdoms by Morgan Rhodes: A rush of battles, betrayals, and bargains in the kingdoms of ancient Mytica.
Bitterblue by Kristin Cashore: Now that Queen Bitterblue has come of age, she's on the hunt to discover the truth about her father's reign.
Need a touch of magic?
The Inventor's Secret by Andrea Cremer: 16-year-old Charlotte and her fellow refugees must live on the edge of Britain's industrial empire, where a mix of machines and magic rule.
A Book of Spirits and Thieves by Morgan Rhodes: Modern-day Toronto teen Becca gets transported to ancient Mytica when she happens upon a magical tome.
Obsidian Mirror by Catherine Fisher: The Obsidian Mirror has powers great and terrible, and three people will risk everything to find it – each for a different reason.
One word: dragons.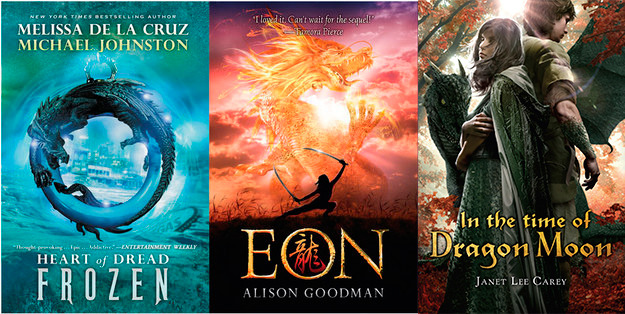 Frozen by Melissa de la Cruz: Earth is in an ice age after 99% of the population was wiped out, but that doesn't stop dragons from showing up.
Eon by Alison Goodman: 12-year-old Eon is training in Dragon Magic and hopes to be chosen as a Dragoneye–an apprentice to one of the twelve energy dragons of good fortune.
In the Time of the Dragon Moon by Janet Lee Carey: When the mad English queen of the north kidnaps Uma, she turns to the king's nephew Jackrun, a fiery dragonrider with dragon, fairy, and human blood.
Looking for more fantasy books like Game of Thrones?