What's Happening
5 Perfect Books to Bring on Spring Break
With Spring Break around the bend we're looking forward to swapping out our tropical screensavers for some real beaches. Here at Penguin Teen we believe you need at least one book per beach day to be truly beach-ready. You may have to throw out a few items of clothing to make room in your suitcase, but trust us, you always need more books. To help you out, we've put together a list of great beach reads to pack in your suitcase (or e-reader):
If you are in need of some adventure, look no further than Richelle Mead's The Glittering Court trilogy. The Selection meets Reign in this trilogy of interwoven novels about three girls on a quest for freedom and love in the New World. Plenty of intrigue, forbidden attraction, and danger will leave you on the edge of your beach chair.
SPF: 35
Gladiators, political unrest, and a girl's quest for honor all combine for a fast-paced beach read that will have your heart racing. Fallon, the daughter of a Celtic king, is captured and sold to an elite training school for female gladiators. In order to survive, Fallon must overcome vicious rivalries, deadly fights in and out of the arena, and face her irresistible feelings for Cai, a young Roman soldier and her sworn enemy.
SPF: 50
Spring in Paris and a charming, swoon-worthy boy named Etienne St. Clair? Say hello to your next book boyfriend! Anna is looking forward to her senior year in Atlanta, where she has a great job, a loyal best friend, and a crush on the verge of becoming more. Until she is shipped off to boarding school in Paris and meets the perfect man, Etienne St. Clair. Sadly, he's taken. And maybe Anna is too. The year of romantic near-misses in this book will drive you mad (in a good way). Be sure to pack this one last so it's at the top of your book stack.
SPF: 15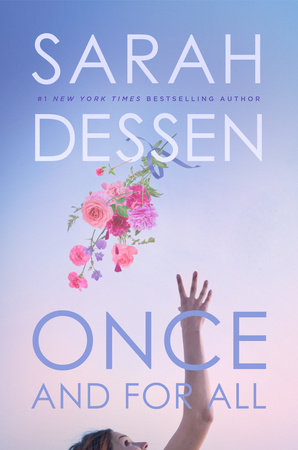 For Sarah Dessen fans, this one is a no-brainer. Louna's summer job is to help brides plan their perfect day, even though she stopped believing in happily-ever-after when her first love ended tragically. But charming girl-magnet Ambrose isn't about to be discouraged now that he's met the one he really wants. If you haven't yet experienced the Dessen magic, be sure to pick this book up. It has everything you need in a beach read – humor, romance, and an ending that is so much more than happily-ever-after. This book will have you believing in second chances.
SPF: 30
Witches at the beach! Need we say more? Don't worry, we will. After they cause a terrible accident at their old high school, twin witches Mardi and Molly Overbrook are sent to live with their "Aunt" Ingrid Beauchamp in North Hampton, on Long Island's mist-shrouded East End. The twins meet the younger Gardiner boys, just as handsome and sexy as their older kin, and trouble continues to bubble and boil.
SPF: 30
Looking for more recommendations? Check out these 8 love stories gone wrong!