Breaking News
March Movie Madness: Competing Authors and Their Movie Picks!
You read that right. March Movie Madness…WITH AUTHORS!
That's right. We have asked authors to GO INTO BATTLE! This March, your favorite authors will be going head to head defending some of our favorite YA movies EVER.
Meet the competitors!
Rachel Hawkins
The one and only Rachel Hawkins will be representing The Princess Diaries. Remember frizzy-haired, awkward Mia Thermopolis turned Princess of Genovia? Yeah, well…other authors beware, this lady knows princesses.
About the movie: Shy San Francisco teenager Mia Thermopolis is thrown for a loop when, from out of the blue, she learns the astonishing news that she's a real-life princess! As the heir apparent to the crown of the small European principality of Genovia, Mia begins a comical journey toward the throne.
If you adore royalty, make sure not to miss out on Rachel Hawkin's Her Royal Highness this May!
We swooned over Daisy and Miles falling in love in Royals. Now, it's Millie's turn to track down her fairytale ending…with an actual princess.
Peter Bognanni
Peter Bognanni is also joining us for March Movie Madness, which is especially appropriate considering This Book Is Not Yet Rated, the YA novel movie lovers need in their lives, is just around the corner! Peter will be representing The Breakfast Club!
About the movie: Five high school students from different walks of life endure a Saturday detention under a power-hungry principal. The disparate group includes rebel John, princess Claire, outcast Allison, brainy Brian and Andrew, the jock. Each has a chance to tell his or her story, making the others see them a little differently — and when the day ends, they question whether school will ever be the same.
And if you love movies, make sure to keep an eye out for This Book Is Not Yet Rated in April!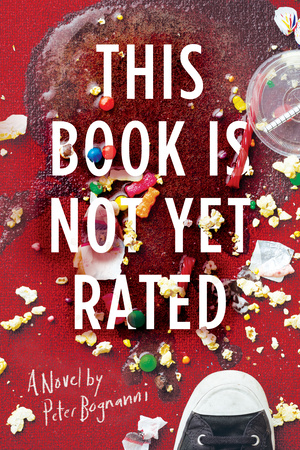 A rag-tag crew of friends working at a crumbling movie theatre and for 17 year old Ethan, it's time to realize that life isn't like the movies…always.
Marissa Kennerson
Marissa Kennerson is here for ALL YOU POTTERHEADS! She'll be representing Harry Potter and it's going to be MAGICAL.
About the movie: Harry Potter, a boy who learns on his eleventh birthday that he is the orphaned son of two powerful wizards, finds that he possesses unique magical powers of his own. He is summoned from his life as an unwanted child to become a student at Hogwarts, an English boarding school for wizards. There, he meets several friends who become his closest allies and help him discover the truth about his parents' mysterious deaths.
And if you love magic, don't miss out on Marissa Kennerson's Tarot!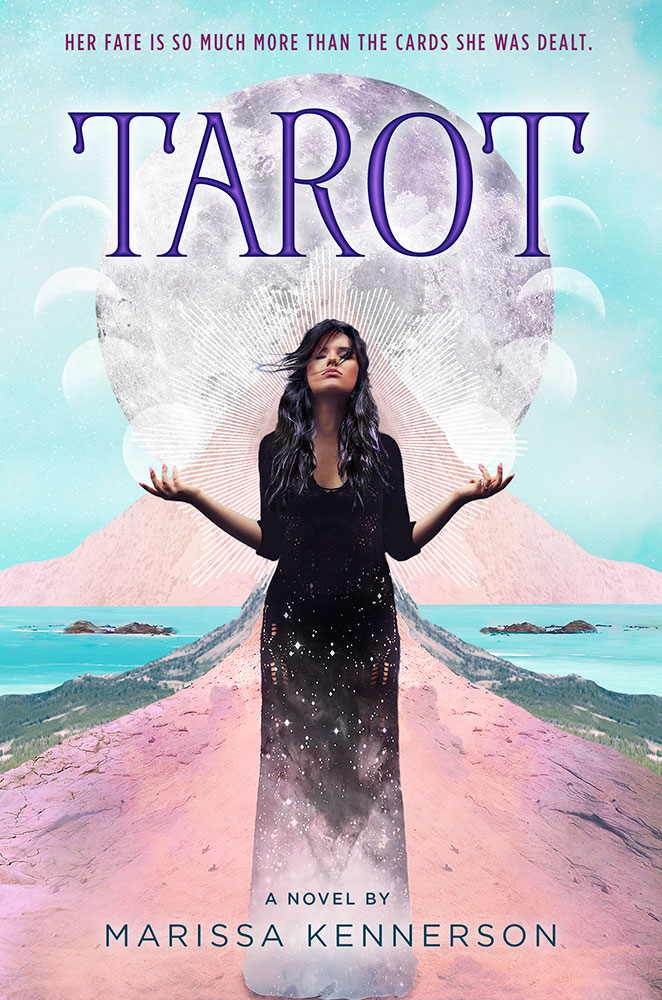 Anna is a result of a forbidden love and she's spent her life in hiding and alone. To pass the time she imagines a world of dreamers and creatives – the exact opposite of the life she's living. On her sixteenth birthday though, the walls between her imagination and the world she lives in, come crashing down.
Lori Goldstein
Lori Goldstein is joining us to remind us of the emotional rollercoaster that is The Fault in Our Stars!
About the movie: Hazel Grace Lancaster, a 16-year-old cancer patient, meets and falls in love with Gus Waters, a similarly afflicted teen from her cancer support group. Hazel feels that Gus really understands her. They both share the same acerbic wit and a love of books, especially Grace's touchstone, "An Imperial Affliction" by Peter Van Houten. When Gus scores an invitation to meet the reclusive author, he and Hazel embark on the adventure of their brief lives.
Don't miss out on Lori Goldstein's debut novel Screen Queens!
Three thousand applicants. An acceptance rate of two percent. A dream internship for the winning team. ValleyStart is the most prestigious high school tech incubator competition in the country. Lucy Katz, Maddie Li, and Delia Meyer have secured their spots. And they've come to win. Meet the Screen Queens.
Kat Cho
Kat Cho is comin' in swingin' with the recent Netflix adaptation of To All the Boys I've Loved Before!
About the movie: A teenage girl's secret love letters are exposed and wreak havoc on her love life.
And you definitely don't want to sleep on Kat's highly-anticipated debut novel Wicked Fox!
Set in modern-day Seoul and based on Korean mythology. A girl who must kill to survive falls in love with a boy after she rescues him from a goblin, changing the course of her immortal life.
Jenn Marie Thorne
Jenn Marie Thorne will be defending the one, the only, DUMPLIN'!
About the movie: The plus-size, teenage daughter of a former beauty queen signs up for her mum's pageant as a protest that escalates when other contestants follow in her footsteps, revolutionizing the pageant and their small Texas town.
You also may want to prepare yourself, because Jenn's Night Music is hitting shelves soon and you're going to fall in love. Hard.
A romantic comedy that sweeps you up with breezy writing and canny social commentary, set behind the scenes of the classical music world during one hot, anything-can-happen, New York City summer.
Jennifer Dugan
Jennifer Dugan is here and she's representing the beloved Love, Simon!
About the movie: Everyone deserves a great love story, but for 17-year-old Simon Spier, it's a little more complicated. He hasn't told his family or friends that he's gay, and he doesn't know the identity of the anonymous classmate that he's fallen for online. Resolving both issues proves hilarious, terrifying and life-changing.
And make sure to keep an eye out for Jennifer's perfect summer read, Hot Dog Girl!
And did we mention this book is already Love, Simon levels of adorable and cute and swoony romance? And so is Becky Albertalli, the actual author of Simon vs. the Homo Sapiens Agenda, so you know we're all on the same adorable page "I'm wrecked with love for this funny, joyful, bighearted book."
Isabel Sterling
Isabel Sterling is representing the YA classic The Hunger Games!
About the movie: Katniss Everdeen voluntarily takes her younger sister's place in the Hunger Games: a televised competition in which two teenagers from each of the twelve Districts of Panem are chosen at random to fight to the death.
And don't miss out on Isabel's very bewitching debut, These Witches Don't Burn!
A teen witch living in modern-day Salem who discovers that the tension with her ex-girlfriend doesn't much matter when there's a Blood Witch on the loose. To stop the attacks and score a second date with the new girl in town, she must uncover who's causing the deadly fires before her coven is destroyed.
Emily Wibberley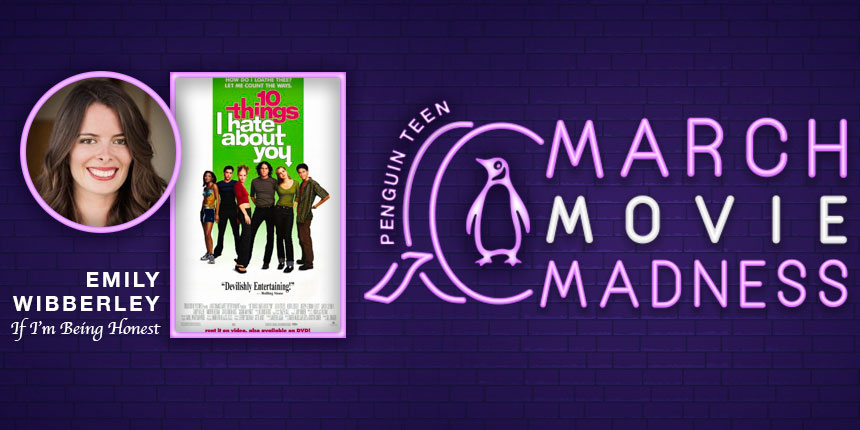 That's right. We're monsters and we split the legendary literary couple that is Austin and Emily. BUT they're both representing amazing movies. Who doesn't love 10 Things I Hate About You?!
About the movie: Kat Stratford is beautiful, smart and quite abrasive to most of her fellow teens, meaning that she doesn't attract many boys. Unfortunately for her younger sister, Bianca, house rules say that she can't date until Kat has a boyfriend, so strings are pulled to set the dour damsel up for a romance. Soon Kat crosses paths with handsome new arrival Patrick Verona. Will Kat let her guard down enough to fall for the effortlessly charming Patrick?
Austin Siegemund-Broka
The other half of the literary dream team is here and he's representing She's the Man!
About the book: Viola Johnson is in a real jam. Complications threaten her scheme to pose as her twin brother, Sebastian, and take his place at a new boarding school. She falls in love with her handsome roommate, Duke, who loves beautiful Olivia, who has fallen for Sebastian! As if that were not enough, Viola's twin returns from London ahead of schedule but has no idea that his sister has already replaced him on campus.
And in case you didn't know, Emily and Austin know a thing or two about Shakespeare retellings…
Mean Girls meets The Taming of the Shrew in If I'm Being Honest!
High school senior Cameron Bright's reputation can be summed up in one word: bitch. It's no surprise she's queen bee at her private L.A. high school—she's beautiful, talented, and notorious for her cutting and brutal honesty. So when she puts her foot in her mouth in front of her crush, Andrew, she fears she may have lost him for good.
Danielle Vega
Danielle Vega, in classic paranormal Danielle Vega style, will be representing Twilight!
About the movie: High-school student Bella Swan, always a bit of a misfit, doesn't expect life to change much when she moves from sunny Arizona to rainy Washington state. Then she meets Edward Cullen, a handsome but mysterious teen whose eyes seem to peer directly into her soul. Edward is a vampire whose family does not drink blood, and Bella, far from being frightened, enters into a dangerous romance with her immortal soulmate.
And did we mention Danielle Vega has more spooky goodness on the way? Yup, The Haunted is coming this June!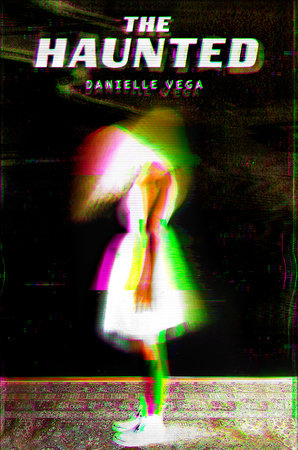 Hendricks Becker-O'Malley is new in town, and she's bringing baggage with her. With a dark and wild past, Hendricks doesn't think the small town her parents moved her to has much to offer her in terms of excitement. She plans on laying low, but when she's suddenly welcomed into the popular crowd at school, things don't go as expected.
Arvin Ahmadi
Arvin Ahmadi is going back to his contemporary roots to represent The Perks of Being a Wallflower!
About the movie: Socially awkward teen Charlie is a wallflower, always watching life from the sidelines, until two charismatic students become his mentors. Free-spirited Sam and her stepbrother Patrick help Charlie discover the joys of friendship, first love, music and more, while a teacher sparks Charlie's dreams of becoming a writer. However, as his new friends prepare to leave for college, Charlie's inner sadness threatens to shatter his newfound confidence.
Keep an eye out for Girl Gone Viral, coming this May!
Perfect for fans of Warcross and Black Mirror, Girl Gone Viral is the inventive and timely story of a seventeen-year-old coder's catapult to stardom.
Checkout the official March Movie Madness bracket HERE!