Reading Recs
Contemporary Books Guaranteed to Steal Your Heart
If you love your contemporary reading, here are 14 books to pick up this summer (and a few to add to your tbr for later!) that are guaranteed to steal your heart.
Aaron Stein used to think books were miracles. But not anymore. Even though he spends his days working in his family's secondhand bookstore, the only book Aaron can bear to read is one about the demise of the dinosaurs. It's a predicament he understands all too well, now that his brother and mom are gone and his friends have deserted him, leaving Aaron and his shambolic father alone in a moldering bookstore in a crusty mountain town where no one seems to read anymore.
So when Aaron sees the opportunity to sell the store, he jumps at it, thinking this is the only way out. But he doesn't account for Chad, a "best life" bro with a wheelchair and way too much optimism, or the town's out-of-work lumberjacks taking on the failing shop as their pet project. And he certainly doesn't anticipate meeting Hannah, a beautiful, brave musician who might possibly be the kind of inevitable he's been waiting for.
All of them will help Aaron to come to terms with what he's lost, what he's found, who he is, and who he wants to be, and show him that destruction doesn't inevitably lead to extinction; sometimes it leads to the creation of something entirely new.
From the author of the acclaimed Blood Water Paint, a new contemporary YA novel in prose and verse about a girl struggling with guilt and a desire for revenge after her sister's rapist escapes with no prison time.
Em Morales's older sister was raped by another student after a frat party. A jury eventually found the rapist guilty on all counts–a remarkable verdict that Em felt more than a little responsible for, since she was her sister's strongest advocate on social media during the trial. Her passion and outspokenness helped dissuade the DA from settling for a plea deal. Em's family would have real justice.
But the victory is short-lived. In a matter of minutes, justice vanishes as the judge turns the Morales family's world upside down again by sentencing the rapist to no prison time. While her family is stunned, Em is literally sick with rage and guilt. To make matters worse, a news clip of her saying that the sentence makes her want to learn "how to use a sword" goes viral.
From this low point, Em must find a new reason to go on and help her family heal, and she finds it in the unlikely form of the story of a fifteenth-century French noblewoman, Marguerite de Bressieux, who is legendary as an avenging knight for rape victims.
We Are the Ashes, We Are the Fire is a searing and nuanced portrait of a young woman torn between a persistent desire for revenge and a burning need for hope.
The latest novel in the Flyy Girls series!
Meet the Flyy Girls. The group of girls who seem like they can get away with anything. Veteran author Ashley Woodfolk pens a gorgeous and dynamic series of four Harlem highschoolers, each facing a crossroads of friendship, family, and love.
There are only three things that matter to Noelle Lee: her family, school, and the cello. She doesn't care if people see her as selfish or mean because she knows she has her priorities in order. That's why when her dad loses his job, Noelle doesn't hesitate to work more hours at her grandparents' restaurant. Seeing her girls and dealing with her ex-boyfriend have to take a backseat so she can help her family and prepare for her school's fall showcase. But things get more complicated when Noelle realizes she can't stop thinking about Tobyn, one of the other Flyy Girls. With her bad attitude getting even worse, Noelle starts to wonder if working hard even matters, especially if she can't keep her life from falling apart around her.
With simply stated text and compelling characters, Flyy Girls is a series that's perfect for readers of any level.

Juliet Milagros Palante is a self-proclaimed closeted Puerto Rican baby dyke from the Bronx. Only, she's not so closeted anymore. Not after coming out to her family the night before flying to Portland, Oregon, to intern with her favorite feminist writer–what's sure to be a life-changing experience. And when Juliet's coming out crashes and burns, she's not sure her mom will ever speak to her again.
But Juliet has a plan–sort of. Her internship with legendary author Harlowe Brisbane, the ultimate authority on feminism, women's bodies, and other gay-sounding stuff, is sure to help her figure out this whole "Puerto Rican lesbian" thing. Except Harlowe's white. And not from the Bronx. And she definitely doesn't have all the answers . . .
In a summer bursting with queer brown dance parties, a sexy fling with a motorcycling librarian, and intense explorations of race and identity, Juliet learns what it means to come out–to the world, to her family, to herself.
What's Not to Love by Emily Wibberley and Austin Siegemund-Broka

An enemies-to-lovers YA rom-com filled with perfect banter, nerdy drama, and heart-pounding romance—perfect for fans of Morgan Matson, Emma Lord, and Sandhya Menon.
Since high school began, Alison Sanger and Ethan Molloy have competed on almost everything. AP classes, the school paper, community service, it never ends. If Alison could avoid Ethan until graduation, she would. Except, naturally, for two over-achieving seniors with their sights on valedictorian and Harvard, they share all the same classes and extracurriculars. So when their school's principal assigns them the task of co-planning a previous class's ten-year reunion, with the promise of a recommendation for Harvard if they do, Ethan and Alison are willing to endure one more activity together if it means beating the other out of the lead. But with all this extra time spent in each other's company, their rivalry begins to feel closer to friendship. And as tension between them builds, Alison fights the growing realization that the only thing she wants more than winning . . . is Ethan.
Celebrated author Sarah Kuhn reinvents the modern fairy tale in this intensely personal yet hilarious novel of a girl whose search for a storybook ending takes her to unexpected places in both her beloved LA neighborhood and her own guarded heart.
If Rika's life seems like the beginning of a familiar fairy tale–being an orphan with two bossy cousins and working away in her aunts' business–she would be the first to reject that foolish notion. After all, she loves her family (even if her cousins were named after Disney characters), and with her biracial background, amazing judo skills and red-hot temper, she doesn't quite fit the princess mold.
All that changes the instant she locks eyes with Grace Kimura, America's reigning rom-com sweetheart, during the Nikkei Week Festival. From there, Rika embarks on a madcap adventure of hope and happiness–searching for clues that Grace is her long-lost mother, exploring Little Tokyo's hidden treasures with cute actor Hank Chen, and maybe…finally finding a sense of belonging.
But fairy tales are fiction and the real world isn't so kind. Rika knows she's setting herself up for disappointment, because happy endings don't happen to girls like her. Should she walk away before she gets in even deeper, or let herself be swept away?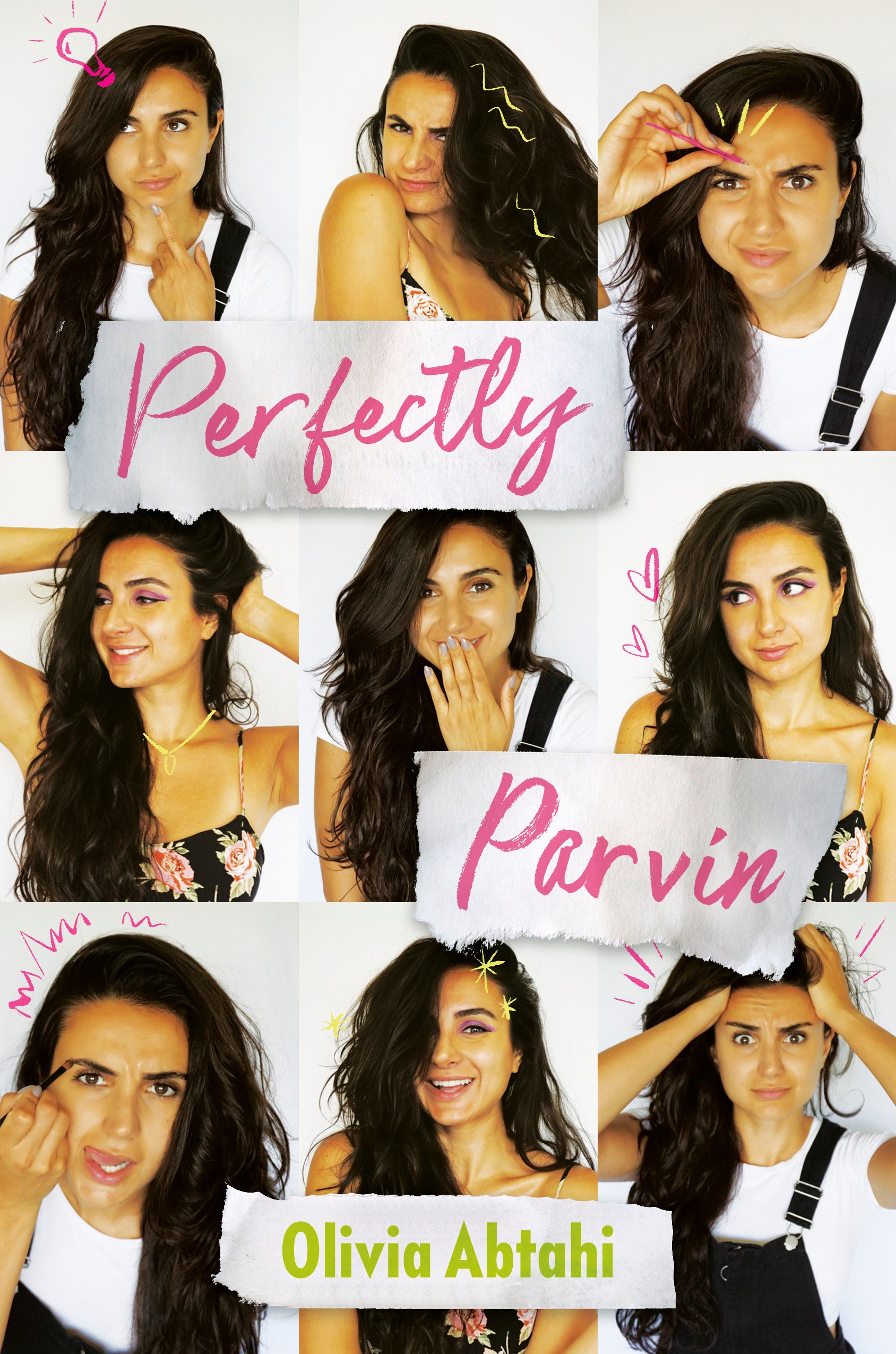 Fourteen-year-old Iranian-American Parvin Mohammadi sets out to win the ultimate date to homecoming in this heartfelt and outright hilarious debut.
Parvin Mohammadi has just been dumped–only days after receiving official girlfriend status. Not only is she heartbroken, she's humiliated. Enter high school heartthrob Matty Fumero, who just might be the smoking-hot cure to all her boy problems. If Parvin can get Matty to ask her to Homecoming, she's positive it will prove to herself and her ex that she's girlfriend material after all. There's just one problem: Matty is definitely too cool for bassoon-playing, frizzy-haired, Cheeto-eating Parvin. Since being herself hasn't worked for her in the past (see aforementioned dumping), she decides to start acting like the women in her favorite rom-coms. Those women aren't loud, they certainly don't cackle when they laugh, and they smile much more than they talk.
But Parvin discovers that being a rom-com dream girl is much harder than it looks. Also hard? The parent-mandated Farsi lessons. A confusing friendship with a boy who's definitely not supposed to like her. And hardest of all, the ramifications of the Muslim ban on her family in Iran. Suddenly, being herself has never been more important.
Olivia Abtahi's debut is as hilarious as it is heartfelt–a delightful tale where, amid the turmoil of high school friendships and crushes, being yourself is always the perfect way to be.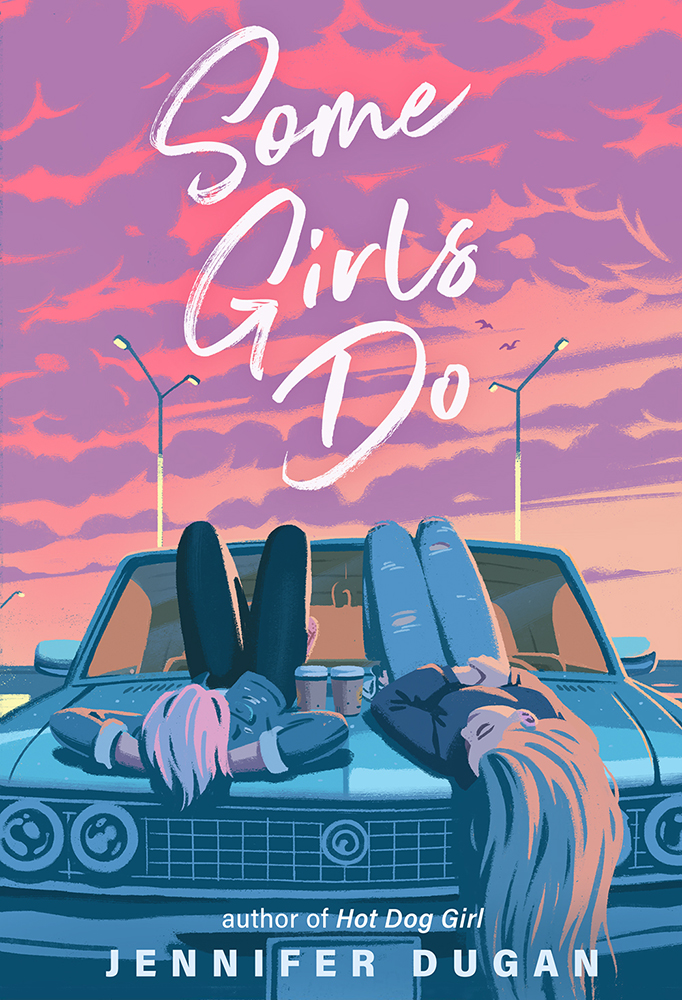 In this YA contemporary queer romance from the author of Hot Dog Girl, an openly gay track star falls for a closeted, bisexual teen beauty queen with a penchant for fixing up old cars.
Morgan, an elite track athlete, is forced to transfer high schools late in her senior year after it turns out being queer is against her private Catholic school's code of conduct. There, she meets Ruby, who has two hobbies: tinkering with her baby blue 1970 Ford Torino and competing in local beauty pageants, the latter to live out the dreams of her overbearing mother. The two are drawn to each other and can't deny their growing feelings. But while Morgan–out and proud, and determined to have a fresh start–doesn't want to have to keep their budding relationship a secret, Ruby isn't ready to come out yet. With each girl on a different path toward living her truth, can they go the distance together?
My Eyes Are Up Here is a razor-sharp debut about a girl struggling to rediscover her sense of self in the year after her body decided to change all the rules.
If Greer Walsh could only live inside her head, life would be easier. She'd be able to focus on excelling at math or negotiating peace talks between her best friend and . . . everyone else. She wouldn't spend any time worrying about being the only Kennedy High student whose breasts are bigger than her head.
But you can't play volleyball inside your head. Or go to the pool. Or have confusingly date-like encounters with the charming new boy. You need an actual body for all of those things. And Greer is entirely uncomfortable in hers.
Hilarious and heartbreakingly honest, My Eyes Are Up Here is a story of awkwardness and ferocity, of imaginary butterflies and rock-solid friends. It's the story of a girl finding her way out of her oversized sweatshirt and back into the real world.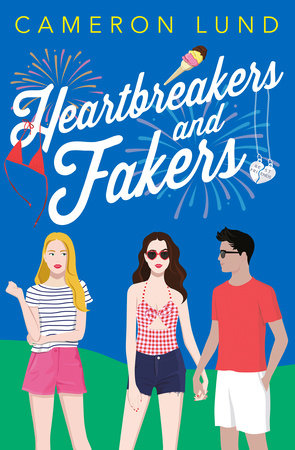 From the author of The Best Laid Plans comes another fresh voiced, hilarious rom-com perfect for fans of You Have a Match and The Rest of the Story.
Penny Harris just ruined her life.
As one of the most popular girls in school, she's used to being invited to every party, is dating the Jordan Parker, and can't wait to rule senior year with her best friend, Olivia. But when Penny wakes up on Jordan's lawn the morning after his first-day-of-summer bash, she knows something went terribly wrong the night before.
She kissed Kai Tanaka.
Kai, her long-time nemesis. Kai, Olivia's boyfriend. Penny can't figure out what could have inspired her to do it–she loves Jordan and she would never hurt Olivia–but one thing's for sure: freshly dumped, and out a best friend, the idyllic summer she pictured is over.
Despite the fact that Jordan seems to be seeking comfort (and a whole lot more) in Olivia, all Penny can think about is winning him back. Kai wants to save his relationship too, so they come up with a plan: convince their friends that they really do have feelings for each other. After all, everyone forgives a good love story, and maybe seeing Penny and Kai together will make Jordan and Olivia change their minds.
But as summer heats up, so does Penny and Kai's "relationship," and Penny starts to question whether she's truly faking it with Kai, if he's really as terrible as she always thought he was, and if the life she's fighting so hard to get back is the one she really wants.
Love, Simon meets Bend It Like Beckham in this feel-good contemporary romance about a trans athlete who must decide between fighting for his right to play and staying stealth.
Fifteen-year-old Spencer Harris is a proud nerd, an awesome big brother, and a David Beckham in training. He's also transgender. After transitioning at his old school leads to a year of isolation and bullying, Spencer gets a fresh start at Oakley, the most liberal private school in Ohio.
At Oakley, Spencer seems to have it all: more accepting classmates, a decent shot at a starting position on the boys' soccer team, great new friends, and maybe even something more than friendship with one of his teammates. The problem is, no one at Oakley knows Spencer is trans—he's passing.
But when a discriminatory law forces Spencer's coach to bench him, Spencer has to make a choice: cheer his team on from the sidelines or publicly fight for his right to play, even though it would mean coming out to everyone—including the guy he's falling for.
Perfect for fans of Morgan Matson and Ruta Sepetys, this sweet, summery romance set in Nantucket follows seventeen-year-old Abby Schoenberg as she uncovers a secret about her grandmother's life during WWII.
Seventeen-year-old Abby Schoenberg isn't exactly looking forward to the summer before her senior year. She's just broken up with her first boyfriend and her friends are all off in different, exciting directions for the next three months. Abby needs a plan–an adventure of her own. Enter: the letters.
They show up one rainy day along with the rest of Abby's recently deceased grandmother's possessions. And these aren't any old letters; they're love letters. Love letters from a mystery man named Edward. Love letters from a mansion on Nantucket. Abby doesn't know much about her grandmother's past. She knows she was born in Germany and moved to the US when she was five, fleeing the Holocaust. But the details are either hazy or nonexistent; and these letters depict a life that is a bit different than the quiet one Abby knows about.
And so, Abby heads to Nantucket for the summer to learn more about her grandmother and the secrets she kept. But when she meets Edward's handsome grandson, who wants to stop her from investigating, things get complicated. As Abby and Noah grow closer, the mysteries in their families deepen, and they discover that they both have to accept the burdens of their pasts if they want the kinds of futures they've always imagined.
This heartrending YA tale set in a Swaziland boarding school and featuring an unlikely friendship between girls of different castes won the LA Times Book Prize and is now available in paperback.
Adele Joubert loves being one of the popular girls at Keziah Christian Academy. She knows the upcoming semester at school is going to be great with her best friend Delia at her side. Then Delia dumps her for a new girl with more money, and Adele is forced to share a room with Lottie, the school pariah, who doesn't pray and defies teachers' orders.
But as they share a copy of Jane Eyre, Lottie's gruff exterior and honesty grows on Adele, and Lottie learns to be a little sweeter. Together, they take on bullies and protect each other from the vindictive and prejudiced teachers. Then a boy goes missing on campus and Adele and Lottie must rely on each other to solve the mystery and along the way learn the true meaning of friendship.

From the New York Times bestselling author of Frankly in Love comes a moving young adult novel about friendship, identity, and acceptance. Perfect for fans of John Green and To All the Boys I've Love Before.
When Sunny meets Cirrus, he can't believe how cool and confident she is. So when Cirrus mistakenly thinks Sunny plays guitar, he accidentally winds up telling her he's the front man of a rock band.
Before he knows it, Sunny is knee-deep in the lie: He gets his best friends to form a fake band with him and starts dressing like a rock star. But no way can he trick this amazing girl into thinking he's cool, right?
Just when Sunny is about to come clean, Cirrus asks to see them play sometime. Gulp.
Now there's only one thing to do: Fake it till you make it.
Contemporary novels to look forward to, get that TBR ready!
From Los Angeles Times Book Prize Award winner and Edgar Award nominee Malla Nunn comes a stunning portrait of a family divided and a powerful story of how friendship saves and heals.
When Amandla wakes up on her fifteenth birthday, she knows it's going to be one of her mother's difficult days. Her mother has had another vision. This one involves Amandla wearing a bedsheet loosely stitched as a dress. An outfit, her mother says, is certain to bring Amandla's father back home, as if he were the prince and this was the fairytale ending their family was destined for. But in truth, Amandla's father has long been gone–since before Amandla was born–and even her mother's memory of him is hazy. In fact, many of her mother's memories from before Amandla was born are hazy. It's just one of the many reasons people in Sugar Town give them strange looks–that and the fact her mother is white and Amandla is Black.
When Amandla finds a mysterious address in the bottom of her mother's handbag along with a large amount of cash, she decides it's finally time to get answers about her mother's life. What she discovers will change the shape and size of her family forever. But with her best friends at her side, Amandla is ready to take on family secrets and the devil himself. These Sugar Town queens are ready to take over the world to expose the hard truths of their lives.
Both Sides Now by Peyton Thomas – August 24
A witty and warm-hearted novel about a trans teen finding his place in the world perfect for fans of Red, White and Royal Blue
There's only one thing standing between Finch Kelly and a full-blown case of high school senioritis: the National Speech & Debate Tournament. Taking home the gold would not only be the pinnacle of Finch's debating career, but the perfect way to launch himself into his next chapter: college in Washington, DC, and a history-making career as the first trans congressman. What could possibly go wrong?
Well, for starters, Finch could develop a teeny tiny crush on his very attractive, very taken, and very gay debate partner, Jonah. Never mind that Finch has never considered whether he's interested in more than just girls.
And that dream of college in DC? Finch hasn't exactly been accepted anywhere yet, let alone received the full-ride scholarship he'll need to make this dream a reality.
Worst of all, though, is this year's topic for Nationals: transgender rights. If he wants to cinch the gold, and get into college, Finch might have to argue against his own humanity.
People say there are two sides to every argument. But, as Finch is about to discover, some things—like who you are and who you love—are not up for debate.
Meet the Flyy Girls. The group of girls who seem like they can get away with anything. Veteran author Ashley Woodfolk pens a gorgeous and dynamic series of four Harlem high-schoolers, each facing a crossroads of friendship, family, and love.
Tobyn Wolfe knows she's destined to be a rock star. She sings, she dances, and she's got that "It" factor. Her dreams are even closer within her reach when she meets Maybe Someday–an incredible all-female band–during a night out with her older sister, Devyn. Joining their band would be the perfect way to show off her amazing vocals. It's too bad her mom can't see this. She wants Tobyn to go to college and become a serious musician, not follow in Devyn's footsteps and wind up a struggling artist. Can Tobyn prove to her mom that she knows what's best, or will her dreams end up becoming a horrible nightmare?
With simply stated text and compelling characters, Flyy Girls is a series that's perfect for readers of any level.
Hello (From Here) by Chandler Baker and Wesley King – September 7
A witty and thought-provoking YA love story set during the COVID-19 quarantine, written by two NYT bestselling authors, with shades of Five Feet Apart and Anna and the French Kiss.
Maxine and Jonah bump into each other in the canned goods aisle of the grocery store just as the state of California is going into lockdown, when everything changes completely. Could there be a worse time to meet? Max's part-time job at a supermarket is about to transform into a hellish gauntlet. Jonah's preexisting anxiety is about to become an epic daily struggle. As Max, Jonah, and their friends live together but apart through hijinks, humanity, and heartbreak, Hello (From Here) cuts across urgent matters much bigger than a teenage crush. Differences of class, privilege, mental health, and sacrifice are thrown into stark relief by the profound and personal stresses of the COVID-19 pandemic. As thoughtful, probing, and informed as it is buoyant, romantic, and funny, Hello (From Here) looks at the first two months of the quarantine and adds falling hopelessly in love to the mess.
From the author of Something Happened to Ali Greenleaf comes another searing, affecting novel that follows one girl caught between two toxic worlds, perfect for fans of Kathleen Glasgow and Nina LaCour.
Shade and Jadis are everything to each other. They share clothes, toothbrushes, and even matching stick-and-poke tattoos. So when Shade unexpectedly joins the cheerleading team, Jadis can hardly recognize who her best friend is becoming.
Shade loves the idea of falling into a group of girls; she loves the discipline it takes to push her body to the limits alongside these athletes . Most of all, Shade finds herself drawn to The Three Chloes—the insufferable trio that rules the squad—including the enigmatic cheer captain whose dark side is as compelling as it is alarming.
Jadis won't give Shade up so easily, though, and the pull between her old best friend and her new teammates takes a toll on Shade as she tries to forge her own path. So when one of the cheerleaders dies under mysterious circumstances, Shade is determined to get to the bottom of her death. Because she knows Jadis—and if her friend is responsible, doesn't that mean she is, too?
In this compelling, nuanced exploration of the layered, intoxicating relationships between teen girls, and all the darkness and light that exists between them, novelist Hayley Krischer weaves a story of loss and betrayal, and the deep reverberations felt at a friendship's breaking point.