What's Happening
Join the Nsibidi Scripts Read-Along!
Join us for the Nsibidi Scripts Read-Along and discover Sunny's mystical destiny! From December 27-January 9, we'll be exploring the thrilling world of Nnedi Okorafor's Akata Witch and Akata Warrior. Whether you've read the series multiple times or are picking it up for the first time, all are invited to catch up with us before the third book in the series Akata Woman hits shelves!
Tag us on Twitter and Instagram with the hashtag #NsibidiScriptsReadAlong for progress updates, Instagram Story templates, and more!
Get your copies here and scroll down to see the reading schedule!
Week 1
Sunny Nwazue lives in Nigeria, but she was born in New York City. Her features are West African, but she's albino. She's a terrific athlete, but can't go out into the sun to play soccer. There seems to be no place where she fits in. And then she discovers something amazing—she is a "free agent" with latent magical power. And she has a lot of catching up to do.
Soon she's part of a quartet of magic students, studying the visible and invisible, learning to change reality. But as she's finding her footing, Sunny and her friends are asked by the magical authorities to help track down a career criminal who knows magic, too. Will their training be enough to help them combat a threat whose powers greatly outnumber theirs?
World Fantasy Award-winning author Nnedi Okorafor blends magic and adventure to create a lush world. Her writing has been called "stunning" by The New York Times and her fans include Neil Gaiman, Rick Riordan, John Green, Ursula K. Le Guin, and many more!
Pssst! Did we mention the ebook is on sale from December 27-January 2? Grab your copy here!
Week 2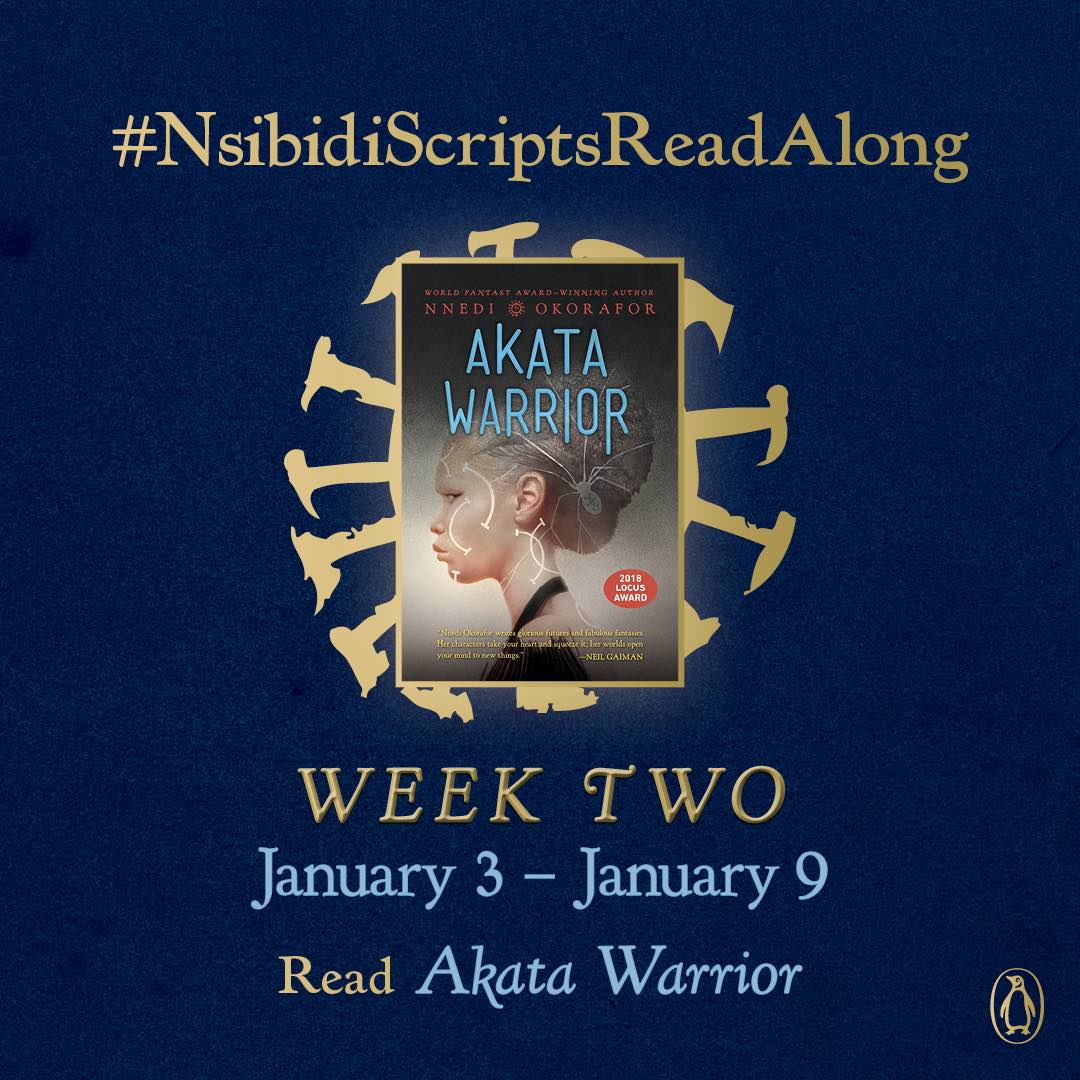 A year ago, Sunny Nwazue, an American-born girl Nigerian girl, was inducted into the secret Leopard Society. As she began to develop her magical powers, Sunny learned that she had been chosen to lead a dangerous mission to avert an apocalypse, brought about by the terrifying masquerade, Ekwensu. Now, stronger, feistier, and a bit older, Sunny is studying with her mentor Sugar Cream and struggling to unlock the secrets in her strange Nsibidi book.
Eventually, Sunny knows she must confront her destiny. With the support of her Leopard Society friends, Orlu, Chichi, and Sasha, and of her spirit face, Anyanwu, she will travel through worlds both visible and invisible to the mysteries town of Osisi, where she will fight a climactic battle to save humanity.
Much-honored Nnedi Okorafor, winner of the Hugo, Nebula, and World Fantasy awards, merges today's Nigeria with a unique world she creates. Akata Warrior blends mythology, fantasy, history and magic into a compelling tale that will keep readers spellbound.

From the moment Sunny Nwazue discovered she had mystical energy flowing in her blood, she sought to understand and control her powers. Throughout her adventures in Akata Witch and Akata Warrior, she had to navigate the balance between nearly everything in her life—America and Nigeria, the "normal" world and the one infused with juju, human and spirit, good daughter and powerful Leopard Person.
Now, those hard lessons and abilities are put to the test in a quest so dangerous and fantastical, it would be madness to go…but may destroy the world if she does not. With the help of her friends, Sunny embarks on a mission to find a precious object hidden deep in an otherworldly realm. Defeating the guardians of the prize will take more from Sunny than she has to give, and triumph will mean she will be forever changed.