Reading Recs
Swoony reads to fall in love with this Valentine's Day!
Love is in the air…and on our shelves! From prom night romcoms to beguiling fantasy books, here are 21 of our swooniest books to read this Valentine's Day!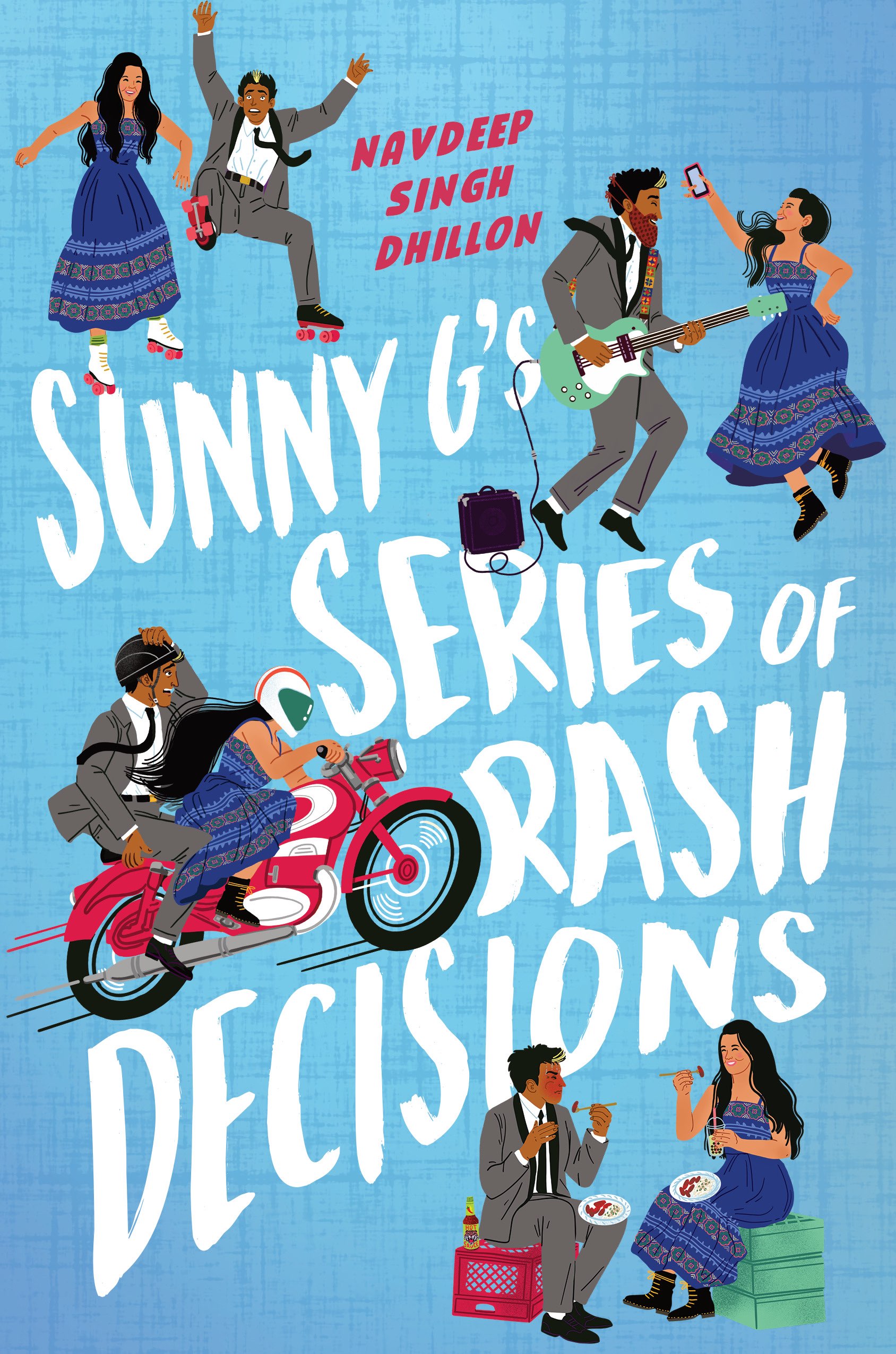 For fans of Sandhya Menon and Adam Silvera, a prom-night romantic-comedy romp about a Sikh teen's search for love and identity
Sunny G's brother left him one thing when he died: His notebook, which Sunny is determined to fill up with a series of rash decisions. Decision number one was a big one: He stopped wearing his turban, cut off his hair, and shaved his beard. He doesn't look like a Sikh anymore. He doesn't look like himself anymore. Even his cosplay doesn't look right without his beard.
Sunny debuts his new look at prom, which he's stuck going to alone. He's skipping the big fandom party—the one where he'd normally be in full cosplay, up on stage playing bass with his band and his best friend, Ngozi—in favor of the Very Important Prom Experience. An experience that's starting to look like a bust.
Enter Mindii Vang, a girl with a penchant for making rash decisions of her own, starting with stealing Sunny's notebook. When Sunny chases after her, prom turns into an all-night adventure—a night full of rash, wonderful, romantic, stupid, life-changing decisions.
In this latest installment of The New York Times bestselling quartet that began with The Beautiful, Pippa journeys to the treacherous and beguiling world of the fey in search of answers but instead falls in love.
Following the explosive events of The Damned, Odette faces a vampire's final death. The Court of the Lions have done everything they can to save her but have failed. A healer from the Sylvan Vale could help her, but only Arjun Desai, as a half fey, can cross the boundary between realms. The Sylvan Vale is a world Arjun despises, and in return, it despises him. But knowing it could save Odette, he returns to the Vale with all haste, leaving the mirrored tare between the two worlds open and unwittingly setting the stage for both love and war.
It's mere days until Pippa Montrose is to wed Phoebus Devereux and become a member of his well-heeled family, offering salvation to her own. But Celine is missing. Pippa has no idea where her best friend has gone, but she's certain it's in the company of vampire Sébastien Saint Germain and that Arjun can lead her to them. Pippa enjoins the help of Eloise, the daughter of a powerful sorceress, to discover the gateway Arjun uses to travel between worlds. Pippa, tired of hesitating in life, marches right through in search of her friend. But what she discovers on the other side is a dangerous, duplicitous world full of mischief and magic she doesn't understand, and most unexpectedly, she finds love.
Author of the New York Times bestselling duology The Wrath & The Dawn, Renée Ahdieh is back. The Righteous is the can't-miss lead in to what will be a much-anticipated finale of a can't miss quartet.

From the author of These Witches Don't Burn comes another paranormal romance for fans of Richelle Mead and Stephenie Meyer.
Elise Beaumont is cursed. With every touch, she experiences exactly how her loved ones will die. And after her brother's death—a death she predicted but was unable to prevent—Elise is desperate to get rid of her terrible gift, no matter the cost.
Claire Montgomery also has a unique relationship with death, mostly because she's already dead. Technically, anyway. Claire is a vampire, and she's been assigned by the Veil to help Elise master her rare Death Oracle powers.
At first, Elise is reluctant to work with a vampire, but when she predicts a teacher's imminent murder, she's determined to stop the violent death, even if it means sacrificing her own future to secure Claire's help.
The trouble is, Claire and Elise aren't the only paranormals in town—a killer is stalking the streets, and Claire can't seem to shake the pull she feels toward Elise, a romance that could upend the Veil's mission. But as Elise and Claire grow closer, Elise begins to wonder—can she really trust someone tasked with securing her loyalty? Someone who could so easily kill her? Someone who might hold the key to unraveling her brother's mysterious death?

In this YA contemporary queer romance from the author of Hot Dog Girl, an openly gay track star falls for a closeted, bisexual teen beauty queen with a penchant for fixing up old cars.
Morgan, an elite track athlete, is forced to transfer high schools late in her senior year after it turns out being queer is against her private Catholic school's code of conduct. There, she meets Ruby, who has two hobbies: tinkering with her baby blue 1970 Ford Torino and competing in local beauty pageants, the latter to live out the dreams of her overbearing mother. The two are drawn to each other and can't deny their growing feelings. But while Morgan–out and proud, and determined to have a fresh start–doesn't want to have to keep their budding relationship a secret, Ruby isn't ready to come out yet. With each girl on a different path toward living her truth, can they go the distance together?
Love, Simon meets Bend It Like Beckham in this feel-good contemporary romance about a trans athlete who must decide between fighting for his right to play and staying stealth.
Fifteen-year-old Spencer Harris is a proud nerd, an awesome big brother, and a David Beckham in training. He's also transgender. After transitioning at his old school leads to a year of isolation and bullying, Spencer gets a fresh start at Oakley, the most liberal private school in Ohio.
At Oakley, Spencer seems to have it all: more accepting classmates, a decent shot at a starting position on the boys' soccer team, great new friends, and maybe even something more than friendship with one of his teammates. The problem is, no one at Oakley knows Spencer is trans—he's passing.
But when a discriminatory law forces Spencer's coach to bench him, Spencer has to make a choice: cheer his team on from the sidelines or publicly fight for his right to play, even though it would mean coming out to everyone—including the guy he's falling for.


In this dark and twisty feminist historical thriller with a twist of romance, a teenage girl starts a new life as a grave robber but quickly becomes entangled in a murderer's plans.
Soon after her best friend Kitty mysteriously dies, orphaned seventeen-year-old Molly Green is sent away to live with her "aunt." With no relations that she knows of, Molly assumes she has been sold as free domestic labor for the price of an extra donation in the church orphanage's coffers. Such a thing is not unheard of. There are only so many options for an unmarried girl in 1850s Philadelphia. Only, when Molly arrives, she discovers her aunt is very much real, exceedingly wealthy, and with secrets of her own. Secrets and wealth she intends to share—for a price.
Molly's estranged aunt Ava, has built her empire by robbing graves and selling the corpses to medical students who need bodies to practice surgical procedures. And she wants Molly to help her procure the corpses. As Molly learns her aunt's trade in the dead of night and explores the mansion by day, she is both horrified and deeply intrigued by the anatomy lessons held at the old church on her aunt's property. Enigmatic Doctor LaValle's lessons are a heady mixture of knowledge and power and Molly has never wanted anything more than to join his male-only group of students. But the cost of inclusion is steep and with a murderer loose in the city, the pursuit of power and opportunity becomes a deadly dance.
Sleeping Beauty meets Indiana Jones in this thrilling fairytale retelling for fans of Sorcery of Thorns and The Cruel Prince.
Fi is a bookish treasure hunter with a knack for ruins and riddles, who definitely doesn't believe in true love.
Shane is a tough-as-dirt girl warrior from the north who likes cracking skulls, pretty girls, and doing things her own way.
Briar Rose is a prince under a sleeping curse, who's been waiting a hundred years for the kiss that will wake him.
Cursed princes are nothing but ancient history to Fi—until she pricks her finger on a bone spindle while exploring a long-lost ruin. Now she's stuck with the spirit of Briar Rose until she and Shane can break the century-old curse on his kingdom.
Dark magic, Witch Hunters, and bad exes all stand in her way—not to mention a mysterious witch who might wind up stealing Shane's heart, along with whatever else she's after. But nothing scares Fi more than the possibility of falling in love with Briar Rose.
Set in a lush world inspired by beloved fairytales, The Bone Spindle is a fast-paced young adult fantasy full of adventure, romance, found family, and snark.
In this much-anticipated series opener, fate binds two Black teenagers together as they strike a dangerous alliance to hunt down the creature menacing their home—and uncover ancient deadly secrets.

There's no such thing as magic in the broken city of Lkossa, especially for sixteen-year-old Koffi, who holds a power within her that could only be described as magic—a power that if discovered could cost her life. Indentured to the notorious Night Zoo, Koffi knows the fearsome creatures in her care and paying off her family's debts to secure their eventual freedom can be her only focus. But the night those she loves are gravely threatened by the Zoo's cruel master, Koffi finally unleashes the power she doesn't fully understand, upending her life completely.
As the second son of a decorated hero, Ekon is all but destined to become a Son of the Six—an elite warrior—and uphold a family legacy. But on the night of his final rite of passage, Ekon encounters not only the Shetani—a vicious monster that has plagued the city for nearly a century and stalks his nightmares, but Koffi who seems to have the power to ward off the beast. Koffi's power ultimately saves Ekon's life, but his choice to let her flee dooms his hopes of becoming a warrior.
Desperate to redeem himself, Ekon vows to hunt the Shetani and end its reign of terror, but he can't do it alone. Meanwhile, Koffi believes finding the Shetani could also be the key to solving her own problems. Koffi and Ekon form a tentative alliance and together enter the Greater Jungle, a world steeped in wild, frightening magic and untold dangers. The hunt begins. But it quickly becomes unclear whether they are the hunters or the hunted.

What's Not to Love by Austin Siegemund-Broka and Emily Wibberley
In the game of love, there's always room for extra credit
An enemies-to-lovers YA rom-com filled with perfect banter, nerdy drama, and heart-pounding romance—perfect for fans of Morgan Matson, Emma Lord, and Sandhya Menon.
Since high school began, Alison Sanger and Ethan Molloy have competed on almost everything. AP classes, the school paper, community service, it never ends. If Alison could avoid Ethan until graduation, she would. Except, naturally, for two over-achieving seniors with their sights on valedictorian and Harvard, they share all the same classes and extracurriculars. So when their school's principal assigns them the task of co-planning a previous class's ten-year reunion, with the promise of a recommendation for Harvard if they do, Ethan and Alison are willing to endure one more activity together if it means beating the other out of the lead. But with all this extra time spent in each other's company, their rivalry begins to feel closer to friendship. And as tension between them builds, Alison fights the growing realization that the only thing she wants more than winning . . . is Ethan

Jandy Nelson's beloved, critically adored debut is soon to be an Apple TV+ Original Film starring Jason Segel, Cherry Jones, and Grace Kaufman.
Adrift after her sister Bailey's sudden death, Lennie finds herself torn between quiet, seductive Toby—Bailey's boyfriend who shares Lennie's grief—and Joe, the new boy in town who bursts with life and musical genius. Each offers Lennie something she desperately needs. One boy helps her remember. The other lets her forget. And she knows if the two of them collide, her whole world will explode.
As much a laugh-out-loud celebration of love as a nuanced and poignant portrait of loss, Len­nie's struggle to sort her own melody out out the noise around her makes for an always honest, often uproarious, and absolutely unforgettable read.



A witty and thought-provoking YA love story set during the COVID-19 quarantine, written by two NYT bestselling authors, with shades of Five Feet Apart and Anna and the French Kiss.
Maxine and Jonah bump into each other in the canned goods aisle of the grocery store just as the state of California is going into lockdown, when everything changes completely. Could there be a worse time to meet? Max's part-time job at a supermarket is about to transform into a hellish gauntlet. Jonah's preexisting anxiety is about to become an epic daily struggle. As Max, Jonah, and their friends live together but apart through hijinks, humanity, and heartbreak, Hello (From Here) cuts across urgent matters much bigger than a teenage crush. Differences of class, privilege, mental health, and sacrifice are thrown into stark relief by the profound and personal stresses of the COVID-19 pandemic. As thoughtful, probing, and informed as it is buoyant, romantic, and funny, Hello (From Here) looks at the first two months of the quarantine and adds falling hopelessly in love to the mess.

A witty and warm-hearted novel about a trans teen finding his place in the world perfect for fans of Red, White and Royal Blue
There's only one thing standing between Finch Kelly and a full-blown case of high school senioritis: the National Speech & Debate Tournament. Taking home the gold would not only be the pinnacle of Finch's debating career, but the perfect way to launch himself into his next chapter: college in Washington, DC, and a history-making career as the first trans congressman. What could possibly go wrong?
Well, for starters, Finch could develop a teeny tiny crush on his very attractive, very taken, and very gay debate partner, Jonah. Never mind that Finch has never considered whether he's interested in more than just girls.
And that dream of college in DC? Finch hasn't exactly been accepted anywhere yet, let alone received the full-ride scholarship he'll need to make this dream a reality.
Worst of all, though, is this year's topic for Nationals: transgender rights. If he wants to cinch the gold, and get into college, Finch might have to argue against his own humanity.
People say there are two sides to every argument. But, as Finch is about to discover, some things—like who you are and who you love—are not up for debate.
Channeling the modern humor of A Knight's Tale, bestselling author Robyn Schneider creates a Camelot that becomes the ultimate teen rom-com hotspot in this ultra-fresh take on the Arthurian legend.
For as long as she could remember, all Emry wanted was to be a great magician like her father, the magnificent Merlin. As a kid, she fought to be included in his magic lessons for her twin brother, Emmet, and easily outshone him with each spell she cast. But after her father's disappearance several years ago, Emry has been feeling a little lost. Fate soon appears in the form of a royal messenger, summoning Emmet to court to serve as Prince Arthur's right-hand wizard. With Emmett indisposed thanks to a bad spell, Emry has to disguise herself as a teen boy and pretend to be her brother at the castle until they're able to switch.
Training as a wizard is everything Emry hoped it would be, except working so closely with the unbearably hot Arthur is a growing danger. They soon share adventures and a connection that can't be denied, but Emry's secret is a crime punishable by death. When royal scandals involving Lancelot, Guinevere, and Gawain threaten to reveal her truth, Emry must decide whether to stay and risk everything for a love borne out of deceit, or leave and never fulfill her potential to be Camelot's greatest magician.
A teen girl disappears from her small town deep in the bayou, where magic festers beneath the surface of the swamp like water rot, in this chilling debut supernatural thriller with twist of romance.
La Cachette, Louisiana, is the worst place to be if you have something to hide.
This tiny town, where seventeen-year-old Grey spends her summers, is the self-proclaimed Psychic Capital of the World—and the place where Elora Pellerin, Grey's best friend, disappeared six months earlier.
Grey can't believe that Elora vanished into thin air any more than she can believe that nobody in a town full of psychics knows what happened. But as she digs into the night that Elora went missing, she begins to realize that everybody in town is hiding something—her grandmother Honey; her childhood crush Hart; and even her late mother, whose secrets continue to call to Grey from beyond the grave.
When a mysterious stranger emerges from the bayou—a stormy-eyed boy with links to Elora and the town's bloody history—Grey realizes that La Cachette's past is far more present and dangerous than she'd ever understood. Suddenly, she doesn't know who she can trust. In a town where secrets lurk just below the surface, and where a murderer is on the loose, nobody can be presumed innocent—and La Cachette's dark and shallow lies may just rip the town apart.
Curses by Lish McBride
Merit Cravan refused to fulfill her obligation to marry a prince, leading to a fairy godling's curse. She will be forced to live as a beast forever, unless she agrees to marry a man of her mother's choosing before her eighteenth birthday.
Tevin Dumont has always been a pawn in his family's cons. The prettiest boy in a big family, his job is to tempt naïve rich girls to abandon their engagements, unless their parents agree to pay him off. But after his mother runs afoul of the beast, she decides to trade Tevin for her own freedom.
Now, Tevin and Merit have agreed that he can pay off his mother's debt by using his con-artist skills to help Merit find the best match . . . but what if the best match is Tevin himself?
A snarky seventeen-year-old must team up with an enigmatic criminal to cure herself of dangerous forbidden magic in the first book of a new fantasy duology from Morgan Rhodes, the New York Times bestselling author of the Falling Kingdoms series.
Josslyn Drake knows only three things about magic: it's rare, illegal, and always deadly.
So when she's caught up in a robbery gone wrong at the Queen's Gala and infected by a dangerous piece of magic—one that allows her to step into the memories of an infamously evil warlock—she finds herself living her worst nightmare. Joss needs the magic removed before it corrupts her soul and kills her. But in Ironport, the cost of doing magic is death, and seeking help mightmean scheduling her own execution. There's nobody she can trust.
Nobody, that is, except wanted criminal Jericho Nox, who offers her a deal: his help extracting the magic in exchange for the magic itself. And though she's not thrilled to be working with a thief, especially one as infuriating (and infuriatingly handsome) as Jericho, Joss is desperate enough to accept.
But Jericho is nothing like Joss expects. The closer she grows to Jericho and the more she sees of the world outside her pampered life in the city, the more Joss begins to question the beliefs she's always taken for granted—beliefs about right and wrong, about power and magic, and even about herself.
In an empire built on lies, the truth may be her greatest weapon.