What's Happening
12 Books to Quench Your Fairy Tale Thirst
Are you looking for a little more magic in your life? Are there not enough Disney movies or Once Upon a Time seasons to keep you satisfied? Look no further: Our little questionnaire will help you figure out exactly which books will satisfy your fairy tale cravings.
Are you feeling in touch with your bad side this week?
Forest of a Thousand Lanterns by Julie C. Dao: This book is an East Asian fantasy reimagining of The Evil Queen legend about one peasant girl's quest to become Empress– and the darkness she must unleash to achieve her destiny.
Forest of a Thousand Lanterns comes out October 10th. Pre-order your copy here!
Is your preferred means of transportation a magic carpet?
The Forbidden Wish by Jessica Khoury: When Aladdin discovers Zahra's jinni lamp, Zahra is thrust back into a world she hasn't seen in hundreds of years. When the King of the Jinn offers Zahra a chance to be free of her lamp forever, she seizes the opportunity—only to discover she is falling in love with Aladdin.
The Wrath and the Dawn by Renee Ahdieh: In this richly imagined retelling of 1001 Arabian Nights, Shazi won't let the fact that Khalid's brides never make it until morning stop her from seeking her revenge.
Do you need another lesson in stranger danger?
Little Miss Red by Robin Palmer: When Sophie sets off to Florida to visit her grandma Roz, she finds herself seated next to a wolfishly good-looking guy on the plane. The two hit it off, and before she knows it, Sophie's living on the edge. But is the drama all it's cracked up to be?
Kin by Lili St. Crow: A killer stalks the city streets, and it looks like their next target is Ruby. Now she's about to find out that the charming Conrad's secrets go deeper than she thought—and it's up to Ruby to save her Gran, her clan, and maybe even herself….
Do you wish you could stay this young and awesome forever?
Never Ever by Sara Saedi: New Yorker Wylie Dalton didn't believe in fairy tales or love at first sight…until she met a real-life Peter Pan. And when he whisks Wylie and her brothers off to a mysterious tropical island, all of her worries about real life are whisked away – but someone on the island is lying to her, and the truth can't stay hidden forever.
Intrigued by fairy magic?
The Radiant Road by Katherine Catmull: This stunningly atmospheric novel follows Clare as she moves back to Ireland and discovers that fairy magic is more real than she ever imagined.
The Replacement by Brenna Yovanoff: A lot of teenagers feel like they might not belong, but Mackie knows for sure that he doesn't. He's a replacement, a fae child left in the crib of a human baby sixteen years ago–one whose allergies to blood and iron have him fighting to survive in the human world.
Do you think that whole "an apple a day" thing is a total myth?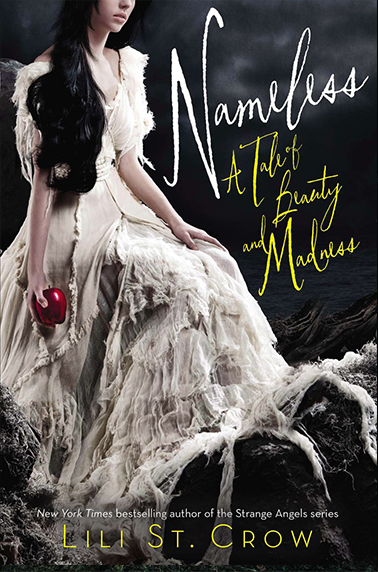 Nameless by Lili St. Crow: Cami was raised to be an heiress to a powerful magical family. When she meets the mysterious Tor, she begins to uncover the mysterious secrets of her birth…ones that might threaten her life as she knows it.
Is dating making you tired of the phrase, "You have to kiss a few frogs…"?
Geek Charming by Robin Palmer: When L.A. princess Dylan Schoenfield accidentally tosses her bag into a fountain, this princess comes face-to-face with her own personal frog: self professed film geek Josh Rosen. When Dylan's so-called prince charming of a boyfriend dumps her flat, her life–and her social status–comes to a crashing halt. Can Dylan pull the pieces together to create her own happily-ever-after?
Would you consider yourself a heavy sleeper?
Spindle's End by Robin McKinley: The evil fairy Pernicia has set a curse on Princess Briar-Rose: she is fated to prick her finger on a spinning wheel and fall into an endless sleep. Young fairy Katriona kidnaps the princess to save her, but Pernicia lies in waiting, intent on revenge for a four hundred-year-old grudge.
Do you have a shoe addiction that won't quit?
Wayfarer by Lili St. Crow: Newly orphaned, isolated, and terrified of her violent stepmother, Ellen Sinder still believes she'll be okay. She has a plan for surviving high school, but when a train arrives carrying a golden boy and a new stepsister, all of Ellie's plans begin to unravel.
Cindy Ella by Robin Palmer: Prom fever has infected LA—especially Cindy's two annoying stepsisters, and her overly Botoxed stepmother. Cindy, immune to the prom bug, pens an anti-prom letter that everyone hates–everyone except her two best friends and her crush, Adam Silver. With a little bit of help from an unexpected source and a fabulous pair of heels, Cindy realizes that she still has a chance at a happily ever after.