What's Happening
8 Books About Books
Our world is pretty much all about books. So when we come across a book about a book, it's like multiplying our love for them x1000000. It's like getting a second helping of book love. It's like getting double the love. Experience the magic and get on a meta level with us with these books about books!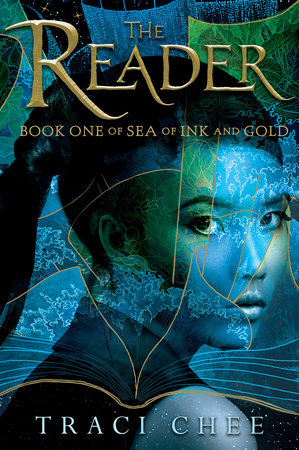 What if there were no books? Set in a world without reading, The Reader is a stunningly written fantasy full of swashbuckling pirates, merciless assassins, and an odd rectangular object that young Sefia will come to realize is a book. On top of that, The Reader itself is absolutely beautiful and contains secret messages in the pages. The sequel, The Speaker goes on sale in November!
In this spin off to the Falling Kingdoms series, modern-day Toronto teen Becca Hatcher gets transported to the kingdoms of Mytica when she opens a mysterious leather bound book at her family's used bookstore. Stuck in a parallel world, it's up to her sister Crystal to figure out how to get Becca back. Note: even if opening mysterious leather bound books tends to trigger deadly ancient magic, we still want one.
Hazel Grace's favorite book An Imperial Affliction plays a huge part in her epic relationship with Augustus Waters – it's her first book recommendation to him, it brings them to Amsterdam, and it fits into the ending oh-so-beautifully but in a way that we certainly will not spoil right here. Just go read this book if you haven't yet.
Not only is Mosquitoland author David Arnold's newest book inspired in part by S.E. Hinton's all-time classic The Outsiders, but it also weaves references to it seamlessly into the story. One of our favorite examples? The main character Vic loves how his new friend Mad always quotes her favorite book The Outsiders, and the quote he likes best "was something about two people admiring the sunset from different places, and how maybe their worlds weren't that different because they saw the same sunset."
Kids of Appetite comes out 9/20, preorder your copy here!
Tales of the Peculiar is a companion novel to Ransom Riggs' bestselling Miss Peregrine series, and it references an actual book of fairytales about the peculiars before they were given a home.
Scarlett Epstein is your hilarious and witty new best friend who is also a super talented fan fiction writer. Her dad is a writer too – but what Scarlett doesn't know is how his new book will play into her crazy year after she starts writing fanfic about her actual classmates and doesn't consider what might happen if they were to find out what she truly thinks of them.
Normandy Pale is just trying to get by but it's difficult when your older sister published a bestselling comic series about your family that paints you as a sloth-like, vacant blob. Talk about trying to shake an image.
Popular by Maya Van Wagenen
Popular is what happens when a modern day Texas teen lives her life according to a 1950's popularity guide. It's adorable, heartwarming, and oh – it's a true story.