Reading Recs
Books to Read for Latinx & Hispanic Heritage Month
September 15-October 15 is Latinx & Hispanic Heritage Month. We're inviting you to join us in reading stories by Latinx and Hispanic authors–and if you don't know where to start, here are a few of our recommendations!
An unforgettable, torrential, and hopeful debut young adult novel-in-verse that redefines what it means to "make it," for readers of Nicholasa Mohr and Elizabeth Acevedo.
Sarai is a first-generation Puerto Rican question asker who can see with clarity the truth, pain, and beauty of the world both inside and outside her Bushwick apartment. Together with her older sister, Estrella, she navigates the strain of family traumas and the systemic pressures of toxic masculinity and housing insecurity in a rapidly gentrifying Brooklyn. Sarai questions the society around her, her Boricua identity, and the life she lives with determination and an open heart, learning to celebrate herself in a way that she has long been denied.
When We Make It is a love letter to anyone who was taught to believe that they would not make it. To those who feel their emotions before they can name them. To those who still may not have all the language but they have their story. Velasquez' debut novel is sure to leave an indelible mark on all who read it.
Flirting with Fate by J.C. Cervantes
Jane the Virgin meets The Sisterhood of the Traveling Pants in New York Times bestselling author J.C. Cervantes's charming, romantic YA debut —now available in paperback.
Ava Granados will never forgive herself for being late to her beloved nana's deathbed. But due to a flash flood that left Ava in a fender bender with a mysterious boy, she missed her grandmother's mystical blessing—one that has been passed between the women of her family upon death for generations.

Then Nana's ghost appears with a challenge from beyond the grave. As it turns out, Nana did give Ava a blessing, but it missed its target, landing with the boy from the night of the storm instead. Was it fate? Ava refuses to believe so. With the help of her sisters and Nana's rather bumbling spiritual guide, she's determined to reclaim her share of the family magic and set Nana free.

For guarded Ava, befriending some random boy is the last thing she wants to do. She's gotten along just fine protecting her heart—keeping people at a distance is a great way to ensure no one ever hurts you. But as Ava embarks on her mission to retrieve the lost blessing, she starts to wonder if getting close to thunderstorm boy is worth the risk.

In her swoony, heartwarming young adult debut, New York Times bestselling author J.C. Cervantes weaves an unforgettable tale about family, fate, and finding love where you least expect it.
Twenty stand-alone short stories, essays, poems, and more from celebrated and award-winning authors make up this YA anthology that explores the Mexican American experience.
With works by Francisco X. Stork, Guadalupe Garcia McCall, David Bowles, Rubén Degollado, e.E. Charlton-Trujillo, Diana López, Xavier Garza, Trinidad Gonzales, Alex Temblador, Aida Salazar, Guadalupe Ruiz-Flores, Sylvia Sánchez Garza, Dominic Carrillo, Angela Cervantes, Carolyn Dee Flores, René Saldaña Jr., Justine Narro, Daniel García Ordáz, and Anna Meriano.
In this mixed-media collection of short stories, personal essays, poetry, and comics, this celebrated group of authors share the borders they have crossed, the struggles they have pushed through, and the two cultures they continue to navigate as Mexican Americans. Living Beyond Borders is at once an eye-opening, heart-wrenching, and hopeful love letter from the Mexican American community to today's young readers.
A powerful exploration of what it means to be Mexican American.
A poignant novel of desperation, escape, and survival across the U.S.-Mexico border, inspired by current events.
Pulga has his dreams.
Chico has his grief.
Pequeña has her pride.
And these three teens have one another. But none of them have illusions about the town they've grown up in and the dangers that surround them. Even with the love of family, threats lurk around every corner. And when those threats become all too real, the trio knows they have no choice but to run: from their country, from their families, from their beloved home.
Crossing from Guatemala through Mexico, they follow the route of La Bestia, the perilous train system that might deliver them to a better life–if they are lucky enough to survive the journey. With nothing but the bags on their backs and desperation drumming through their hearts, Pulga, Chico, and Pequeña know there is no turning back, despite the unknown that awaits them. And the darkness that seems to follow wherever they go.
In this striking portrait of lives torn apart, the plight of migrants at the U.S. southern border is brought to light through poignant, vivid storytelling. An epic journey of danger, resilience, heartache, and hope.
Sanctuary by Paola Mendoza and Abby Sher
Co-founder of the Women's March makes her YA debut in a near-future dystopian where a young girl and her brother must escape a xenophobic government to find sanctuary–now in paperback!
It's 2032, and in this near-future America, all citizens are chipped and everyone is tracked. It's almost impossible to survive as an undocumented immigrant, but that's exactly what sixteen-year-old Vali is doing. She and her family have carved out a stable, happy life in small-town Vermont, but when Vali's mother's counterfeit chip starts malfunctioning and the Deportation Forces raid their town, they are forced to flee.
Now on the run, Vali and her family are desperately trying to make it to her tía Luna's in California, a sanctuary state that is currently being walled off from the rest of the country. But when Vali's mother is detained before their journey even really begins, Vali must carry on with her younger brother across the country to make it to safety before it's too late.
Gripping and urgent, co-authors Paola Mendoza and Abby Sher have crafted a narrative that is as haunting as it is hopeful in envisioning a future where everyone can find sanctuary.
Fourteen-year-old Iranian-American Parvin Mohammadi sets out to win the ultimate date to homecoming in this heartfelt and outright hilarious debut.
Parvin Mohammadi has just been dumped–only days after receiving official girlfriend status. Not only is she heartbroken, she's humiliated. Enter high school heartthrob Matty Fumero, who just might be the smoking-hot cure to all her boy problems. If Parvin can get Matty to ask her to Homecoming, she's positive it will prove to herself and her ex that she's girlfriend material after all. There's just one problem: Matty is definitely too cool for bassoon-playing, frizzy-haired, Cheeto-eating Parvin. Since being herself hasn't worked for her in the past (see aforementioned dumping), she decides to start acting like the women in her favorite rom-coms. Those women aren't loud, they certainly don't cackle when they laugh, and they smile much more than they talk.
But Parvin discovers that being a rom-com dream girl is much harder than it looks. Also hard? The parent-mandated Farsi lessons. A confusing friendship with a boy who's definitely not supposed to like her. And hardest of all, the ramifications of the Muslim ban on her family in Iran. Suddenly, being herself has never been more important.
Olivia Abtahi's debut is as hilarious as it is heartfelt–a delightful tale where, amid the turmoil of high school friendships and crushes, being yourself is always the perfect way to be.
Azar on Fire by Olivia Abtahi
Finding her voice takes on a whole new meaning when fourteen-year-old Azar Rossi sets out to win her local Battle of the Bands contest in this heartfelt and hilarious contemporary YA.
Fourteen-year-old Azar Rossi's first year of high school has mostly been silent, and intentionally so. After a bad case of colic as a baby, Azar's vocal folds are shredded—full of nodules that give her a rasp the envy of a chain-smoking bullfrog. Her classmates might just think she's quiet, but Azar is saving her voice for when it really counts and talking to her classmates is not medically advisable or even high on her list.
When she hears about a local Battle of the Bands contest, it's something she can't resist. Azar loves music, loves songwriting, but with her vocal folds the way they are, there's no way she can sing her songs on stage.

Then she hears lacrosse hottie, Ebenezer Lloyd Hollins the Fifth, aka Eben, singing from the locker room. She's transfixed. He's just the person she needs. His voice + her lyrics = Battle of the Bands magic. But getting a band together means Azar has a lot of talking to do and new friends to make. For the chance to stand on stage with Eben it might all just be worth it.
A loose retelling of Cinderella, about a high-school graduate who–after getting grounded for the whole summer–joins a local Quidditch league and finds her footing, perfect for fans of Dumplin', Fangirl, and everyone who's read and adored Harry Potter.
17-year-old vegan feminist Ellen Lopez-Rourke has one muggy Houston summer left before college. She plans to spend every last moment with her two best friends before they go off to the opposite ends of Texas for school. But when Ellen is grounded for the entire summer by her (sometimes) evil stepmother, all her plans are thrown out the window.
Determined to do something with her time, Ellen (with the help of BFF Melissa) convinces her parents to let her join the local muggle Quidditch team. An all-gender, full-contact game, Quidditch isn't quite what Ellen expects. There's no flying, no magic, just a bunch of scrappy players holding PVC pipe between their legs and throwing dodgeballs. Suddenly Ellen is thrown into the very different world of sports: her life is all practices, training, and running with a group of Harry Potter fans.
Even as Melissa pulls away to pursue new relationships and their other BFF Xiumiao seems more interested in moving on from high school (and from Ellen), Ellen is steadily finding a place among her teammates. Maybe Quidditch is where she belongs.
But with her home life and friend troubles quickly spinning out of control–Ellen must fight for the future that she wants, now she's playing for keeps.
Filled with heart and humor, Anna Meriano's YA debut is perfect for fans of Dumplin' and Hot Dog Girl.
A sweet and nerdy contemporary YA novel set in the world of marching band perfect for fans of Late to the Party, Fat Chance, Charlie Vega and Kate in Waiting.
Yasmín Treviño didn't have much of a freshman year thanks to Hurricane Humphrey, but she's ready to take sophomore year by storm. That means mastering the marching side of marching band—fast!—so she can outshine her BFF Sofia as top of the flute section, earn first chair, and impress both her future college admission boards and her comfortably unattainable drum major crush Gilberto Reyes.

But Yasmín steps off on the wrong foot when she reports an anonymous gossip Instagram account harassing new band members and accidentally gets the entire low brass section suspended from extracurriculars. With no low brass section, the band is doomed, so Yasmín decides to take things into her own hands, learn to play the tuba, and lead a gaggle of rowdy freshman boys who are just as green to marching and playing as she is. She'll happily wrestle an ancient school tuba if it means fixing the mess she might have caused.

But when the secret gossip Instagram escalates their campaign of harassment and Yasmín's friendship with Sofia deteriorates, things at school might be too hard to bear. Luckily, the support of Yasmín's new section—especially introverted section leader Bloom, a sweet ace and aro-spectrum boy—might just turn things around.
Juliet Milagros Palante is a self-proclaimed closeted Puerto Rican baby dyke from the Bronx. Only, she's not so closeted anymore. Not after coming out to her family the night before flying to Portland, Oregon, to intern with her favorite feminist writer–what's sure to be a life-changing experience. And when Juliet's coming out crashes and burns, she's not sure her mom will ever speak to her again.
But Juliet has a plan–sort of. Her internship with legendary author Harlowe Brisbane, the ultimate authority on feminism, women's bodies, and other gay-sounding stuff, is sure to help her figure out this whole "Puerto Rican lesbian" thing. Except Harlowe's white. And not from the Bronx. And she definitely doesn't have all the answers . . .
In a summer bursting with queer brown dance parties, a sexy fling with a motorcycling librarian, and intense explorations of race and identity, Juliet learns what it means to come out–to the world, to her family, to herself.
This stunning YA debut is a timely and heartfelt speculative narrative about healing, faith, and freedom.
Seventeen-year-old Marisol has always dreamed of being American, learning what Americans and the US are like from television and Mrs. Rosen, an elderly expat who had employed Marisol's mother as a maid. When she pictured an American life for herself, she dreamed of a life like Aimee and Amber's, the title characters of her favorite American TV show. She never pictured fleeing her home in El Salvador under threat of death and stealing across the US border as "an illegal", but after her brother is murdered and her younger sister, Gabi's, life is also placed in equal jeopardy, she has no choice, especially because she knows everything is her fault. If she had never fallen for the charms of a beautiful girl named Liliana, Pablo might still be alive, her mother wouldn't be in hiding and she and Gabi wouldn't have been caught crossing the border.
But they have been caught and their asylum request will most certainly be denied. With truly no options remaining, Marisol jumps at an unusual opportunity to stay in the United States. She's asked to become a grief keeper, taking the grief of another into her own body to save a life. It's a risky, experimental study, but if it means Marisol can keep her sister safe, she will risk anything. She just never imagined one of the risks would be falling in love, a love that may even be powerful enough to finally help her face her own crushing grief.
The Grief Keeper is a tender tale that explores the heartbreak and consequences of when both love and human beings are branded illegal.
Veronica Mars meets The Craft when a teen girl investigates the suspicious deaths of three classmates and accidentally ends up bringing them back to life to form a hilariously unlikely–and unwilling–vigilante girl gang.
Meet teenage Wiccan Mila Flores, who truly could not care less what you think about her Doc Martens, her attitude, or her weight because she knows that, no matter what, her BFF Riley is right by her side. So when Riley and Fairmont Academy mean girls June Phelan-Park and Dayton Nesseth die under suspicious circumstances, Mila refuses to believe everyone's explanation that her BFF was involved in a suicide pact. Instead, armed with a tube of lip gloss and an ancient grimoire, Mila does the unthinkable to uncover the truth: she brings the girls back to life.
Unfortunately, Riley, June, and Dayton have no recollection of their murders. But they do have unfinished business to attend to. Now, with only seven days until the spell wears off and the girls return to their graves, Mila must wrangle the distracted group of undead teens and work fast to discover their murderer . . . before the killer strikes again.
For fans of Sarah Dessen and Jenny Han, Beyond the Break is a funny and gorgeous debut about a girl experiencing her first love. Well, second, if you count her faith… and that's where things may get complicated.
Manhattan Beach native Lovette has two rules in life. One: no surfing. Not after her brother's accident. Two: absolutely, no dating. And going into her junior year of high school, she's pretty happy with that arrangement. She has friends, her church youth group, and God to fall back on when things get dicey. But after Jake Evans walks into her life, following these two simple rules gets a lot more complicated.
Jake is the boy from Lovette's childhood who grew up. Handsome and sweet, he unlocks the part of Lovette that wants nothing more than to surf the waves again. And as their relationship grows, she begins to question what it means to be faithful: to her family, to God, but mostly, to herself.
Told with humor and heart, Heather Buchta delivers a sparkling debut that asks the question: Can you fall in love, be a teenager, and also be a good Christian?
Chasing After Knight by Heather Buchta
From Beyond the Break author Heather Buchta comes a funny, romantic novel about a girl trying to make amends with a former best friend. The thing is: healing someone else's broken heart has its complications, especially when he's now an A-list movie star.
High school senior Alexa Brooks had it all figured out. Study hard, nail the extracurriculars, stay focused, and life would follow the carefully crafted plan. The problem is this plan was designed for one thing: making her forget all about her once-best-friend, former-potential-boyfriend, Carson Knight. Four years ago, he was the boy who always made her laugh, the boy she loved, and the boy she mistakenly and very publicly betrayed. Oh, and he was also the boy who grew up to become a heartthrob A-list actor, named Cayden McKnight.
An innocent-enough school assignment suddenly brings Cayden to the forefront of Alexa's mind, and her celebrity-crazed best friend Lindsey discovers the old connection. Convinced that his Hollywood bad boy image is the direct result of Alexa and Carson's fallout, Lindsey convinces Alexa to find Carson and reconcile, but reaching an A-list movie star is not as easy as it used to be when he was the kid Alexa called every night before bed. Unable to apologize in person but determined to somehow right her wrongs, Alexa goes on a quest to remake Cayden's image, doing good deeds in his name. But nothing is as it seems in Hollywood, and even when she's able to finally face Cayden McKnight in person, Alexa can't break through to the Carson she once knew. Is it really too late to make amends?
In this personal, moving essay, environmental activist and hip-hop artist Xiuhtezcatl Martinez uses his art and his activism to show that climate change is a human issue that can't be ignored.
Pocket Change Collective is a series of small books with big ideas from today's leading activists and artists. In this installment, Earth Guardians Youth Director and hip-hop artist Xiuhtezcatl Martinez shows us how his music feeds his environmental activism and vice versa. Martinez visualizes a future that allows us to direct our anger, fear, and passion toward creating change. Because, at the end of the day, we all have a part to play.
Diamond Park by Phillippe Diederich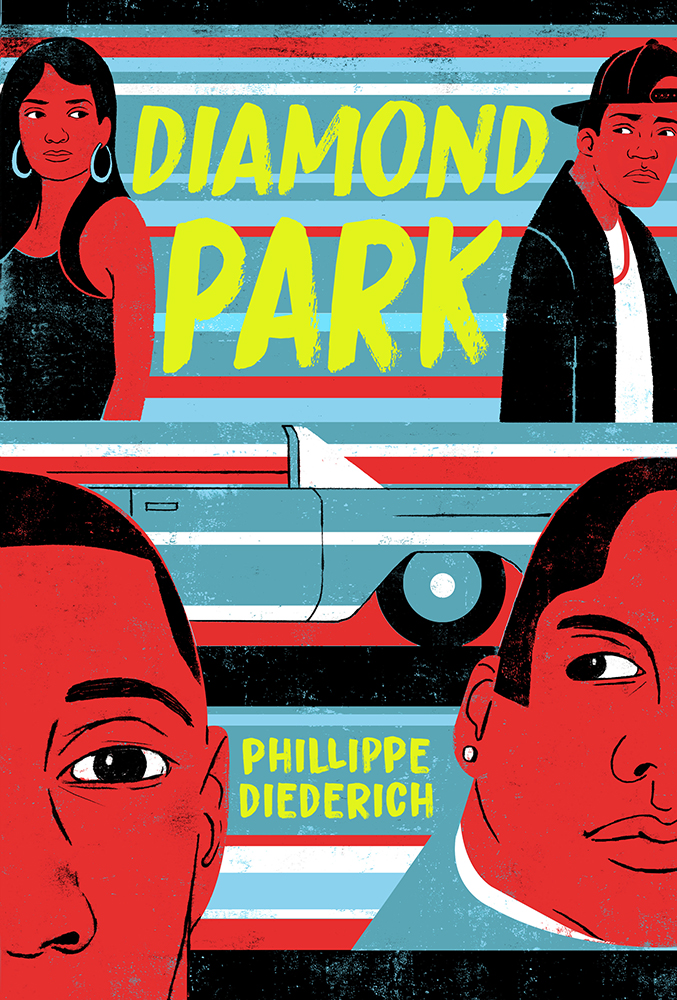 A fast-paced YA novel about four Mexican American teenagers from Houston, a '59 Chevy Impala, and a murder that changes their lives forever.
Flaco isn't the kind of kid who gets in trouble. He doesn't want to give his mom or his aunt Ana Flor any grief—they've had enough since his cousin Carlos died serving in Afghanistan. But he finds a whole lot more trouble than he bargained for when he and his friends Tiny, Magaña, and Susi ride the bus from their Houston neighborhood to Diamond Park to buy a used car. And not just any car—a 1959 Impala convertible, a dream car. The transaction gets complicated fast, and Susi ends up with a knife in her hands, covered in blood. When Tiny has to disappear to avoid ICE, Flaco and Magaña head south in the Impala to set things right. In a wildly impetuous move, the two boys cross into Mexico hunting for a trafficker named Anaconda, the man they believe is the real killer, to clear Susi's name. In a breathtaking, seat-of-your-pants adventure they manage to kidnap him but in the process they discover how little they ever actually understood about what really happened in Diamond Park.