What's Happening
16 Books We Can't Wait to Read in Early 2018
While we're just getting started with our winter reading, we think it's never too early to start getting hyped about the books ahead. Read on for some of the incredible reads coming out in early 2018! From genre-bending debuts to exhilarating additions to series from beloved authors, our future bookshelf is looking quite fine.
We're so excited for this gutsy, unpredictable fantasy with a surprising and breathtaking LGBT romance. Author Cinda Williams Chima said it best: "This edgy fantasy doesn't just blur boundaries of genre, of gender, of past sand present, life and death – it explodes them."
A sharp psychological thriller that will seduce, mislead, and betray you. You won't be able to stop talking about this debut.
Her name is Sarah. She's blonde, blue-eyed, and Jewish in 1939 Germany. And her act of resistance is about to change the world. This is a debut you do not want to miss.
If I Stay and Just One Day author Gayle Forman is back with a powerful display of empathy and friendship told over the course of a single day from three different perspectives.
The darling of the Roman Empire is in for the fight of her life in this lush sequel to the acclaimed historical fantasy The Valiant. 
Rebel of the Sands fans, rejoice! The breathless finale to the series will have you on the edge of your seat until the dust from the final battle clears.
Narrated by Destiny, this heartbreaking story of refugees escaping from war-torn Syria captures the hope that spurs people forward against all odds.
Love & War by Melissa de la Cruz
The thrilling romance of young Alexander Hamilton and Eliza Schuyler continues in the sizzling sequel to the New York Times bestselling Alex & Eliza: A Love Story!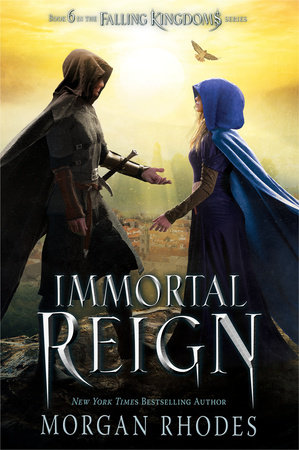 The epic conclusion to the Falling Kingdom series! Sworn enemies must become allies as they fight to save Mytica in this heart-stopping finale.
Featuring art and writing from her favorite photographers, poets, and friends alongside her own journal entries and snapshots, this is the beloved personal scrapbook of rising star and humanitarian Rowan Blanchard!
This debut novel about a high school senior who sneaks off to Washington, DC on an adventure to find out who he wants to be is "quirky and charming, wise and unpredictable."
In the hours after a bridge collapse rocks their city, a group of teenagers meet in the waiting room of a hospital in a story that will make your heart stop and time stand still.
War tears the galaxy apart, power tests the limits of family, and violence gives way to freedom in the sequel to Empress of a Thousand Skies!
A thought-provoking companion to the Coretta Scott King Award-winning Bronx Masquerade that shows the capacity poetry has to express ideas and feelings and connect us with ourselves and others.
Genesis by Brendan Reichs
The sequel to the instant bestseller Nemesis! Genesis dives back into a violent world where Min Wilder knows that survival alone isn't enough.
Anyone interested in activism today will uncover important roots of America's resistance movement in this book: Boots on the Ground captures the intensity, frustration, and lasting impacts of one of the most tumultuous and protested periods in American history – the Vietnam War.
"With dazzling surrealist overtones, McCullough has managed to vividly capture a singularly brave, resilient feminist who became an icon during a time when women had almost no agency. Her story and the stunning verse through which it is told will resonate just as strongly with readers today. A captivating and impressive debut about a timeless heroine." —Booklist
A stunning debut novel based on the true story of the iconic painter, Artemisia Gentileschi.