Breaking News
Top Trending 2021: Thrillers!
2021 has been filled with amazing reads of all categories, and we want to make sure you haven't missed out on any! Scroll down to see our recap of some of 2021's top trending thrillers!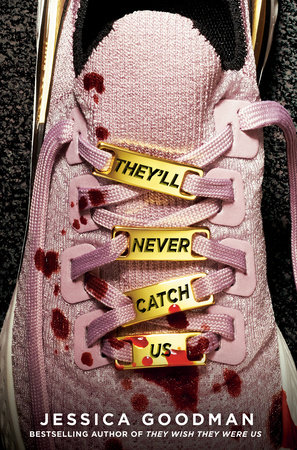 From rising star Jessica Goodman, author of They Wish They Were Us, comes a new fast-paced thriller about two sisters vying for the top spot on their cross-country team–the only way out of their stifling small town. But their dreams are suddenly thrown into peril when a new girl threatens to take away everything they've worked for… until she disappears.
Stella and Ellie Steckler are only a year apart, but their different personalities make their relationship complicated. Stella is single-minded, driven, and she keeps to herself. Cross-country running is her life and she won't let anything get in the way of being the best. Her sister Ellie is a talented runner too, but she also lets herself have fun. She has friends. She goes to parties. She has a life off the course.
The sisters do have one thing in common, though: the new girl, Mila Keene. Both Stecklers' lives are upended when Mila comes to town. Mila was the top runner on her team back home and at first, Ellie and Stella view her as a threat. But soon Ellie can't help but be drawn to her warm, charming personality. After her best friend moved away and her first boyfriend betrayed her, Ellie's been looking for a friend. In a moment of weakness, she even shares her darkest secret with Mila. For her part, Stella finds herself noticing the ways she and Mila are similar. Mila is smart and strong–she's someone Stella can finally connect with. As the two get closer, Stella becomes something she vowed she'd never be: distracted.
With regionals approaching and college scouts taking notice, the pressure is on. Each girl has their future on the line and they won't let friendships get in their way. But then, suddenly, Mila goes out on a training run and never returns. No one knows what happened, but all eyes are on the Steckler sisters.


From the author of Something Happened to Ali Greenleaf comes another searing, affecting novel that follows one girl caught between two toxic worlds, perfect for fans of Kathleen Glasgow and Nina LaCour.
Shade and Jadis are everything to each other. They share clothes, toothbrushes, and even matching stick-and-poke tattoos. So when Shade unexpectedly joins the cheerleading team, Jadis can hardly recognize who her best friend is becoming.
Shade loves the idea of falling into a group of girls; she loves the discipline it takes to push her body to the limits alongside these athletes . Most of all, Shade finds herself drawn to The Three Chloes—the insufferable trio that rules the squad—including the enigmatic cheer captain whose dark side is as compelling as it is alarming.
Jadis won't give Shade up so easily, though, and the pull between her old best friend and her new teammates takes a toll on Shade as she tries to forge her own path. So when one of the cheerleaders dies under mysterious circumstances, Shade is determined to get to the bottom of her death. Because she knows Jadis—and if her friend is responsible, doesn't that mean she is, too?
In this compelling, nuanced exploration of the layered, intoxicating relationships between teen girls, and all the darkness and light that exists between them, novelist Hayley Krischer weaves a story of loss and betrayal, and the deep reverberations felt at a friendship's breaking point.

Veronica Mars meets Moxie in this hilarious and biting YA contemporary novel following Margot Mertz, a girl who runs an internet cleanup business and embarks on a quest to take down a revenge-porn site targeting the girls in her school.
For the right price, high school junior Margot Mertz will go to the ends of the internet to remove your nip-slip, dick pic, or embarrassing DM. At least that's what it says on her business card. Margot founded a now notorious company that helps students, teachers, even a local weatherman, discreetly clean up their digital shame. And since her parents lost her college fund, Margot is happy to work for anyone… if they can pay, she can clean.
But when a fellow student hires her to take down some leaked nudes, Margot discovers a secret revenge porn site featuring Roosevelt High girls. And hell hath no fury like Margot when she sees girls' butts shared without their consent. With the help of an unwitting ally, the popular and uncomfortably handsome Avery Green, Margot will gain access to the far flung cliques of Roosevelt High. Anything to find the mastermind (read: asshole) behind the site. But the more she digs, the deeper and darker the case becomes until Margot realizes that some jobs are so dirty, no one can come away clean. Even her. Gross.