Breaking News
13 Books to Read After You Finish 13 Reasons Why
You've read the book (haven't you?!), you've now binged both seasons of the show (maybe more than once), and now all you want is more. Never fear, we've got thirteen great emotional reads to get you through your 13 Reasons Why book/Netflix hangover!
Seventeen-year-old Tess Fowler has dropped out of high school after finding out her long distance boyfriend Jonah had committed suicide. Now living with her father, Tess is left mostly to herself to unpack what it means to truly be alive, and what happens after death. She begins to write emails to help process her grief, but what happens when someone writes back? Moving, heartfelt, and surprisingly funny, this is a perfect book to help you begin to heal after a sudden loss.
When a girl's body is found in the lake on the campus of Bates Academy, the students are left with questions. Most of all, Kay Donovan, whom the dead girl left a computer-coded scavenger hunt. As it unravels, it begins to implicate suspect after suspect, until Kay herself is in the crosshairs of a murder investigation. If Kay's finally backed into a corner, she'll do what it takes to survive. Because at Bates Academy, the truth is something you make…not something that happened.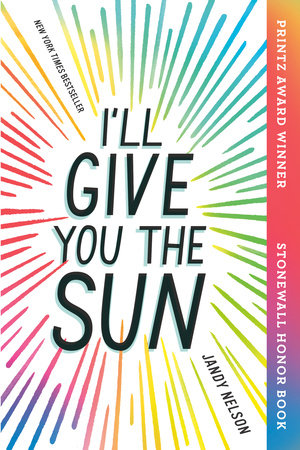 Twins Jude and Noah were thick as thieves when they were younger, but now they barely speak. The once artsy and quiet Noah is now a popular jock, and social-butterfly Jude is now a surly student at the local fine arts high school. Told through two perspectives – Noah as a thirteen-year-old and Jude at sixteen – this heartbreaking and heart-healing book deals with what it means to love, make art, and forgive people for the mistakes of the past.
Gabe and Elyse have never met. But they both have something to hide. Told in parallel narratives, this twisty, shocking story shows how one bad choice can lead to a spiral of unforeseen consequences that not everyone will survive. This book has a twist that you'll never see coming.
Just like Clay's feelings for Hannah, Quentin "Q" Jacobsen could never tell charismatic Margo Roth Spiegelman how he felt. But just like Hannah, Margo has painful secrets of her own, and one day, she disappears. Now, on a mission to find out why she left, Q and his friends try to decipher the clues Margo left behind. But on the way, they learn to imagine others complexly, and not to think of a person as more than (or less than) just a person.
Told during winter break in a deserted college dorm, We Are Okay explores what it means to have lost someone. This gorgeously crafted and achingly honest portrayal of grief will leave you longing to reconnect with the people you love. Remember, everything affects everything, and even a phone call or a visit from an old friend or lover can make a world of difference to those who struggle.
Hermione Winters is on top of the world when she heads to Cheer Camp the summer before senior year. That is, until the unthinkable happens and she is the victim of a terrible sexual assault. Only with the help and support of her family, friends, and team, is she able to begin to recover, search for justice, and make peace with the trauma of her past.
First love can be heartbreaking, and no one knows this like Henry Page and Grace Town. Grace is still reeling from a car accident from last summer that left her injured and traumatized when she meets Henry, a studious and charming dork who's never been in love before. That is… until he meets Grace. Navigating greif, love, and the intersection of both, Our Chemical Hearts will both break and warm your own aching heart.
Set in the 90's, A Good Idea nevertheless addresses many issues that are still problems today. Calder, the mayor's popular, jock son, admits to murdering Finley's best friend Betty, only to be exonerated days later when he takes back his claim.  But Finn returns to Maine from NYC to discover the truth, and she will stop at nothing to keep the "right" boy from getting away with murdering the "wrong" kind of girl.
Mim Malone learns her mother is sick back in Cleveland, and quickly hops a bus from Mississippi back to her real home and her real mother. But when her thousand-mile journey takes a few turns she could never see coming, Mim must confront her own demons, redefining her notions of love, loyalty, and what it means to be sane.
Wintergirls by Laurie Halse Anderson
Lia is haunted by the memory of her friend Cassie, after a contest between them to be the thinnest ends in her friend's death. Award-winning author Laurie Halse Anderson explores Lia's struggle, her painful path to recovery from an eating disorder, and her desperate attempts to hold on to the most important thing of all: hope.
Blind by Rachel Dewoskin
Emma, newly blinded in a horrific accident, finds herself in the middle of an investigation into a classmate's suicide. Now, Emma has to untangle what happened and why—in order to see for herself what makes life worth living. Just like Thirteen Reasons Why, Blind is unflinching in its portrayal of Emma's darkest days. Yet Rachel DeWoskin's tale is still one of those rare books that utterly absorbs the reader into the life and experience of another.
Cassie O'Malley emancipates herself at 18 from the mental institution her mother dumped her in years ago. Now, as Cassie struggles to reclaim her life, she must confront her mother and her own memories. Cassie must consider whose version of history is real, and more important, whose life she must save. A story about the complexities of mother-daughter relationships and mental health, The First Time She Drowned reminds us that we must dive deep into our pasts if we are ever to move forward and learn to love and forgive ourselves.
If you're not ready to end your Thirteen Reasons Why binge just yet, pick up a copy of the anniversary edition, and read here why Jay Asher included his original ending!