What's Happening
Join Penguin Teen for YALLWrite!
We are SO excited to celebrate the virtual #YALLWrite festival this weekend. Join in for giveaways, panels, games and more! Scroll down to see what's happening at the Penguin Teen virtual booth and make sure you don't miss out on anything awesome!
Sunday, 11/8
ALL DAY
Giveaway: E-ARC Rec-a-Reads
Enter Penguin Teen's Rec A' Reads giveaway for the chance to win a digital ARC of either A Taste for Love by Jennifer Yen, Last Night at the Telegraph Club by Malinda Lo, or The Girls I've Been by Tess Sharpe.
Monday, 11/9
Penguin Teen Cosplay Contest!
Show off your best YA cosplay and win bookish prizes! Post your best YA cosplay to Instagram with the hashtag #PenguinTeenCosplayContest for the chance to win. Winners will be selected by bestselling authors Sabaa Tahir, Renée Ahdieh, and David Yoon!
NO PURCHASE NECESSARY. US Residents 18+. Ends November 15, 2020. See Official Rules at http://bit.ly/CosplayContestRules
Wednesday, 11/11
7:15pm EST
Matched Trivia Pre-Show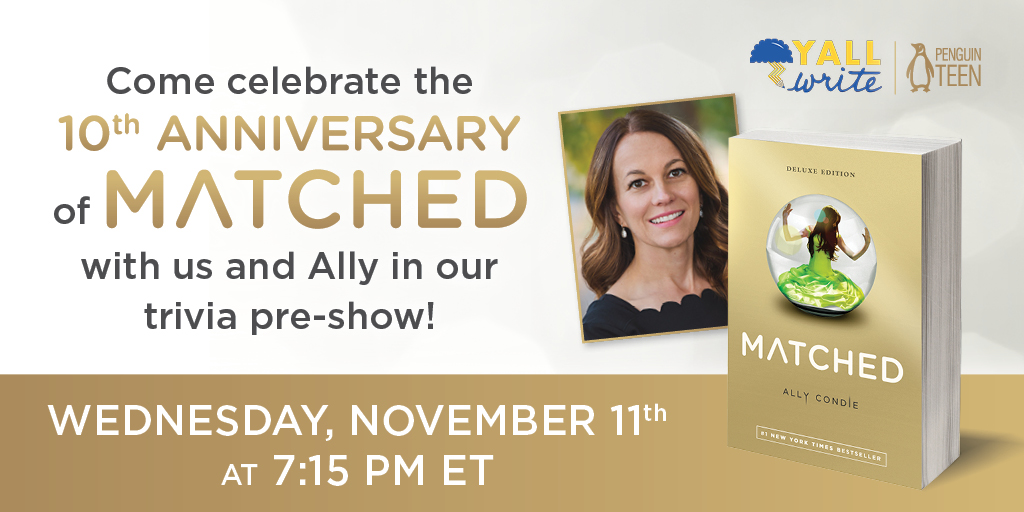 Join Penguin Teen and Ally Condie on Zoom to celebrate the 10th Anniversary of Matched. The perfect way to get ready for our Ultimate YA trivia which follows the pre-show!
8:00pm EST
Penguin Teen Trivia Night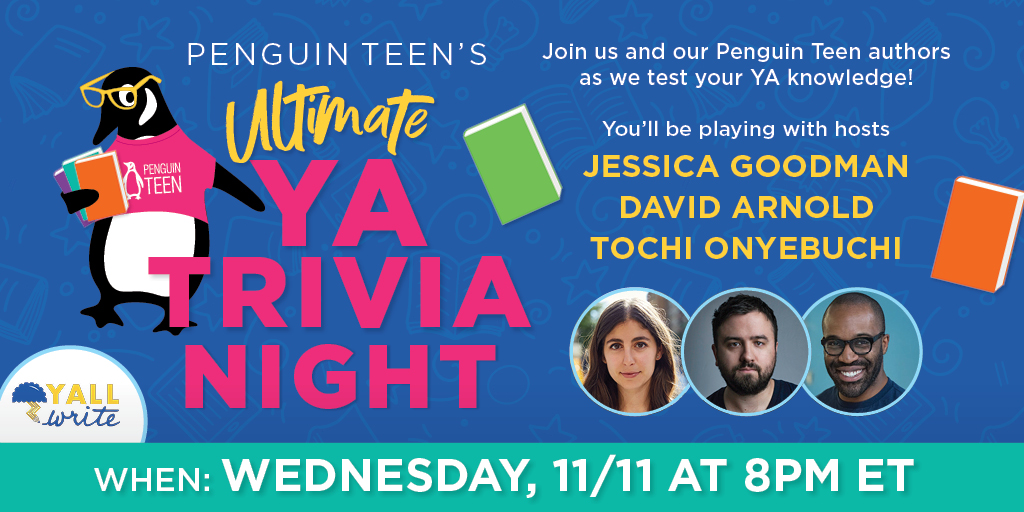 Join Penguin Teen for YA Trivia Night with a group of authors for games and fun and giveaways! (And don't miss the Matched pre-party!) Register by entering your name HERE.
Thursday, 11/12
ALL DAY
Giveaway: Physical ARC Rec-a-Reads
Enter Penguin Teen's second Rec-A-Reads giveaway for the chance to win a limited physical ARC of either House of Hollow by Krystal Sutherland, Winterkeep by Kristin Cashore, or The Electric Kingdom by David Arnold.
Friday, 11/13
11:00am EST
House of Hollow Scavenger Hunt
Where did Grey Hollow go? Play Penguin Teen's virtual House of Hollow scavenger hunt and follow the clues to see if you can find the answer to where Grey Hollow went. The first 10 people to collect all five clues to complete the password and email that password to Penguin Teen at penguinteen@penguinrandomhouse.com will win an ARC of House of Hollow by Krystal Sutherland.
6:00pm EST
Virtual Panel: Writing Romance
What's too much? What's juuuuust enough? Sabaa Tahir and Renée Ahdieh discuss how to write a killer romance: the tension, the stakes, the banter . . . and waiting for the other shoe to drop.
Saturday, 11/14
3:00pm EST
Virtual Panel: Inspo & Originality
How to use sources of inspiration in your story while still making it completely yours. Award-winning authors Nina LaCour and Sara Zarr talk about how they've been informed and inspired by other novels, movies, and stories. They'll give tips and ideas on how to use what you're drawn to as fans and readers to inform, elevate, and strengthen your ideas and yet end up with something truly your own.
8:00pm EST
Book Buzz 2021 with Penguin Teen!
Wrap up the fun book-filled weekend with Penguin Teen Staff to learn about our buzziest 2021 upcoming titles. Special guest author, David Yoon, will join us to discuss his newest book, Super Fake Love Song. On the Penguin Teen YouTube channel!
ALL DAY
Giveaway: Super Summer Sampler
Enter Penguin Teen's Super Summer Sampler giveaway for the chance to be one of the first to sample some of our buzziest Summer 2021 reads!

Did you hear? We just revealed these six gorgeous 2021 covers! Click here to see!